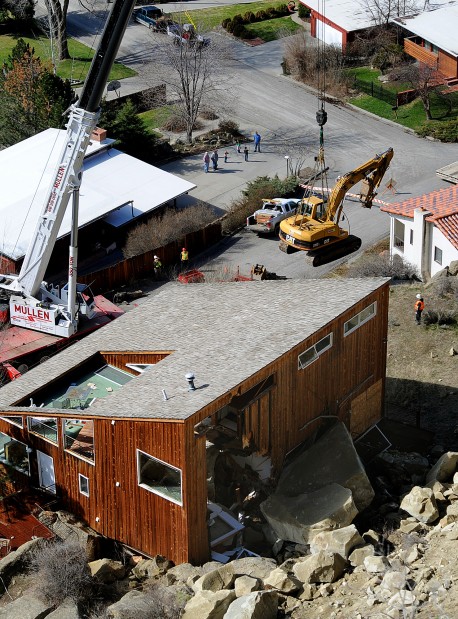 High winds have postponed until Saturday the planned removal of a huge slab of sandstone from the Rimrocks, which had been scheduled for Friday morning.
Jon Thompson, park superintendent for the Billings Department of Parks and Recreation, said the winds would have made it too dangerous for crew members working on top of the Rims.
"They're were up there this morning and they almost got blown off," Thompson said Friday. "The wind is supposed to blow all day long."
The contractor, Vern Balkowitsch of Accurate Concrete Cutting, had hoped to bring the 340-ton rock above Granite Avenue down at about 8:30 a.m. and then move five or six blocks to the east, above Shady Lane, early in the afternoon to remove another dangerously hanging rock, estimated at 300 tons.
The plan now is to postpone the work until Saturday. Thompson said barricades will go up at 8 a.m., restricting access to a security zone around the area. Plans called for evacuating eight houses on Granite Avenue, Cactus Drive and Smoky Lane.
Thompson said Accurate Concrete hopes to begin bringing down the rock above Granite Avenue about 10 a.m. If all goes well, the crew will move to the area of Shady Lane later Saturday.
One house on Shady Lane and three houses on Rimview Drive were going to be evacuated for that project.
"It's just not safe up there for those guys," Thompson said Friday morning. "We're here right now and it's blowing sideways."
Thompson was acting as a spokesman for the project because much of the land on top of the Rims north of Billings is city park land.
Balkowitsch, of Vancouver, Wash., submitted a low bid of $189,000 for the two projects. The City Council later voted to pay only for the Granite Avenue job, which will cost $139,000. Two couples who live in the shadow of the rock above Shady Lane have arranged to pay Accurate Concrete $50,000 for their project.
The weather delay won't add any additional costs to the project, Balkowitsch said.
"I stand by my hard number," he said.
Although his crews are booked solid for the next six to eight months, he said, he has only four workers in Billings, with 27 others scattered around at other job locations.
The city got involved after a massive rock fall destroyed a house at 1313 Granite Ave. last October. The city called in engineers, who determined that the 340-ton slab still sitting on the ledge above the house posed a threat to area residents.
After the rock is dropped above Granite, Balkowitsch will use heavy equipment to break up boulders behind and inside the ruined home, which is owned by Jon Lodge and Jane Deschner. Balkowitsch was already planning to be in town at least through next Wednesday to finish up that work.
The rock above Shady Lane became a danger in February 2010, when the bottom half of a pillar of rock broke loose and fell, leaving the top half hanging precariously above.