Two historic Montana planes are taking to the skies again, with many believing their time of service isn't over yet.
The Museum of Mountain Flying in Missoula offered to use Miss Montana, a Johnson Flying Service C-47, to take food and clothing to Hurricane Dorian survivors in the Grand Bahama on Saturday, but not without stopping in Billings for supplies.
A 1941 Western Airlines Douglas DC-3 passenger plane will also be flying food donated by the Billings Food Bank to aid hurricane victims in a few weeks.
Hurricane Dorian hit the Bahamas on Labor Day, Sept. 2, unleashing massive flooding on the north islands. The official death toll stands at 50 but is expected to go much higher, with as many as 1,300 people missing as workers continue to search the ruins in the Grand Bahama and Abaco islands.
The Billings Food Bank, Edwards Jet Center and organizations in Missoula have donated supplies and resources to help load and fuel the WWII-era plane. Backpacks filled with food, sanitary kits, toiletries and more will be donated in Missoula, while other supplies like diapers and clothing will be donated in Billings.
The Yellowstone County Museum helped facilitate the visit.
"It's a 100% Montana deal, I'll tell you what," said Charlie Yegen, member of the Yellowstone County Museum board.
The trip is in honor of the pilots who served 70 years ago to deliver supplies to those during the Berlin Airlift. The planes will transport two tons of supplies by the end of the month, according to Dick Komberec with the Museum of Mountain Flying.
You have free articles remaining.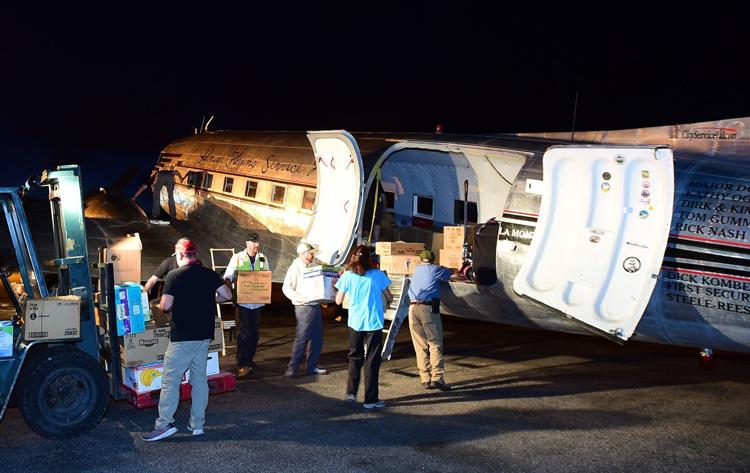 Both planes will be flown back and forth from Florida in Fort Lauderdale to the Grand Bahama International Airport delivering 40,000 hot meals two times a day for about a month.
"As far as a volunteer situation, this is probably one of the first ever trips out of Montana for Miss Montana and the Western airplane," Komberec said.
The Western aircraft was manufactured in 1941, three years before Miss Montana, and was bought by Western Airlines in 1942. World War II pressed many DC-3s into service, where it operated for two years supporting the Aleutian campaign.
Miss Montana, a smokejumper plane manufactured in 1944, was flown during the Mann Gulch Fire near Helena in 1949. Miss Montana was rebuilt in 2018. It recently flew to Normandy for the D-Day reenactment and also landed in Billings in support of Yellowstone County Museum's 65th anniversary exhibit of western transportation in early September.
Eric Komberec, a pilot with Neptune Aviation of Missoula and is Dick's son, will be flying Miss Montana this week.
"It's Montana's airplane and we're just caretakers of it," Eric Komberec said. "We're glad we've had overwhelming support for this mission and it definitely makes me feel like we're doing the right thing. We'll put Montana on the map again and make it proud."