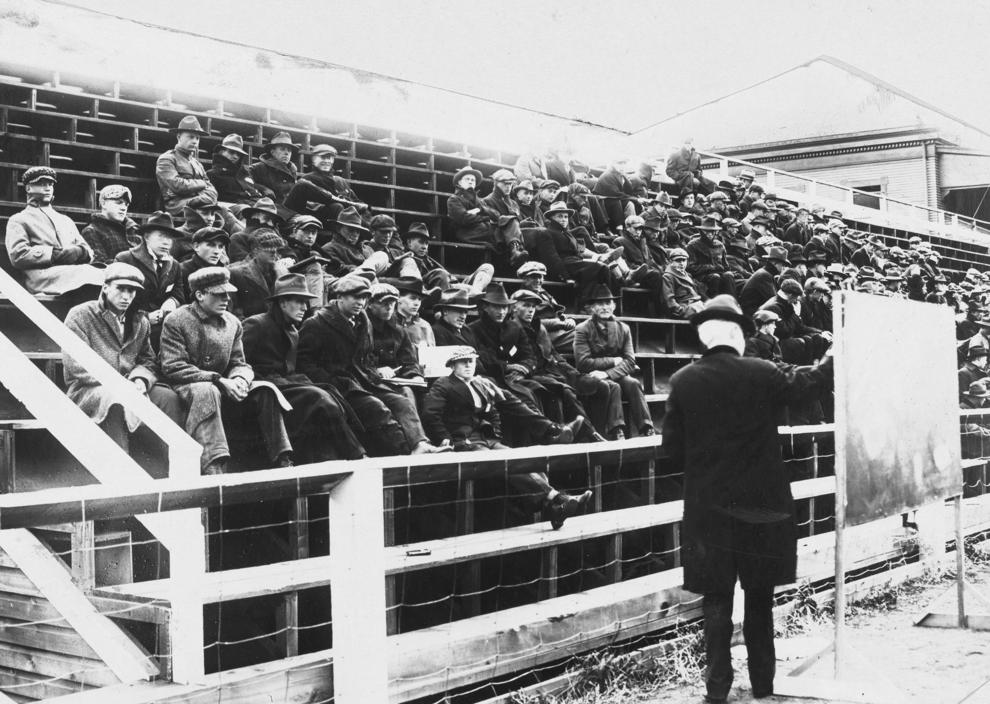 It was sure to be the last quiet night in a long time.
What began as a week-long — maybe two-week-long — shutdown had dragged on for more than a month and a half.
"The Spanish flu" had idled Billings in 1918, but on Nov. 24, just one day before the ban lifted, an officer with the Billings Police Department noticed a "rumpus" coming from a sheepwagon. That wagon was in a vacant lot across from the federal building.
When the officer checked, he found five boys between ages of 12 and 15 "in wild revel," loaded on a quart of whiskey. 
This was how the last quarantine ended in Billings — nearly 102 years ago. These five boys had gotten "bootblack Bill" Georgilas to buy some booze, and in a state of inebriation and fear, the boys gave up his name to the cops. 
Georgilas paid a $200 fine and admitted his guilt. The next day, the rest of Billings got back to life as normal.
With just one new death from the flu, 18-year-old Esther Young, in the preceding 24 hours, the Yellowstone County Health Board decided "epidemic conditions ... continue to improve."
Not exactly reassuring, but close enough for an anxious, cooped-up town. 
Nineteen patients were still being housed in what is now the Lincoln Center. It had been turned into a makeshift hospital, as had First Congregational and First United Methodist churches. The three centers had been converted into hospitals after St. Vincent had been pushed past its peak.
The six-week quarantine had witnessed more than 100 die in Yellowstone County. Despite dozens of new cases coming in almost daily, the county's health board relaxed the quarantine, and predictably the Billings area would see waves of the disease strike throughout 1919. In the end, it was estimated that 12,000 were sickened, between a half and a third of the county's population.
Today, leaders remind folks that dealing with COVID-19 is challenging us in ways we've never seen. But in truth, almost every aspect of the outbreak, from the way that children seem more resistant, to the closing of any public gathering space, is eerily parallel to what happened throughout Montana just over a century ago.
In the beginning
Billings got its first clue of what was to come on Oct. 13, 1918. Newspaper headlines carried news of as many as 250,000 troops in military training camps throughout the United States sickened with the Spanish flu. The military banned visitors and restricted some reporting of the widespread illness, fearing that reports of sick soldiers may embolden a nearly defeated German enemy.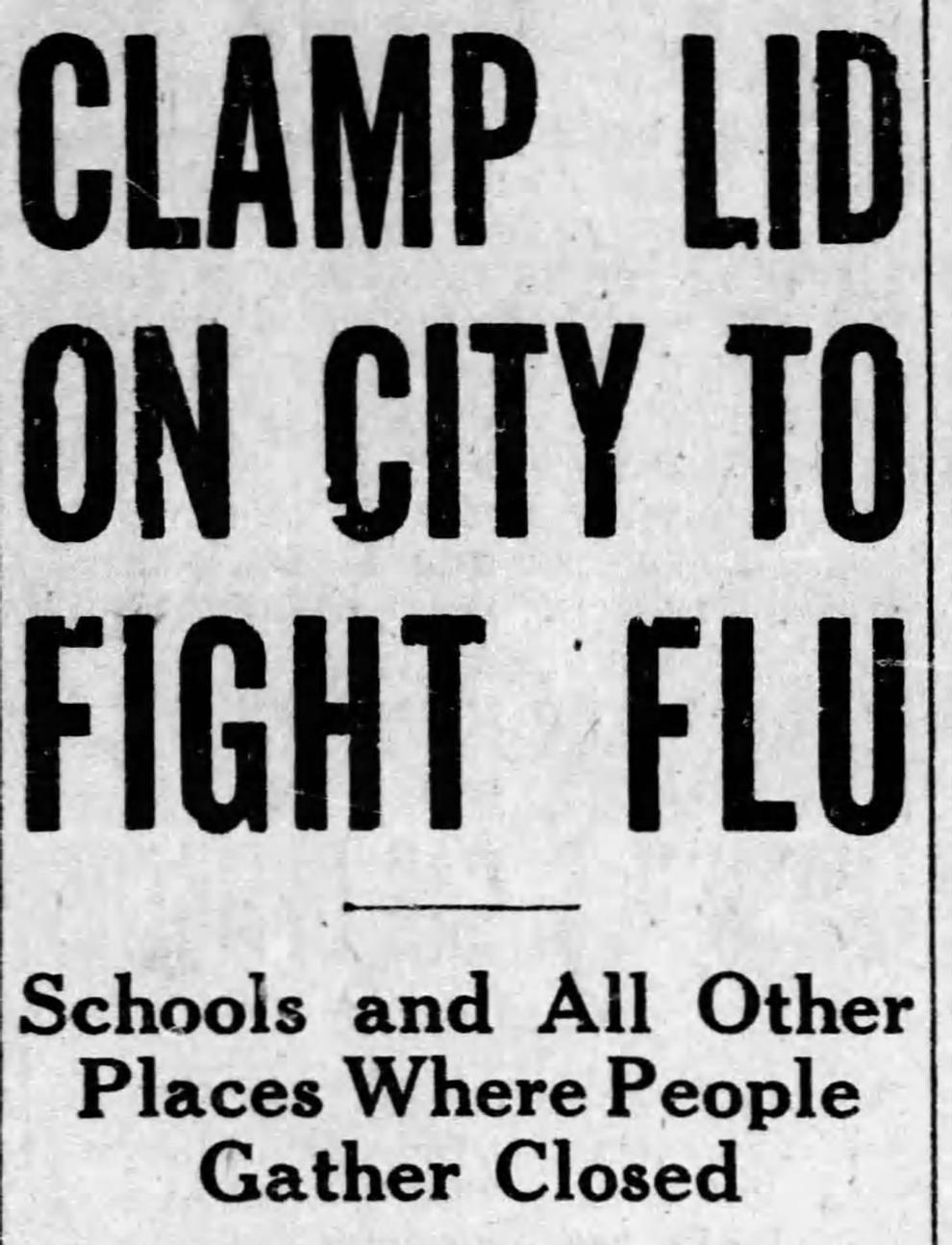 The Billings Public Library was the first to be closed as The Billings Gazette reported a total of 78 flu cases, and 22 new ones in just 24 hours. Something was definitely happening. 
For several more days, not much made the local headlines. But, in New York City alone, more than 4,000 new cases were reported in a single day. Doctors also noted that influenza wasn't the only thing killing patients. Most had lingering flu symptoms, but nearly as many appeared to be dying of pneumonia.
It would follow a predictable pattern with coronaviruses — flu symptoms followed by respiratory distress, sometimes hemorrhaging or edema, and then death. 
By Oct. 15, three deaths were reported in Missoula, and more than 100 were sick in Wheatland County where the only doctor had taken ill with the virus.
"Complaints are coming in daily to local authorities that people with the disease are coming downtown and attempting to carry on their work as usual," Local Health Chief Dr. Louis Allard said. "An order from the health board bans this practice as the disease is communicable even if one person has it in a mild form."
Allard told people two things that would be as familiar today — people should stay home and "isolate themselves."
Obviously, people weren't paying much attention to the good doctor. 
During the same day, 128 new cases were reported, more than doubling the county's total. One inmate in the Yellowstone County Jail died, and Irma Cody, the namesake of William F. "Buffalo Bill" Cody's famous hotel, died of the Spanish flu — just three days after her husband.
Nationally, the picture wasn't getting much better. Congressman Jacob Meeks of Missouri died just hours after marrying his private secretary. Closer to home, Helena closed the entire city as 200 new cases were reported in one day. 
Billings closes
On Sunday, Oct. 20, 1918, Billings had to do something. The disease was nearly doubling daily.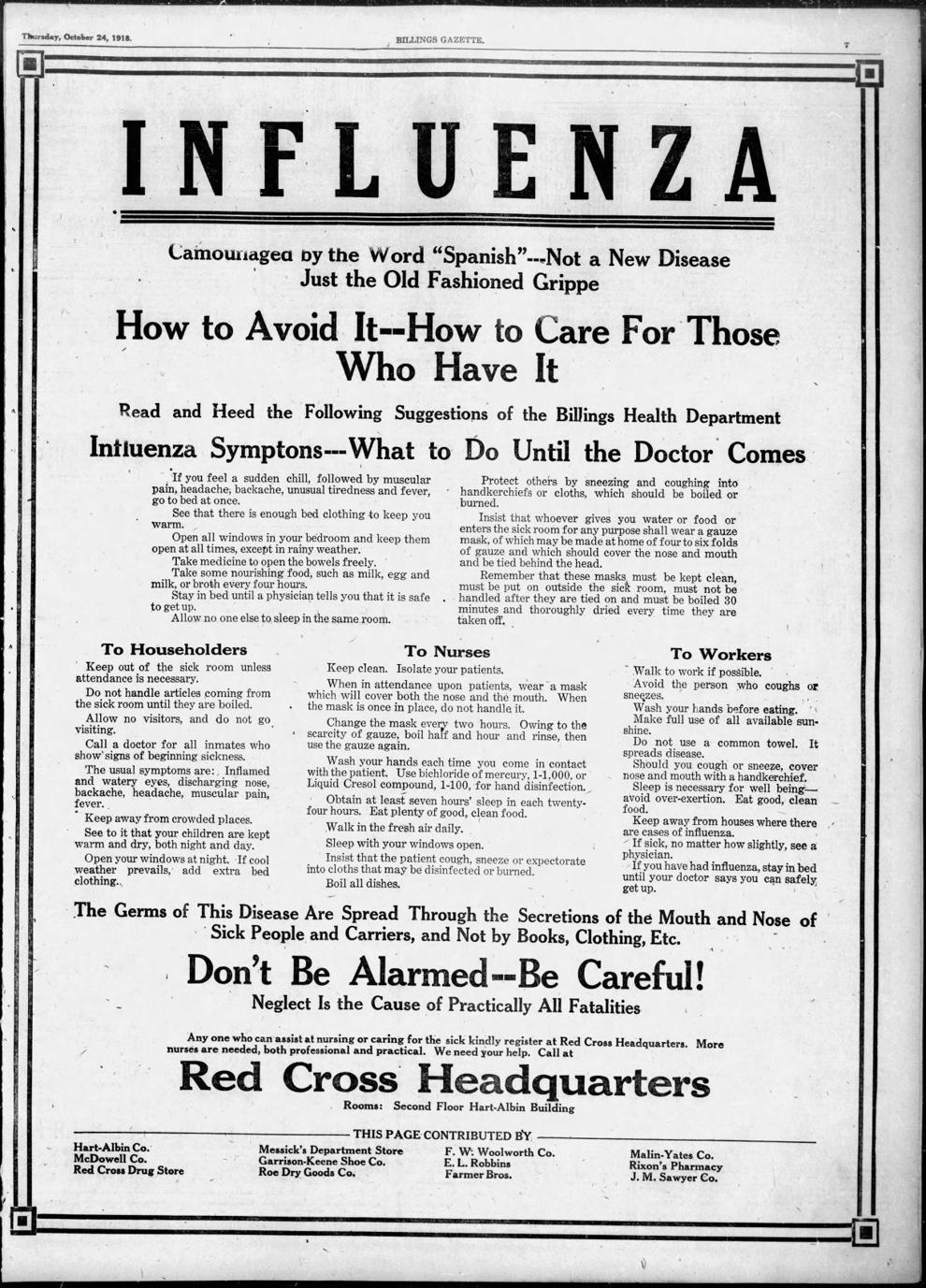 Churches, bars and restaurants closed, following other towns. Health officials, who had only a rudimentary knowledge of virology, noted several curious patterns — it seemed to be most lethal in middle-aged, healthy patients. Older residents, more than 60 years old, and those school-aged seemed immune — so much so that the schools in Billings remained open because doctors said it didn't strike them.
That theory would later be debunked by science and the obituaries as school-aged children suffered and died from disease. For example, the Oct. 19 edition of The Gazette carried a notice of Olga Oslang Sandvick who had died at age 3 years and 8 months from pneumonia following influenza.
Medical experts who have studied the disease believe the 1918 virus, related to H1N1 or the swine flu, paradoxically attacked those most healthy. Some scientists and doctors believe the Spanish flu caused an immune response called a "cytokine storm" in which the body reacted against the disease, sometimes overreacting.
The more healthy the individual, the more prone he or she was to respond strongly to the virus. That strong response could either weaken or destroy the lungs and cause a secondary infection, like pneumonia. Officials estimated there were as many people dying from pneumonia as influenza, and a survey of flu deaths from 1918 to 1920 suggests that nearly nine out of 10 people who died were older than 18 and younger than 60.
Less than 48 hours before the city of Billings was closed, 250 cases were reported in Miles City, and "hospitals were overflowing." The Gazette tried to get a death count but was rebuffed when doctors told the paper they were too busy to get an accurate count. The next day that number had grown to 1,000 cases with five deaths. The population of Custer County at the time was just 8,000.
Several Montana newspapers reported that farming families who checked on loved ones found houses full of sick people, with livestock starving from lack of care.
"The great difficulty lies in the fact that entire families may be stricken with the malady at one time," The Gazette said.
Dr. Allard, who the day before had issued the urgent call to quarantine, had himself become sick, calling upon two other doctors to take his place. 
Local boards of health would start handing out free gauze masks and urged anyone going to work to wear one. 
That Sunday, when churches sat empty, along with bars and restaurants, The Gazette published sermons to make sure folks got their religion.
The newspaper also praised the weather forecast of rain for Sheridan, Wyoming, which had been shut down and had just experienced 19 deaths the day before.
"(Rain) is expected to produce good results in clarifying the air of microbes and put and end to so much sickness never known in the annals of Sheridan," the paper declared.
The next day, after the rains had passed, Sheridan's public health officials put out a new law: Boil all glassware and silver for 10 minutes or face a fine. All bars and restaurants were ordered to remove stools and tables to "prevent loafing." 
To make matters worse, a Scarlet Fever outbreak had begun across the state. At the same time, 18 died in Butte from flu-related illness and 250 new cases were reported in Montana's largest city at the time. In addition to flu and scarlet fever, Billings was also trying to maintain a diphtheria quarantine on the South Side. 
By Wednesday, just three days after the first round of closures, Billings ratcheted up measures. Schools, colleges, theaters, lodges and libraries were shut down, as were any "public gathering spaces." By Oct. 23, just a week after the first group of cases were reported, everything was closed and new cases had increased more than tenfold, averaging 150 cases per day in Yellowstone County. 
Officials didn't know that by the time the sanctions were lifted, the Great War would end and Thanksgiving would be just several days away.
By order of the City Council, there were no meetings at the YMCA and no luncheons or banquets. There couldn't be any bargain sale advertisements for fear of drawing a crowd. And bars and restaurants could serve food and alcohol for carry-out, but all curtains and screens had to be removed so police could have a clear view to ensure no lingering. Stores could stay open but would be discouraged from having customers "linger."
Worse before better
Things continued to worsen during the epidemic, which saw as many as one in every three residents become infected.
Nationally, professional sports, predominantly boxing and baseball, had ceased. Brooklyn Dodgers baseball star Jake Daubert had become a national goat for suing his team unsuccessfully after the 1920 season was shortened because of the flu. He had sued the Dodgers for $2,150 — the remainder of his unpaid contract. The season had been trimmed by six weeks.
Clever advertisers resisted "bargain sales," but promoted an array of products for the quarantined. For example, the A.P. Curtin Music House in the Babcock Theater building in Billings said "The Spanish Influenza will not interfere with you having all the great Victor artists in your home. While you may be deprived of the movies, you can have vaudeville, comic opera, in fact practically everything in the line of entertainment by ordering a Victorla from us. Price $22.50 and up."
Curtin reported it had a stock of "The Blue Rose Waltz," the hottest song of the time, but with the war and flu, they couldn't guarantee when they'd get more.
Doctors offered advice through public health bulletins — some of it questionable.
Make sure you have enough clothes.
Keep windows wide open except with rain.
Handkerchiefs or cloth that is used for sneezing should be burned or boiled.
Walk to work if possible.
Make use of sunshine.
Never sleep with an infected person.
Don't use a common towel.
Less than two weeks later, The Gazette reported the quietest Halloween on record, calling it "safe and sane." 
"Virtually the only excitement being furnished by crowds of boisterous youngsters who roamed the less frequented streets during the early part of the evening, startling unsuspecting residents with tick-tacks and besmirching windows," the report said. "Two or three false alarms were turned in to the fire stations, but no damage of consequence was reported.
"In general the youngsters adhered to the request of authorities that they refrain from the usual pranks of the season, owing to the danger of disturbing chance suffers from the epidemic prevalent here."
The quarantine and restrictions continued for three more weeks. Every day, The Gazette would tally up the number of new cases, pneumonia and dead, always seeming to find a report of somewhere else that had it worse.
By Thanksgiving, the restless city convinced itself the danger had passed. In fact, the numbers had subsided as the quarantine measures appeared effective, but the truth was residents were eager to get back to life. The disease was far from through, though. 
A changed world
The quarantine and public gathering bans lifted a mere 96 hours before Thanksgiving. Alongside news of the expiring bans were plans for a community Thanksgiving celebration. 
Dr. Allard had recovered from the flu and wrote a lengthy article, "Five Centuries of Medical (experience leave) Me Baffled by Influenza."
Allard, stumped by many aspects of the flu, recalled that many older residents had suffered through early pandemics, including the 1889-90 "Russian flu," which probably gave them some sort of cross immunity.
Schools had been cleaned and planned on reopening Dec. 2.
However, while health officials assured jittery residents the danger had passed, stories from The Gazette spoke a different reality. The day the ban was lifted the headline reported, "Is But One Victim." Only one person had died, but, 17 new cases were reported and the temporary hospital at the high school still had 19 people in it.
The flu epidemic would not dissipate for another year, as waves of the disease would continue to roll through the community, and churches would once again be called upon to house the sick.
Merchants were preparing for a rush of holiday and product-hungry shoppers. 
"With Monday morning's opening, this will be a thing of the past and purchasers will be at liberty to assemble in shoals, droves and flocks," the story said. "Already shops are taking on a holiday appearance and show windows are ablaze nightly with electric displays, illuminating attractively arranged stocks especially designed to attract the holiday shopper." 
The Babcock and the Strand Theatres were waiting to show pictures, and "Pershing's Crusaders," which was the "official U.S. War film," was opening at the Babcock.
To celebrate the opening, the Babcock announced that "Damsels in Breeches" would be used as ushers at the Babcock as the manager took inspiration from Grauman's theater in Los Angeles.
"At the reopening of the house ... the pretty girl ushers will be attired in new and unique uniforms which include a velvet tam-o'-shanter, worn at a rakish angle, a velvet artist smock falling below the knees, dainty white duck trousers and black hose and black patent leather pumps."
Magic had returned to the Magic City.