Each year, a group of students from West High visit the remains of Nazi concentration camps where millions of people were killed during the Holocaust. And each year, they've heard survivor Eva Kor describe the horrors of the camps and her decision to forgive those who perpetuated them.
Kor died on July 4 at age 85. This year's cohort of West students were some of the last to hear her message.
Kor stood where she was separated from her father, and then her mother, at the camp where she and her identical twin were subjected to Nazi medical experiments. She pointed out where she slept, where she went to the bathroom.
"It was just so surreal," said Shea Dolan, who graduated from West this spring. "I definitely don't think it would have been as influential for me (without her)." 
Dolan and fellow recent graduates Julianne Terry, Lilly Murphy, and Marissa Nunberg traveled to Poland through a trip with the CANDLES Holocaust Museum and Education Center, an Indiana-based organization founded by Kor. All four participated in a genocide class at West taught by teacher Rob Stanton, who helps organize the trip.
"I heard so many great things about it," Dolan said. "It brings you out of your comfort zone."
A shattered family
Kor was born into the Mozes family a small Romanian village. She and her twin, Miriam, had two older sisters. When the twins were 6, Hungarian-Nazi soldiers occupied the village, where the Mozes' were the only Jewish family. Four years later, in 1944, the family was forced into a regional concentration camp and then quickly moved by cattle car to Auschwitz.
Her father and older sisters were pulled away at the camp's infamous selection platform; family separation was common at concentration camps, often by gender. But Kor and her twin were marked for the experiments of Dr. Josef Mengele, whose procedures veered into torture. They were quickly separated from their mother.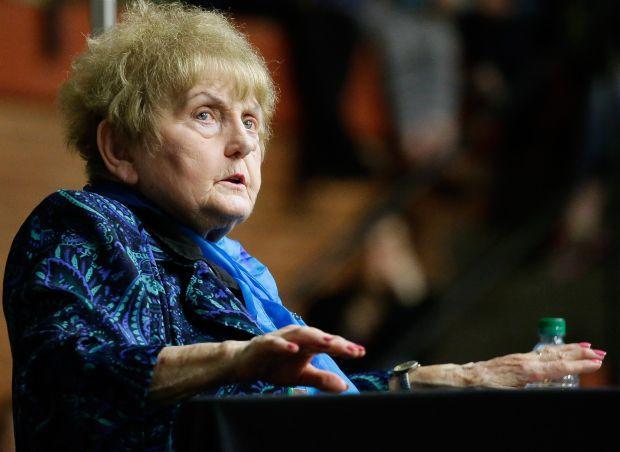 About 1,500 sets of twins were subject to Mengele's experiments, which often fixated on eugenics and the belief that genetics could be manipulated to breed a superior race. They were subject to mysterious injections that provoked severe reactions. Others were operated on without anesthesia.
Kor fell ill with a fever for weeks but survived; if she had died, her twin would have been killed and their bodies autopsied.  
Only about 200 children were found surviving in the Auschwitz complex, most of whom were part of the twin studies. Some of the youngest children could not remember their own names, only numbers assigned by Nazis.
Kor and Miriam survived, though Miriam would struggle with health issues often ascribed to the medical experiments. Kor donated a kidney to her later in life. Miriam died in 1993 of cancer.
Six million Jews were murdered in the Holocaust. Millions of people from other nationalities and ethnic groups that Nazis considered inferior were also killed. 
Finding forgiveness
The West students were struck not just by Kor's story, but her personality.
"She's a little spitfire," Terry said.
Over time, Kor forged the crucible of her experience into a message about forgiveness and a relentless positivity. She spoke at West High in 2015 before a crowd of more than 3,000 people, which the Gazette reported on: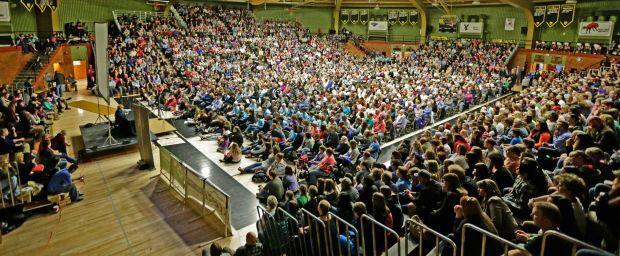 Kor was asked to speak for a group of doctors in the 1990s, and they also wanted a Nazi doctor to speak.
"Last time I looked, they are not advertising in the yellow pages," Kor joked.
But Kor found one. The doctor agreed to meet Kor and revealed graphic details of the gas chambers at Auschwitz. He signed a document swearing that the horrors of the Holocaust occurred.
Kor found herself looking for a way to thank the doctor. After months of thought, she arrived at forgiveness — something that had anyone suggested earlier in her life, "I would have told them to find a really good psychiatrist."
You have free articles remaining.
Keep reading for FREE!
Enjoy more articles by signing up or logging in. No credit card required.
Forgiveness, for Kor, was strength. It was something no one could take away from her.
"I knew immediately that this was a very meaningful gift, but what I discovered for myself was life-changing," she said. "(Forgiveness) was mine to use as I wished."
Not all Holocaust survivors agreed with her stance, and some criticized her for it. But Kor kept promoting it.
Four years after her appearance at West, Kor imparted the same ideals to the visiting students.
"That is something that needs to be heard by everyone," said Murphy.
Not just the Holocaust
During their tour, the students visited the Birkenau death camp within the Auschwitz complex. It fit their perception of what a death camp might look like. But the larger complex, which has been renovated into a Holocaust museum, was manicured and well-kept. It was disorienting for students to process that it was once the site of one of history's greatest atrocities.
News of Kor's death, less than a week after seeing her, was also jarring.
"She seemed fine, she seemed healthy," Murphy said. "I was shocked."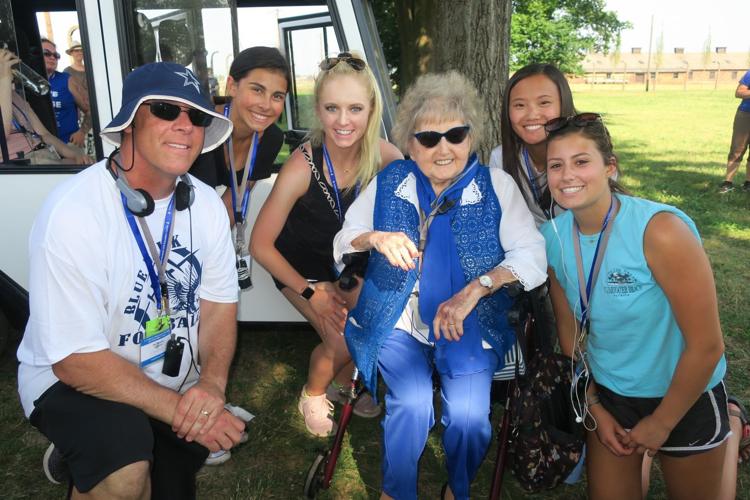 Kor's son said that she had heart surgery and a respiratory infection during the past year, but that her health had recently improved.
Kor had showed them where she and Miriam stood in a liberation photo. She read letters that she wrote retroactively to her father, mother and sisters, lamenting that she never knew that being torn apart at the selection platform was the last time she'd see them. She guided students through exhibits like Block 27, a large rectangle room where home videos of families forced into camps showed happier times before the Holocaust. 
"They're happy and laughing," Terry said. "It's a different story to see them before. ... I think that's what got me the most."
The Holocaust is a major focal point of Stanton's genocide class, but it's not the only one. Students also study genocide in Rwanda, Armenia and Cambodia. They trace those themes through current events and work to understand their roots. 
They study a model known as the hate pyramid, which offers a theory of how a large society can engage in seemingly reprehensible actions. It starts in small ways, like stereotyping and insensitive remarks, before snowballing into individual actions like bullying and racial slurs, then becoming wide societal actions like housing discrimination. Individual acts of violence follow before leading up to justifications for the eradication of an entire group of people. 
'Tell her story'
Part of the CANDLES museum mission is not only to act as a "witness to history," but "to prevent genocide on a global level and transform prejudice on a local level."
But those with firsthand knowledge like Kor, who can command a crowd, are dwindling.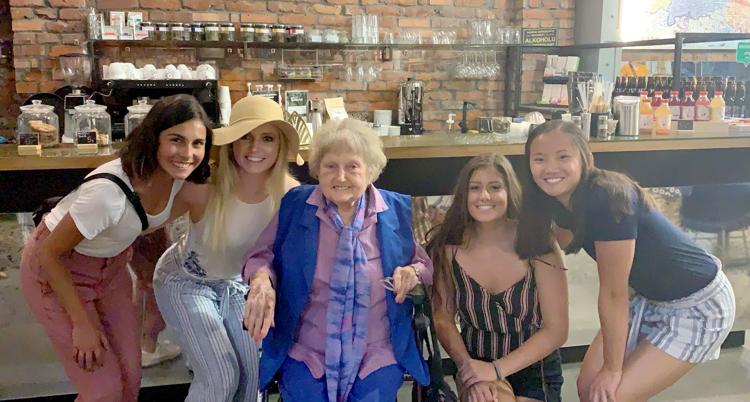 "We're running out of Holocaust survivors," Murphy said.  
The governor of Indiana, where the CANDLES museum is located, lauded Kor after her death in a statement: "(the) world lost a giant. … Everywhere she went, Eva brought light into darkness and provided comfort to those in pain unlike anyone we've ever met."
Kor implored the West students, and others, to adopt her mission.
"She wants people to spread awareness and tell her story," Dolan said. "That was one of the last things we heard her say."