On their last night together, Kim Sutton showed his son how to use a handsaw. Travis, 12 years old at the time, had a school assignment to show a tree's annual rings. While Travis struggled to cut through the piece of wood, his dad made quick work of it in just a few swift thrusts of the saw.  
Afterward Travis went to bed. Sometime during that night the boy awoke. He didn't know why. He didn't hear voices. There were no loud sounds.
He went downstairs to see what his dad was doing — Kim Sutton had a utility room in the basement where he stored various tools and materials for his appliance repair business. Halfway down the stairs his dad met Travis. He seemed calm, but firm. Kim Sutton walked his son back to his room.
That was the last time Travis saw his father.
Kim Sutton, 34, died Feb. 21, 1989, after an explosion in their home launched him into a neighboring tree.
The explosion also ripped Travis from his bed and threw him over the backyard into the alley. He survived with a dislocated hip and burns covering one-quarter of his body. 
"I woke up without a dad, and without a house," Travis Sutton told the Billings Gazette recently.
His mother was out of the picture and his stepmother had left a week before. Travis was alone.
Thirty years later, Travis Sutton is still looking for closure after his father's sudden death.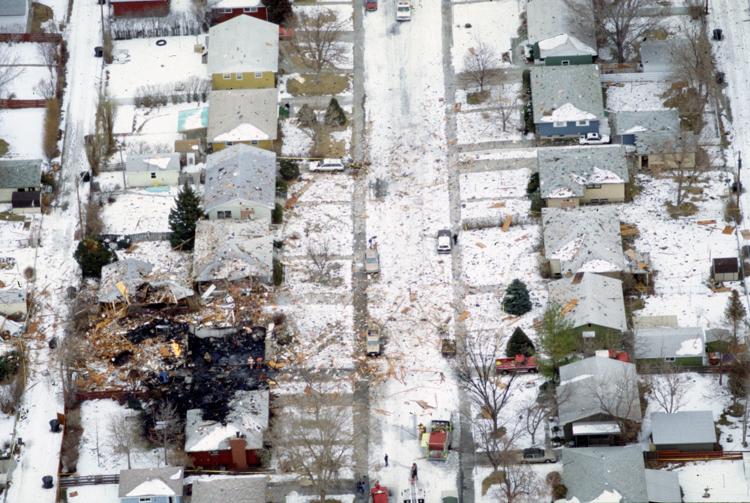 Empty lot
Lee Sherseth didn't hear the explosion, but he felt it. It jolted him awake, just after 4 a.m., and in a daze he ran out of his bedroom down the hall and looked out the window.
"That house isn't there anymore across the street," Lee Sherseth remembers telling his wife, LaWanda. The sky outside glowed red.
"What do you mean it's not there?" she replied.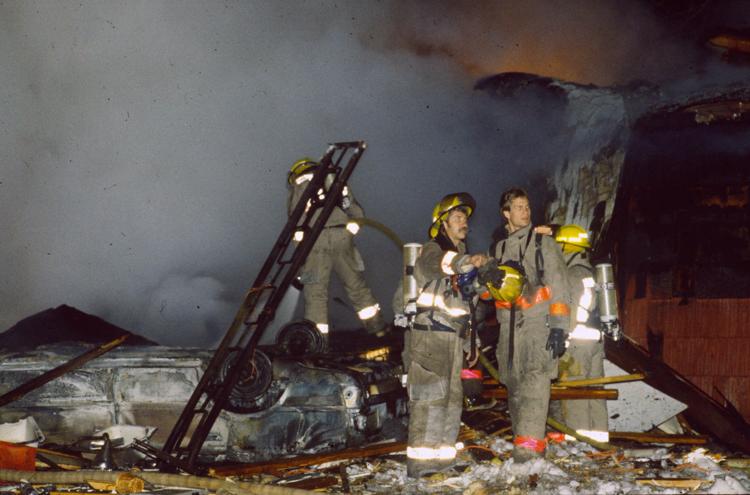 The lot at 2625 Custer Avenue was empty. There was a gaping hole in the ground from the basement. The sky was red, and full of debris. The neighborhood stood still, shocked by the blast, before the ensuing chaos. As Sherseth ran into his basement to get his daughter he wondered if World War III had started.
Two houses down, Beth Ferries rubbed her eyes, holding onto her second-grade daughter, Jenny, and stared in disbelief at a car resting wheels-up on her neighbor's garage. Glass and insulation littered Ferries' kitchen floor. Cupboards sat empty, their contents strewn everywhere. Beth Ferries' husband, Dave, pulled on shoes and ran to Alice Timmel's house nearby, which had caught fire. Timmel made it out, but her house burned down.
Don Brunner woke up from a dream thinking an airplane had crashed into his house. Jerine, his wife, collected their four children amid the panic. The explosion could be heard from Laurel, people claimed.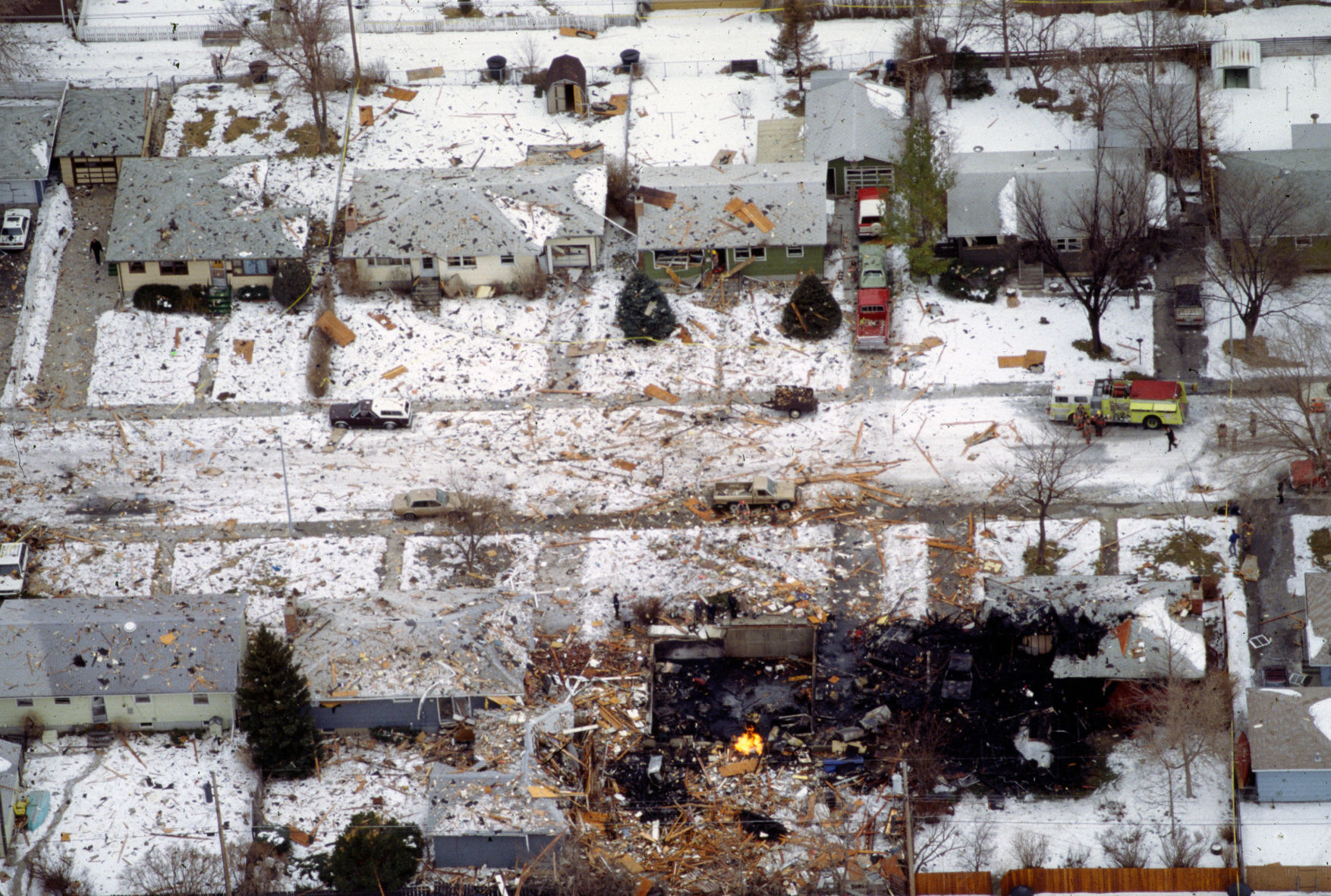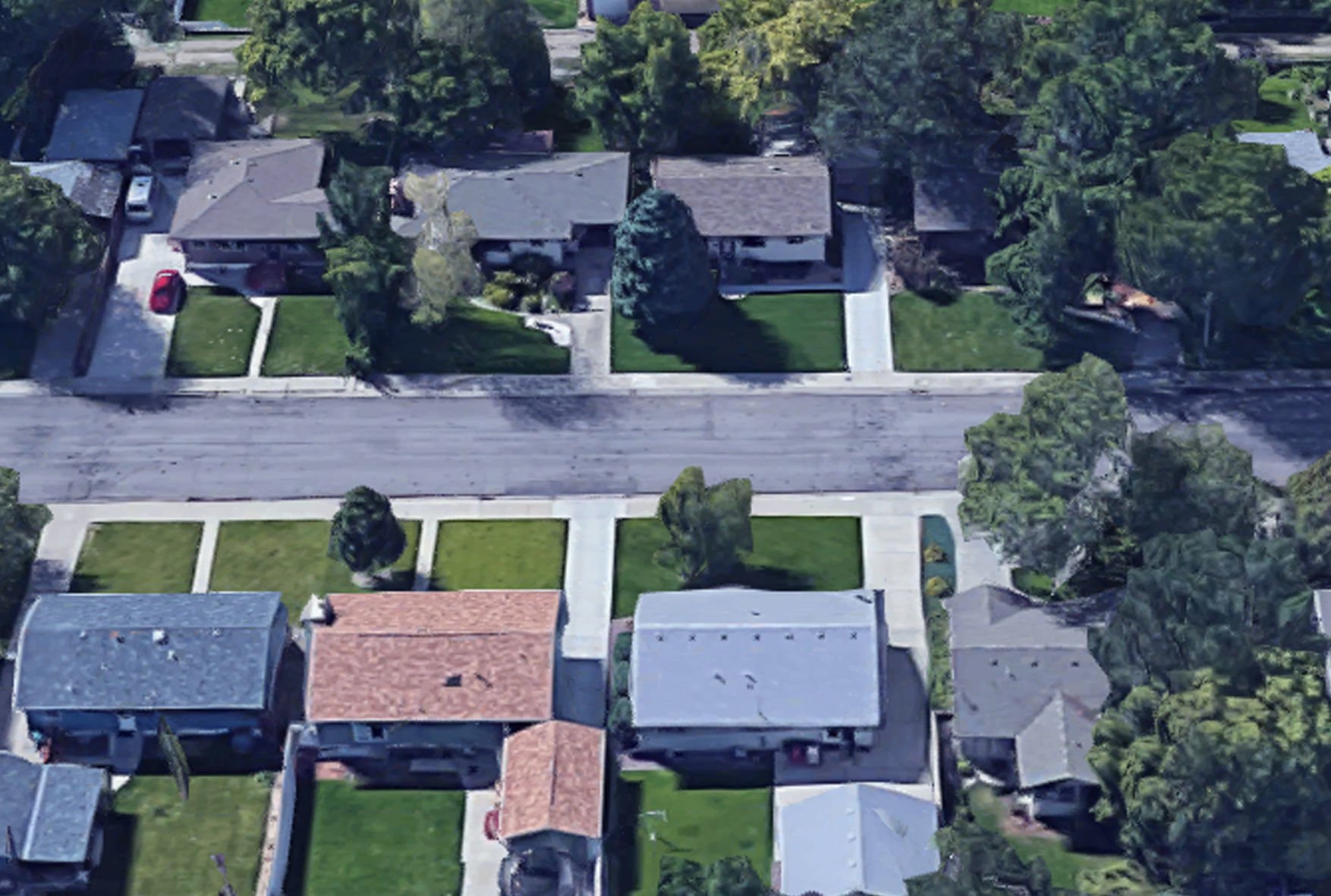 It would be months before much was known about the explosion in the Suttons' home. 
The Billings Gazette reported four cylinders of refrigerants found in the home. The plastic valve tops were burned off three, and one was on its side, ruptured and leaking liquids onto the floor.
A fire burned for two hours before the utility room exploded, then-police Detective Gordon Hirschi said.
But the fire investigator at the time, John Staley, doesn't remember evidence of a fire. 
Eventually the explosion was ruled accidental, cause unknown.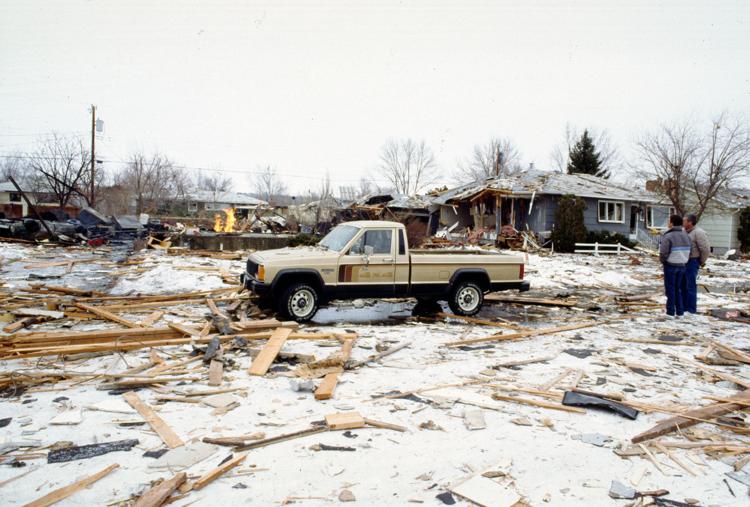 Growing up
Hirschi said he had to park a block away — there was too much debris on the 2600 block.
Travis Sutton lay on the ground behind where his home once stood.
Slipping in and out of consciousness, the boy inched toward a dumpster to try to hoist himself up. His only thought was getting up. He was unwittingly making his way toward downed power lines. The next thing he remembers was someone covering him with a blanket.
Randy Vogel, a Billings police officer, found the 12-year-old in the snowy alley. Vogel remembers Travis standing and moving around. Vogel brought him to his patrol car, waited for the ambulance and then went to look for Kim Sutton. Vogel found the man dead near a large pine tree. Sutton had crashed into the top of the tree, breaking it.
Travis Sutton was taken to St. Vincent Hospital, and from there to a burn unit at the University of Utah in Salt Lake City.
Eleven days later the boy was discharged. He spent the rest of his healing time in Portland, Oregon, with an aunt and uncle on his dad's side. Later that year he returned to Billings to live with his mother, Mary Ann Sutton. From there Travis Sutton bounced around, from living with relatives to bunking with friends.
"I chose not to accept help from a lot of people," Travis Sutton said recently. "Because my dad was like the only person in my life. He raised me, and so when he was gone I didn't really take authority from anybody."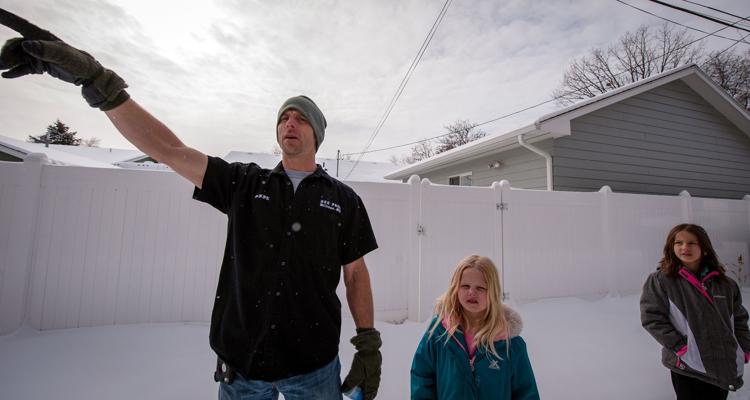 He spent time in Oregon, Wyoming and in various places around Montana. His schooling suffered from the lack of stability, and he didn't finish high school.
"I put it lightly when I say I ran wild for a while," he said. "I just partied and whatever happened, happened. It's a little shameful, like, man, I sure wasted a lot of time."
When Travis Sutton was 22 he decided to turn his life around. It was 1999, and he went from living a life to building a life, he said. He calls the situation stereotypical. While sitting in jail he began reading a Bible, and the message clicked.
"It felt like my eyes were open and I don't think it was anything I did," he said. "It is amazing. In my opinion, God's plan is amazing."
He later got his GED, and from 2007 to 2015 served in the Army National Guard — following in his father's footsteps.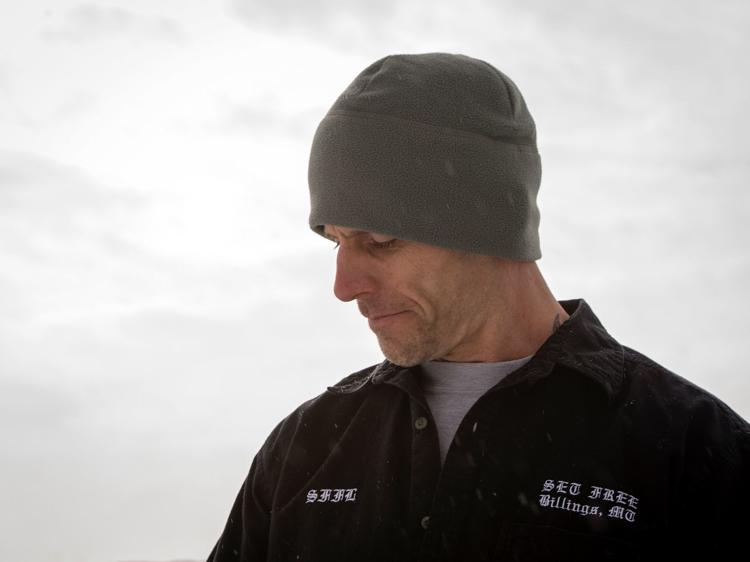 Kim Sutton served in the Army before Travis was born, and he was discharged in 1973. He incorporated the discipline of the Army into his parenting.
"He would make it fun though," Travis Sutton said recently. "He'd pretend like he was disciplining me and make me do sit-ups and leg lifts, make you peel potatoes or something, whatever they did back then. It made it glamorous for me. I always wanted to be in the military."
After being discharged from the Army, Travis Sutton returned to Billings. Now he works for the BNSF Railway building and maintaining bridges.
In 2012, Sutton married his current wife, Desiree Sutton. They now have two children together, Shaye, 8, and Skailar, 6. He's lived in his house seven years — his first permanent home since the explosion.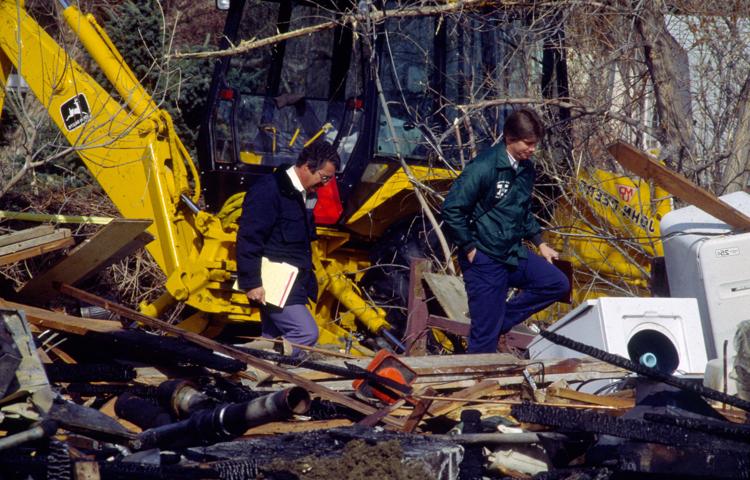 Unknown cause
The investigation lasted four months. Evidence was sent to the state crime lab, chemists were enlisted from the federal Drug Enforcement Administration. Officials interviewed Kim Sutton's neighbors, friends and colleagues.
In June 1989 the explosion was ruled accidental. The Fire Department's investigation was never able to find the cause of the explosion, Staley, the fire investigator at the time, said recently.
"There wasn't a chemist in town or person with a state crime lab that could come up with a combination of gases," he said.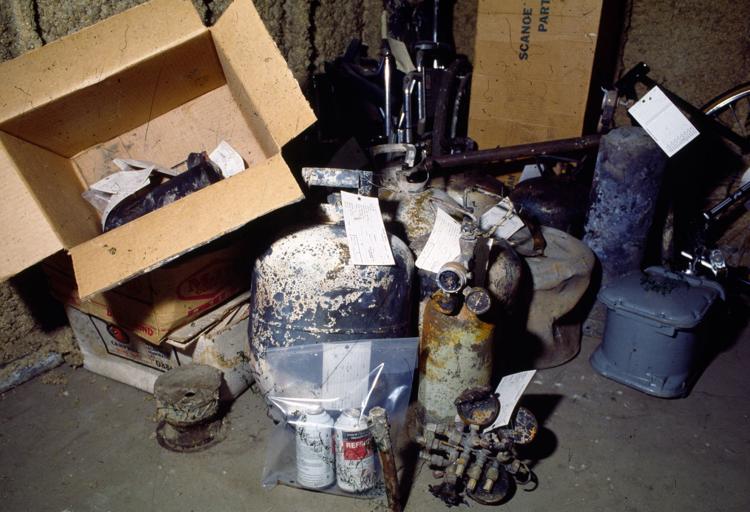 All the while, rumors circulated, Travis Sutton said. Everybody talked — kids at school, neighbors, the town. Theories ran wild. Some said his dad was running a meth lab in the basement. Others said his dad was trying to build illegal fireworks or a bomb. Some called it an attempted suicide.
You have free articles remaining.
But Travis Sutton maintains his house wasn't a drug house or a firework factory; no one was building a bomb. For Travis Sutton it was just his home.
Fire Marshal Larry McCann told the Billings Gazette at the time there was no reason to suspect any criminal activity. It was to remain "inactive" unless new evidence was presented.
Staley still regrets that an answer was never found.
"I'd love to give him that answer just for the respect I have for him from that night," he said.
Without a known cause, there's still room to speculate at Kim Sutton's death.
Bette Brotzel, who lived a few houses down at 2623 Custer Ave., said recently, "I don't feel like we ever had the right answers."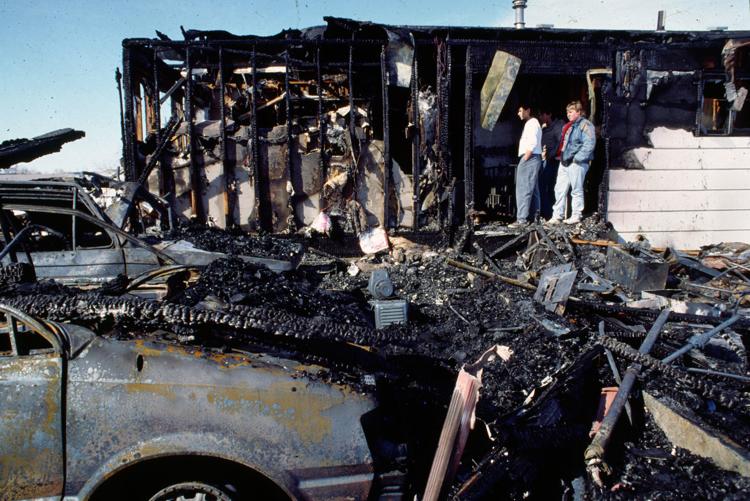 Beth Ferries still has her opinions.
"It was almost like a secret, like we aren't supposed to know about it," she said.
Travis Sutton has thought of every way the fire could have started.
"It was a chintzy way out, in my opinion, to say 'yeah it was an accident,' " he said. "But I don't think it was conclusive."
The unresolved case keeps his wounds from closing.
"What I'm working on in my personal life is forgiveness. But of what, I don't know."
If it was just an accident, his father got cheated. If it wasn't an accident, his father got cheated.
Travis Sutton keeps turning the facts over from that night and the weeks leading up to it, searching for an explanation.
A few days before the explosion Kim Sutton woke his son up to ask the boy where he'd like to travel if he could go anywhere in the world.
"Canada," Travis Sutton remembers saying, unaware of the cold and snow that settle on the country in mid-February.
"How about somewhere south?"  Travis Sutton remembers his dad suggesting. That morning they got in their car and headed to Arizona. Travis Sutton remembers he was excited to go on an adventure with his dad — a quest for warmer weather and to see Travis' grandfather.
At the time the boy didn't realize the real purpose of the trip. His father was going through a divorce with his second wife, Zoe.
"He was giving her a chance to move out. We left so she could have her time to do what she had to do," Travis Sutton said. "Looking back, putting it all together, he was in a lot of pain."
They returned from their trip Feb. 21, 1989. Zoe Sutton had moved out.
But without any evidence, Travis Sutton is hesitant to conflate the two traumas.
"It's so far gone right now, there'd be no proof of anything," he said. "But it could have been an accident. I'm open to that too. I leave all the possibilities open. ... But, to be honest, I don't want to believe it was an accident."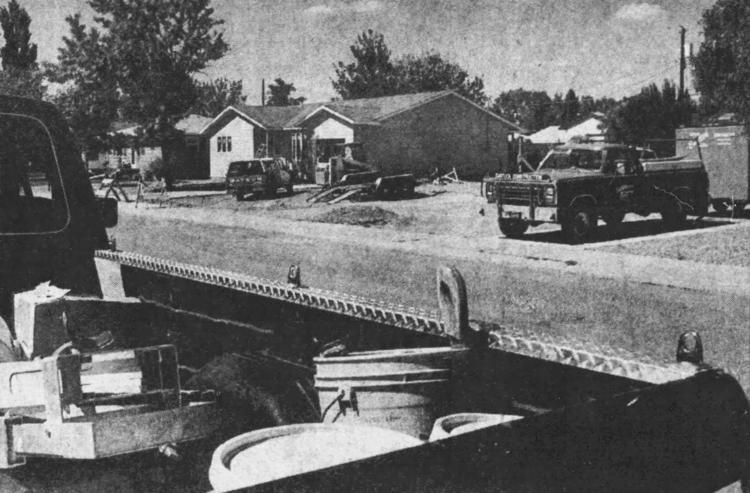 Rebuilding
While Travis healed, the neighbors bonded.
For months Custer Avenue looked like a parade. Lookie loos would come up and down the block to see the carnage.
But the neighborhood rebounded quickly. In September 1989 the Custer Avenue neighborhood closed off the block to celebrate the final touches on their refinished homes.
They made T-shirts for the block party that read, "I survived Custer's last blast."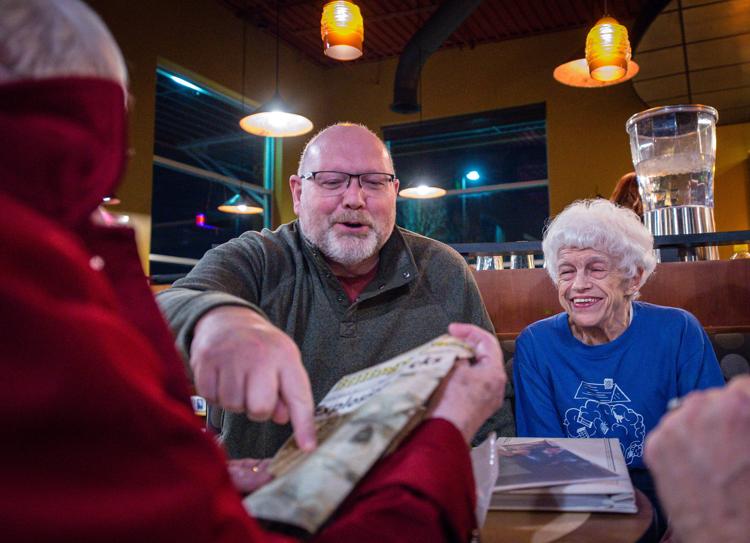 The explosion created a close-knit group of friends. They helped each other and checked on each other; some of them picked out new furniture together.
"We all went through the same thing," Ferries said recently. "We understood what it was like to move out and not know where we were going or what we're going to do."
Years later some of the neighbors moved away, died or lost contact. But those who stayed in touch still talk to each other today. They discuss their lives, their careers, families and grandchildren. The Custer Avenue explosion still comes up in conversation.
Since the explosion Beth Ferries has always made sure she has flashlights accessible. She remembers struggling to get around scattered glass in her dark home.
Don Brunner always makes sure there is a clear path out of his house before he goes to bed.
Keith Walkers, who lived down the street, finally moved to another home. He feels much safer in the new house, he said.
"Still, back in your mind you never forget that. What if that ever happened again?" Ferries said. Eventually she and her husband moved back to Sheridan.
"We loved our neighbors. It was hard for us to come to Sheridan," she said.
Ferries thinks about the explosion here and there. She also thinks about Travis Sutton often, but never tried to reach out to him. She didn't feel like it was her place to dredge up painful memories.
"I've always thought and wondered about him. He went through much more than all of us," she said. "Your house is a material possession. You can't get your dad back."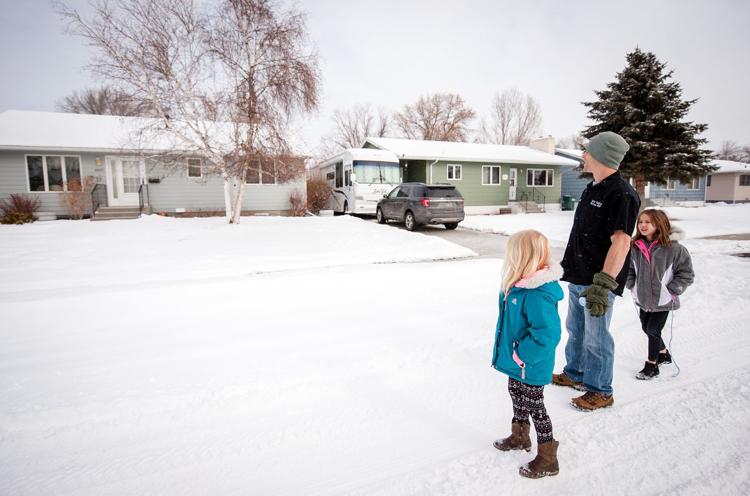 Returning
A few days before the 30th anniversary of the explosion, Sutton walked around the 2600 block of Custer with his two children. It was one of only a few times that he's visited the neighborhood.
Snow coated the ground Saturday, not unlike 30 years ago. In front of the house the memories are fading, like what color his home was, or whether there were curtains in the windows. In the alley the memories are more potent.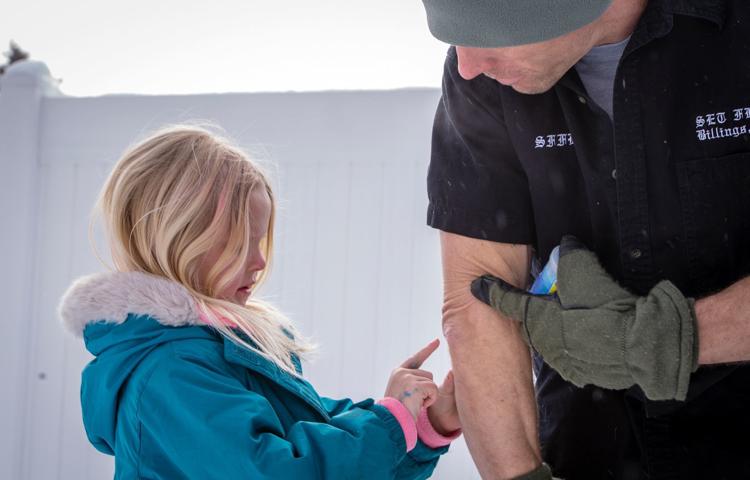 Travis approached a black dumpster.
"This is important," he said. He's spoken with his daughters about what happened to him. It's important for them to know, he said — to keep the memory of their grandpa alive.
A few paces from the trash can he demonstrated how he landed years ago. His daughter asked him how he got new skin after the burns. It grew back, he told her.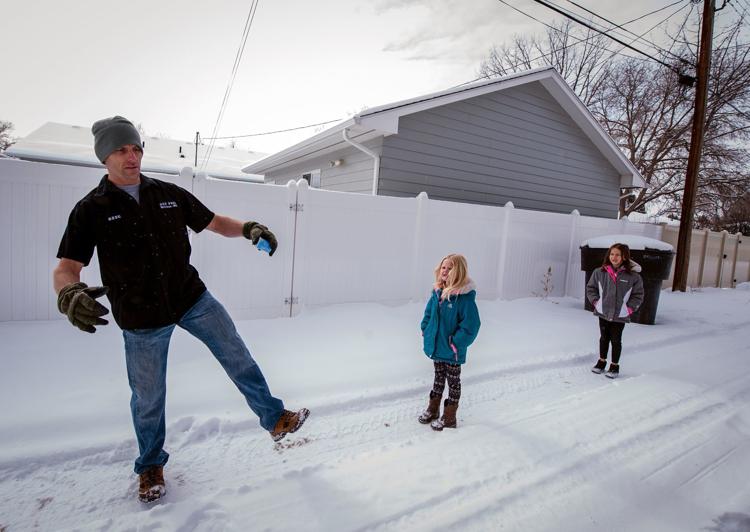 Right before losing consciousness, while still airborne, he said he felt his father's presence to the right of him.
His voice choked up as he looked toward the neighbor's backyard. Police had said that his dad would have survived the explosion if he hadn't collided with a tree.
"I wish I knew which tree," he said.