Homelessness is up slightly in Montana, according to a national report released Wednesday by the U.S. Department of Housing and Urban Development, with Billings seeing the biggest increase in the state.
Overall the nation's homeless population increased this year for the first time since 2010, driven by a surge in the number of people living on the streets of Los Angeles and other West Coast cities.
HUD's annual Point in Time count showed nearly 554,000 homeless people across the country during local tallies conducted in January. That figure is up nearly 1 percent from 2016.
Of that total, 193,000 people had no access to nightly shelter and instead were staying in vehicles, tents, the streets and other places considered uninhabitable. The unsheltered figure is up by more than 9 percent compared to two years ago.
In Montana 987 individuals and 542 people in families were counted among the homeless in the state. Of the total 1,529, 64.4 percent live in shelters and the other 35.6 percent live on the streets.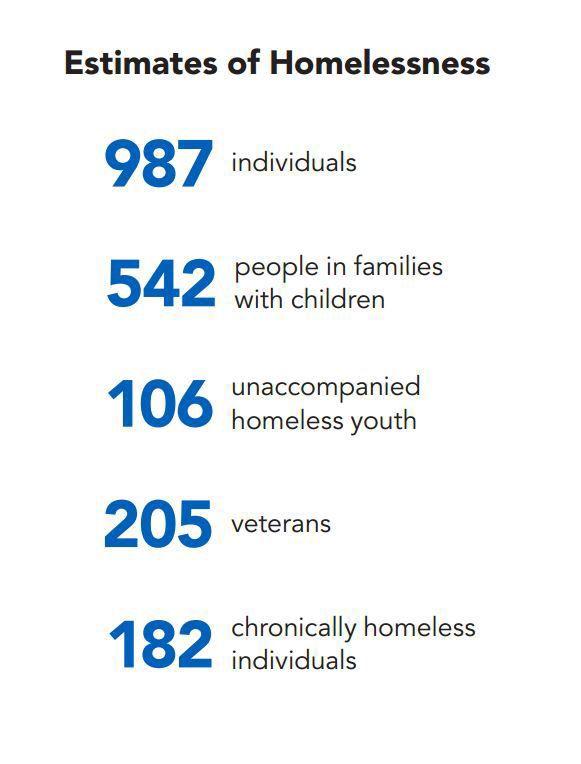 The total is 7.8 percent higher than in 2016, the report said, but 5.3 percent less than in 2010. Of the individuals counted, 106 were unaccompanied homeless youth, 205 were veterans and 182 were chronically homeless individuals.
According to statistics provided by the Montana Continuum of Care Coalition, Billings recorded a 28.8 percent increase in the number of homeless, the largest in the state, followed by Kalispell at 16.2 and Bozeman at 7.5 percent. That translates into 431 people counted in Billings, 248 in Kalispell and 115 in Bozeman.
Homelessness went down in Missoula from the year before, from 395 to 344 people. It remains the second highest homeless population in the state, after Billings.
With homeless numbers mostly declining in the state since 2014, Bob Buzzas with the Montana Continuum of Care Coalition said he will keep a close eye on the results of the next Point in Time count.
"There hasn't been a real clear trend other than our numbers are not appreciatively decreasing," he said. "The 2018 count will be interesting to see if the individual numbers go up for a second year in a row."
Or it could be an anomaly, he said with one city, Billings, seeing 129 more homeless people counted in 2017 than the year before. That could skew the results.
"With Billings and Missoula the largest numbers, we're always looking at those quite close," Buzzas said. "Bozeman seems to be growing at a pretty fast clip, which is a concern because it's always been one of the smallest areas."
The coalition works to combat homelessness, in part by securing grants to fund initiatives in cities around the state. In Billings, that includes two programs, one with the Billings Housing Authority to provide permanent, supportive housing for people who are seriously disabled and chronically homeless.
"The other program, through District 7 HRDC, is rapid re-housing that's more for families who don't need a lot of intensive support services, maybe a couple of months of rental services while they get back on their feet," he said.
The national homeless estimate includes information compiled in about 3,000 cities and counties across the United States. Information was collected during a one-night survey done Jan. 21.
In Billings that work was coordinated by Amy Ensign, youth program director, and Christy Kramer, emergency services director, both with HRDC. At sundown that day, about 40 volunteers fanned out to seven spots around town and asked people who identified themselves as homeless to complete a survey.
They included the Billings Public Library, the Montana Rescue Mission's Women and Family Shelter and Men's Shelter, the Community Crisis Center, Tumbleweed, HRDC and St. Vincent de Paul.
District 7 HRDC also conducted the survey in Big Horn, Carbon, Sweet Grass, Stillwater and Yellowstone counties.
"We also work with people to collect surveys from people living in camps," Ensign said. "We can do the survey up to four days after, but we ask 'where did you stay the night of the 21st'?"