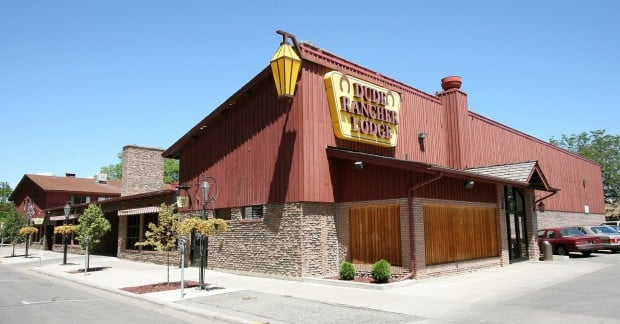 While sounds of cowboy campfire songs and the aroma of food from an authentic chuck wagon drifted across the parking lot of the Dude Rancher Lodge on Saturday after five days of filming by a national television crew, the real show was going on behind the scenes.
"We really had some ideas of what might happen this week but we really weren't prepared for what actually happened," said Virginia Karlsen, the hotel's owner. "We had the opportunity to learn from a hotel master."
That hotel master is Anthony Melchiorri, host of the Travel Channel's "Hotel Impossible," who spent most of last week at the Dude Rancher, 415 N. 29th St., with a film crew for the show.
The show brings Melchiorri into struggling hotels and has him work on turning them around with owners and management while crews renovate a handful of areas.
Karlsen, who's owned the hotel since 1991, said that the biggest issue facing the Dude Rancher was keeping up with modern amenities while maintaining its historic, rustic Western theme.
"During the filming, I had several old-timers come up who said that for years, the Dude Rancher was the place to stay in Billings," she said. "We're not going to stop now until everybody in Montana is saying that again."
The most immediately visible effect of the five-day effort from the show's crew lies in the hotel's main reception area and one of its second-floor rooms.
The main desk was replaced with large new wooden one, adorned with Western-style metal decorations and wood paneling.
If the upstairs room looks like a completely different room, it's because it is.
"When I come into a space, I really want to acknowledge the history but you want modern amenities," said Blanche Garcia, the show's interior designer. "No matter what, you still want things like a clean bed and a fla-screen."
You have free articles remaining.
Garcia did just that in the room. It honors the Western style of the hotel, with ranching brands, designs and simple furniture and antique decorations, many of which she found at local thrift stores.
But it also has things such as outlets and light switches placed above table-level that make it easier for modern business travelers to plug in laptops and cellphones next to the bed. And, of course, it has a flat-screen television.
Much of the construction work was done by local contractors hired by the show and the crew bought supplies locally as often as possible, Garcia said.
Behind the scenes, Melchiorri spent five days with Karlsen going over the hotel's operations, covering everything from its website to marketing and events planning, as well as providing blueprints for further renovations.
"He spent all week working with me and showing me how to do it," she said. "It's not just having a show filming here. It's having one of the premier hotel fixers in the world showing you how it's done. He's given us a road map of how to continue this."
On Saturday afternoon, the show's crew and Karlsen wrapped up filming with a small public party in the hotel's parking lot. While they filmed the final scenes, a crew out of Clark, Wyo., dressed in authentic cowboy gear cooked chili, cornbread and coffee from an old wooden chuck wagon while two others played old cowboy songs on a pair of guitars.
"They wanted to have an old-time chuck wagon, and I tend to stick with the traditional stuff," said Ron Reed, a cook at Wyoming's Buffalo Bill Historical Center who owns and operates the chuck wagon. "You're not going to find any glazed salmon with basil here."
Karlsen said that, while she's loved the Dude Rancher as long as she's owned it, having the crew in town and, especially, getting planning advice from Melchiorri — who has 20 years experience in the hospitality business and has managed and helped turn around major hotels and resorts — has reinvigorated and reignited her passion for the place.
So much so that she began putting into place some of his suggestions during breaks in filming, sometimes just minutes after he passed them on. She plans to continue the reinvention of the Dude Rancher immediately.
"We no longer want to be the best-kept secret in Billings," Karlsen said. "We're really grateful for the support from the Billings community and now it's our turn to make sure we live up to that."
"Hotel Impossible" airs on the Travel Channel on Monday nights. The Dude Rancher episode is expected to run sometime in June.
Get local news delivered to your inbox!
Subscribe to our Daily Headlines newsletter.