When Pamela Conner saw the video of George Floyd's killing, she wasn't surprised.
It was "like a modern day lynching," said Conner, a 57-year-old black woman who was born and raised in Billings.
"It just, to me, took me back to the time when people gathered in the town square to kill us. And they videoed it. And the cops did what they did," she said.
Conner was one of hundreds of people gathering downtown Sunday on the Yellowstone County Courthouse lawn beginning about 1 p.m., to demand justice for George Floyd and all people of color in the community and the world.
About 1,200 people RSVP'd to a Facebook event saying they would attend, with another 1,900 saying they were interested in going. The crowd was large enough to spill over onto the sidewalks around the park, prompting the Billings Police Department to fall back on a contingency plan to close North 27th Street to traffic as a safety precaution.
Protest signs outnumbered the rifles, shotguns, pistols and knives brought by dozens of armed people, mostly men. At least one man wore armor and had what appeared to be a sword sheathed at his side.
Some of the armed people had no group affiliation. There were more than 20 members of a group called the Yellowstone Militia. Members of at least five motorcycle clubs also stood by on the streets across from the courthouse. About five younger men with guns and an American flag marched past protesters early on, with one of the men raising a fist in support. By the end of the day they were holding signs and marching with protesters.
Some protest organizers had been in contact with the Yellowstone Militia and at least one of the motorcycle clubs beforehand to gauge their intent. Angelo Bianco of the Galloping Goose motorcycle club said they were there to keep the peace and protect businesses.
Bianco said he also was personally making sure that no one desecrated the Purple Heart monument on the courthouse lawn that he said he helped put up. The police department had said earlier in the week they were expecting people to show up intending on exercising their Second Amendment rights.
Renee Stonebraker, 23, set up a "street medic" station adjacent the courthouse lawn. She said she is CPR and first aid certified. In permanent marker on her arm she had written her blood type, A+, and that she was 14 weeks pregnant. She said knowing what has happened at other protests across the nation, she wanted to prevent casualties in Billings.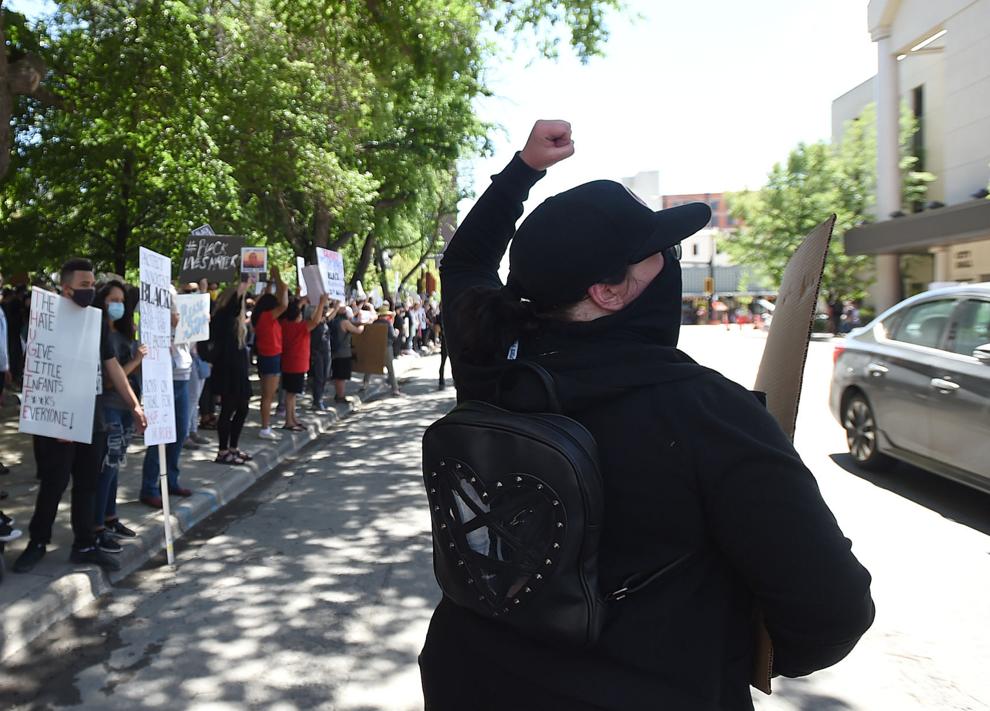 "One of the things that being pregnant does is make you really think about the world you're bringing a child into. And I want to do my entire part to make sure that I'm making the world better," she said.
By 2:30 p.m. the protest had split into two groups. One smaller group remained on the courthouse lawn listening to a lineup of speakers. The larger group took to the streets and began marching around the block several times, picking up a variety of chants, including "What's his name? George Floyd!" along with "I can't breathe!" and "Black lives matter!"
Shortly after 3 p.m. the storm clouds that had slowly crept in from the west soaked downtown, first with pea-sized hail and then a steady downpour of rain. Some people left, while others took shelter beneath overhangs. But many marchers continued, some even laying down in the streets, their hands behind their backs, simulating the way in which George Floyd was restrained with a knee to his neck on a Minneapolis street.
Minneapolis police officers detained Floyd after he apparently tried to pay for cigarettes with a counterfeit $20 bill. Officer Derek Chauvin, who now faces murder charges, pinned Floyd to the ground and put his knee on the back of Floyd's neck while he lay face-down on the ground, hands behind his back. Although a medical examiner determined that he died of cardiopulmonary arrest, an independent autopsy commissioned by the Floyd family ruled that he died of asphyxiation. 
The death of the 46-year-old black man has sparked days of protests across the country and globe. Protesters have filled the streets of America's largest cities. In places like New York, St. Louis and Washington, D.C., peaceful demonstrations have turned violent, and the Associated Press tallied at least 9,300 arrests as of Wednesday.
Many of the hundreds gathering in Billings wore face masks, as the organizers requested, in an effort to slow the spread of the new coronavirus. People packed shoulder-to-shoulder to listen to more than two hours of speakers, which began and ended with a prayer.
Samuel Enemy Hunter asked the crowd to remember they were on Crow land.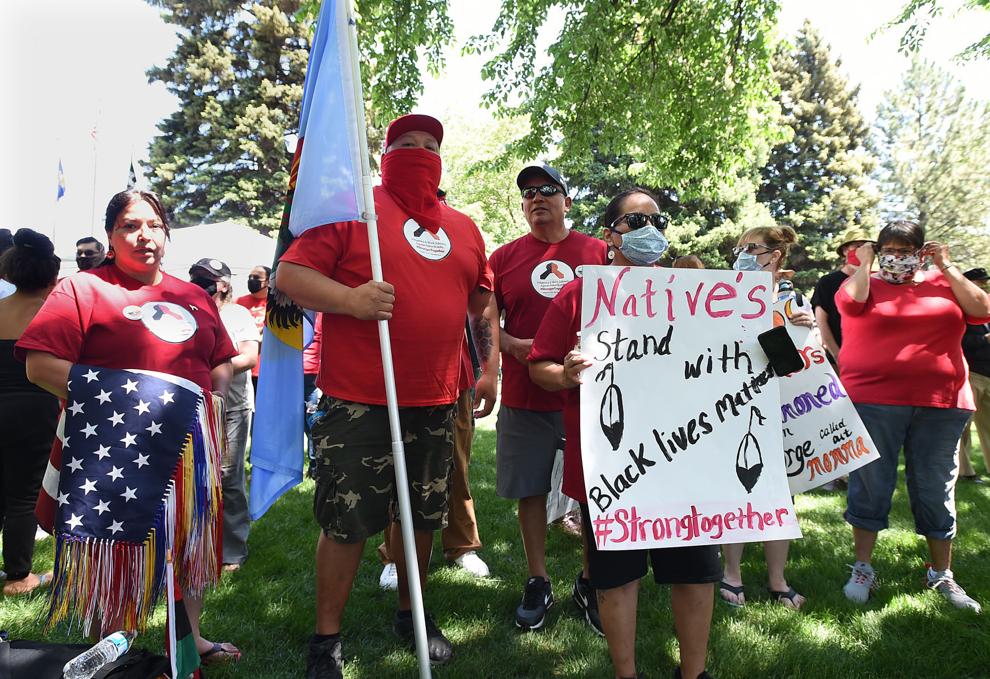 He also noted the numerous men in camouflage with long guns.
"We will not be intimidated by people walking around with their guns," Enemy Hunter said.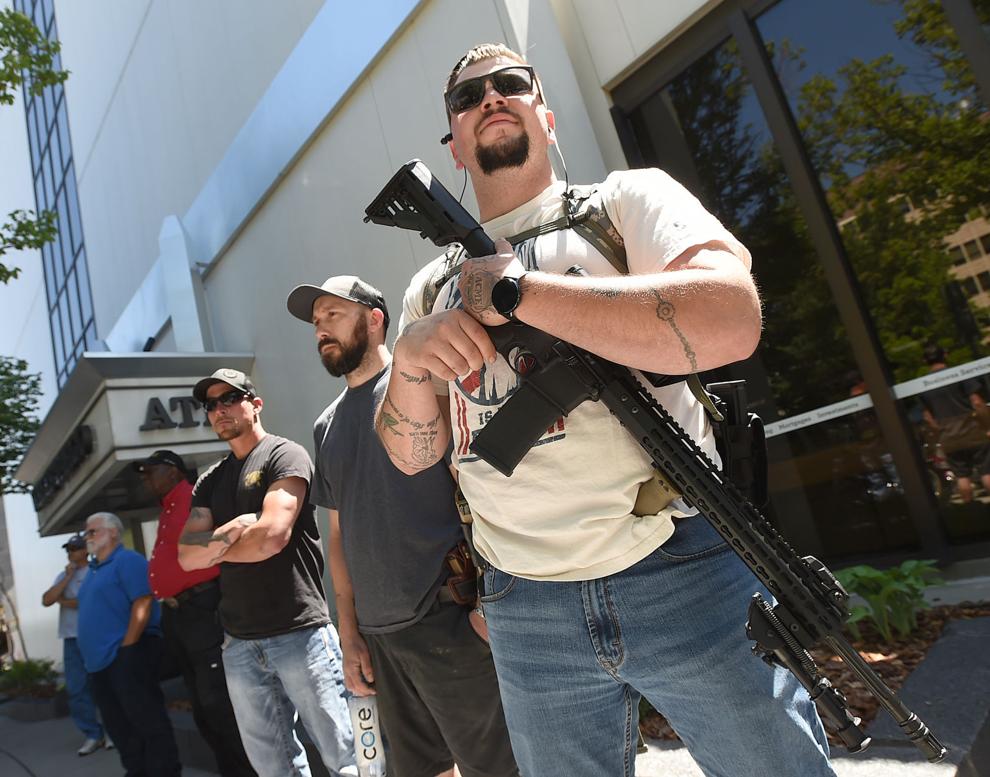 Alexis Cooper, a soon-to-be college sophomore, said that in school at West High she was often "looked to as a talking point" during discussions about race.
"Having the conversation about racism is hard, absolutely," Cooper said. "But in brown people's houses, this isn't optional and in yours it shouldn't be either."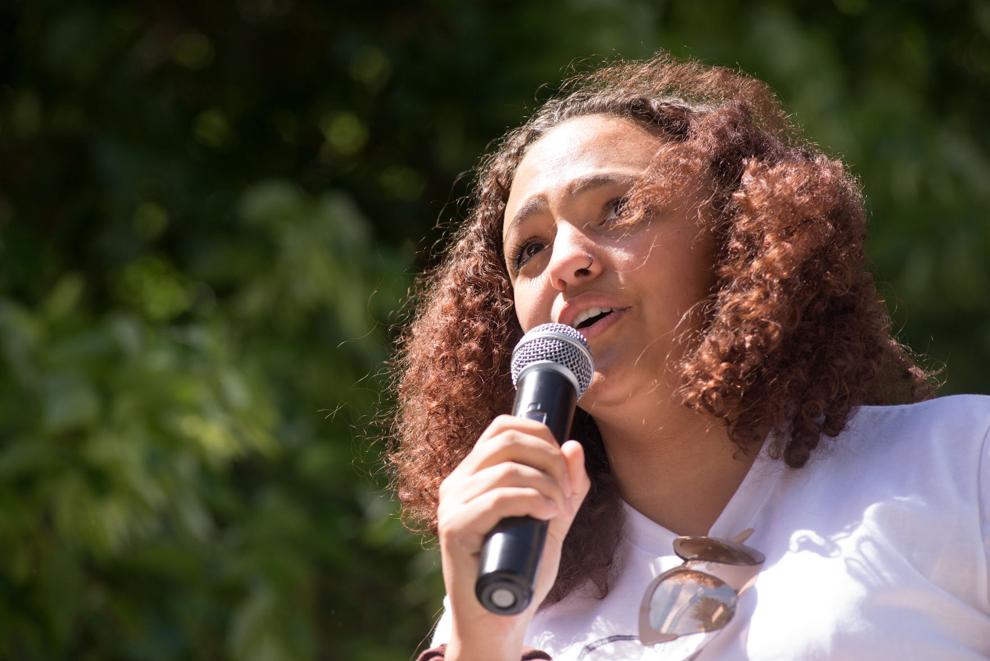 Organizer Taylor Arnold cried as she recounted how her 7-year-old son asked her if what happened to Floyd could happen to him.
" 'Is that going to happen to me, because I'm brown?' " she said. "No. I refuse to sit here quiet any longer."
Arnold also noted the turnout.
"Look at this, this is Billings, Montana," she said. "We did this."
Jerry Clark, a member of Not in Our Town, which began in 1995 in response to a series of anti-Semitic hate crimes in Billings, said the community organization would be putting together small group discussions on racism for Billings residents. He and others called for people to stay engaged.
"A true patriot fights for the well-being and rights of all Americans," Clark said.
The event Sunday was organized by Amber and Ken Palmer, Arnold, and James and Jessica Bulluck. 
As Pamela Conner stood on the courthouse lawn describing her reaction to seeing the death of George Floyd, her husband, 62-year-old Greg McPherson, stood beside her. McPherson is a black man who has been living in Montana since the 1970s. When someone says they can't breathe "That means 'Hey, you're taking my life,'" McPherson said.
"And those other guys that were standing there, they should have done something," McPherson said. 
Their friend Donna Stendahl attended with them. Stendahl is also black and has been living in Billings for about 13 years since moving from North Carolina. McPherson wasn't sure if the current movement would be able to make lasting change, because he's seen people try so many times before. Stendahl said the surprising show of support in Billings, and in the world, was giving her hope.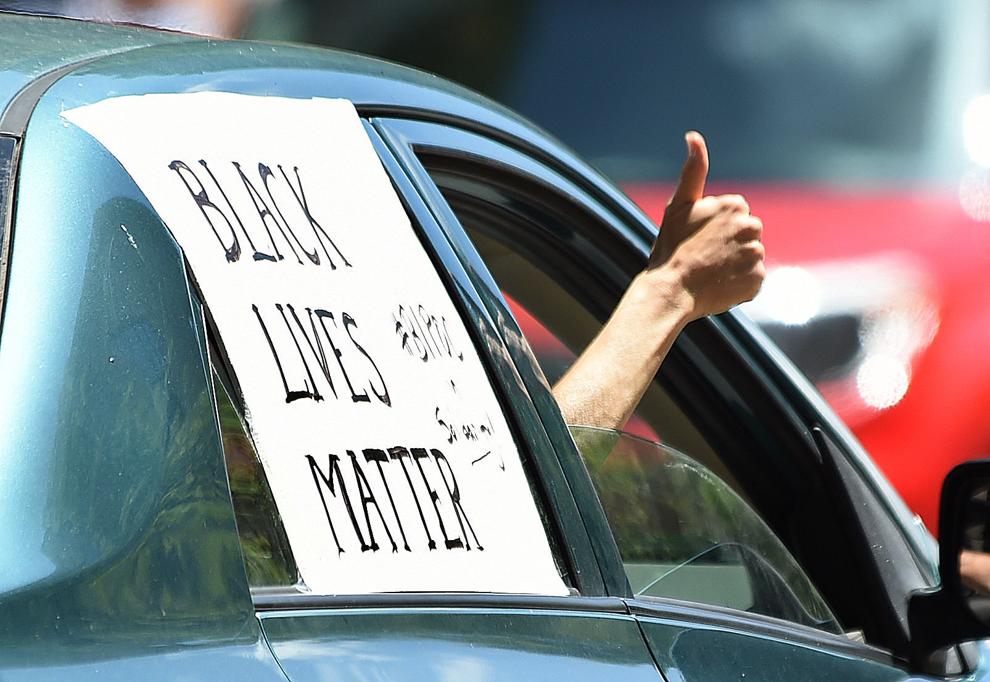 "This is Montana, mostly white, you know. Not a lot of diversity and a lot of times you see the complacency. 'It doesn't touch my life, so why should I care?'" she said. "So that's what I was expecting to see again. But you know this just proves me wrong, all of it. Wow. It's just really touching my heart."
If you have rights, and you give rights to others, "it's not going to take away your rights," she said. "We are born in this country. We live in this country. We pay taxes. Why can't we just live our lives?"
Roman Fisher, a Northern Cheyenne tribal member said he was protesting against racial injustice. "I believe black lives do matter," Fisher said. But he wishes Native American issues could get more attention. Fisher said he believes in the missing and murdered indigenous women movement. "I just wish that we would come up next," he said. "I wish we would have a lot more attention, the injustices that Native Americans here in Billings face."
Rain thinned out the crowd considerably. By about 3:45 p.m., the organized protest was wrapping up, but a group of several dozen people, many of them younger, continued to stand in a group and chant. Across from them were motorcycle clubs, militia members and other armed people. Tensions grew and the groups came closer. An argument broke out between multiple people from both sides.
Angela Scipio said she was raised in Billings but flew out from where she now lives in North Carolina to join the protest. She questioned the motives of the armed people. "They keep saying they're with us, however, they've been standing on the opposite side with their hands crossed with their guns loaded, ready to take action if need be. That's not a symbol of unity. That's not a symbol of supporting us. That's not a symbol of having somebody's back. That doesn't support people," she said.
Earlier in the day, Yellowstone Militia leader Tim Westervelt said his group was there to "Make sure the protest remains peaceful." Bianco, of Galloping Goose, said more than an hour before the argument broke out that he didn't think his group was making people uncomfortable. He said that he said hello to organizer Amber Palmer early at the protest and that someone yelled 'What are you doing with that white supremacist?" Bianco said he isn't a white supremacist, adding that his stepfather is black.
"They're not racist at all," Palmer said. "They were here to make sure that nothing bad happened, they were here to make sure the businesses were safe, to make sure that the community was safe."
The shouting and arguing was de-escalated, eventually by older adults stepping in on both sides to help separate people.
Pastor Tracy Star knelt in prayer and some protesters joined him on the wet pavement, along with some of the armed people, including a man who had been in the midst of an argument moments earlier. Some people put their arms over each other's shoulders.
After the prayer ended, a loose circle of protesters, counter-protesters, armed people, militia members and motorcycle club members remained.
Then a man in a bear costume with a boombox jumped into the middle. Carter Knight, 25, started dancing. A few people joined in, and smiles and laughter broke across some of the hard set faces of the people around.
Then Knight put on "Amazing Grace" and got on his knees in the street. Some people sang with him, others held their hands up in prayer.
Organizers last week had pushed back the start time of the protest to ensure people could still go to church. That's ultimately why Knight was there. He said he wasn't planning on going but a church service he attended Sunday that focused on repentance inspired him to go.
He brought a sign that said "We all bear God's image."
"The Lord just changed my mind, said I needed to come, bring some laughter, maybe de-escalate any potential violence," Knight said.
At 4:25 p.m., Billings Police Department Lt. Brandon Wooley said police did not have to intervene, saying people policed themselves.
"We wanted it to be a measured response," he said of his agency's approach, adding that BPD wanted to be visible enough that they were there listening to the message, but not so visible that they might find themselves in unnecessary confrontations. Police largely stayed to the perimeter.
Joe Stout, director of the Downtown Billings Alliance's Business Improvement District said after the protest had largely dispersed that people were "very, very tidy."
"They didn't leave hardly any garbage around."
The first George Floyd protest in Billings last Saturday was organized by local youth. D'Andre Hidalgo, 19, was there. He returned Sunday with his 16-year-old brother Cortez and their friend Jamiell King.
The elder Hidalgo said that since George Floyd's death the overt racism he's seen has been illuminating. "People I've been to school with, peers, people who I was once cool with, and the things that they just said kind of proved that they were blatant, racist people," he said. "People's true colors have been showing."
He wasn't sure if the protest would effect change, but said that people coming together is key to succeeding.
Walking on the courthouse lawn Sunday, 42-year-old Rick Johnson wore a red "Do The Right Thing" shirt and at one point handed out water bottles to people from a bag he carried. A black Billings resident, Johnson said that he thinks people will ask decades from now where they were in the weeks after George Floyd's death.
"And I wanted to be present," he said. "I've been here off and on since 2002. I've dealt with both sides. I know the beauty of Billings and Montana, but I also know the racist side of Montana. There is a racist side. But I think that goes for every state, every city. I think the benefit here is that you see how young these people are out here."
Asked about people who think it might not work, Johnson paraphrased what he described as a famous quote saying 'The perfect time to fight injustice is always during that moment, right now. So when you see something wrong, you fix it then."
"This is a damn good start," he said. "But we still got so far to go."
---
Photos: Justice for George Floyd rally in downtown Billings
Photos: Justice for George Floyd rally in downtown Billings
Protest in Billings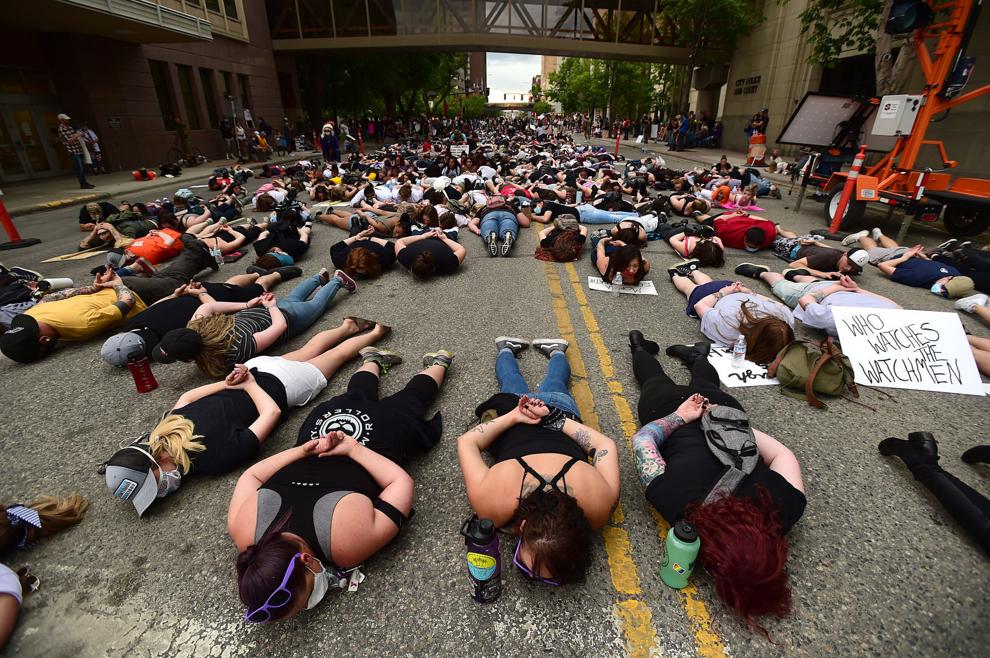 Protest in Billings
Protest in Billings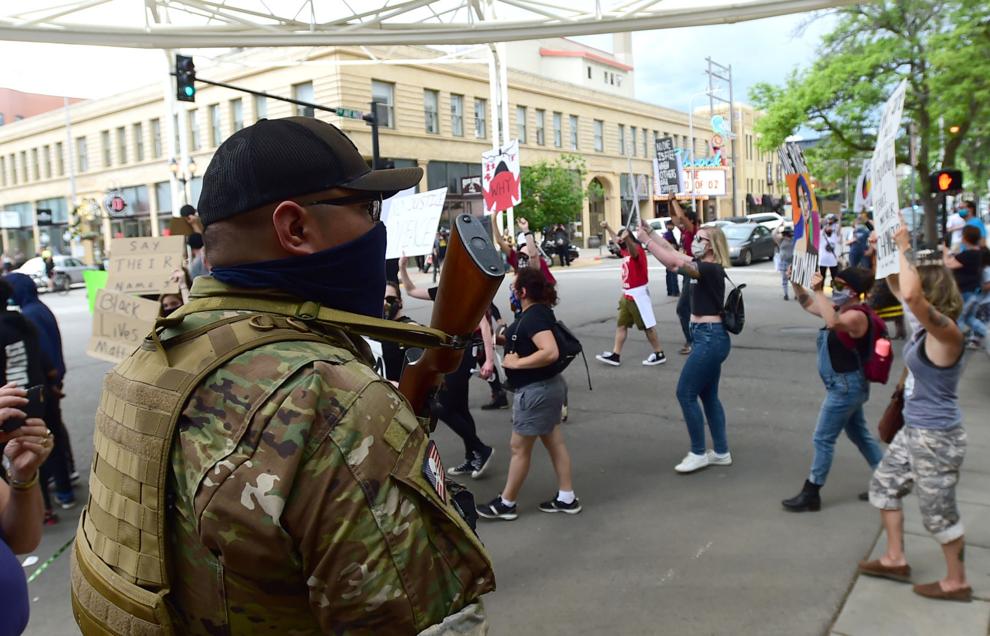 Protest in Billings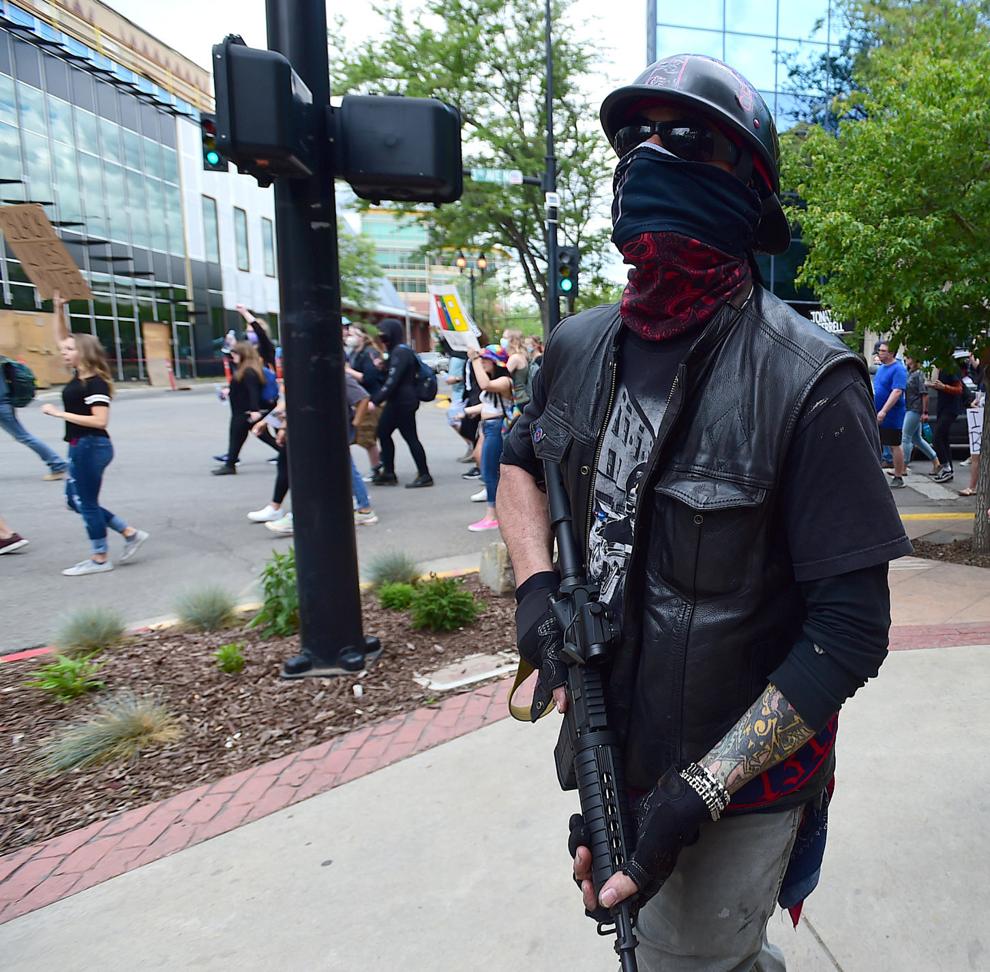 Protest in Billings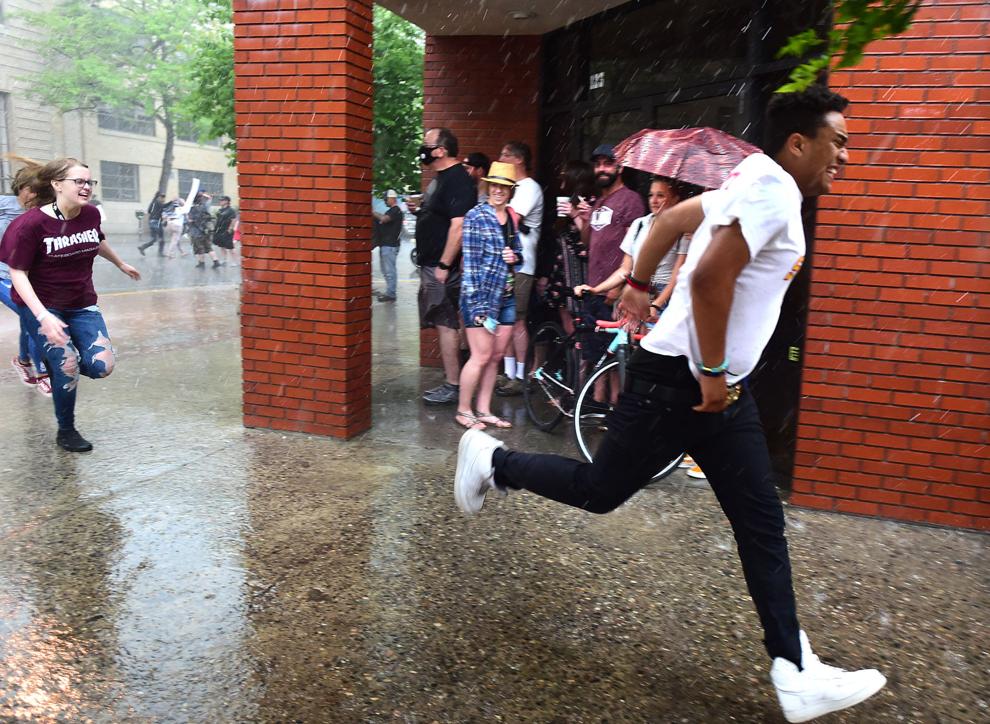 Protest in Billings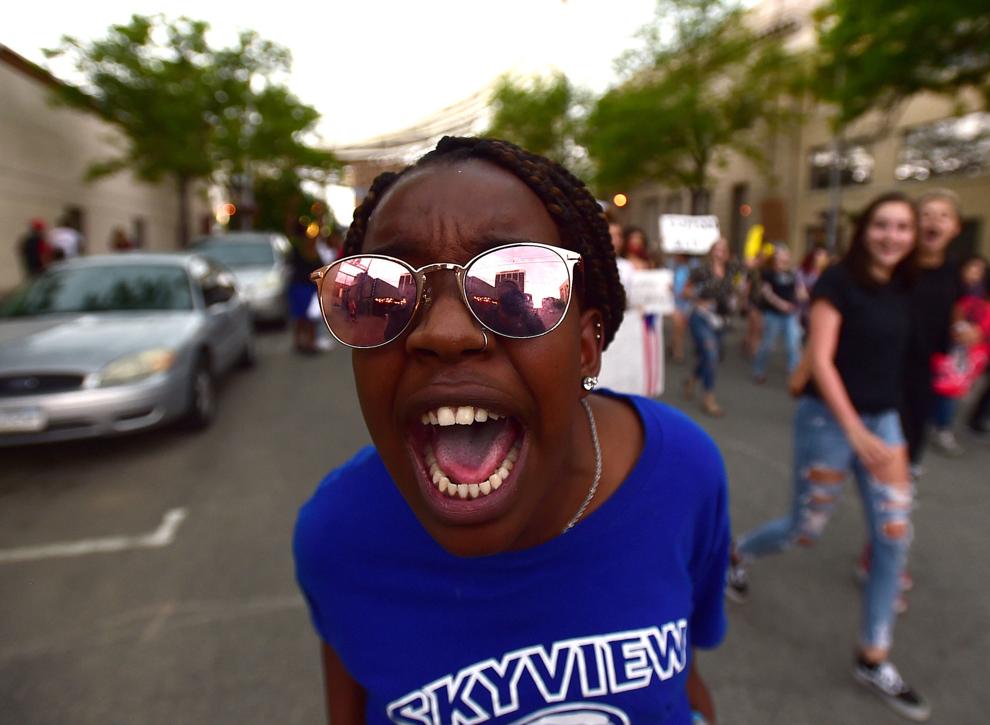 Protest in Billings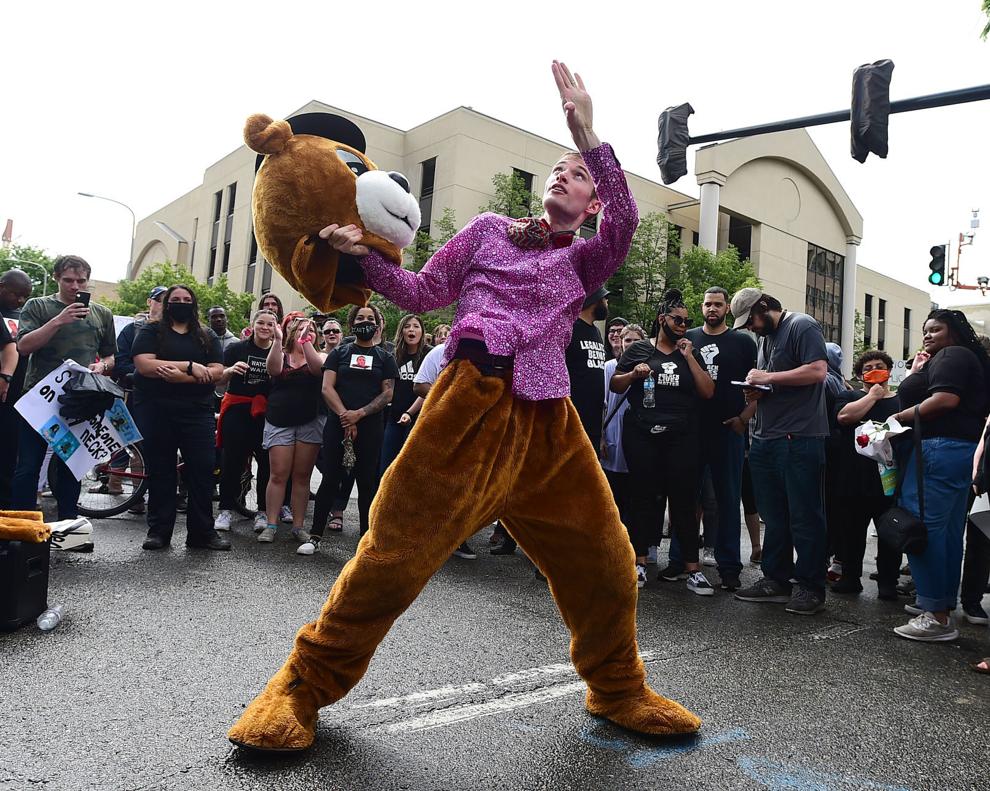 Protest in Billings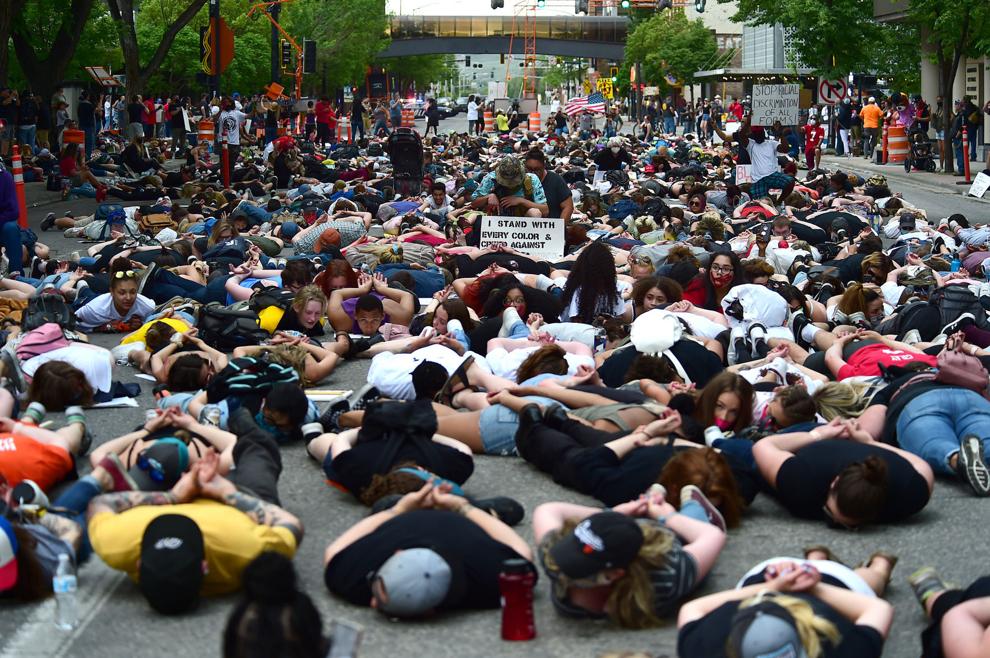 Justice for George Floyd Protest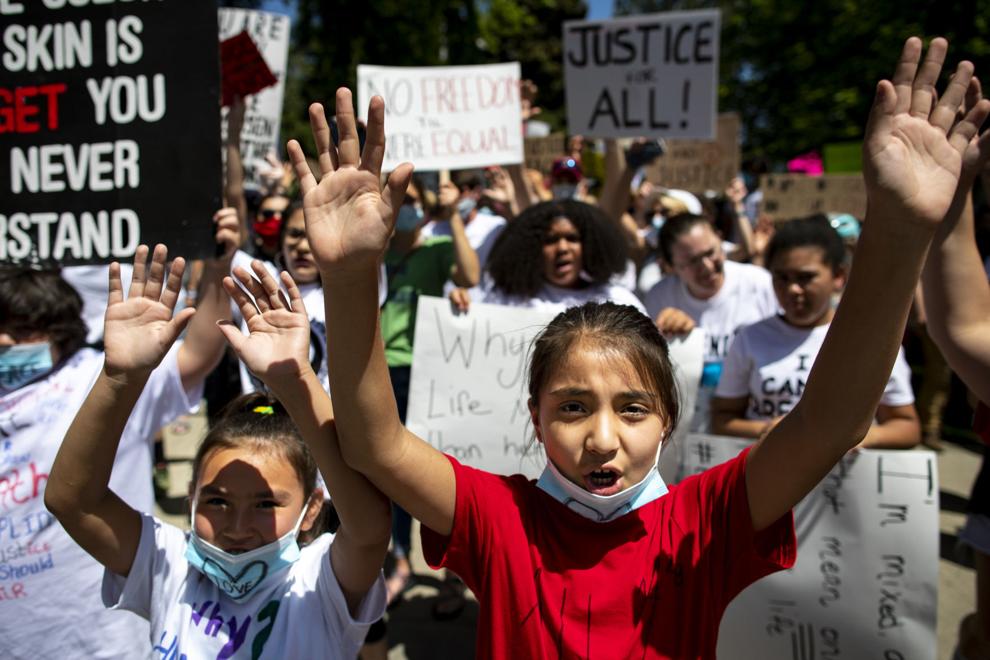 Justice for George Floyd Protest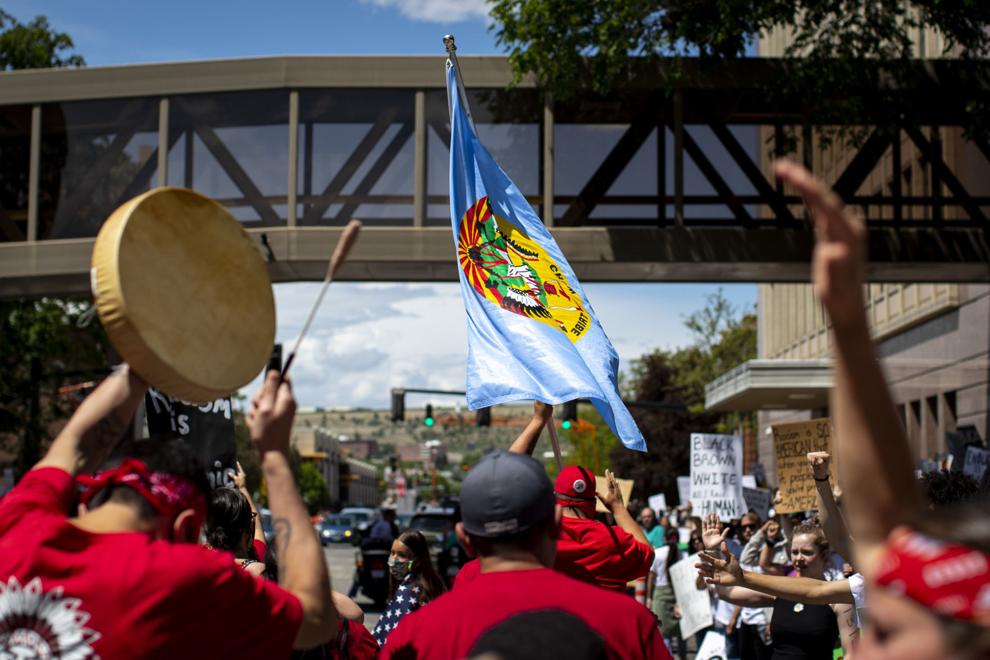 Justice for George Floyd Protest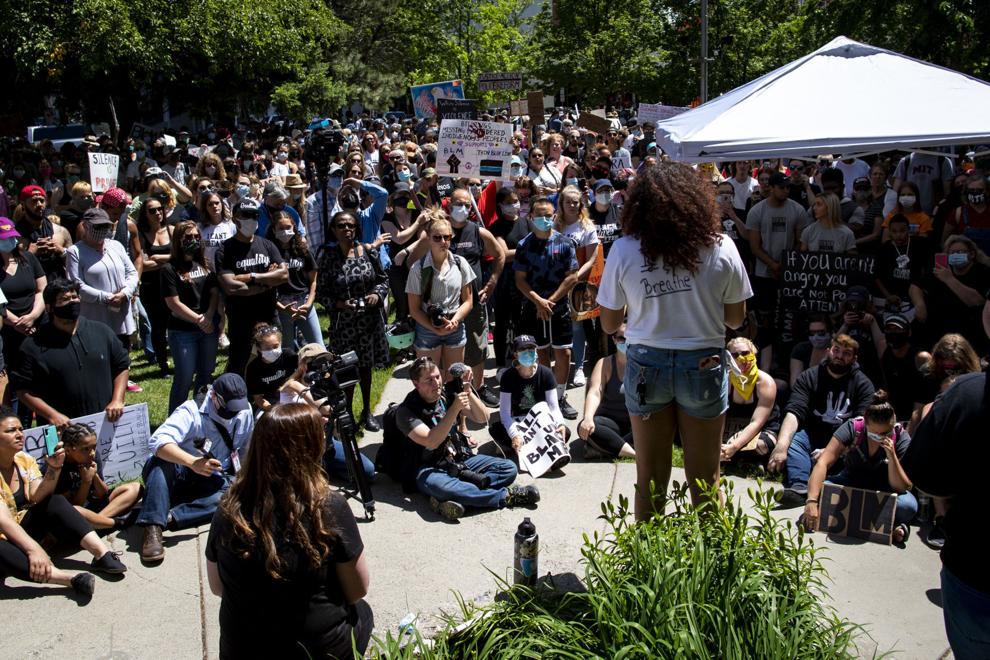 Justice for George Floyd Protest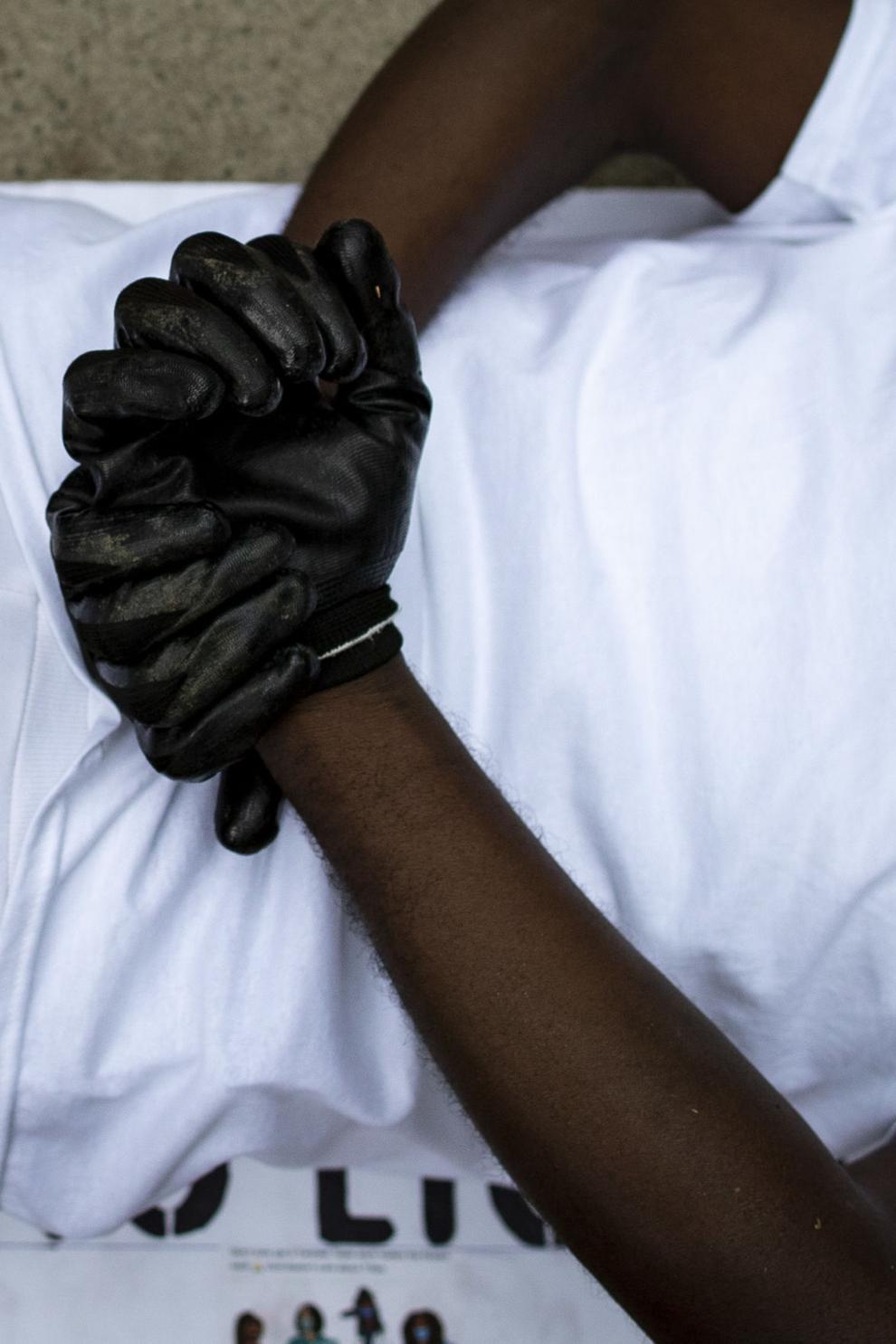 Justice for George Floyd Protest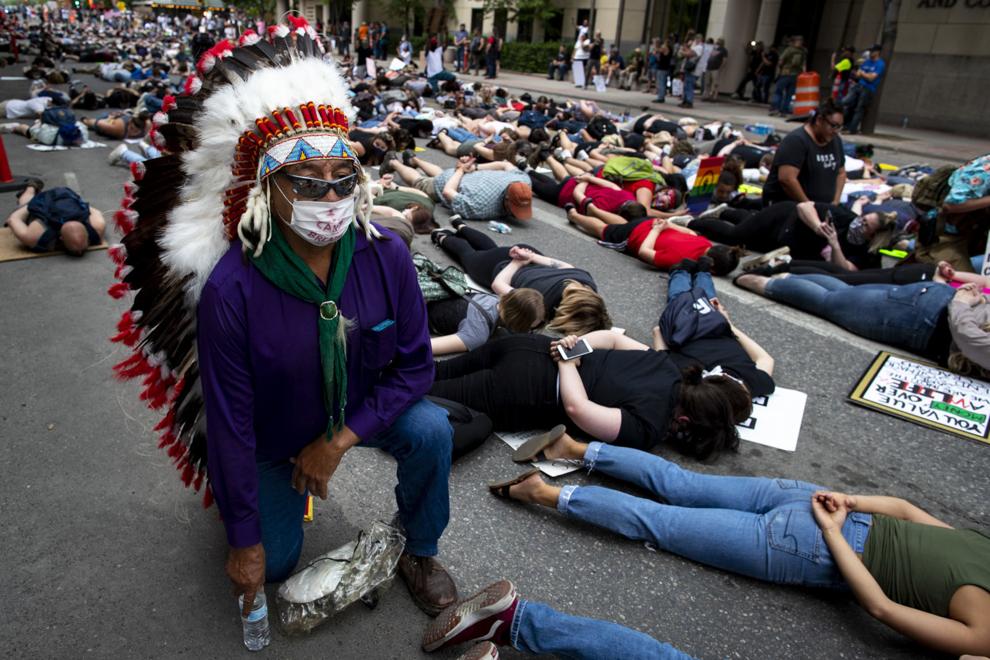 Justice for George Floyd Protest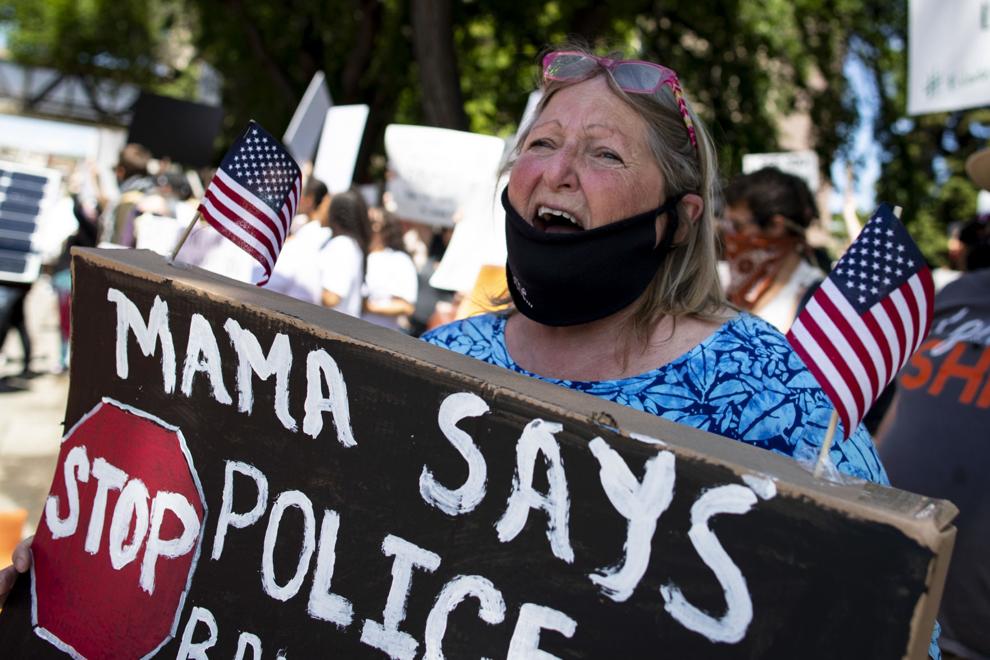 Justice for George Floyd Protest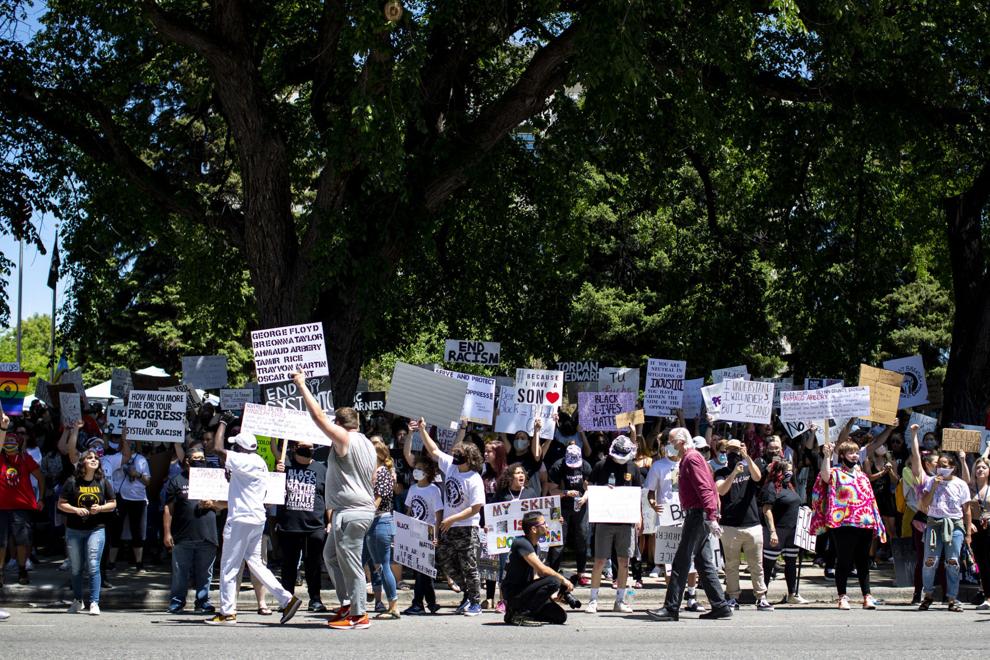 Justice for George Floyd Protest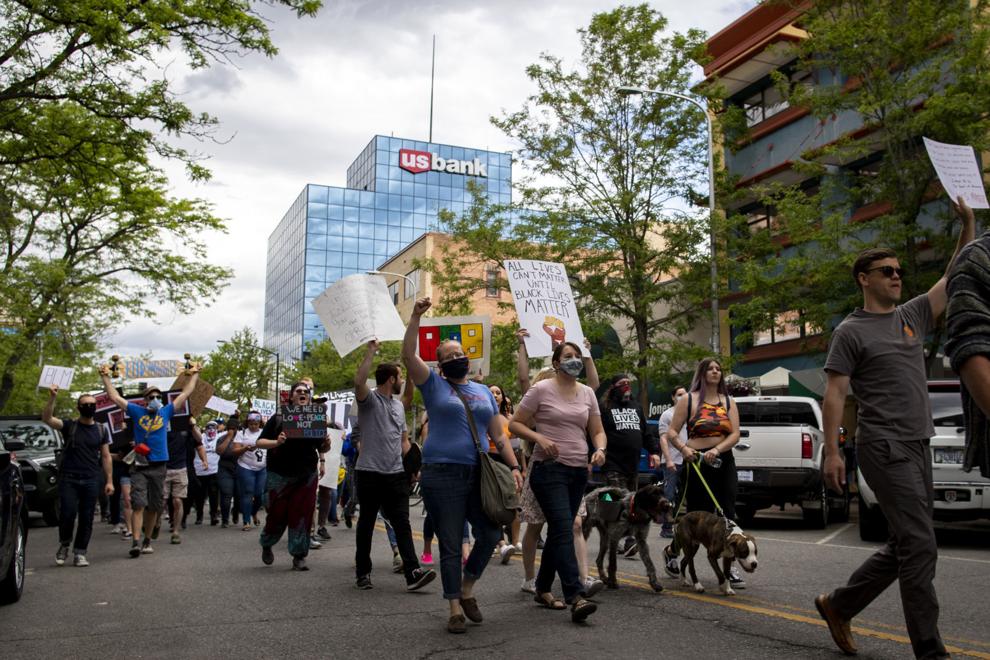 Justice for George Floyd Protest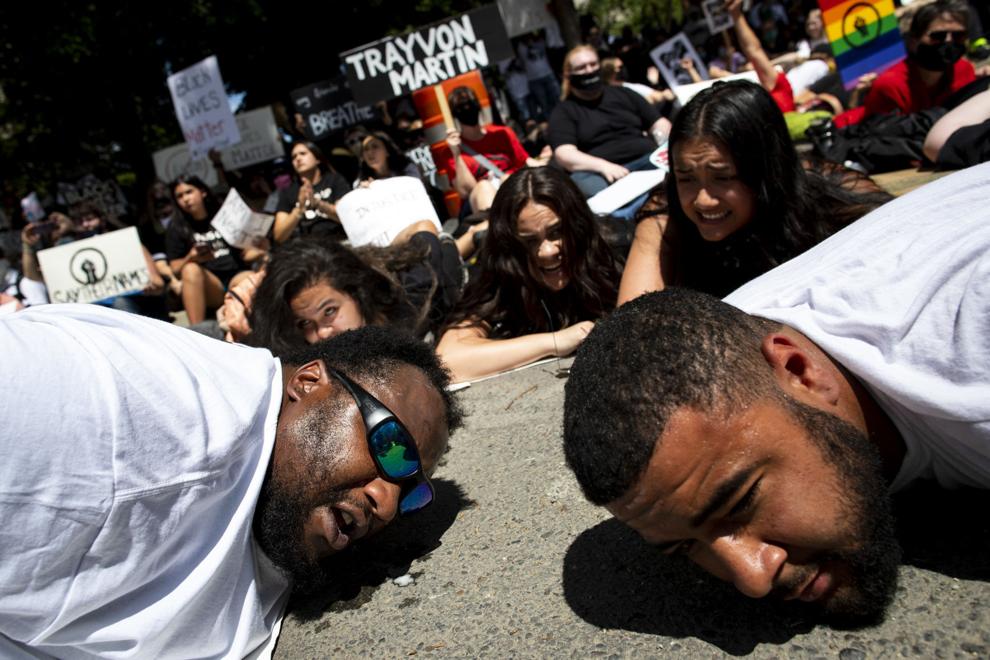 Justice for George Floyd Protest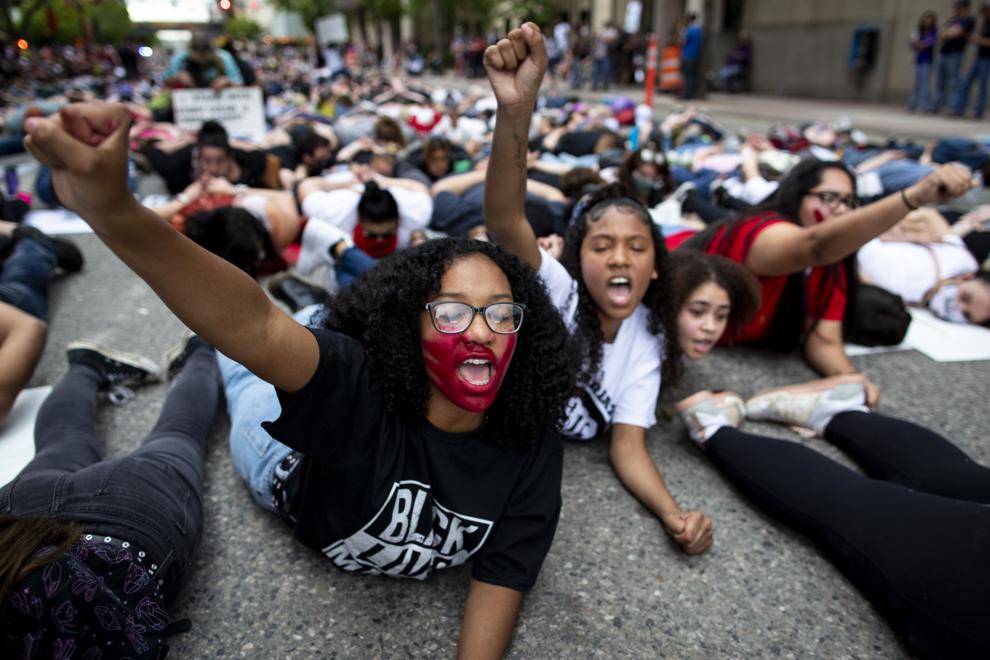 Protest in Billings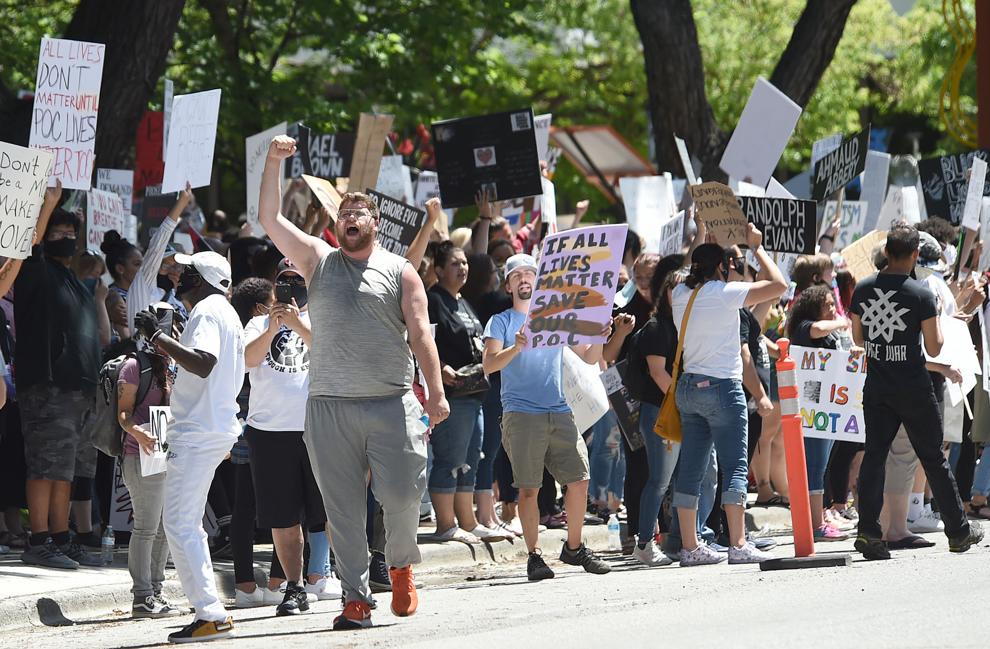 Justice for George Floyd Protest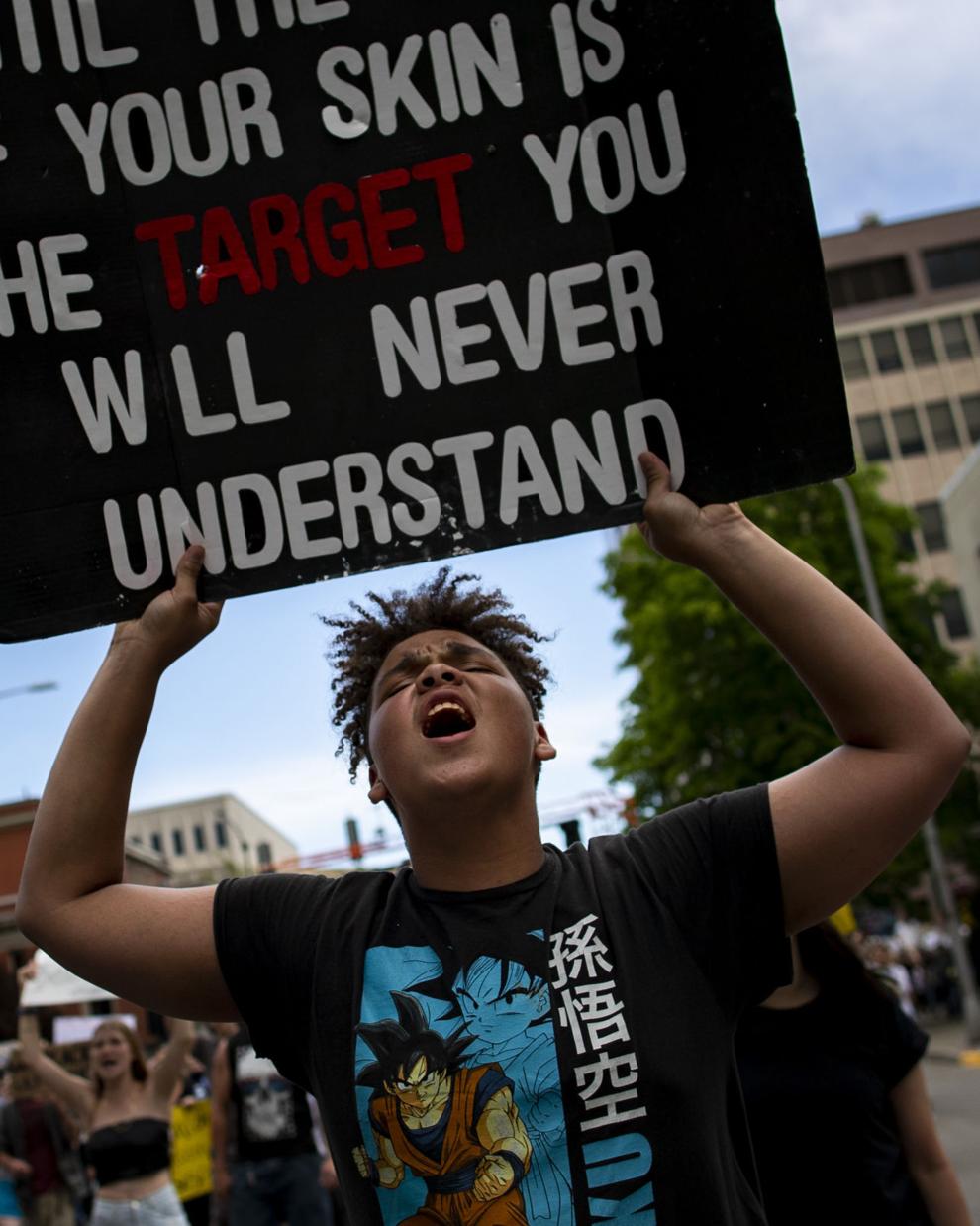 Justice for George Floyd Protest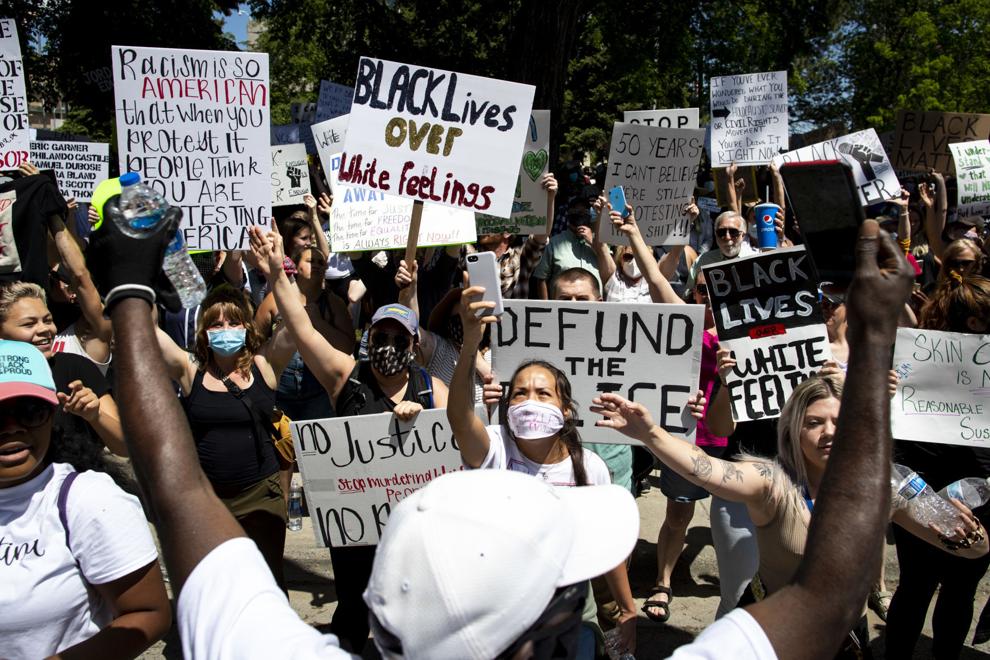 Protest in Billings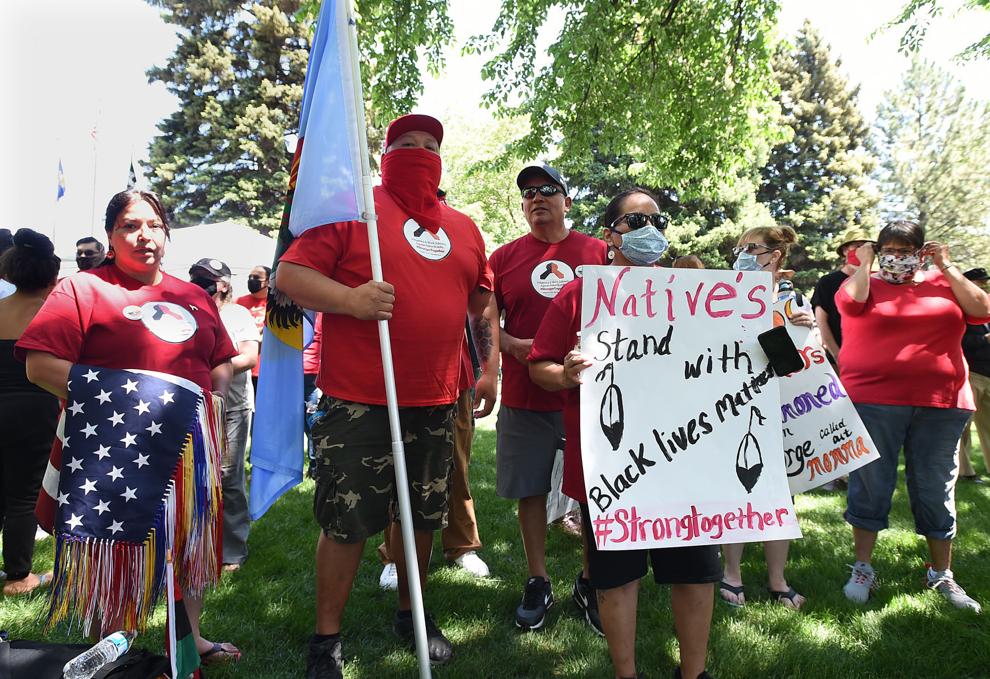 Protest in Billings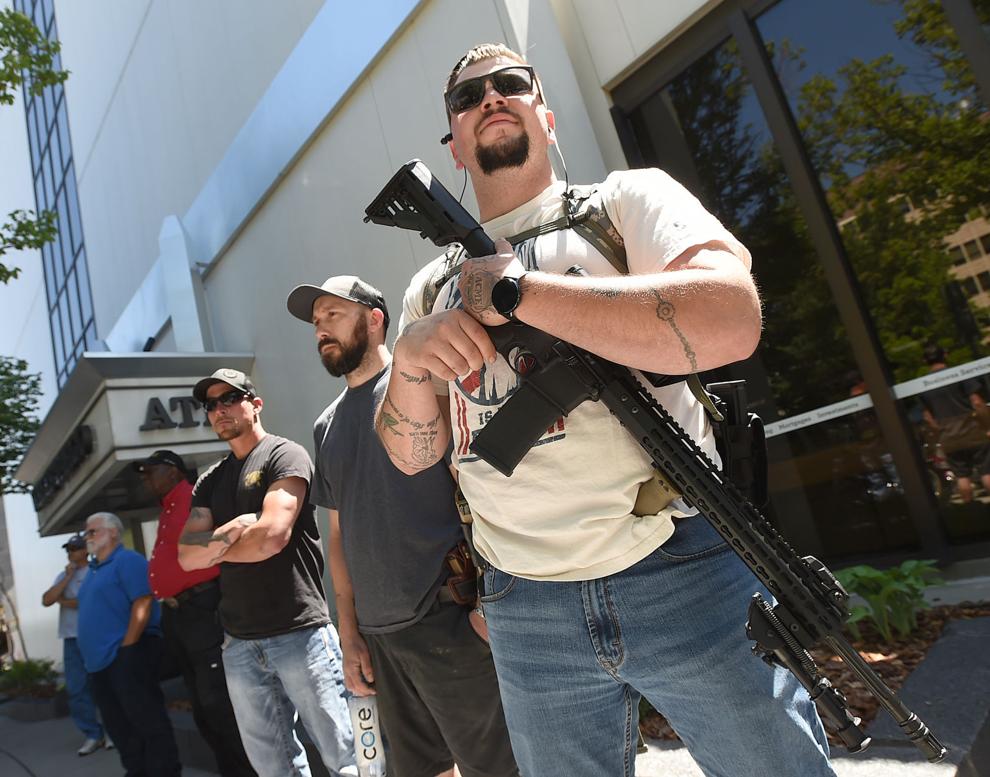 Protest in Billings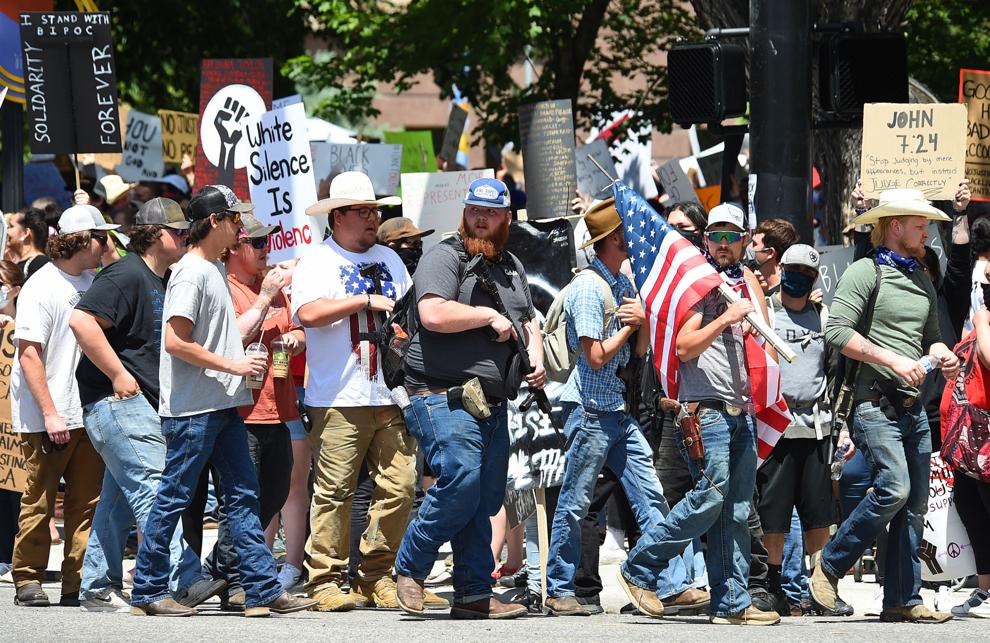 Protest in Billings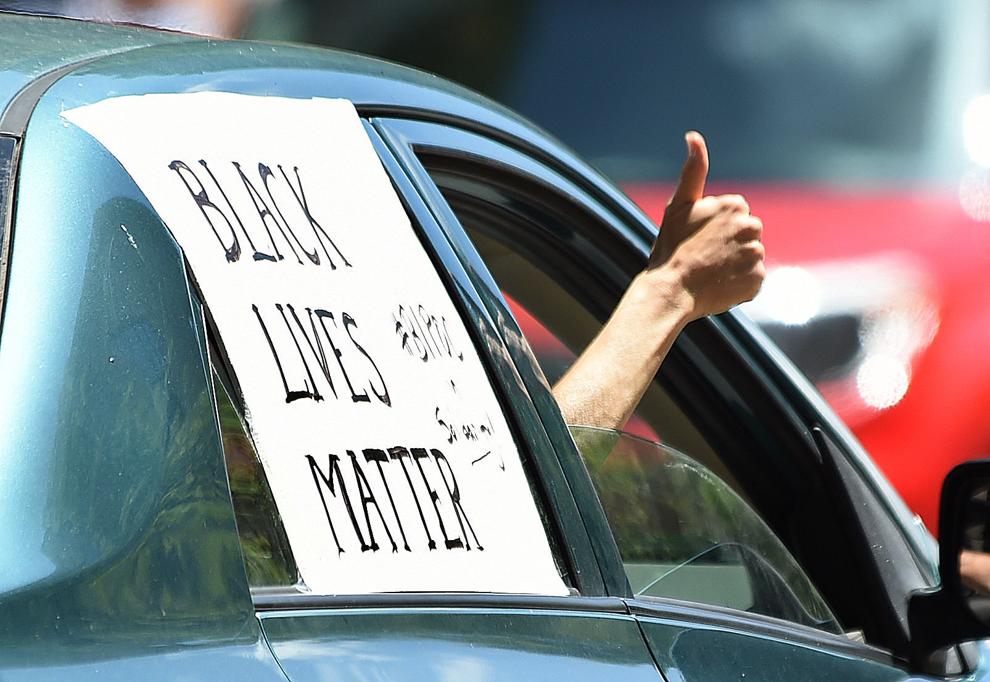 Protest in Billings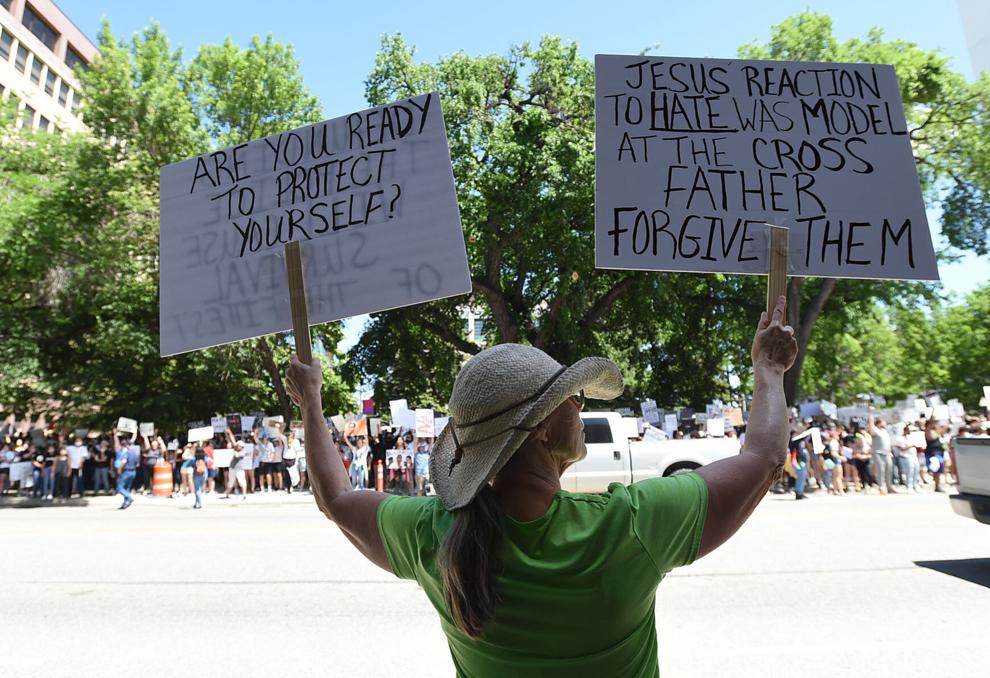 Rain falls on protesters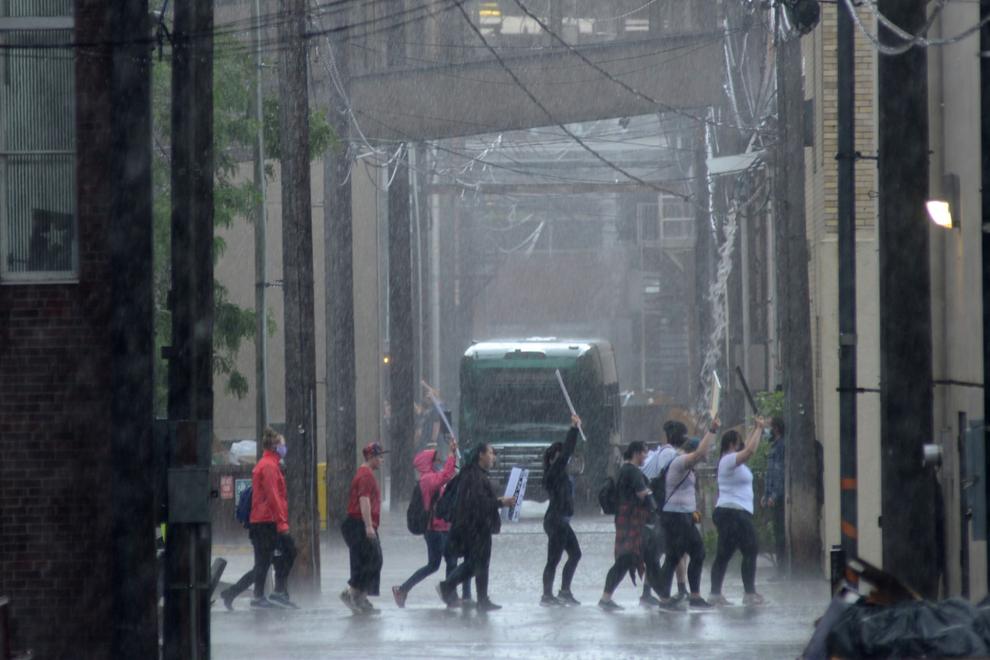 Justice for George Floyd Protest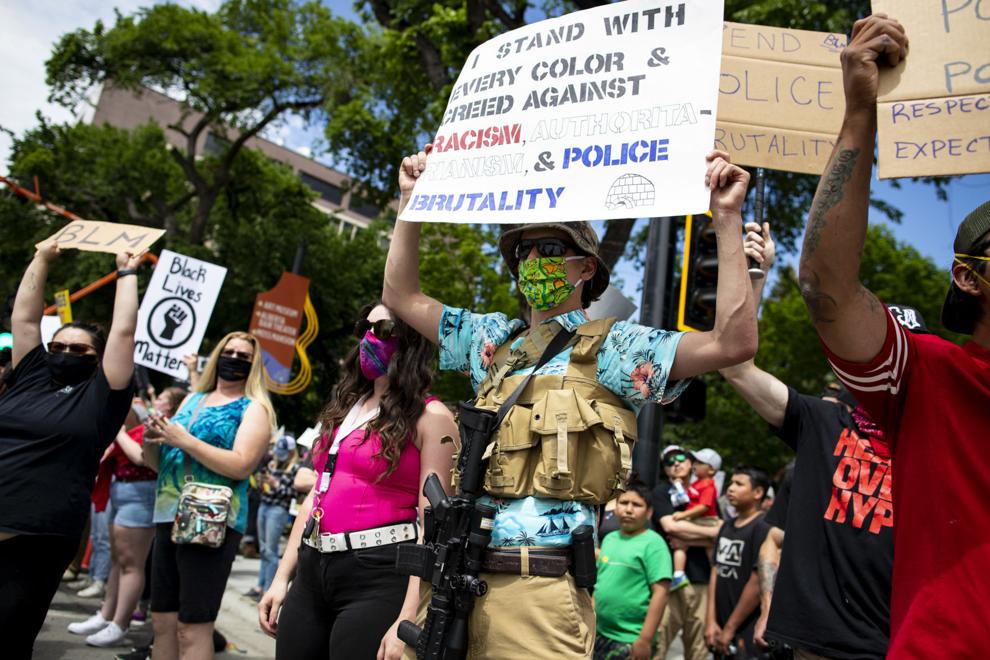 Justice for George Floyd Protest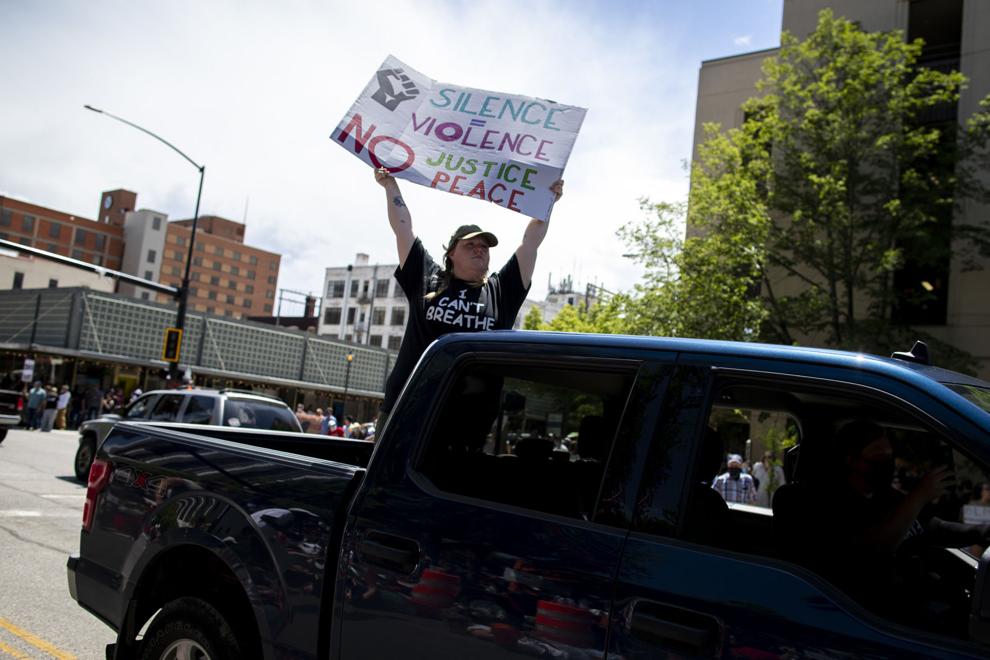 Justice for George Floyd Protest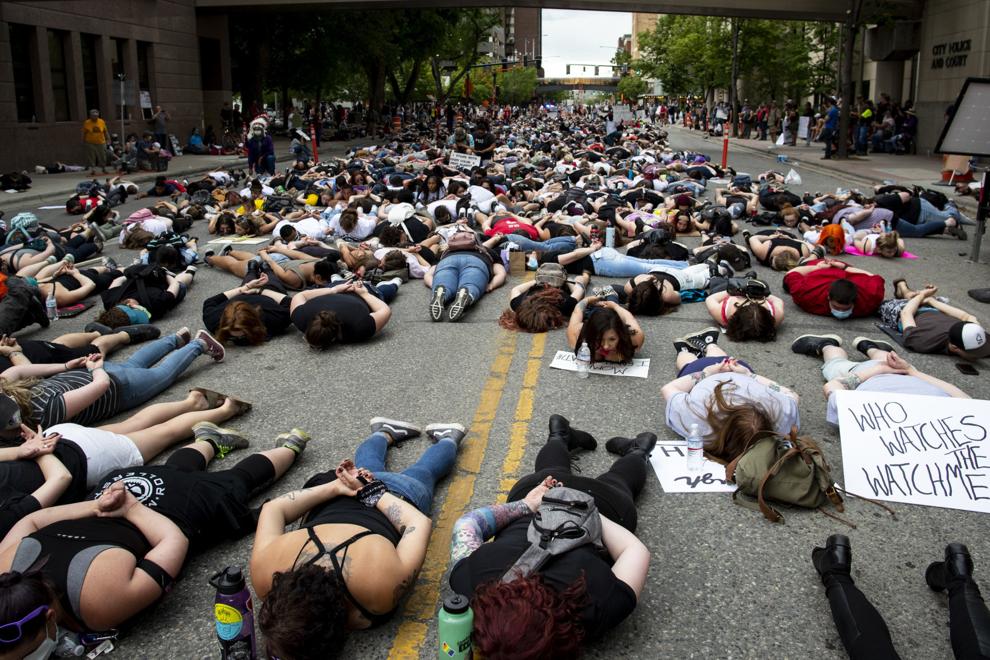 Justice for George Floyd Protest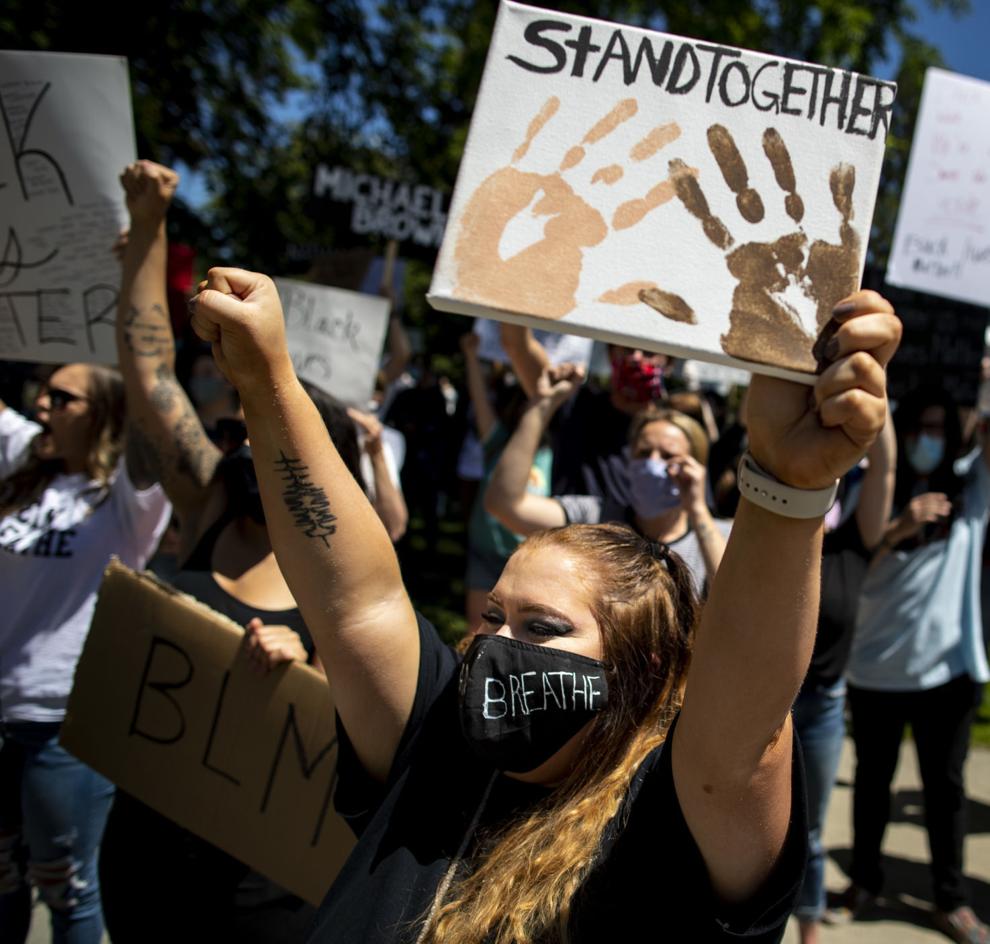 Justice for George Floyd Protest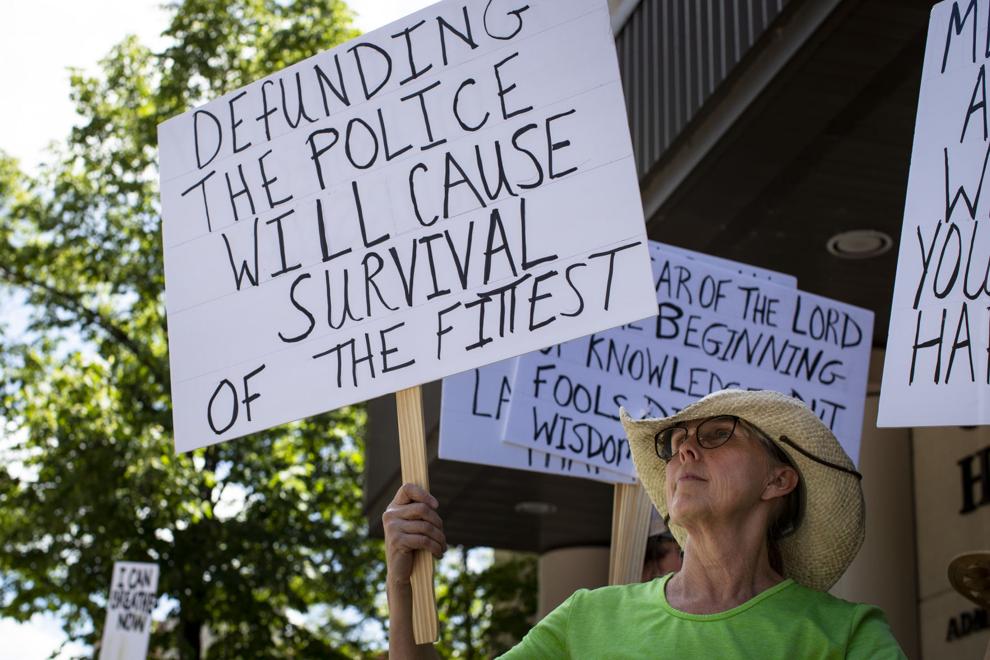 Justice for George Floyd Protest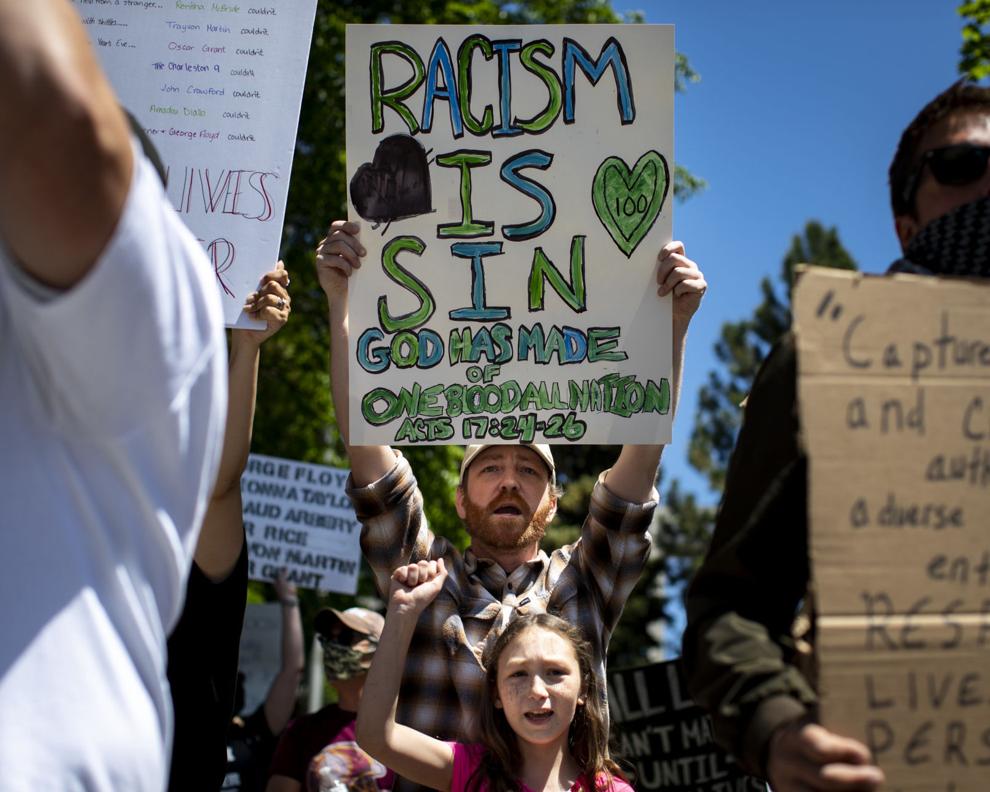 Justice for George Floyd Protest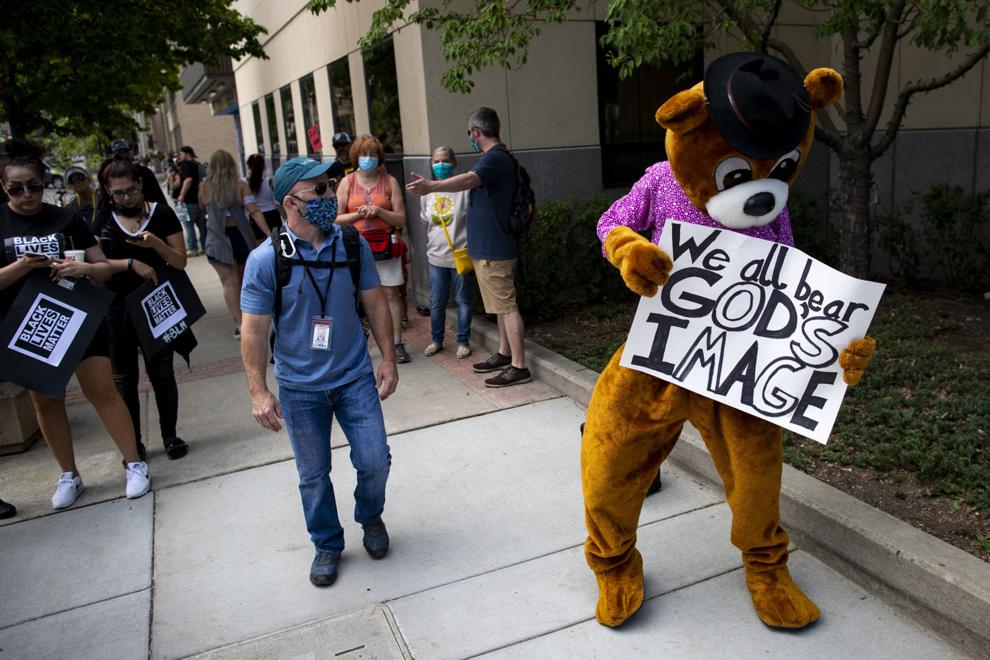 Justice for George Floyd Protest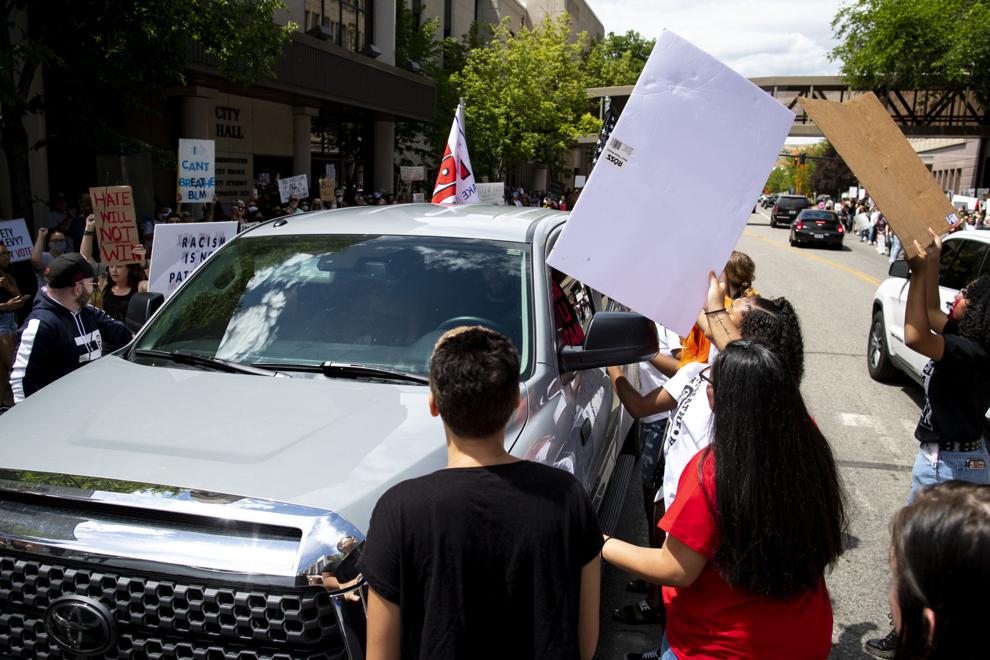 Justice for George Floyd Protest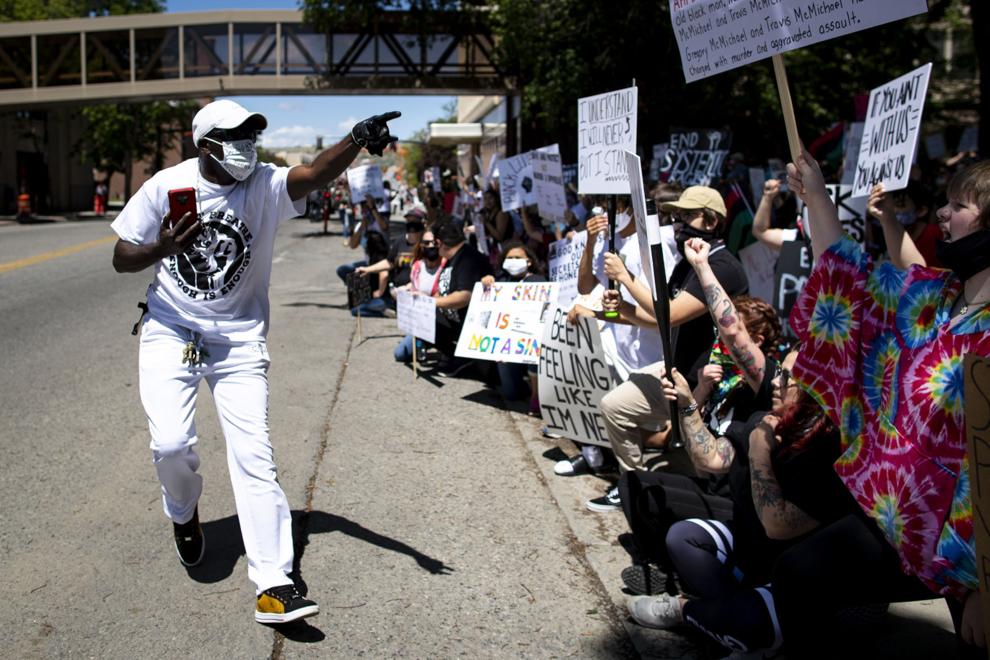 Justice for George Floyd Protest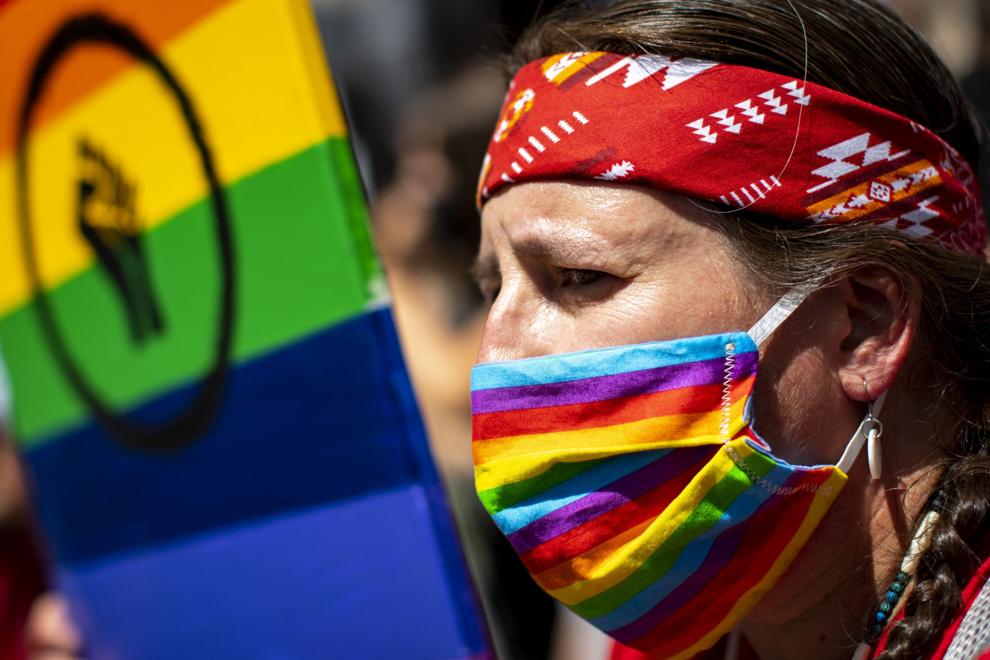 Protest in Billings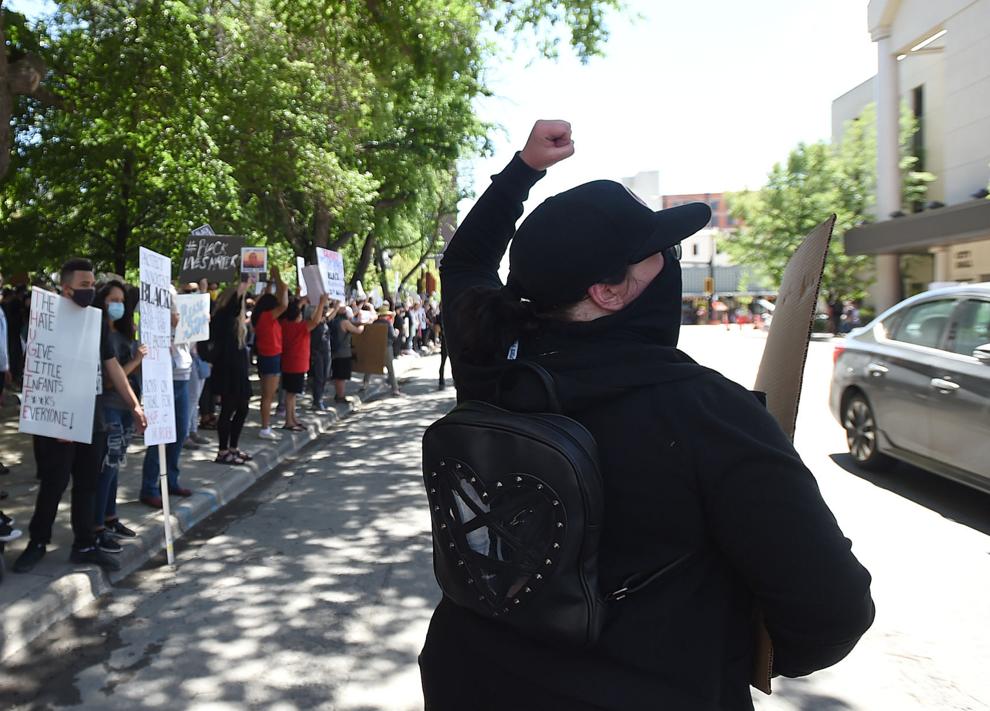 27th Street view of crowd before 1 p.m.
Zina Knows His Gun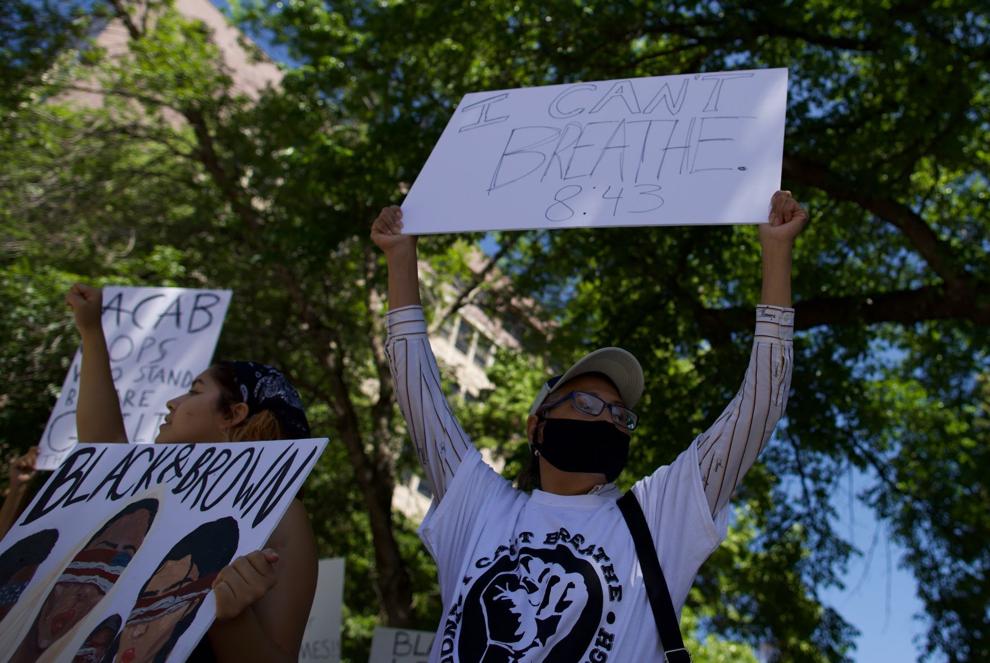 Courthouse lawn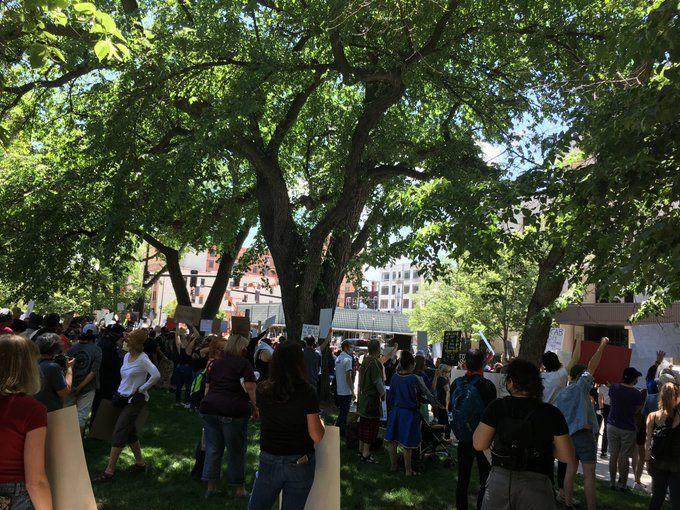 Tim Wiesner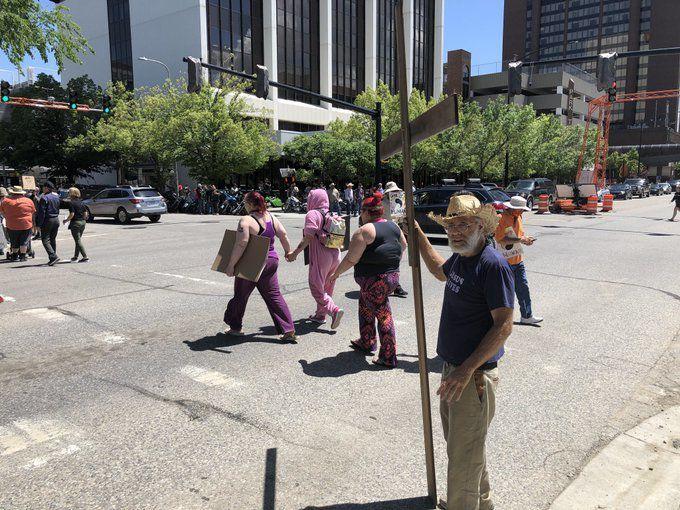 Crowd 2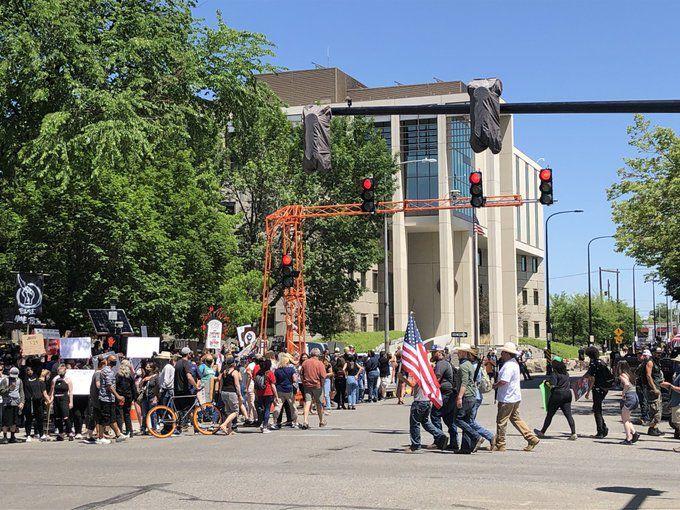 Protest in Billings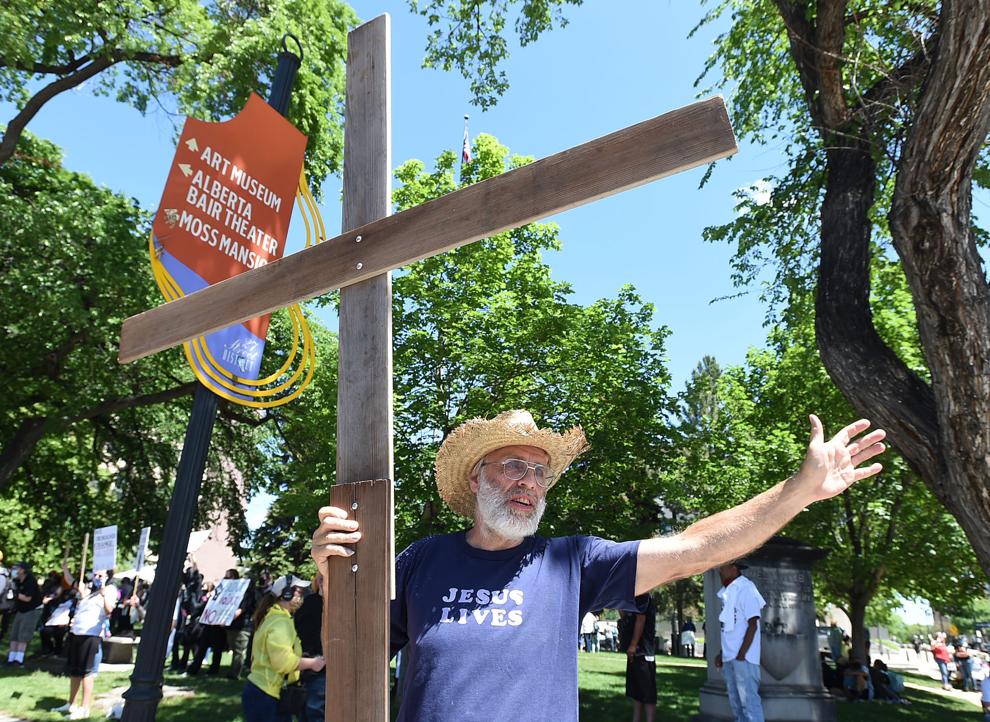 Protest in Billings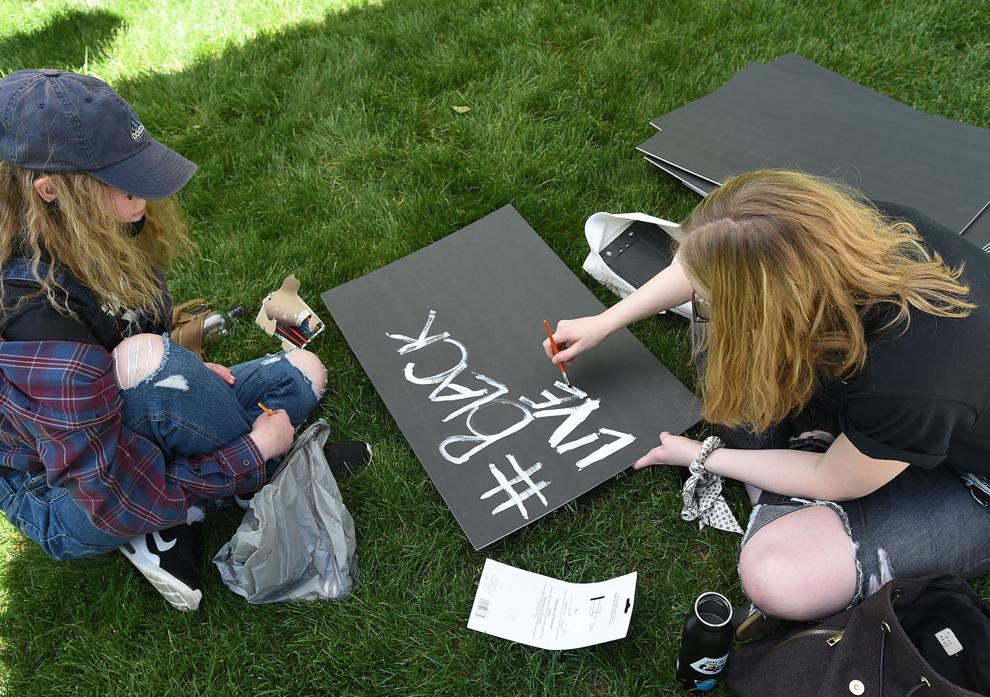 Protest in Billings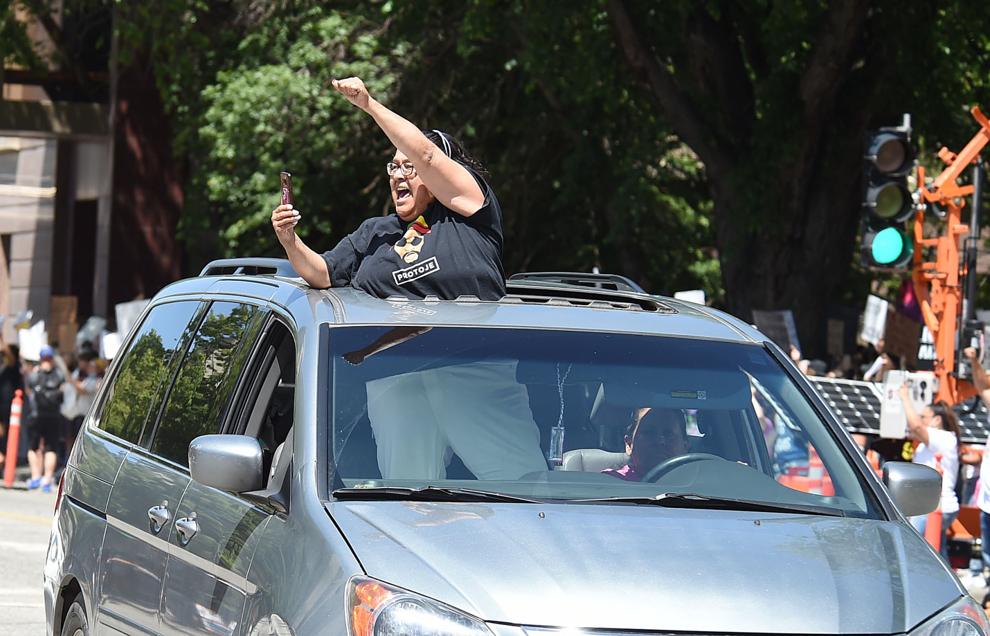 8:46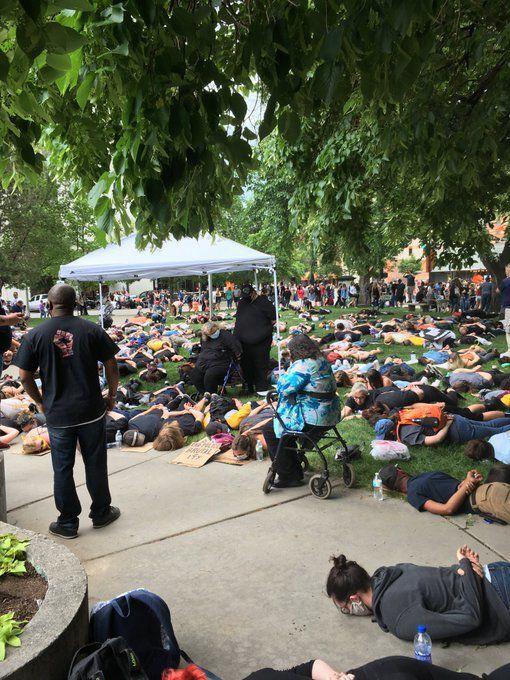 Marching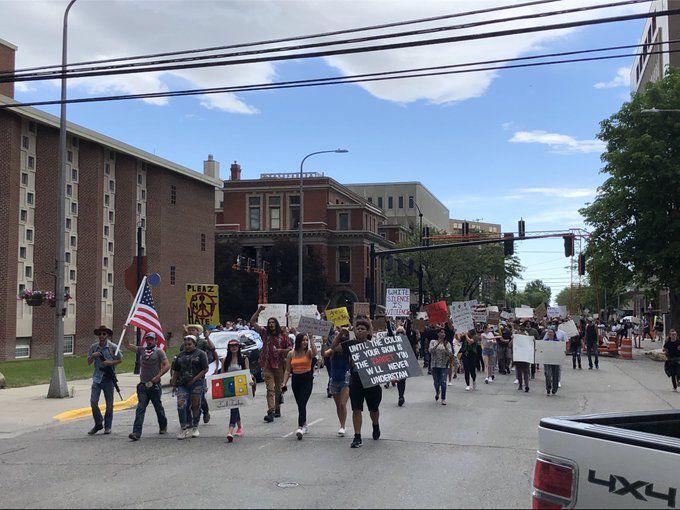 "I can't breathe"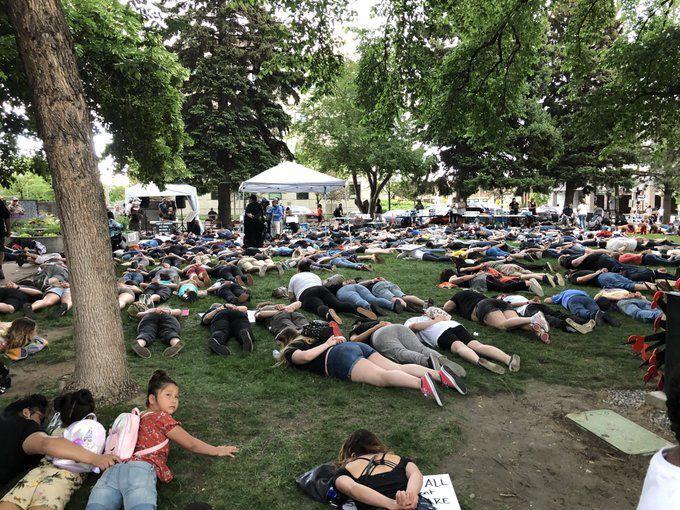 "What's his name?"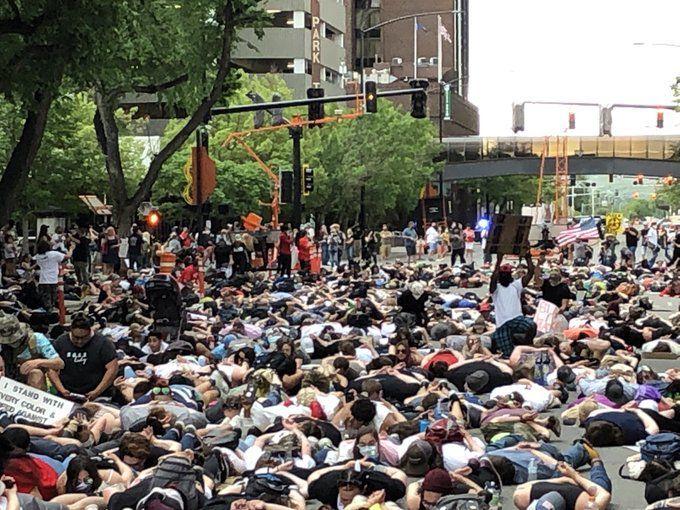 Raised fists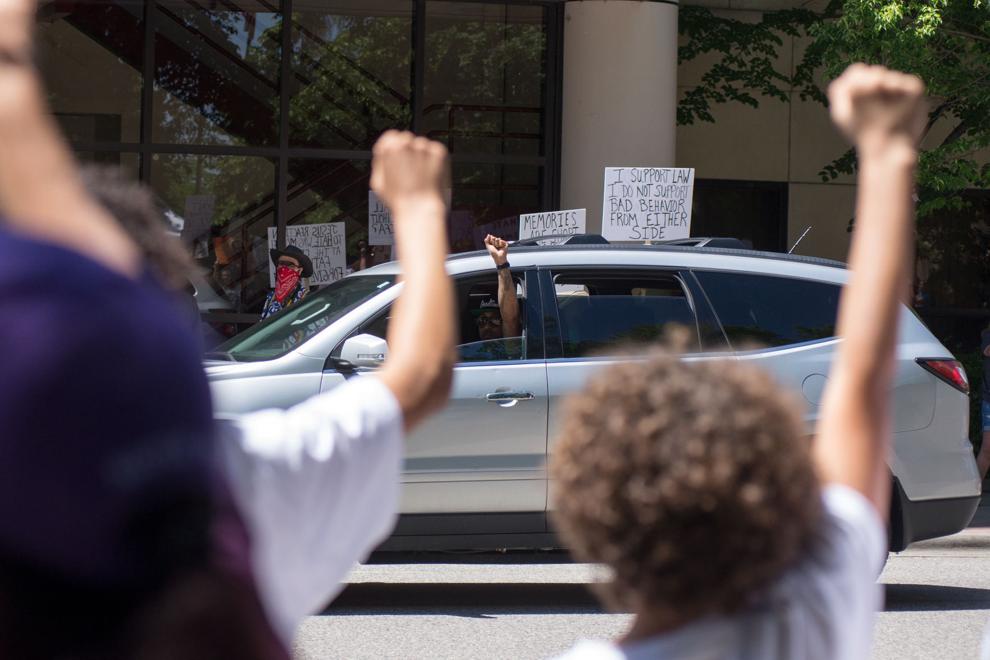 AJ Williams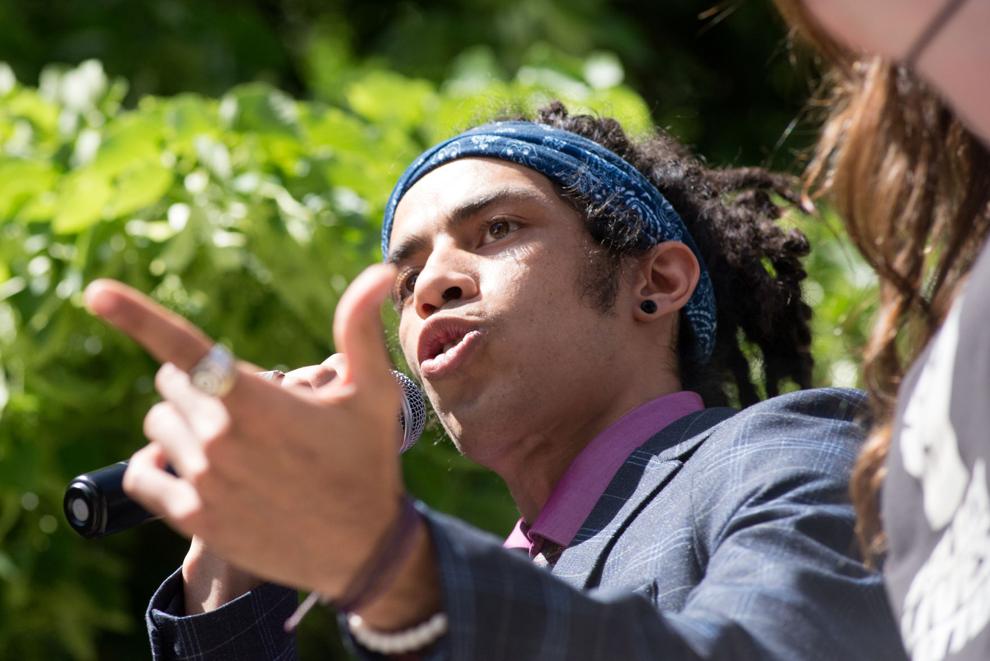 Stand Together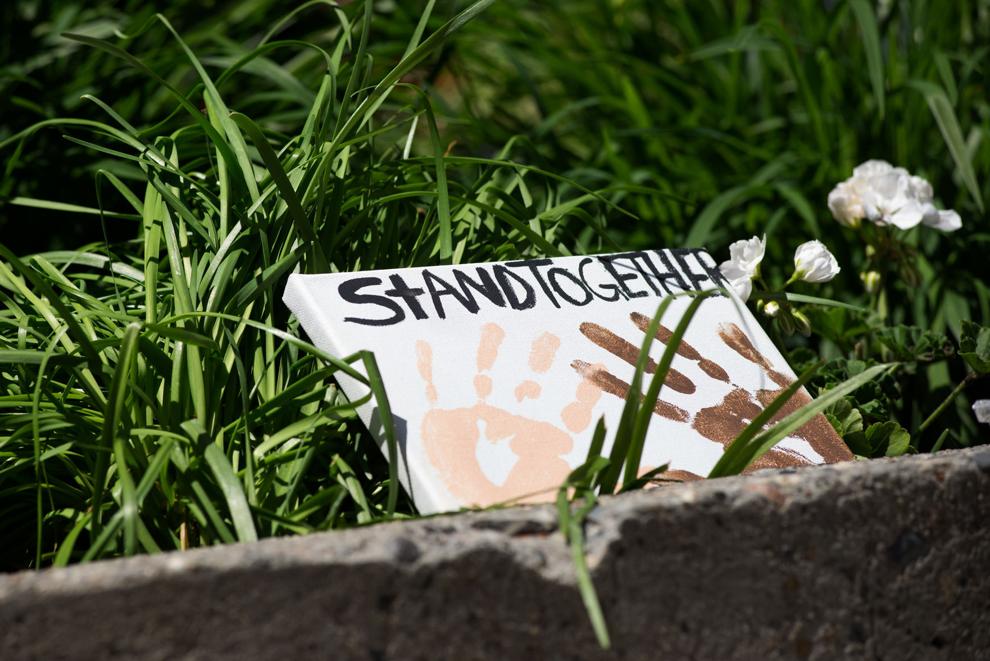 Samuel Enemy Hunter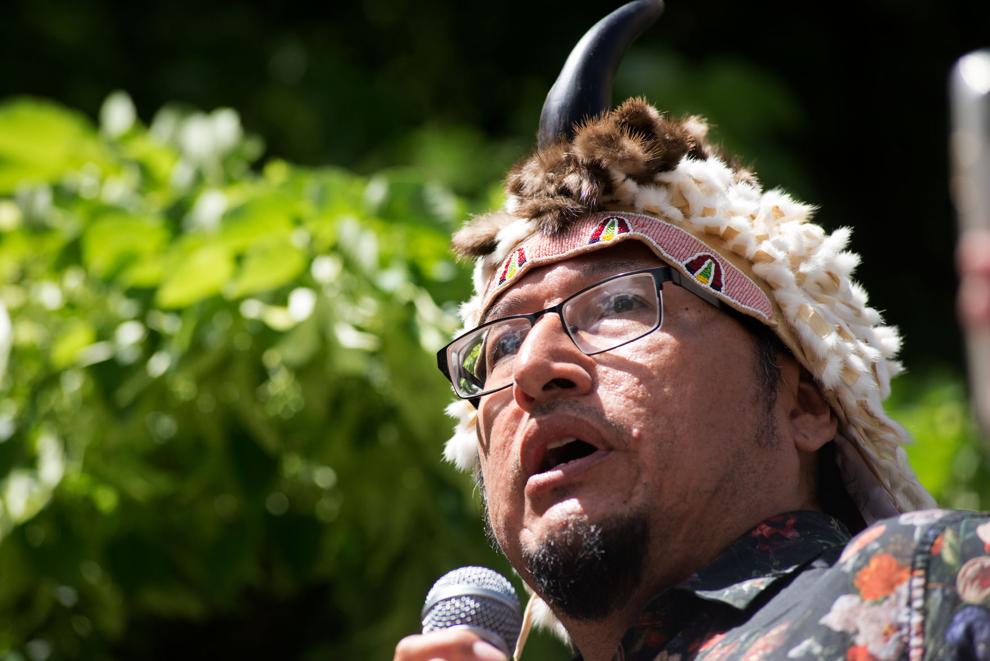 Protesters in downtown Billings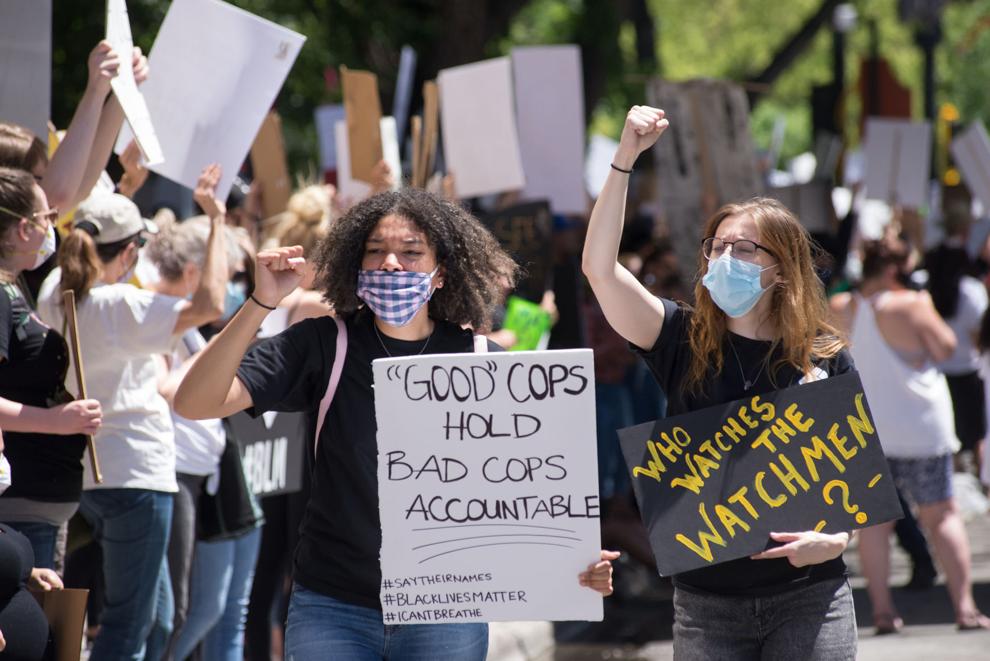 Alexis Cooper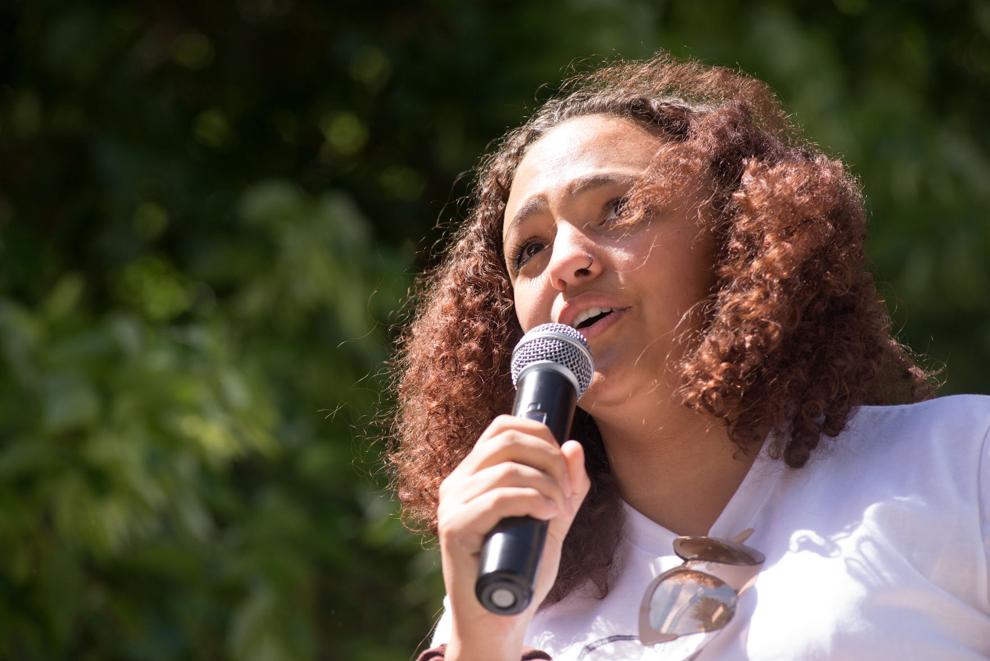 Signs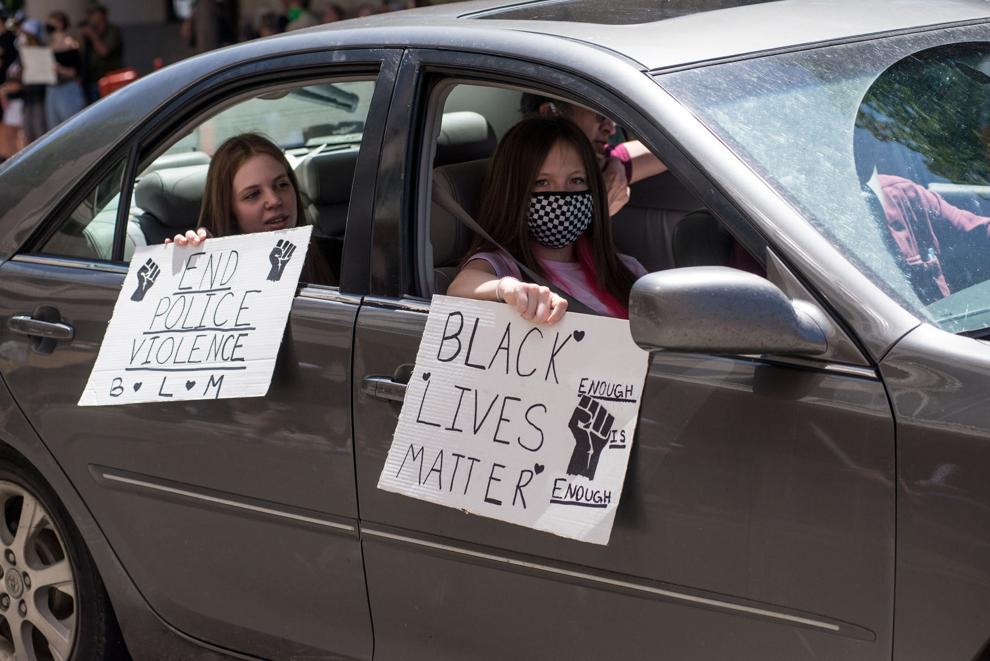 Signs at George Floyd rally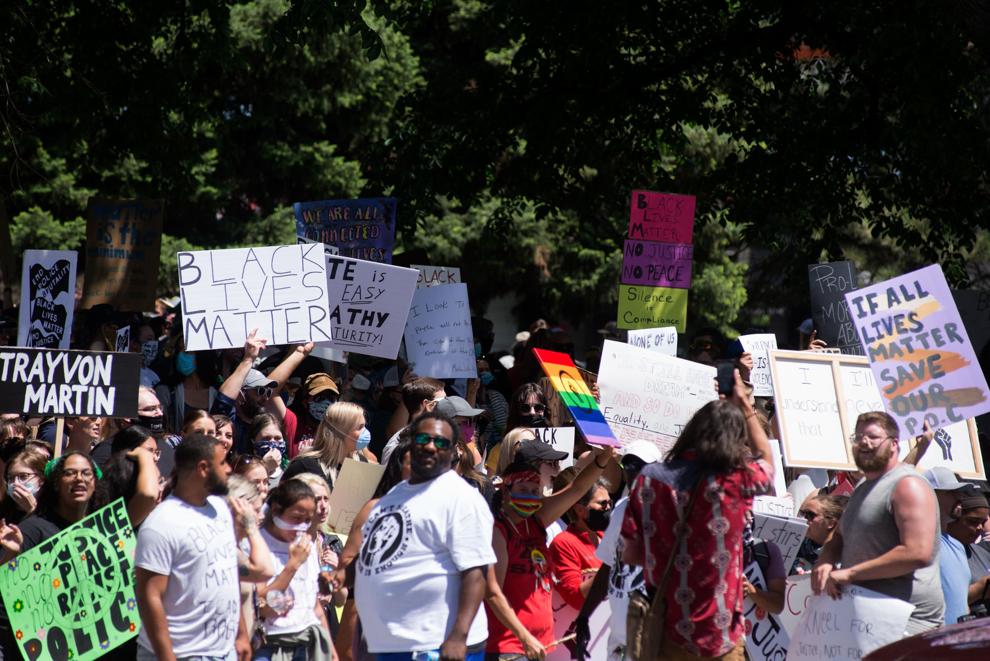 Moment of silence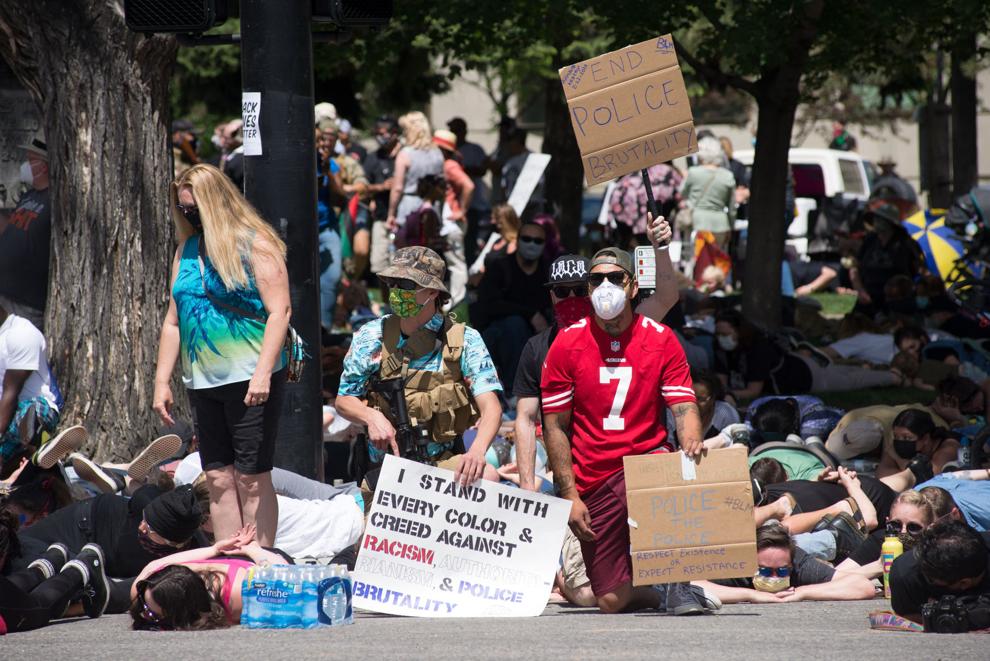 Protesters lie on their stomachs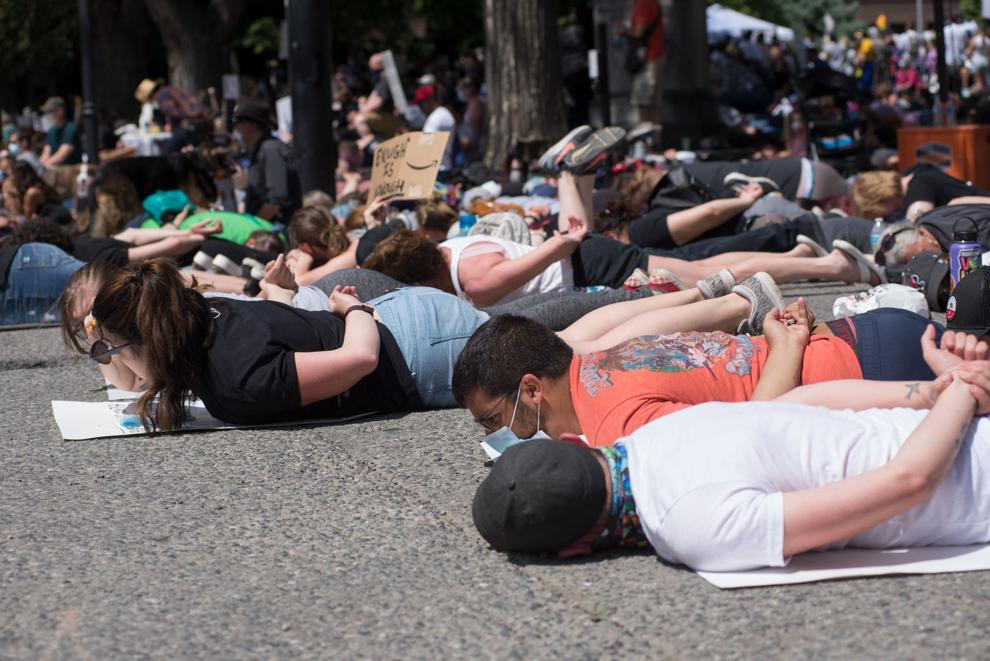 Marchers on North Broadway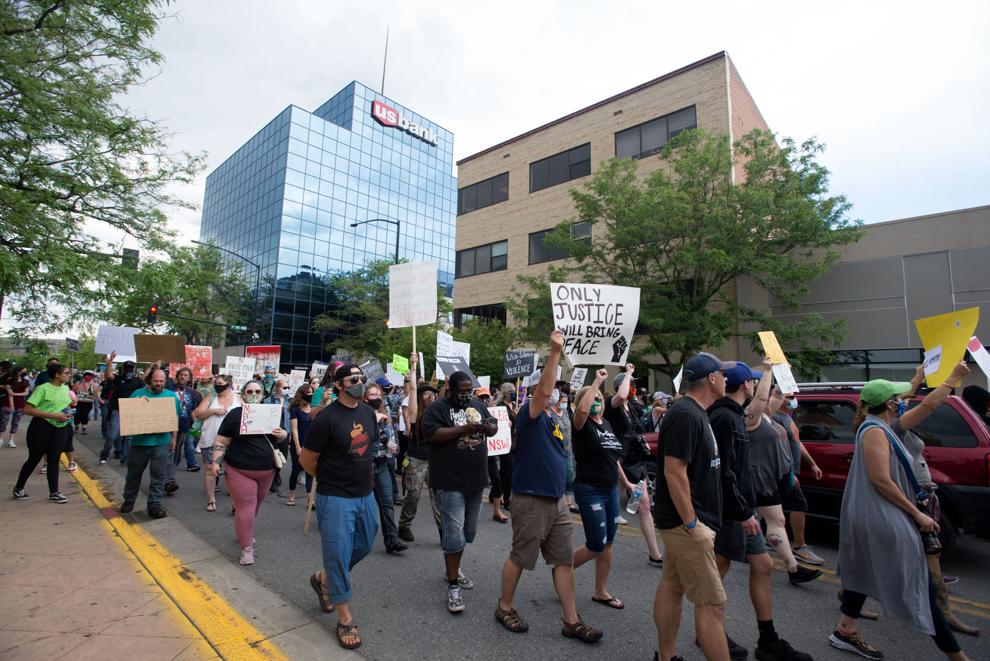 Justice for George Floyd Protest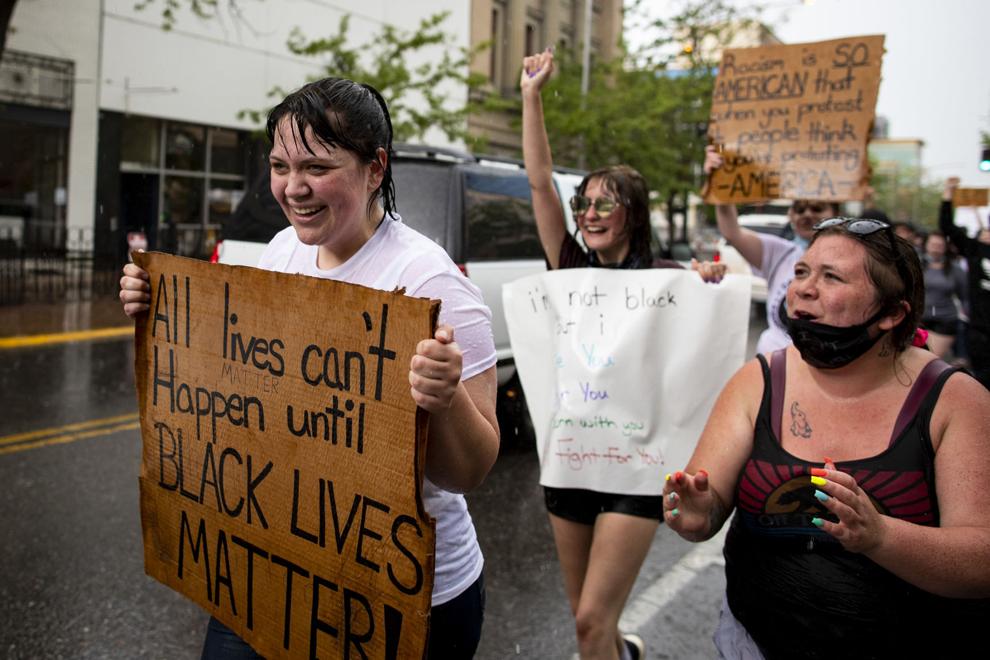 Justice for George Floyd Protest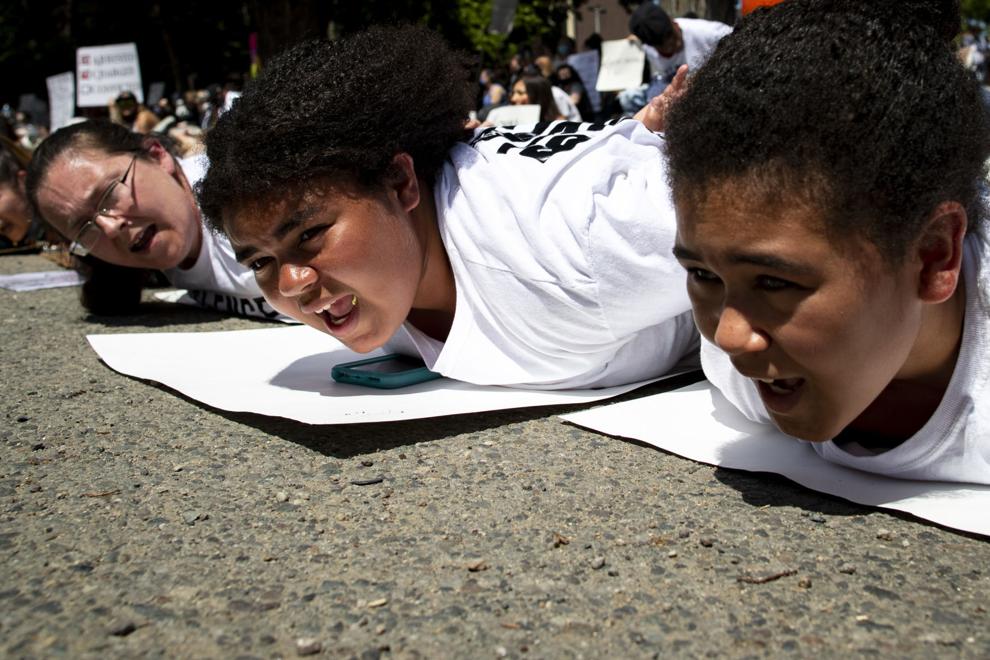 Justice for George Floyd Protest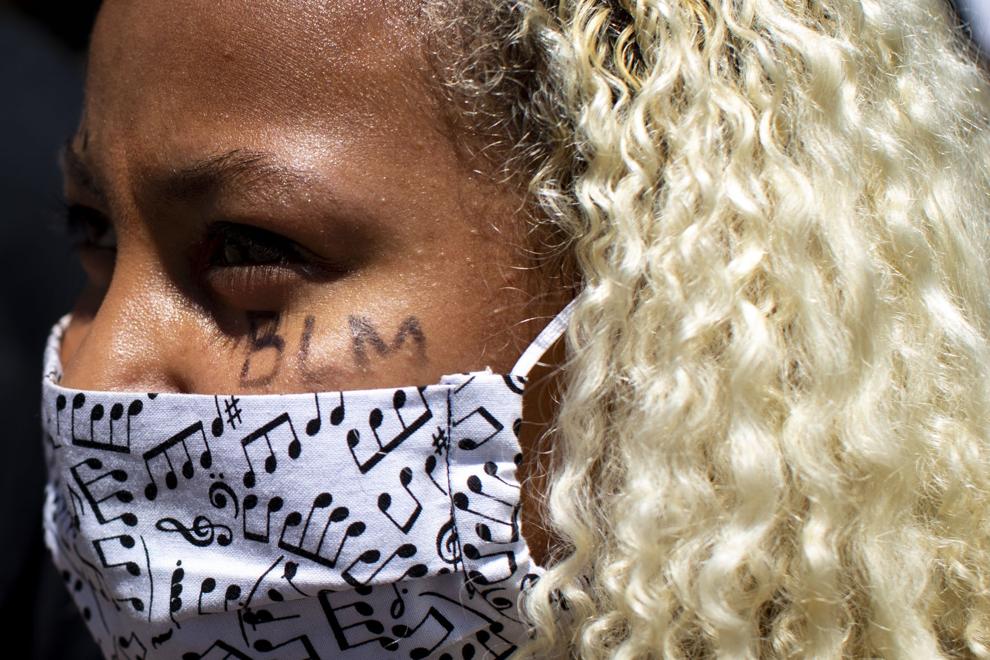 Justice for George Floyd Protest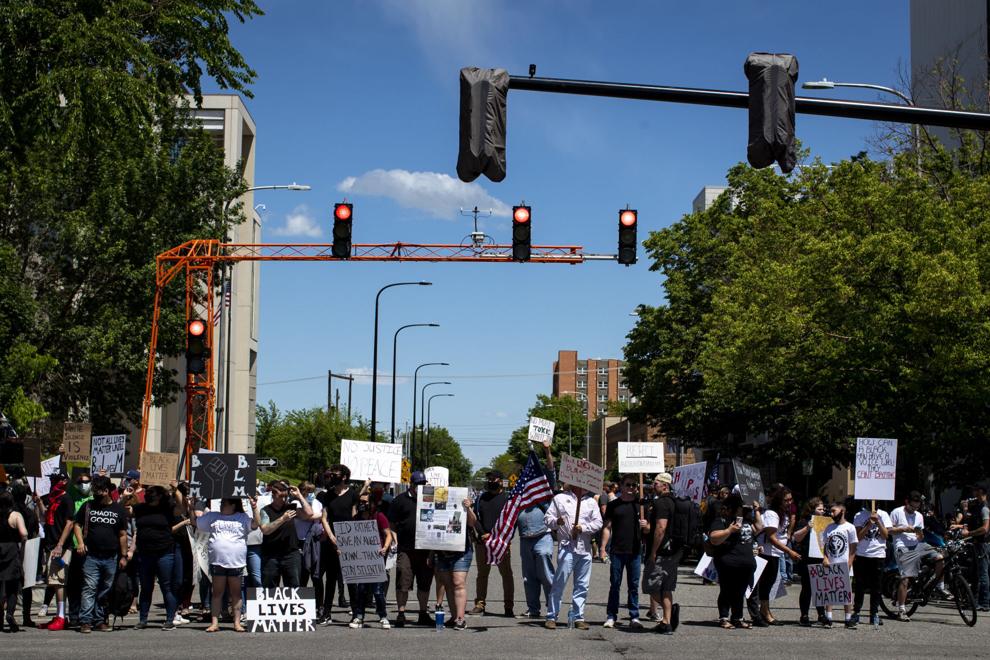 Justice for George Floyd Protest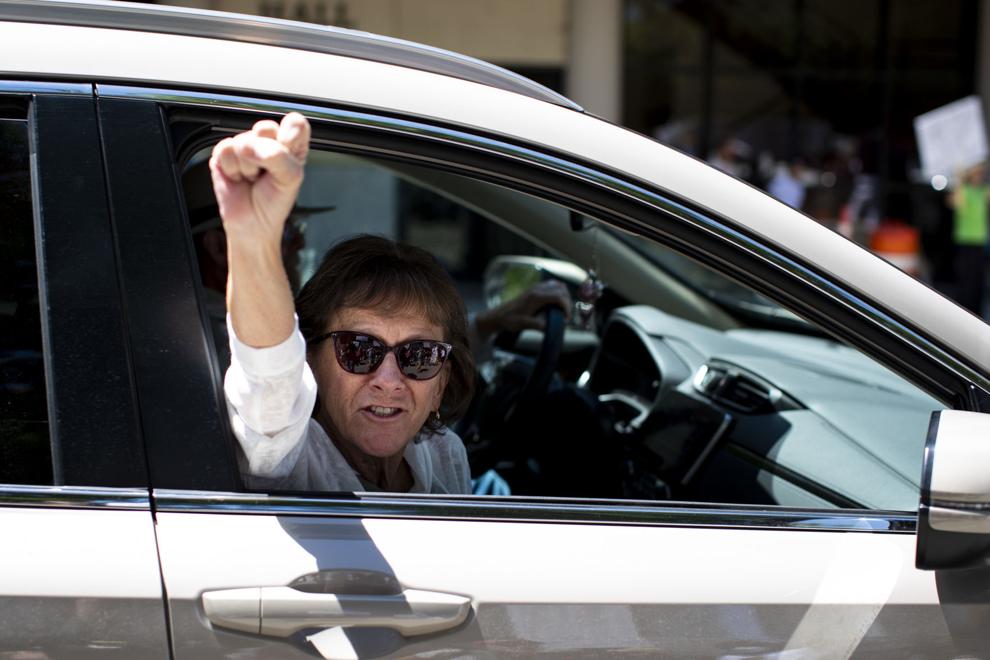 Justice for George Floyd Protest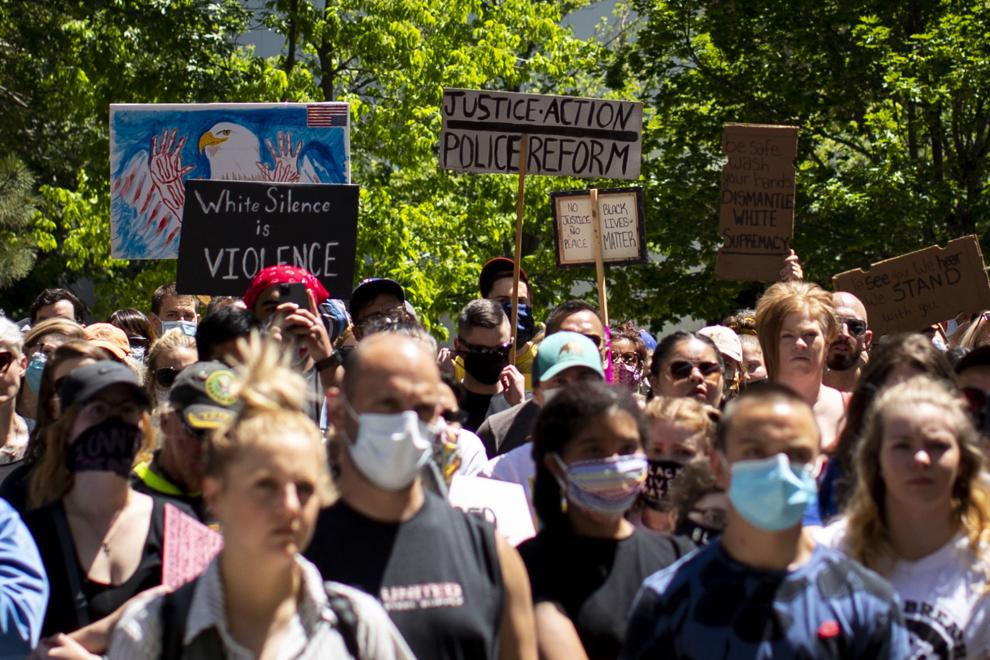 Justice for George Floyd Protest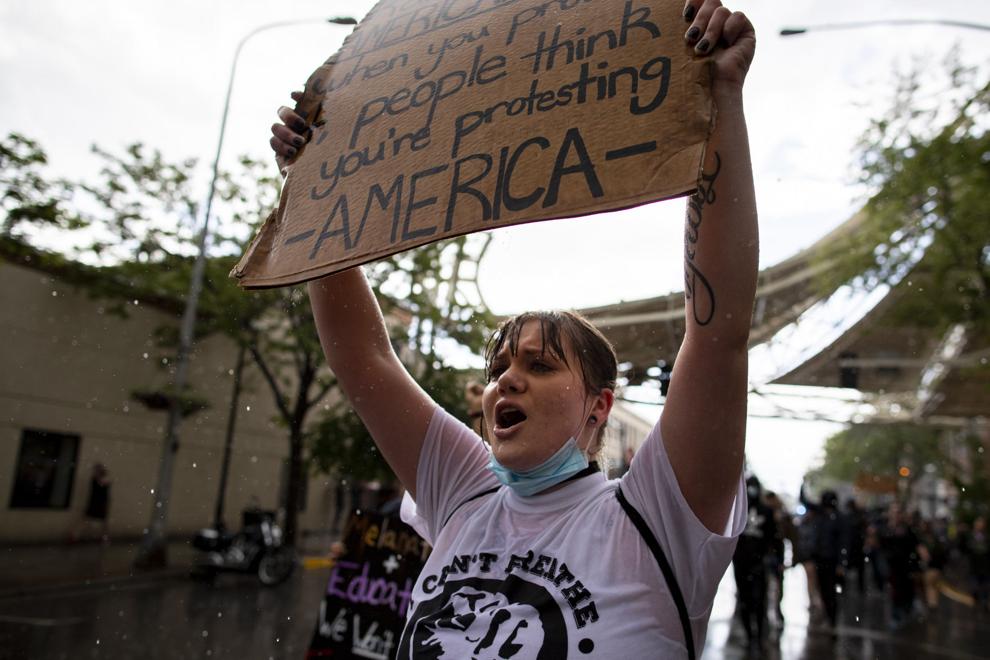 Justice for George Floyd Protest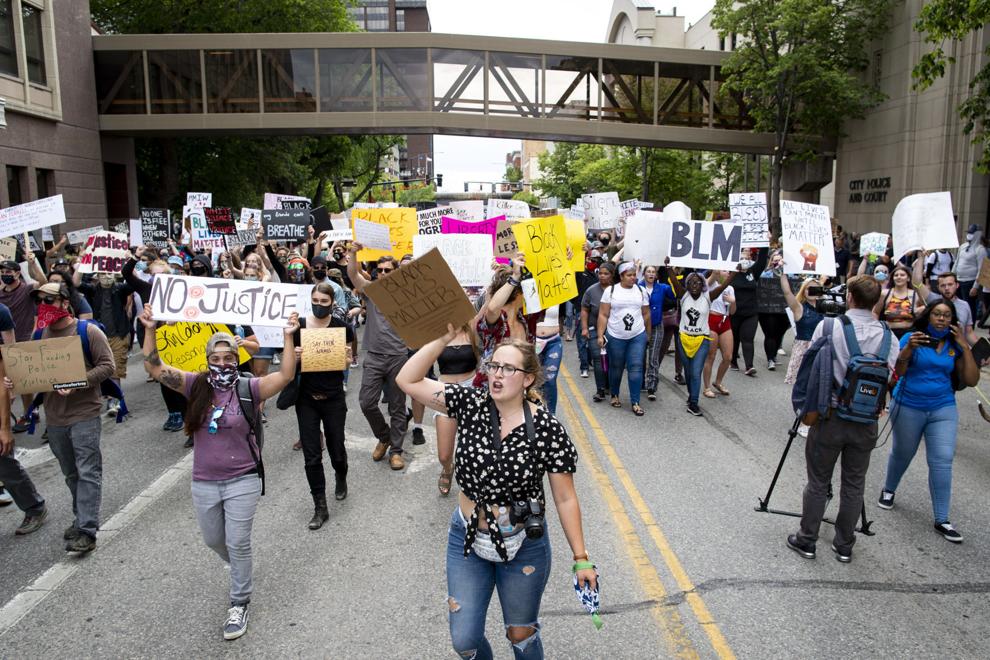 Justice for George Floyd Protest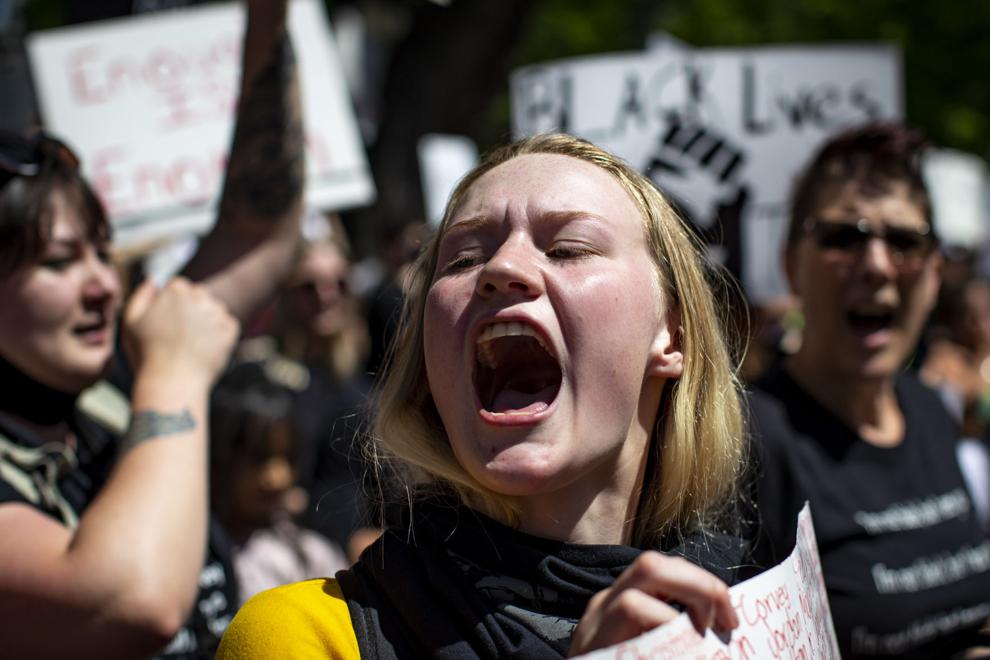 Justice for George Floyd Protest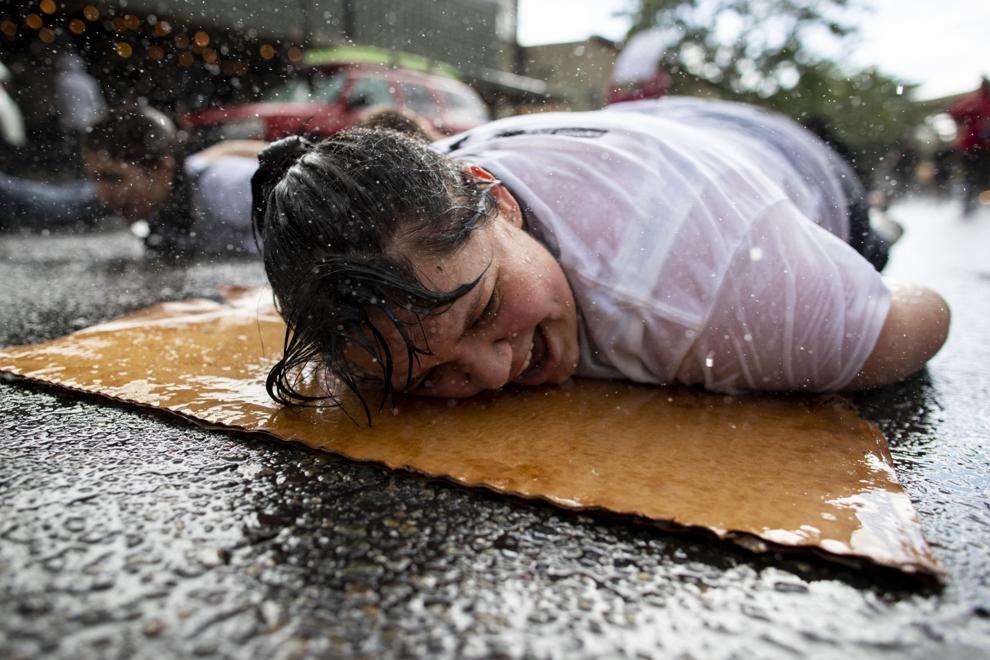 Justice for George Floyd Protest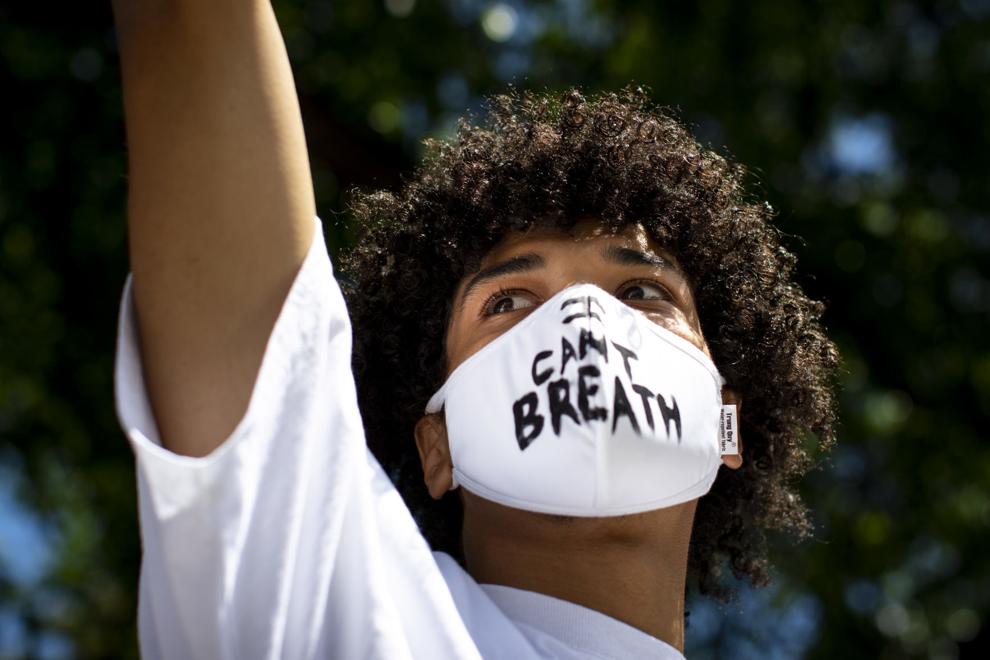 Justice for George Floyd Protest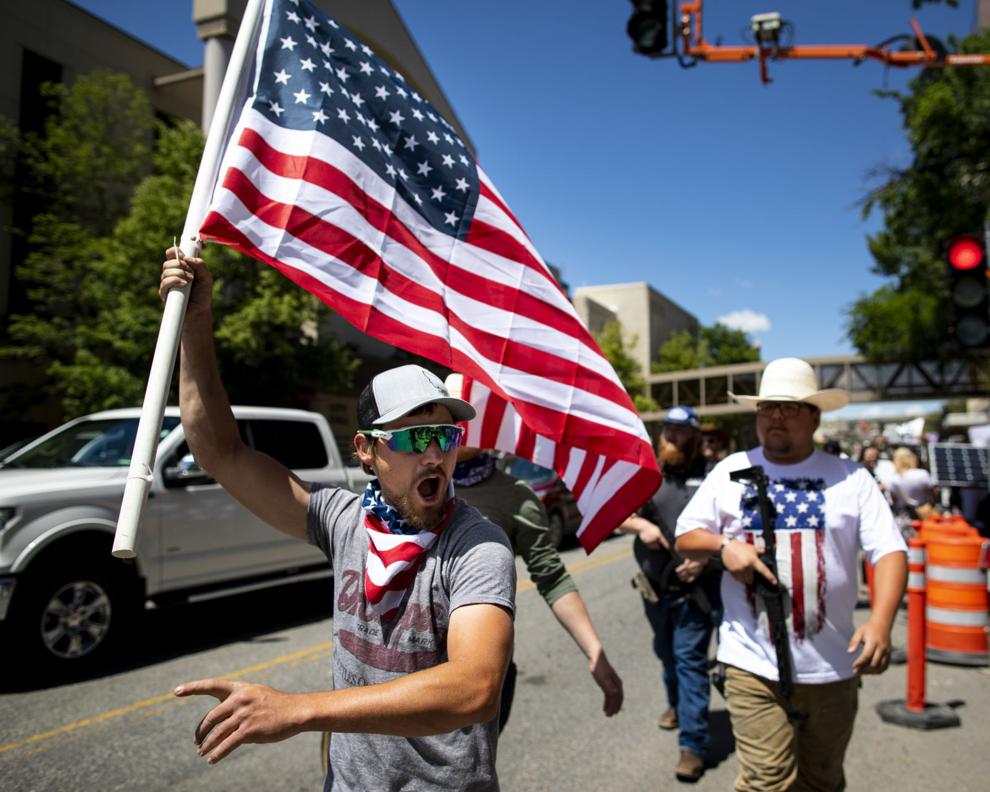 Justice for George Floyd Protest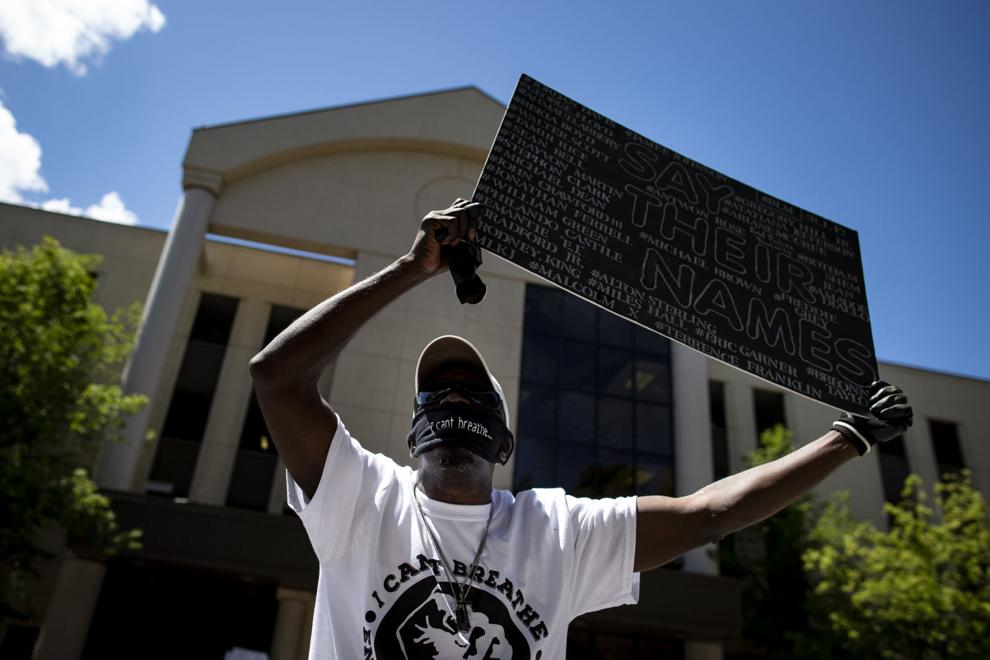 Justice for George Floyd Protest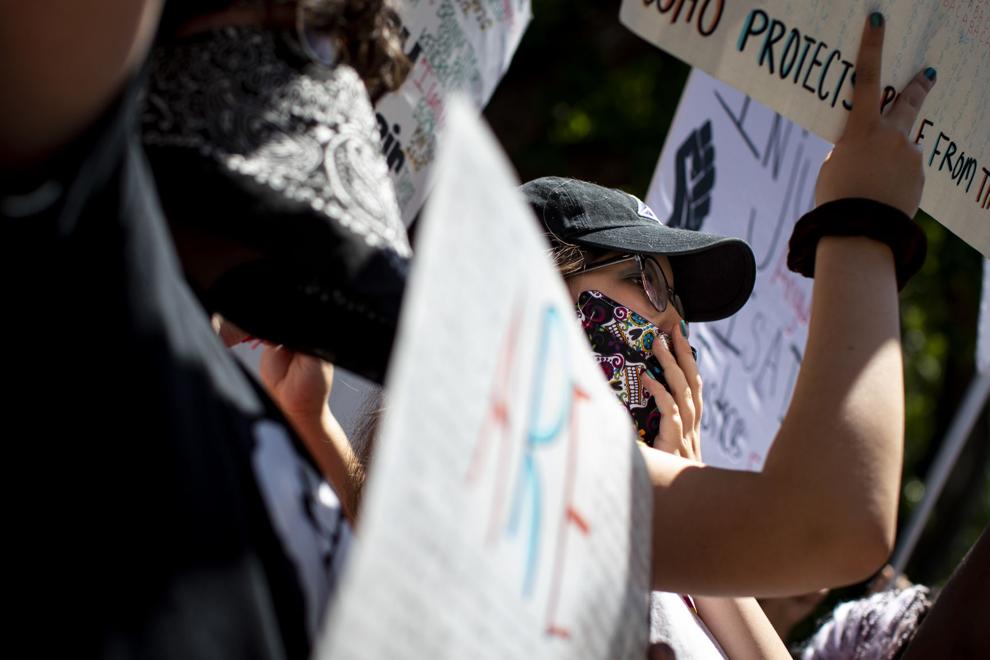 Justice for George Floyd Protest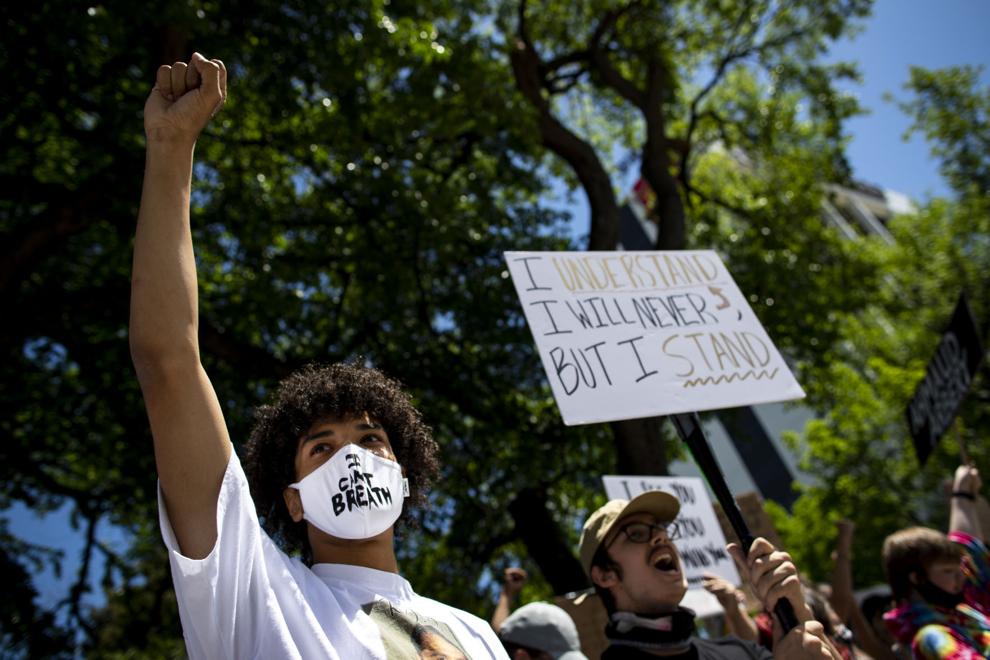 Justice for George Floyd Protest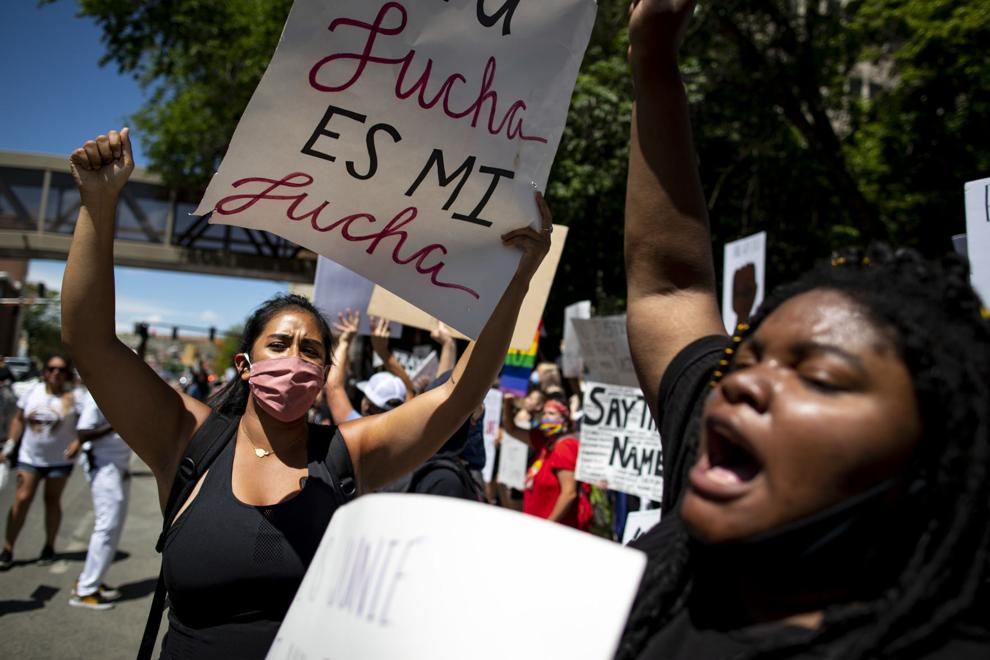 Justice for George Floyd Protest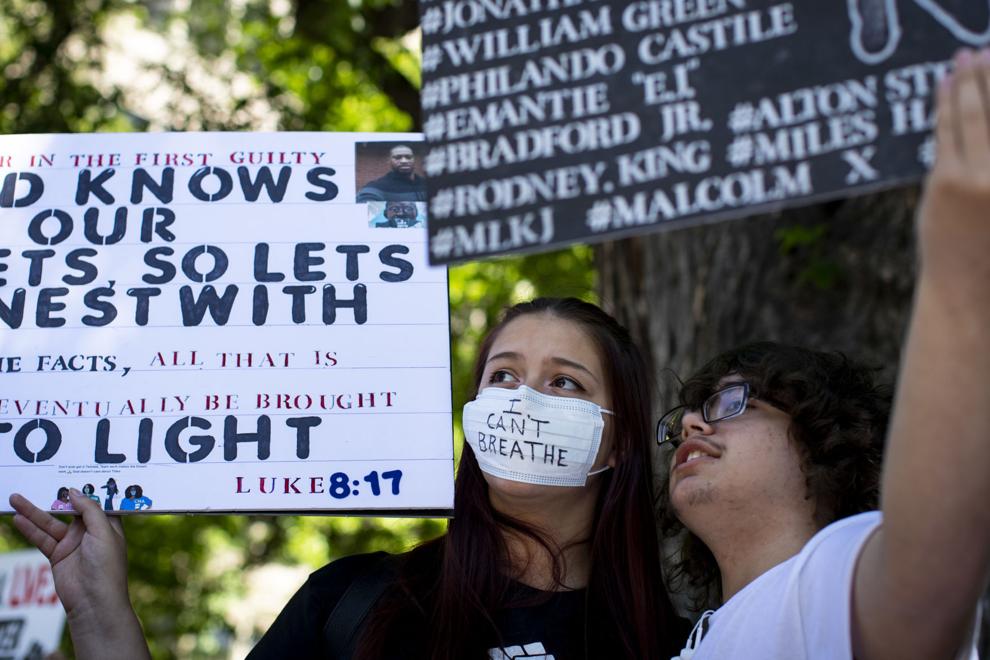 Justice for George Floyd Protest