Every science experiment starts with some curiosity and a question.
In the Alterowitz Gymnasium at Montana State University Billings there were more than 300 questions posed on hundreds of different topics ranging from the dominant paw of one scientist's dog, to the pain threshold of redheads and the most hydrating formula for lip balm.
More than 270 students, grades 1-12, from 24 counties in southeastern Montana posed these questions at the 31st annual Science Expo. On Friday night the gym was closed to parents and the public while judging was in process.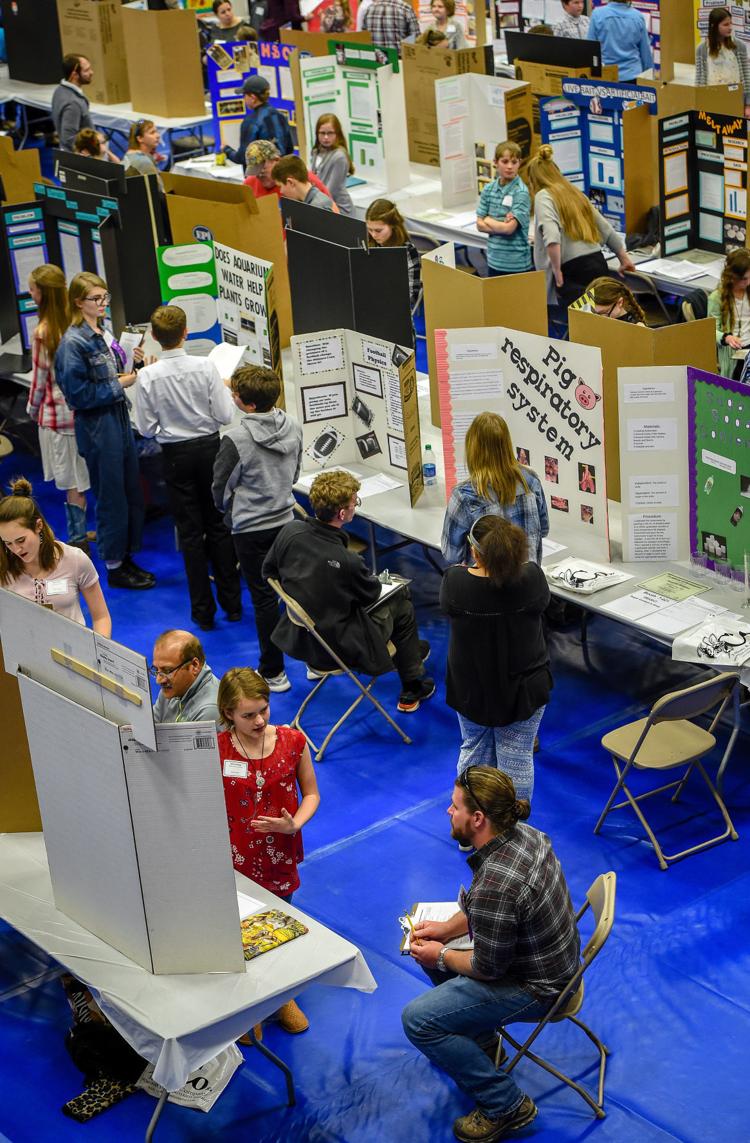 One science project was aptly called "stressful science," which fit the nervous energy of the room. Kids lined the gym floor waiting to speak with one of the 180 judges.
"I'm nervous," said Tara Schrabe, 14. Tara, who's an eighth grader at the Grace Montessori Academy, did their project on theoretical physics. Despite the nerves, Tara jumped at the chance to participate in this year's Expo.
"I really wanted to do this," Tara said. The teen has been passionate about theoretical physics since learning about Stephen Hawking. Tara's project explained string theory and black holes. Someday, Tara hopes to be a theoretical physicist.
Getting judged proved nerve wracking for some, but others approached it with a cool confidence.
"I'm not really nervous anymore," said Grady Gahagan, a sixth-grade home-schooler. "This is my third year here, and sixth year in general."
The Billings homeschooler said he's been doing science fairs since he was in first grade. Each year he tackles something new; this time he wanted to see if a human lie detector was possible.
Judging is broken up by elementary, middle and high school levels, said Pat Lowthian, a fourth grader teacher and McKinley Elementary School in Billings and an Expo board member.
You have free articles remaining.
The judging period was from 6:30 to 8:30 on Friday. After judging is complete, stickers will be placed on the winners' projects, but they'll have to wait until Saturday's award ceremony (scheduled for 3-5 p.m.) to learn what they've won.
There are 10 awards per grade level, and specialty awards are given by the community, Lowthian said. The overall winner of the Expo will get the chance to participate in the International Science and Engineering Fair in Phoenix.
For many high school kids, the Expo is a chance to pad their college resumes, get the chance to compete nationally and delve deeper into topics of interest.
Maddie Bach, a junior at Senior High, wants to become an electrical engineer, and took the opportunity to explore her interest in the field. This year, her second expo, she built a simulation of an electrical breaker. 
"It's a good way to get your ideas out," she said. "I'm learning about engineering, and it's a gateway into thinking about what I want to do."
For younger students, it's an introduction to the scientific method, which is why many projects were based around a question or topic the kids were really passionate about.
"We're trying to encourage them, not pigeonhole them into an experiment," Lowthian said.
It's important to pique young kids' interest in STEM (Science, Technology, Engineering and Math), she said, and most kids become repeat customers.
"Once you've stretched a rubber band, it can never go back to its original size," she said. "It's the same once you stretch the mind with science."
The Science Expo is open to the public Saturday morning from 10 a.m. to 2:30 p.m. at the Alterowitz Gym at MSUB for those who want to learn.