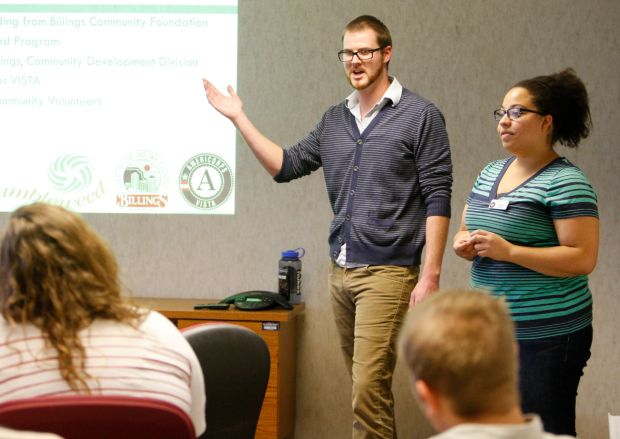 A first-of-its-kind survey in Billings has garnered national attention and offers new insights into the lives and needs of young homeless people living within the community.
"A lot of it is information you expect to see, but you don't really want to, you know?" Chelsia Davis said of the project, a Youth Count! Point-In-Time survey. 
Davis is one of two AmericaCorp VISTAs who have been working all year with Tumblweed Runaway Program, a drop-in center for homeless youth, to do the survey and then compile a report on their findings.
Davis and her partner on the project, Joshua Downes, have compiled a report based on a survey of 96 people in Billings between the ages of 13 and 21 who were homeless, couch surfing or live away from home because of abuse or other problems.
Nineteen of the youths who took the anonymous, 42-question survey said they had been sexually abused. Five of them said they had traded sexual favors for food, a place to stay or other necessities. The majority of them said they had slept or were sleeping outside. Less than half of them were attending school.
The desire for a stable family structure was one of the first things that stood out from the results of the survey, Downes said.
When asked what she needed most in her life, one 15-year-old girl who took the survey said "I need a family, just not mine," Downes said, as he and Davis presented their findings to a group of about 20 colleagues Thursday at the Billings Community Development Division office.
Davis and Downes were selected to be one of about 55 groups presenting similar projects to 600 people at the National Runaway Homeless Youth conference in Atlanta next week.
Davis and Downes spent about six months researching the best ways to survey homeless youth — a group notoriously difficult to gather data on — before doing their survey over three days in July with the help of about 40 volunteers.
Since then, Davis and Downes have been compiling their results, which will be used in applications for grants aimed at meeting the needs of homeless youth in Billings.
"We need the numbers to stay competitive," Sheri Boelter, executive director of Tumblweed, said. "Funding sources are growing smaller and smaller."
Up until this survey was done, there hadn't been a survey in Montana that accurately looked at youth homelessness, said Brenda Beckett, manager of the Billings Community Development Division.
Every year in January, there is a national survey done through the U.S. Department of Housing and Urban Development, or HUD, that is supposed to count homeless people in a community at a given time.
A couple of years ago, when this survey was done in Billings, it only identified four homeless youth, Boelter said.
She went on to explain that that number is ridiculously low and that Tumbleweed works with about 600 young people a year who are homeless or in unstable housing situations.
And last school year, Sue Runkle, the homeless education liaison for School District 2, identified about 500 homeless youth in the Billings area.
The reason there is such a gap between the number of homeless youth identified by HUD and by groups in Billings is that the organizations here use a broader definition of homelessness, Davis and Downes said.
They base their definition of homelessness on the McKinney-Vento definition, which considers youth homeless if they don't have a permanent, livable nighttime residence — so if teens are couch surfing, living in a shelter or living on the street even though their guardian has a home, they would be considered homeless.
"For example, one kid that's 16, his mother is schizophrenic and would just torture him — he had scars all over his arms," Boelter said. So the teen chose to live on the streets instead.
Another teen — who wouldn't necessarily be considered homeless in a HUD survey — left home because he got "tired of being woken up in the middle of the night to do drug runs for dad," Boelter said. "To us, he's homeless because of the abuse in his home."
Another reason the HUD survey falls short in Billings is that it is administered January, Boelter explained.
The young homeless people Tumbleweed works with know better than to be out in January, she said. "They know they'll freeze to death, so they'll get themselves locked into the schools or they'll go from friend's house to friend's house and stay under the radar."
And in general, many young people don't want to be identified as homeless because they find the label humiliating, she continued.
Which is part of why the Youth Count! survey stands out — it gathers hard data on homeless youth, it does so in a way that respects the challenges they face and explores their needs without demeaning them.
"Right away when you read the survey, you know that they (Davis and Downes) want an understanding about what the homeless youth story is," Boelter said. "It came from a place of compassion."