Summertime means fair time throughout Montana and the country.
Adults and kids enjoy frosty lemonade and hot musical acts, visit the livestock barns, take in a rodeo and try out a variety of wild and tame rides.
But some people might be having second thoughts about climbing on a ride this summer after the July 26 death of a rider at the Ohio State Fair. Seven other people were injured when the thrill ride flew apart.
"A lot of people have asked us about this," said Tom Aldrich, events manager for the Missoula Fairgrounds and the Western Montana Fair.
Aldrich said the staff of the Missoula-based fair, which will run Aug. 8-13 this year, does everything it can to ensure riders are safe.
"It's very safe and family-friendly, from our point of view," he said.
Across Montana that seems to be the case. Statistics supplied by the Montana Department of Health and Human Services show that between 2003 and 2015, there were no deaths due to carnival rides.
From 2010 until now there have been five hospital admissions in the state due to "riding roller coasters" and no emergency room visits. Riding roller coasters is a catch-all phrase covering carnival rides.
According to Safeparks, a California group that works to improve the safety of amusement park rides and attractions, roller coasters are by far the most commonly cited ride in accident and injury reports for people older than 6. Spinning rides are the second-most frequently mentioned type.
Nationally, the U.S. Consumer Product Safety Commission said there were an estimated 30,000 injuries associated with amusement attractions seen in hospital emergency departments in 2016. CPSC also is aware of 22 fatalities associated with amusement attractions, including rides, since 2010.
While the CPSC regulates how amusement rides are manufactured, there is no federal oversight regarding how they are set up, maintained and operated. That responsibility is left to states.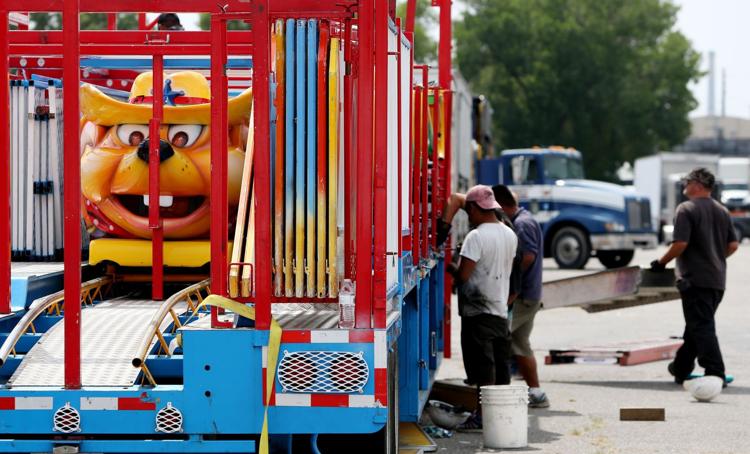 States
An analysis by Safeparks shows that 20 states offer comprehensive government oversight, 12 have partial government oversight, eight rely on private-sector oversight and one requires only electrical inspections.
Nine states, including Montana, have no regulations concerning amusement rides. The other states include North Dakota, South Dakota, Utah, Nevada, Wyoming, Alabama, Arizona and Mississippi.
Montana is also one of seven states that don't require amusement carnival owners to carry liability insurance. That puts the onus on the venues that sponsor fairs and similar events, and the companies they contract with that provide the rides.
Carnival workers are known for their distinct culture and sense of camaraderie. Take a behind-the-scenes look at carnies in these photos as th…
Aldrich said this spring the Western Montana Fair invited carnival companies to submit contract proposals for the 2018-21 fairs. In those proposals, the companies submit their safety record, letters of reference and a list of their rides, which includes the rides' ages and manufacturers. Companies provide their safety procedures and protocols and submit a fresh insurance policy each spring, which the county's risk manager reviews.
One thing Aldrich learned in the process is some companies don't have enough of their own rides and subcontract with other, smaller firms.
"To me that seems like a safety issue," he said. "If the contractor doesn't own all the rides, they're not as familiar with them."
That's part of why the fair officials chose North Star Amusements, which owns all of its own rides. North Star also brings its own mechanics and spare parts, which Aldrich calls a big plus for both safety and service.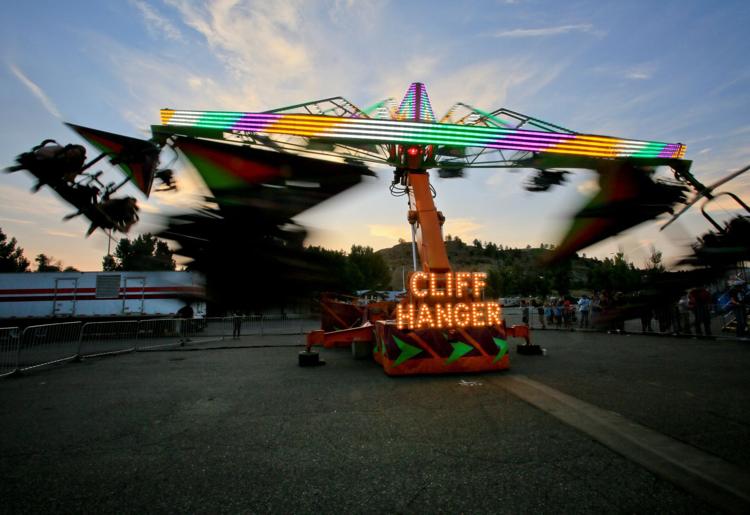 MontanaFair
MetraPark General Manager Bill Dutcher, who oversees MontanaFair, this year Aug. 11-19, said that "it's up to the fair manager to do the investigating." 
"And it would be very highly recommended to do background checks and reputation checks within the industry," he said.
As part of its contract, MetraPark requires the carnival operator to carry liability insurance of at least $2 million. And the company has to provide a copy of its most recent insurance inspection report.
Dutcher, who has been involved with the fair for 36 years, just completed a term as president of the Midwest Fairs Association and will soon take the reins as president of the Southern Rocky Mountain Association of Fairs. Safety in terms of rides, food and weather is forefront in the minds of fair managers around the country, he said.
"With the many possible events, be it weather, be it security, be it ride safety, be it E.coli, (managers) need to be up on the latest information to make it a successful event," he said. "The carnival is a big part of the fair, and that puts everyone's reputations on the line."
Though Yellowstone County held county fairs not long after becoming a county, the current fairgrounds were first used in 1916. This year marks…
Robert "Bob" Johnson, president of the Outdoor Amusement Business Association, agrees that safety starts with the carnival owners. The OABA represents more than 2,000 members that include carnival companies, individuals, ride manufacturers and food and game concessionaires.
"The person with the most at stake is the ride owner," Johnson said. "Then their insurance company that insures them, who do annual inspections of their clients, in addition to state inspections."
Anyone who owns an amusement-ride company is going to have insurance, he said. Those companies can't afford to have liability of that magnitude.
"And the insurance company is going to make sure before they insure that ride operator that they have trained and certified their own employees," he said. "Every day before that ride opens to the public, there are safety checks and records kept to ensure safety."
Saying customers also play a part, Johnson quoted Ohio Gov. John Kasich, who said people assume a risk when they ride certain rides.
"I thought that was right on," he said. "But it's rare this type of catastrophic failure would occur and even more so a fatality."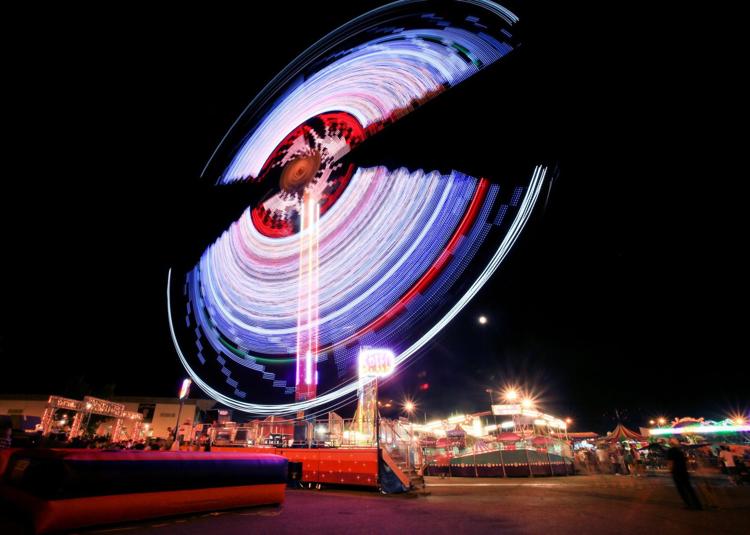 Nationwide
Carnival owners must be on top of the regulations that vary from state to state. John Hanschen, president and primary stockholder of Thomas Carnival, who will return to MontanaFair for the 38th year, is well aware of that.
Thomas Carnival operates in 12 states, including four stops in Montana. In an interview he ticked off requirements for several states.
In Texas, the Department of Insurance requires an annual filing from the carnival's insurance company stating the rides have had an annual inspection by the insurance company or a third-party inspector.
Louisiana requires a third-party inspector to file a statement that the rides have been inspected. Then the Louisiana state fire marshal inspects the rides.
In Nebraska, the Department of Labor does an inspection. "The first time you come into the state, they do a mechanical and electrical inspection," Hanschen said.
North Dakota and Utah, like Montana, don't have state regulations. 
"Montana probably to a degree gets some benefit from the other states doing inspections as we travel," Hanschen said.
Beyond the requirements, it only makes sense that a business would want to have a safe operation, even though it's not always easy, Hanschen said.
"I've been in this industry for 42 years now and it's always a challenge," he said. "You do your best to manage safety keeping all that in mind, mechanical equipment, human beings running the rides — there are a lot of variables there."
Hanschen, who is based in Austin, Texas, is a certified inspector. And he has taken safety to another level, meeting the standards for entry into the prestigious Circle of Excellence, offered by the OABA.
Johnson calls Thomas Carnival "one of the finest carnivals in the country who takes safety very, very seriously."
Hanschen, who is involved in the trade organization, is in frequent contact with other carnival companies around the country.
"Every single person I've ever met in this industry is worried about public safety," he said. "They don't take it lightly."
---
Retrospective: Rides at the fair
Rides at fair, 1980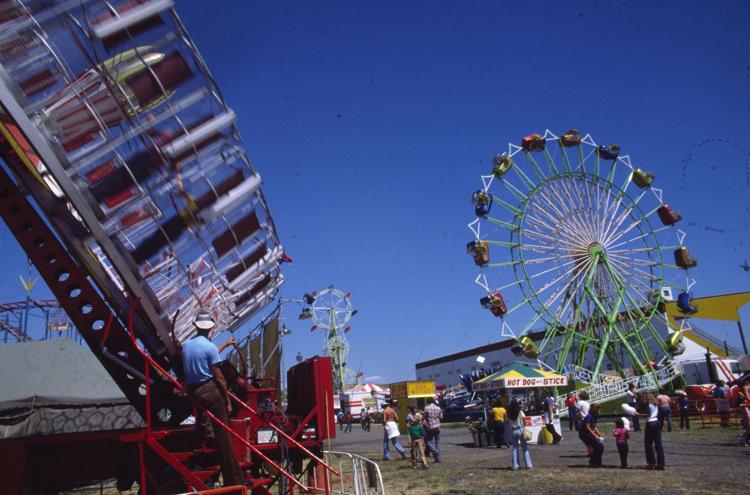 Skydiver ride, 1980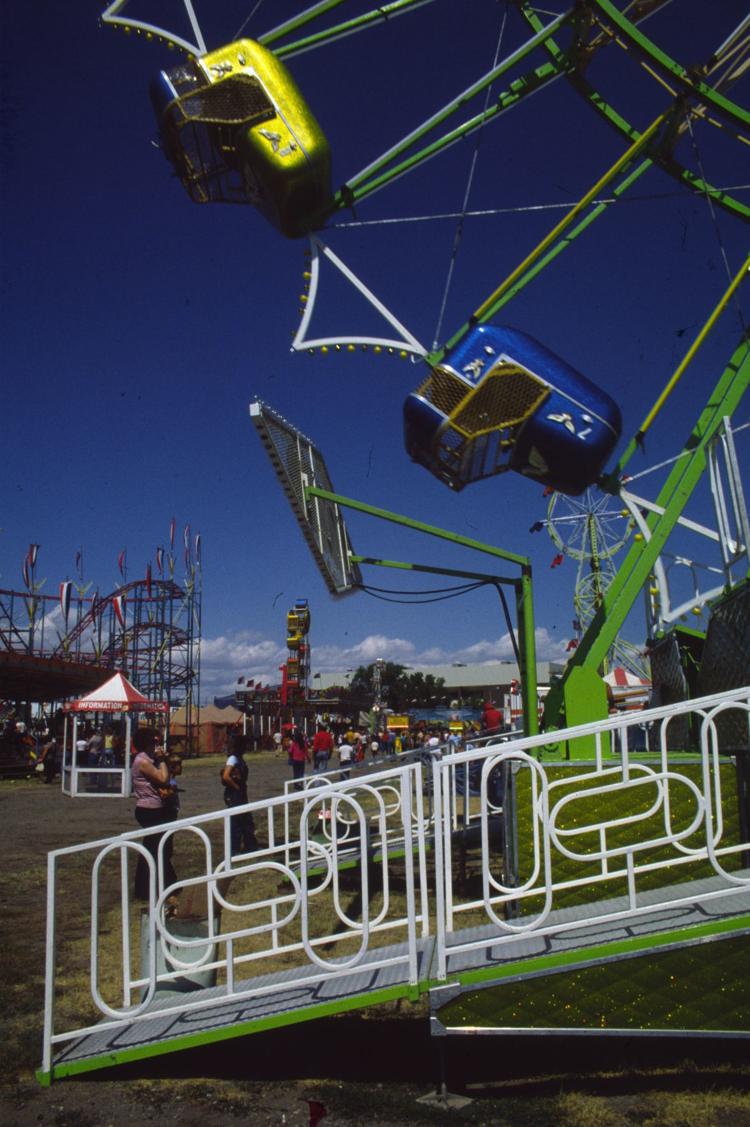 Hurricane ride, 1980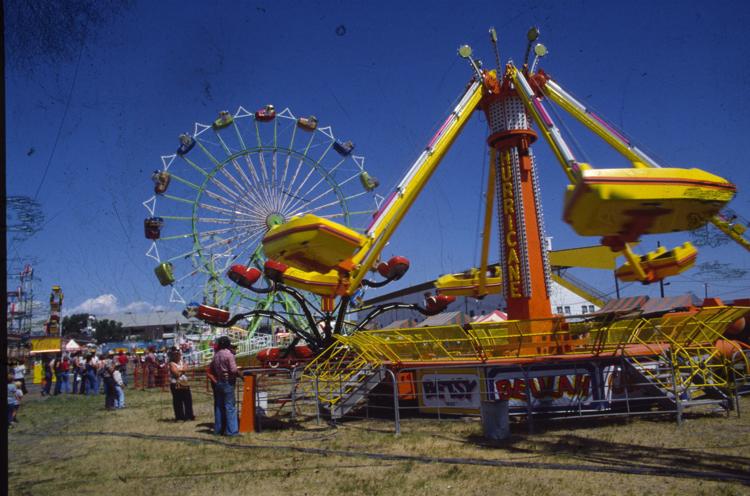 Spider ride, 1979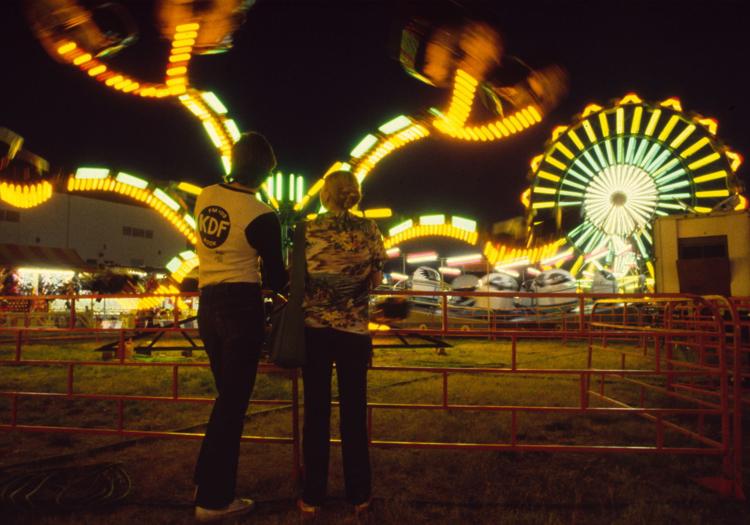 Round Up ride, 1978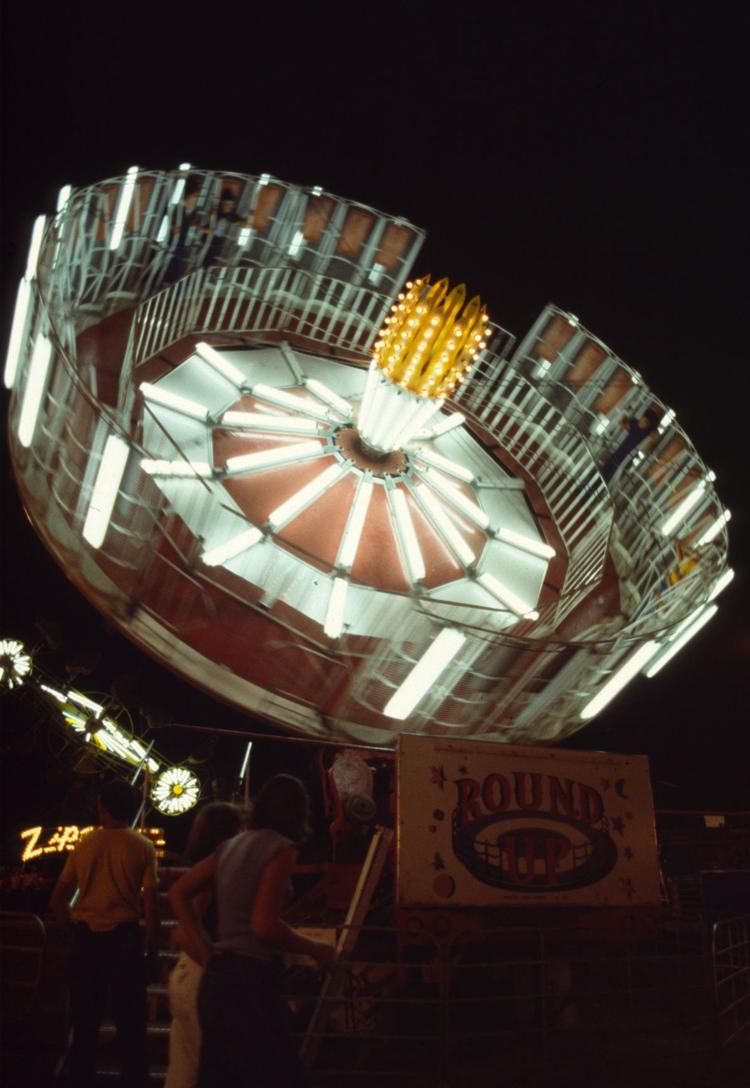 Girl on carousel, 1978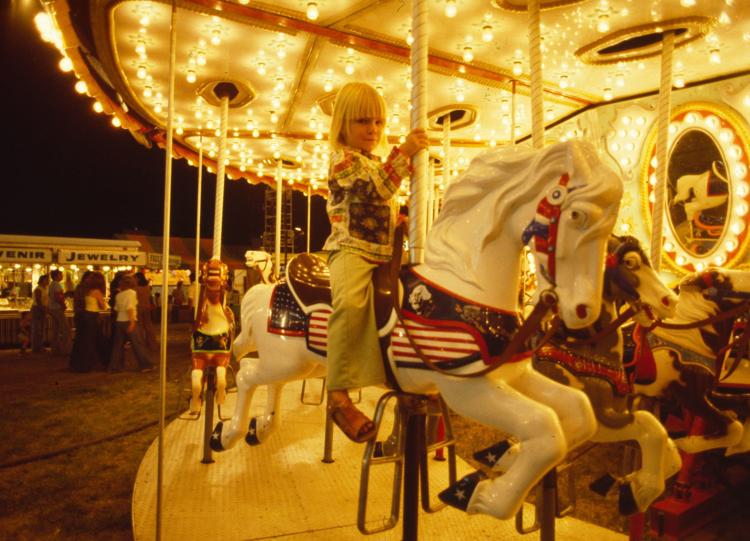 Toboggan ride, 1978
Toboggan ride, 1978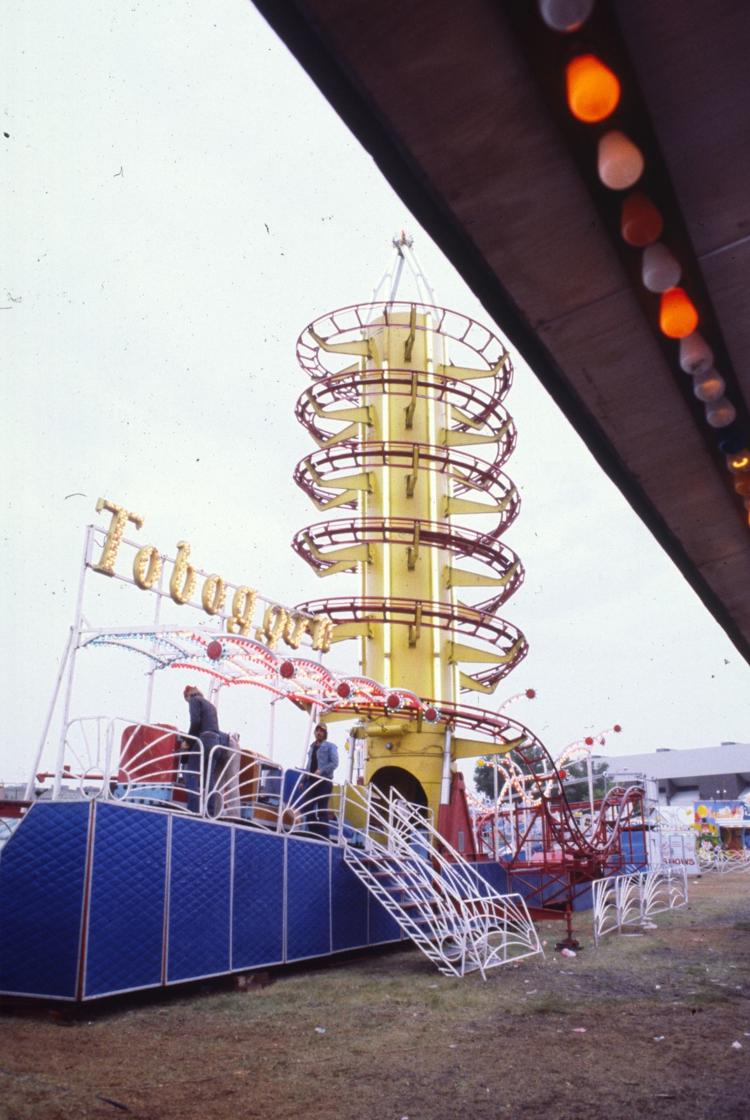 Round Up ride, 1978
Flying elephant ride, 1977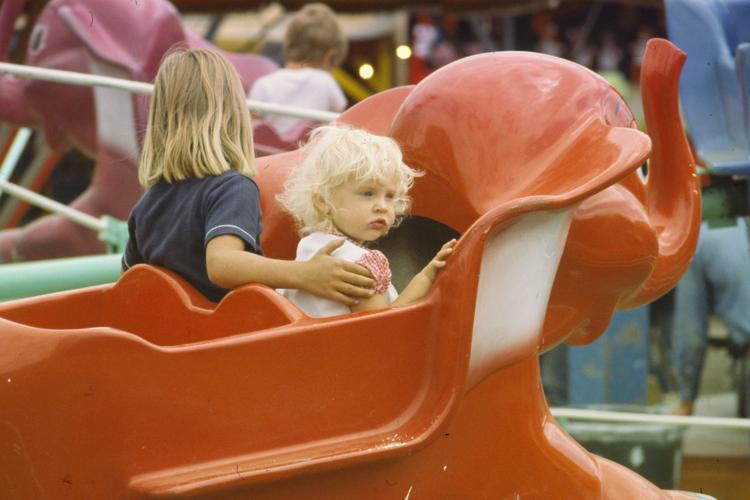 Zipper, 1977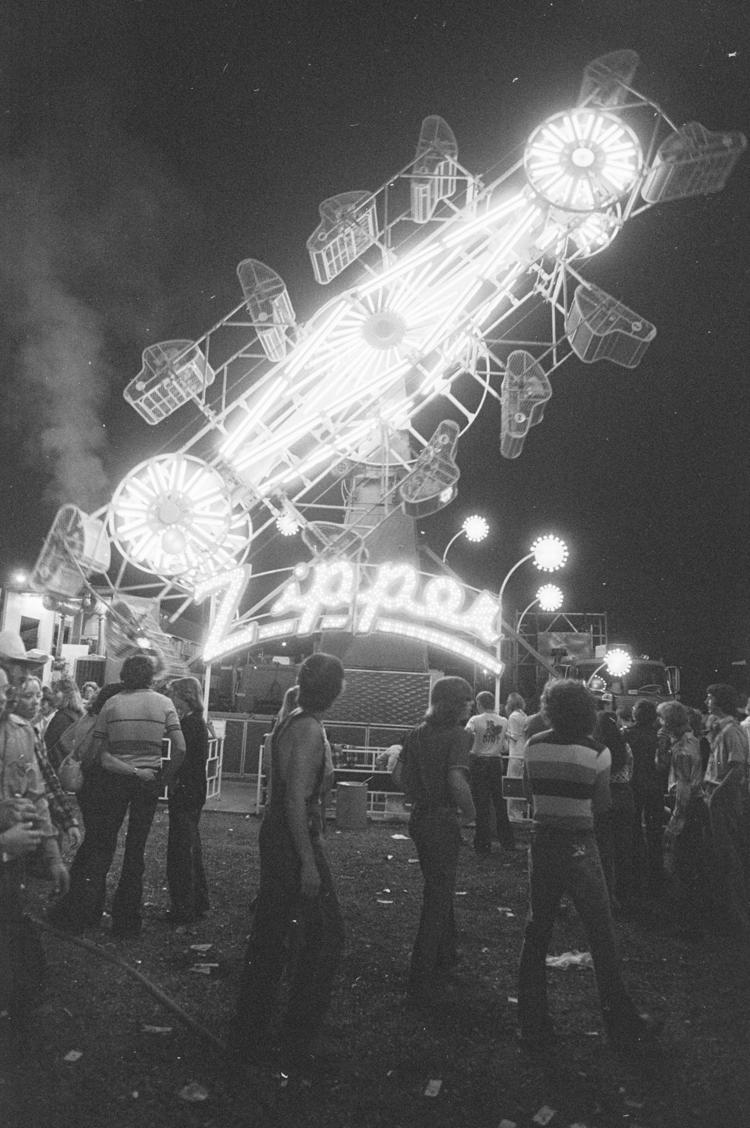 Yoyo ride, 1977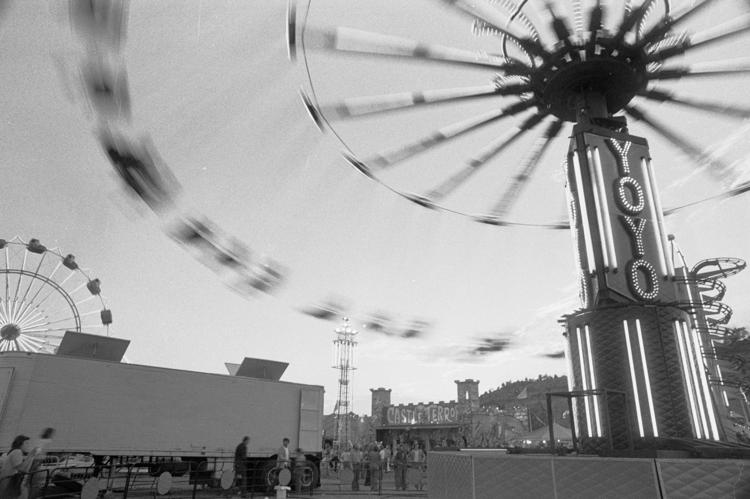 Children on carousel, 1977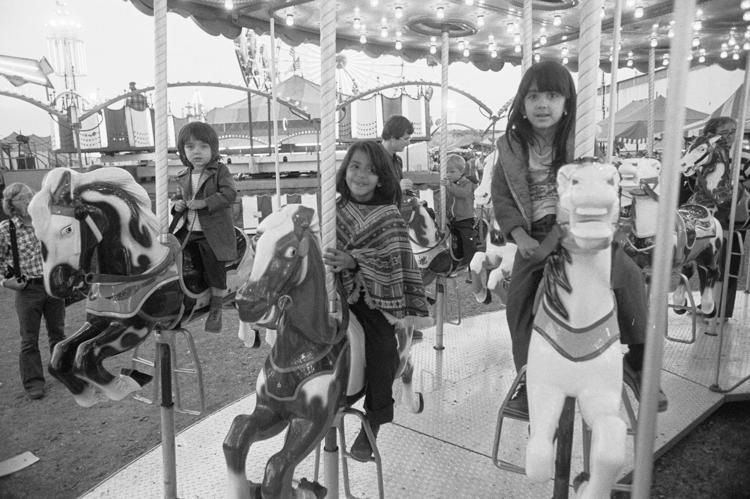 Skydiver ride, 1976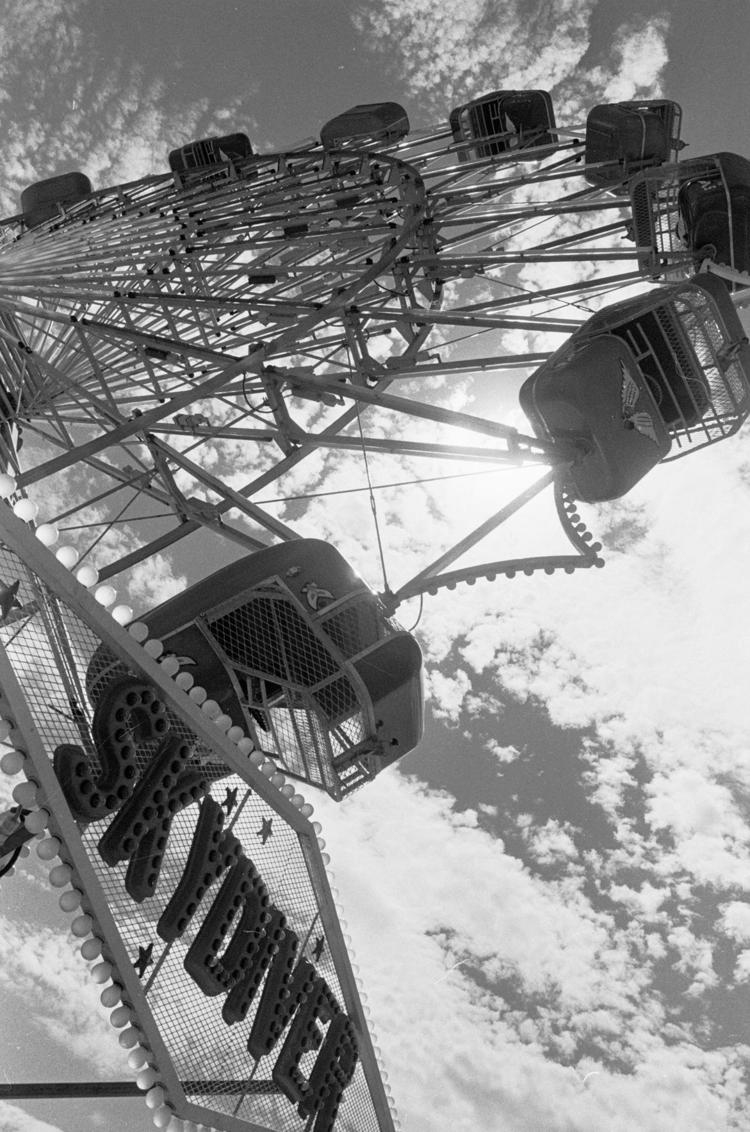 Midway from above, 1977
Girls jumping on inflatable trampoline, 1977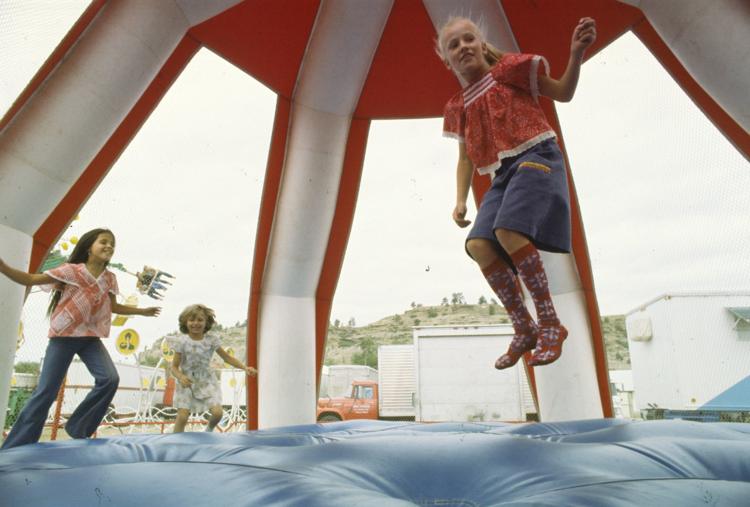 Twister ride, 1976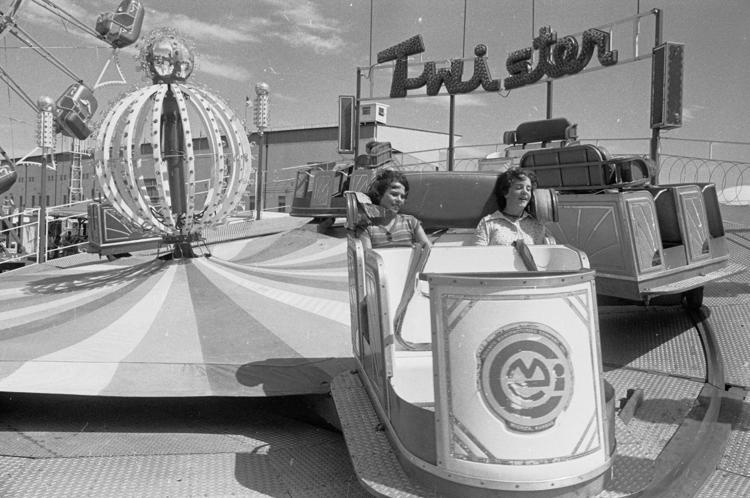 Fair midway at night, 1976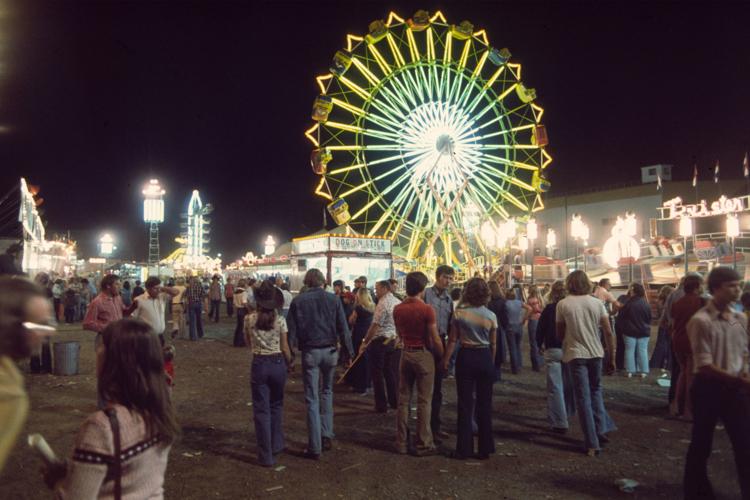 Boys on rocket ride, 1976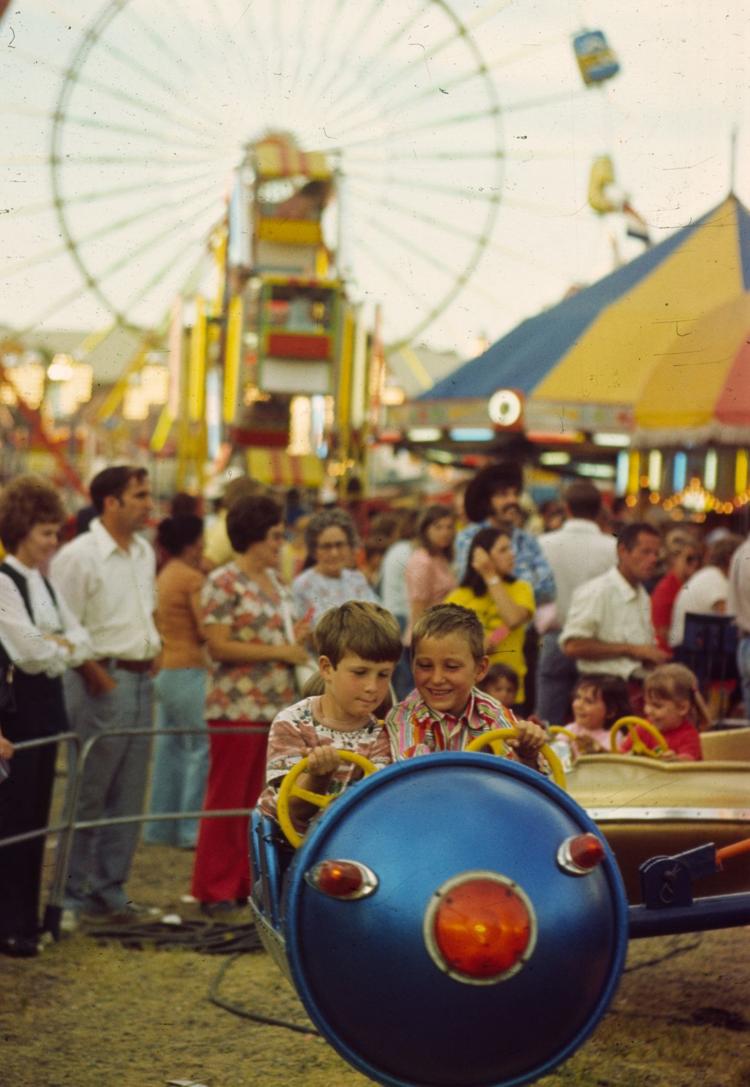 Fair rides at night, 1976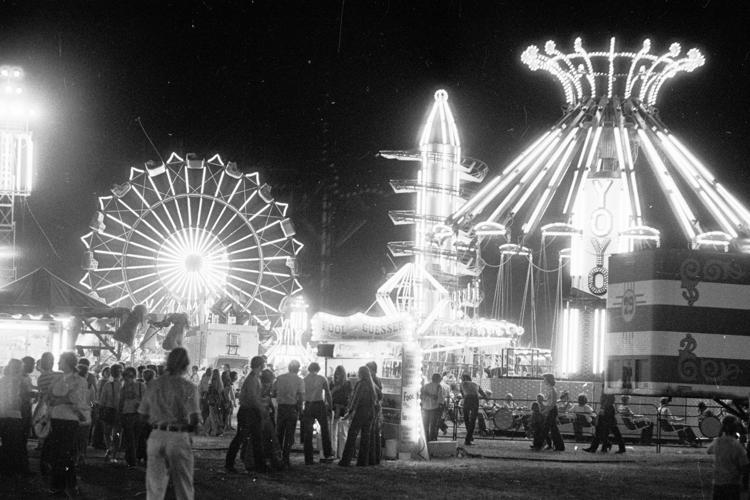 Fair rides, 1976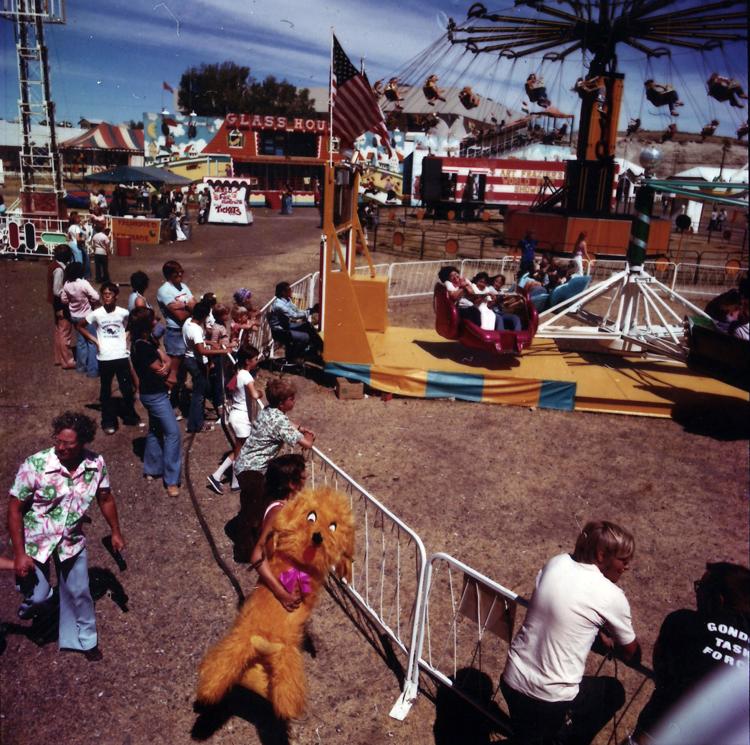 Ride line and sideshow, 1976