Two people with unknown injuries were sent to a hospital after a car ran a red light on Sixth Avenue North and crashed into oncoming traffic on Wednesday. 
The crash happened around 12:30 p.m. when a white SUV that had been stopped at a red light on North 18th Street drove southbound when the light turned green.
While the white SUV traveled through the intersection, a black car going westbound on Sixth Avenue North ran a red light and T-boned the white SUV, Billings Police Department Lt. Shawn Mayo said.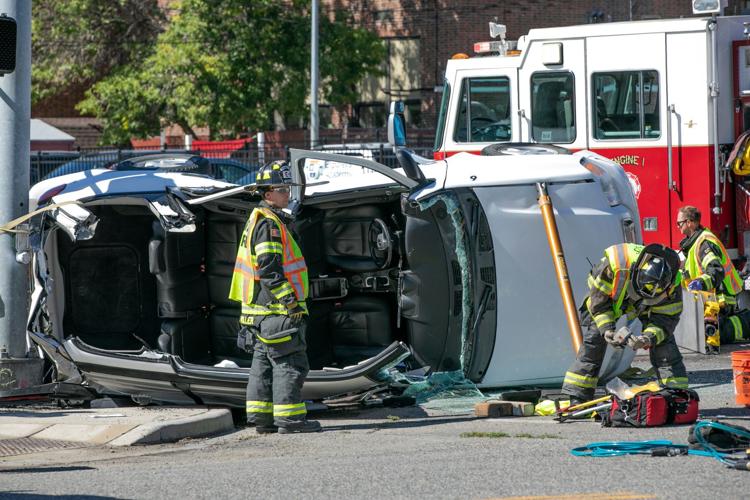 The white SUV came to rest on its side against a traffic light. A passenger in the white car was extricated by Billings firefighters. 
Both the driver of the black car and the passenger in the white car were taken to a hospital. Mayo did not know the extent of either person's injuries, or their ages. 
You have free articles remaining.
Keep reading for FREE!
Enjoy more articles by signing up or logging in. No credit card required.
There were two other people in the white car. Neither was injured in the crash. 
The passenger extricated from the white car was "previously disabled," Mayo said, and a wheelchair was removed from the car. 
Traffic was slowed to two lanes on Sixth Avenue North, and North 18th Street was blocked while first responders worked at the scene. 
The Billings Police Department, Billings Fire Department, and American Medical Response responded to the scene. 
That crash happened when a dark SUV tried to turn left on North 18th Street and collided with a car driving on Sixth Avenue North.