Law enforcement found a pellet rifle and a fixed blade knife but no child in the vehicle of a man they pursued through Billings and into the county at high speeds Wednesday evening. Police were acting on information suggesting the suspect had kidnapped a youth from near an elementary school.
Shannon Leon Yellowtail, 42, appeared in Yellowstone County Justice Court Thursday on one charge of felony endangerment for his alleged involvement in the pursuit which, according to charging documents, reached speeds of approximately 110 miles per hour.
A follow-up investigation conducted by the Billings Police Department found that "no child abduction took place," according to court documents.
Yellowtail has a previous criminal sentence out of U.S. District Court in 2007 for shooting a man in the leg who police had handcuffed for stealing his car in Lodge Grass while Yellowtail's toddler was inside. The child was later found unharmed and Yellowtail was described in court as both intoxicated and enraged during the shooting.
The source of information for Wednesday's kidnapping complaint is described in court documents as a business owner who contacted 911 after a group of kids "came to his business and told him about a possible child abduction they witnessed near Riverside School."
"The children stated that a male was yelling at kids in a field and that (they) believed the male had taken one of the kids from the field," documents state. "The report included that there was a possible weapon and that a young male was seen in the back of the truck banging on the window. The vehicle description was provided."
Police received this information about the alleged kidnapping at about 5:30 p.m. By about 6:30 p.m., Yellowtail was found lying in field south of Billings, a black cloth wrapped around a bleeding wound on his head, his pickup truck abandoned nearby.
Early on in the pursuit the driver pulled over on a curb at North 31st Street after a Yellowstone County Sheriff's Office Deputy activated his emergency lights to initiate a stop. Two men stepped out of the passenger door of the pickup truck and did not comply when the deputy told them to walk to the rear of the vehicle with their hands up.
You have free articles remaining.
"We were just getting dropped off," one of them stated before the pickup truck Yellowtail is believed to have been driving sped away. The pursuit reached speeds of 80 mph on State Avenue and 55 mph in nearby residential streets. At one point Yellowtail is believed to have driven over a sidewalk across State Avenue and southbound onto Washington Street.
Eventually the pursuit reached King Avenue East and South Billings Boulevard, where Yellowtail is alleged to have continued through a red light at an intersection crowded with traffic. The pursuit wound back into Billings before again returning to South Billings Boulevard.
Law enforcement continued to follow as South Billings Boulevard turned into Blue Creek Road. Near Briarwood Boulevard police observed a vehicle pull onto the shoulder to avoid Yellowtail's pickup truck driving the wrong way, and by Blue Creek School the suspect is believed to have been driving at approximately 100 mph, according to court documents. "It appeared as if he was purposely driving recklessly in an effort to force law enforcement to terminate the pursuit," documents state.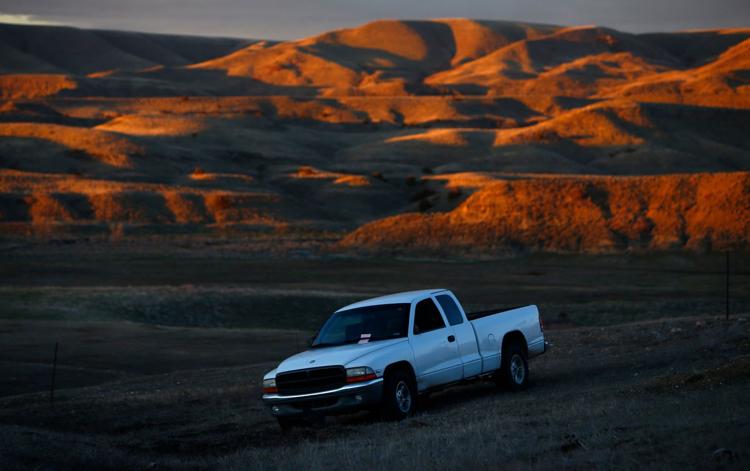 On Pryor Road the pursuit reached its top speed, estimated to be 110 mph, and Yellowtail eventually turned onto an unmarked dirt road before going down a hillside. The vehicle slowed to about 15 miles per hour as it headed toward a fence. A Sheriff's corporal was able to force the vehicle south before it came to a stop and law enforcement realized the driver was not inside.
A search in the area led to the discovery of Yellowtail injured, lying in a field nearby.
Charging documents state that Yellowtail fled from law enforcement during a November 2018 incident. 
Yellowtail's bond was set at $75,000 on Thursday and a state public defender was assigned to him. His conditions of release include submitting to GPS monitoring and not driving. He is scheduled to be arraigned in District Court on April 24 at 10 a.m.