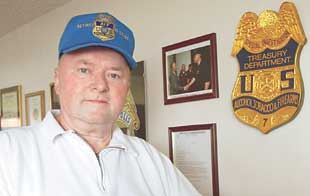 Don Flickinger was hoping for the whole truth. What he got was a killer's improbable version of a murder for which he's been sentenced to die.
A retired federal agent who spent six years investigating the slaying of Lisa Marie Kimmell, Flickinger said he doesn't believe the story that Dale Wayne Eaton told a doctor of how he abducted, raped and killed the young Billings woman 16 years ago.
"I think he just made up a story that he thought people might want to hear, but he minimized a lot of the real bad parts," Flickinger said. "He's still holding some of that back."
Eaton may have good reason not to tell the entire truth. Although no evidence has surfaced linking Eaton to other unsolved crimes, Flickinger and others believe Eaton may be a serial killer.
The prosecutor in the Kimmell case recently described Eaton as a "person of concern" in other investigations. And a former FBI agent familiar with Kimmell's murder said Eaton has a personality "consistent with the profile of serial killers."
"I think the way he went about this indicates that this guy had very possibly done it before," Flickinger said. "He may not have done it the same way before, but I think he may have killed before."
A 59-year-old drifter and divorced father, Eaton was convicted of kidnapping, rape and murder at a trial held last month in Casper, Wyo. A jury sentenced him to death after evidence showed that Kimmell was bound and raped repeatedly over several days before she was bludgeoned and stabbed six times.
Kimmell was an 18-year-old graduate of Billings Senior High School who disappeared while driving from Denver to Billings on March 25, 1988. Her body was found about a week later in the North Platte River, but her murder remained a mystery for more than a decade.
Eaton was charged last year after DNA evidence linked him to Kimmell's slaying and her car was found buried on his property 75 miles west of Casper.
Now retired from the federal Bureau of Alcohol, Tobacco and Firearms and living in Billings, Flickinger became involved in the Kimmell murder investigation in 1989. He worked almost daily on the case until his retirement in 1995.
Flickinger called it the greatest disappointment of his career that he was unable to track down Kimmell's killer before he retired. The case haunted him for years, and he has remained in close contact with the Kimmell family.
When Eaton's trial was held last month in Casper, Flickinger made the four-hour drive to attend the last two days of testimony. He was there when the jury pronounced Eaton guilty on all charges.
Seeing Eaton in person, Flickinger said, was something he had to do.
"To be sitting in the courtroom looking at the guy who did it, it took a while for it to sink in," Flickinger said recently. "The whole thing was kind of a surreal experience for me."
Eaton didn't testify, and he remained stoic during most of the three-week trial. Flickinger described Eaton as a "stone cold rock."
"He sat there throughout the two days that I was there and showed no emotion whatsoever," Flickinger said. "He didn't lift an eyebrow. He didn't twitch."
Eaton's court-appointed attorneys argued at the trial that prosecutors had overcharged Eaton, and said he did not deserve the death penalty. A psychiatrist called by the defense during the penalty phase of the trial described Eaton's violent and troubled childhood. Eaton was portrayed by the psychiatrist as a destitute drifter with few friends.
The psychiatrist also related his conversation with Eaton about Kimmell's death. Eaton said he found Kimmell on his property in Moneta, and thought she was trying to rob him. He took the young woman to a bus he used as living quarters where he placed her in handcuffs and raped her over several days.
Eaton said he killed Kimmell and dumped her body in the river so she could be returned to family in Billings in time for Easter.
The story Eaton told the psychiatrist falls far short of what Flickinger believes really happened to Kimmell.
It is unlikely, Flickinger said, that Eaton found Kimmell on his property as he described. It is more probable that the young woman's car broke down or she had stopped on the side of the road for some reason when Eaton came upon her, he said.
It also does not make sense, Flickinger said, to believe that Eaton wanted Kimmell's body to be found so that she could be "returned to her family" before Easter. But it's impossible to grasp what actually was in the killer's mind, he said.
Eaton also told the doctor that he stabbed Kimmell in the bus. Flickinger said the pool of Kimmell's blood found on the bridge over the river where her body was found suggests that is where she was stabbed.
But without a full confession by the man now on death row, Flickinger said he is prepared to accept that he may never know the full truth of Kimmell's murder.
"He's admitted having sexual contact with her and he's admitted killing her, but he still can't bring himself to tell the whole story," Flickinger said. "Unless he decides at some point that he wants to talk, I don't think we'll ever hear any other version."
Assistant Natrona County Attorney Mike Blonigan, who prosecuted Eaton, said recently that Eaton has been unwilling to speak with authorities. Eaton is a "person of concern" and a possible suspect in other homicide cases, Blonigan said, but investigators have little to go on.
"Sexual sadistic killers rarely act once," Blonigan said. "But I have no concrete evidence to link him to any other homicides. I sure understand those concerns, and I share them myself."
Greg Cooper is a former FBI agent who has reviewed Kimmell's case and a list of unsolved homicides of women in the Western United States. He now works in Montana for the Homeland Security Administration.
"I can't say conclusively that he is (responsible) for any of those other murders," Cooper said. "I can say that his type of personality and the way that he killed Lisa is consistent with the profile of serial killers."
Cooper said Kimmell was one of 11 women murdered between 1983 and 1997 who investigators think may have been victims of a serial killer. The cases are known collectively as the Great Basin murders. The women's remains were found in Wyoming, Idaho, Nevada and Utah.
Cooper said three of the cases on the list have since been solved, including Kimmell's murder. Eaton's name did not turn up as a possible suspect during a 1998 review of the unsolved murders, Cooper said.
Flickinger said investigators in Wyoming are interested in Eaton as a suspect in the disappearance and presumed slaying of a woman in Lander. Amy Wroe Bechtel, 24, disappeared July 24, 1997, while jogging in a remote area. Only Bechtel's car was found.
Eaton had little contact with law enforcement until September 1997, when he was arrested for a roadside assault. In that case, Eaton was convicted of felony aggravated assault for attacking a man and woman traveling with their 5-month-old baby. He was sentenced to spend up to a year at a Casper pre-release center, but he walked away from the facility in 1998.
Later that year, Eaton was arrested and subsequently sent to federal prison on a weapons charge. He was serving his sentence at a prison in Colorado when a DNA test linked him to Kimmell's murder.
"I have a gut feeling, and this gut feeling is shared by other investigators, that he's responsible for other female homicides in the area," Flickinger said.