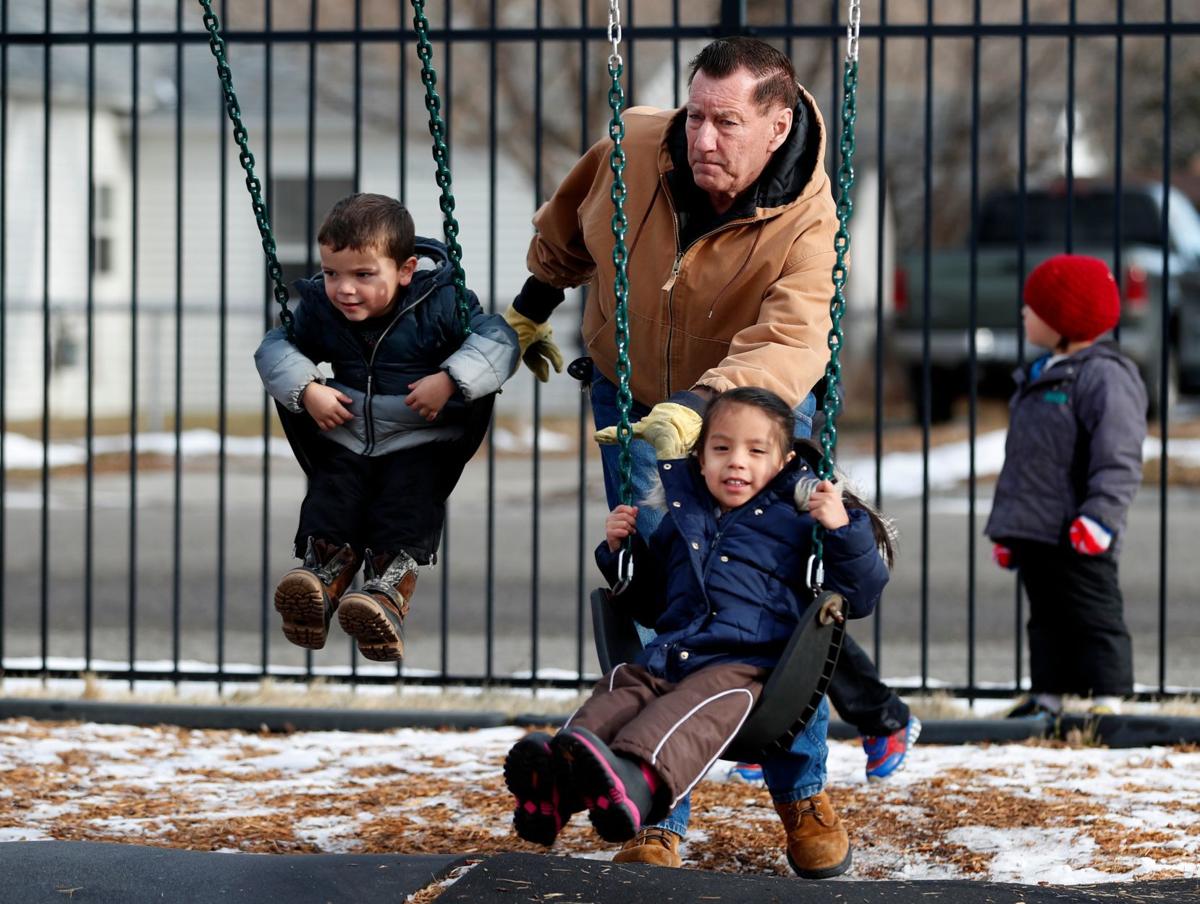 Snowpants had flummoxed a young preschool student on a cool December morning.
She grasped the idea that each pant leg held a human leg, but was having trouble putting that into practice. It's the type of challenge that can lead to a meltdown for some 3-year-olds who are still learning how to follow directions and deal with frustration.
Grandpa Ed came to the rescue.
Ed Frohlich, 71, has been volunteering with Explorer's Academy Head Start in Billings since 2010, when he started in his granddaughter's classroom. Officials there reckon he's put in 4,500 hours — the equivalent of more than six months of 24/7 work. 
He's there from 8 a.m. to noon, barely ever missing a day.
Frohlich isn't a trained educator. He's just a guy who doesn't do well sitting still and likes to help out.
On the playground, he's the swing pusher ("his official title"). In classrooms, he helps kids navigate daily activities. He's a whisperer of tangled coat sleeves and stuck boots, a helper for both teachers and students, an extra adult role model in a classroom where students crave them. He's "Papa," "Grandpa Ed," or if a child on a swing is especially impatient, just Ed.
"Having an extra set of hands, an extra set of eyes, that's huge for us," said teacher Dana Hultgren. "There's other classrooms that are very jealous of us that we have Ed."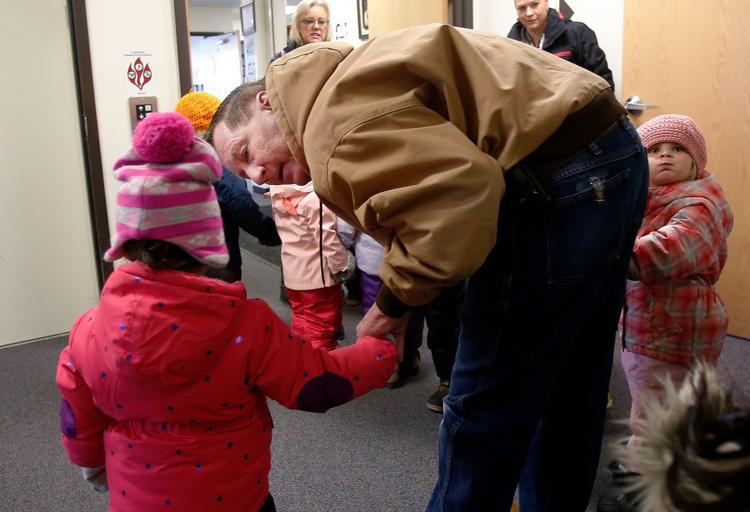 Frohlich is particularly proud of his clockwork attendance. He reckons he's missed fewer than a month of accumulated days during the past eight years.
"If I miss a day, then I hear about it the next day (from the kids)," he said.
Head Start, a federally funded preschool program, targets students from low-income families and works to close long-established school achievement gaps. The program focuses on some academic goals, but also works on behavioral and social goals.
Seemingly random craft activities like slipping alternating red and white beads on to a pipe cleaner to create a mock candy cane are actually rooted in researched standards — improving fine motor skills, recognizing patterns, following instructions. Educators often bemoan too many kindergartners arrive in K-12 schools lacking such skills and unprepared to learn, and decades of research has shown that preschool programs can better prepare students.
You have free articles remaining.
Frohlich will work with kids one-on-one or in small groups. He helps them stay on track during their activities, and a small suggestion to try something different with Play-Doh can nudge kids toward creative thinking.
Even helping kids navigate winter clothing before they ramble across a snowy playground helps. One boy was on the verge of tears after spinning several circuits but failing to get his arm through a coat sleeve; for 3-year-olds, learning to regulate emotions and ask for help is a work in progress.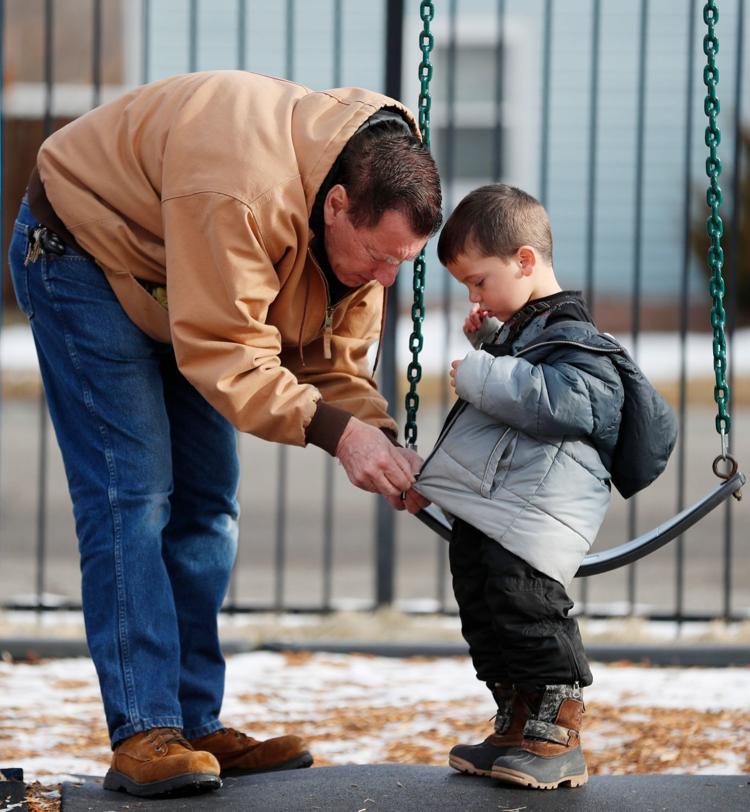 Frohlich credited caring for his grandchildren with helping prepare him for the volunteer gig. But helping out at Head Start doesn't require specialized experience.
Volunteers do need to pass a background check and take an orientation class.
"If there's anything that people aren't sure about or uncomfortable with, we address that," said Explorers Academy's community relations director Megan Martin.
About 200 college education students volunteer at Head Start each year, and other organizations have group volunteering events. The program has between 10 and 20 regular volunteers who fit Frohlich's mold, if not his accumulated hours.
Some help out with kids, like Frohlich. Other prefer tasks outside the classroom.
Either way, adult role models are good for the preschoolers.
"It tells our children that they're important," Martin said. "When people in the community come in an participate in our classroom, it tells them that there are adults out there who care about them, and who want them to succeed."
Frohlich has simple advice for potential volunteers, especially retirees like himself.
"Take up volunteering," he said. "It's the best thing you can do."
---
Education reporter Matt Hoffman's favorite five stories of 2019
Education reporter Matt Hoffman presents his five favorite stories of 2019.
I'm OK with spending a few hours curled up in my desk chair with a nice cheap gas station coffee and the latest report on rural teacher shortages or federal school funding. 
There are plenty of exciting things about reporting (I once found a guy who was hypothermic and wandering aimlessly after he fell through ice into the Mississippi River and drove him to an ambulance), and it's important for me to get out of the office and into classrooms. But understanding how what I see in those classrooms fits into national education trends and best practices requires, well, homework — boring stuff like parsing dense studies and listening to tapes of public meetings.
Stories about a school safety panel or new summer school program don't get the most clicks. Sometimes they get the least. But they help unravel complicated issues that trickle down to affect thousands of Montana students. 
Below are stories about: why suicide is a more pressing school safety issue than shootings in Montana; why a substitute teacher shortage can have ripple effects across a school; why signing up students for a federal homelessness program matters; and why a summer preschool-lite program can help level the playing field for students. 
The math wizards among you will note that there's only four, despite this being billed as a list of five. My fifth choice was from reporting off of my usual education beat. It told a small part of the story of the Dooley Church, and the collapse of the last building in a Montana ghost town. 
No laws will change after the church's fall, and there's no ripple effect on money or resources in schools. But people cared deeply about the church.
Months after the story ran, I got an email from a woman whose grandmother was baptized at the church with an accompanying photo. Weeks after that, I talked to a bartender who played in the church as a child. 
For a lot of people, it mattered. 
Get local news delivered to your inbox!
Subscribe to our Daily Headlines newsletter.