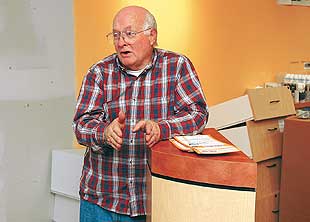 And then there was one. Kasper's Photo Shops shut down its West Park Plaza store Thursday one year after closing a smaller store in downtown Billings.
Digital and film processing will be centralized at the home store at 1116 Central Ave.
"Film is dropping at about 18 percent a year. Even though we're doing digital, too, we have to do that all in one location due to equipment costs," said owner Albert "J.R." Ahlgren Jr.
Kasper's started business in downtown Billings in 1946 and has operated a store in West Park Plaza since the 1970s. A small store in Billings Heights closed in the 1990s.
While packing up the display cases, Ahlgren said the Central Avenue store, which the family owns, is profitable and has plenty of space.
At West Park Plaza, red-and-gray "Effective immediately we are moving" signs dotted the windows. A clerk called customers telling them to pick up their pictures at Central Avenue.
Last summer, the Ahlgrens started cutting back at the plaza by moving the film lab to the main store.
Three times a day, a runner driving a van covered with big Kasper's, Nikon and Cannon logos, shuttled film and media cards to the main store.
Ahlgren bought Kasper's in 1989 and runs it with his daughter, Amy Blackard, and son, Dennis Ahlgren.
The decision to close came suddenly.
"We didn't know until last night," Dennis Ahlgren said Thursday morning.
J.R. Ahlgren has spent his life around film, logging 52 years as a photo finisher.
The Billings native started working in a film lab at age 12 and helped build a 20-lab national operation that Eastman Kodak eventually bought.
In addition to film lab costs, commercial equipment to process digital pictures sets a business owner back $50,000 to $500,000.
By centralizing, the Ahlgrens want to come out better and stronger than before.
"The days of the small satellite labs are ending," said Dennis Ahlgren.
J.R. Ahlgren believes the future for their business is positive.
"Our mission is to convince the customers we can do a digital job better and cheaper than they can at home," he said.
His optimism is based on three assumptions.
First he said the fad of processing digital pictures at home should fade.
Kasper's can buy paper and ink much cheaper and offers professional finishing.
Then there is the time factor.
"If they go on vacation and shoot 200 pictures, do you know how long it takes to print them?" he said. "Probably as long as it took them to go on vacation."
Big Box stores, which live by the "sales per square foot" rule, eventually may decide the space devoted to film and digital processors isn't profitable enough.
The Ahlgrens plan on setting up "photo ATM machines" around town.
A customer would insert a card from their digital camera and send their "art" to Kasper's Web site for processing. (www.kaspersphoto.com) Customers can pick up their prints at the store or have them returned by mail.
Such kiosks already exist at some big box stores where customers can process their pictures on-site.
Finally, J.R. Ahlgren said his faith in big boy Kodak is being restored. The film giant was way late in reacting to the flowering of digital, but is going full bore now.
"Whatever Kodak does, they can make it happen," he said.
Ahlgren also is banking on the art and beauty of film helping the classic format survive, even as a sidekick to digital.
"That little piece of film is probably the best memory stick you've got," he said.
For the first time last year the sale of digital cameras surpassed film camera sales, Ahlgren said, but Americans still own 205 million 35mm cameras.
"It will take a long time before film disappears, if it ever does," J.R. Ahlgren said. "But you have to be in both ballgames."