As Nicole Trahan looked out over a group of snowpants-swishing students at McKinley Elementary on Wednesday morning, more of the principal's students were likely to be present than in past years.
McKinley has made significant strides for two years in a row in improving average attendance in semester one, in part by offering widespread incentives — Wednesday's assembly celebrated perfect attendance for 44 students during the year's first grading period.
But the school has also focused on reaching out to students who are chronically absent and their families, shining a light on an area that average attendance statistics often don't capture.
School attendance has high stakes for a school like McKinley, which serves a high proportion of students from low-income families. Poor students are more likely to miss more school, more likely to perform worse on standardized tests, and more likely to eventually drop out of school.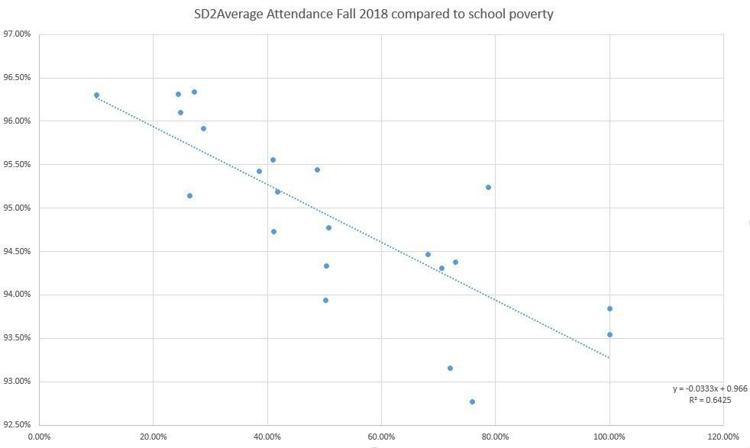 "Absolutely, we have to have them in their seats to help them achieve," Trahan said. "They miss so much if they are not consistently in class academically, but they also miss a huge social piece."
School District 2 policy says that students can miss only 10 days of school per semester, and it reports attendance statistics in terms of average attendance — what percentage of kids are in school during a typical day — and how many days a school had more than 10 percent of its student body missing.
But neither of those statistics captures whether specific students are gone too often.
McKinley has worked harder to track those students and gotten help from United Way of Yellowstone County with data analysis.
"We know exactly which kids are missing," Trahan said. "We really drill down and look at those kiddos and families that are struggling with attendance."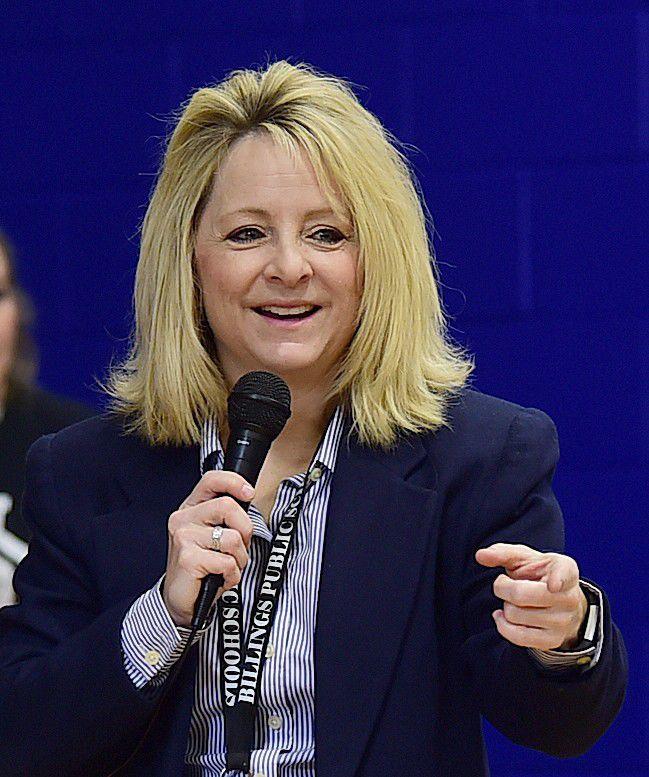 Sometimes, an intervention can be as simple as a conversation with a student or a call home. Sometimes it might be a home visit. Sometimes it's a more involved attempt to build a relationship with families, like a meal-box program that McKinley offers in partnership with Billings Clinic and Town Pump.
There are also the more widespread incentives. McKinley recently adopted Ron Clark principles, a trend sweeping across Billings elementary schools that emphasizes high expectation and incentives in a high-energy atmosphere, in part through a House system that divides students in multi-grade teams.
During the month of December, the school had an "attendance tree." Each week, three students' names were drawn randomly — if they had perfect attendance that week, they got to select a donated item from the tree.
It might seem small, but Trahan and other educators said it creates an outsize reaction from kids.
But a kindergartener can't exactly drive themselves to school. Many attendance initiatives target parents and guardians, like door-hanger distribution before the first day of school.
"We think that sometimes it's out of their control," Trahan said.
Motivation
That sometimes is key for McKinley counselor Carolyn Yegen.
"I would also kind of think it was on the parents," she said. "(But) actually the kids have a lot more power. They'll bug their parents to be here."
Trahan said that she's heard about kids storming into parent's bedrooms.
"We've had kiddos that will go in and say, 'mom, I've got to get to school,'" she said. "If we can motivate the kid to get here, the kid then motivates the parent."
The incentive programs are a large part of motivating kids.
"Sometimes they need that extrinsic incentive before it becomes an intrinsic feeling," she said. "We talk to them about building lifelong habits."
But reaching out to parents is still a big part of McKinley's efforts. And research shows that it should be.
A pair of 2018 studies in California and Philadelphia showed that simply sending a letter to parents reminding them of how many days of school their child has missed and emphasizing the importance of attendance resulted in significant reductions in chronic absenteeism.
McKinley tried to take a positive approach with parents.
"We don't want to have to be the heavy hammer all the time," Trahan said. "(We say), 'Is something going on that I can help you with?'"
Sometimes parents can be reluctant to share that information. That's where Mr. O. comes in.
Relationships
To hear Trahan and Yegen tell it, Rusty Ontiveros is a celebrity at school. The Indian Education home-to-school coordinator splits time between McKinley and Lewis and Clark Middle School, but is in high demand among the younger students eager for a slice of his time.
He has his own appeal among parents.
"It's not the principal knocking on your door, it's not the School Resource Officer knocking on your door, it's not truancy knocking on your door," Trahan said.
Home-to-school coordinators conduct home visits for schools across the district, and the Indian Education program hosts several family outreach efforts. American Indian students in Billings and across Montana are more likely to come from low-income families and more likely to struggle to hit academic benchmarks.
In some cases, those staffers have a relationship with families that other school staff lacks.
"Sometimes families aren't willing to share it with us, so we don't know the backstory," Trahan said.
Combined with the student-level attendance data, Ontiveros' relationships have helped McKinley move the needle on overall attendance, she said. 
Ontiveros, who grew up on the Northern Cheyenne Reservation, said that he understands how families and students find it easier to relate to him. He attended Billings Central High School his senior year, and knows what it's like to attend school among a sea of unfamiliar white faces.
"Working with the kids is great and everything," he said, but he thinks connecting with families is key.
Gains like McKinley's can be hard to sustain for schools. Riverside Middle School, which saw a leap in attendance last year, has come back to earth a bit this year, though it still compares well to two and three years ago.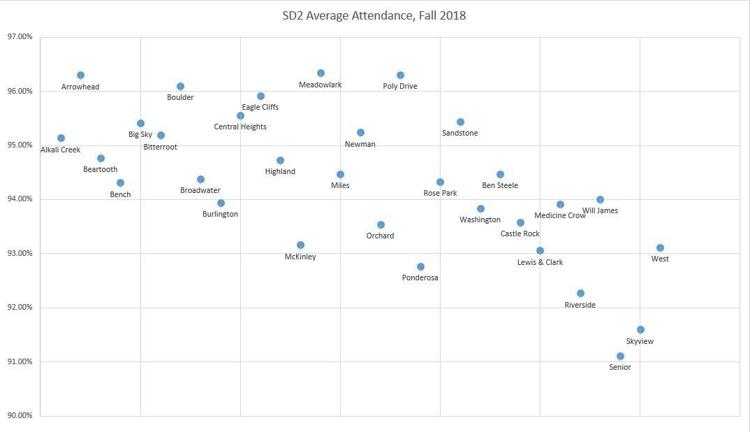 Billings schools saw a notable attendance boost in the first semester of the 2015-2016 school year compared to the first semester the year before. The district had begun pushing Attendance Matters, a local branch of a statewide initiative also supported by groups like United Way, and still does.  
Districtwide, overall attendance has roughly held steady since then, though it fluctuates in individual schools. Elementary attendance did improve about .7 percent compared two the previous two years of semester one data. 
Part of the focus in elementary school is to try to build good attendance habits into middle and high school; research shows elementary attendance is a predictor for attendance as students get older.
Trahan hopes to build in that concept with families and enlist them in pushing kids to come to school, convincing them that it can make their lives easier.
"Sometimes our kids are giving their parents or grandparents a really hard time about coming to school," she said. But if a school can build that "intrinsic feeling?"
"It takes that fighting in the morning off their plate."