Crystal Hiwalker died and came back to life.
On a frigid February night, with the ambulance navigating the icy roads between Lame Deer and Billings, Hiwalker stopped breathing, and then on I-90 by Lockwood her heart stopped beating.
As a nurse and William Kellum, Hiwalker's common-law husband, frantically worked to keep her alive, the EMT driving the ambulance maintained telephone contact with the Billings Clinic emergency department so a team would be ready as soon as the ambulance arrived.
On a Wednesday afternoon in March, Hiwalker and Kellum again drove from Lame Deer to the Billings hospital, this time for a reunion with physicians and nurses no one ever thought would take place.
"I can tell by looking at a face," emergency room charge nurse Steph Shreeve told Hiwalker in a fourth-floor family waiting room, reflecting on their first meeting. "When you rolled past me, when you came in, I thought 'we've lost her already.' "
Medical crisis
It all began the afternoon of Feb. 27, when Hiwalker was at a gas station in Lame Deer, a small town on the Northern Cheyenne Reservation, filling up her car. She was talking to her cousin on her cellphone "when I pretty much fainted."
"I thought maybe I ate something wrong," she said, sitting in a chair next to Kellum. "It's something not too serious, I'll be all right until my husband gets home."
Hiwalker admits she's one of those people who has to be forced to go to a hospital. She drove home, but continued to feel dizzy and fainted a couple more times.
She called Kellum, who works as a service oiler for Westmoreland in Colstrip, 23 miles north of Lame Deer. He suggested Hiwalker go to the Indian Health Service clinic in Lame Deer, but she told him she didn't want to panic the kids.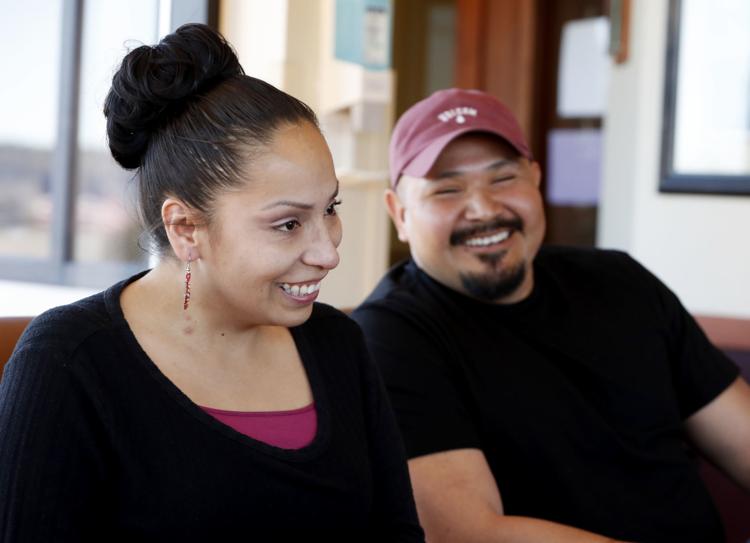 The couple have three children between them, sons Willy, 14, and Dejshaun, 11, and daughter Tesla, 8.
When Kellum got home, he took Hiwalker to the emergency room at the clinic. A test revealed she was pregnant. The physician thought Hiwalker might have appendicitis or something similar, or possibly an ectopic pregnancy. 
When Hiwalker's blood pressure started to drop, she was hooked up to an IV, and the physician looked for a way to get her to a Billings hospital. The cold, snowy weather wouldn't allow for a helicopter to  fly in from Billings or an airplane from Colstrip, and the ambulance was delayed.
When he found an ambulance and crew, the EMT drove while the nurse and Kellum sat in the back with Hiwalker on a gurney. She sat up and told her husband the pain was excruciating, "worse than labor pain."
"I looked at him and said, 'I don't think I can do this anymore, that I can fight," Hiwalker said. "It's too much for me."
She began to notice she was losing feeling in her feet and hands, and her eyesight was fading. Hiwalker didn't remember much after that point. It turns out she was suffering from severe internal bleeding.
Kellum watched with growing dread.
"It was pretty traumatizing, seeing her suffer," he said. "She was slowly getting worse and worse and worse."
He noticed his wife was gasping for air, about 45 miles into the trip, near Crow Agency, and she laid down. That's when her breathing stopped and the nurse had to use a bag-mask to breathe for her.
And they still had 60 miles to go.
When Hiwalker's heart stopped beating, near Lockwood, the nurse was trying both to use the bag-mask and to administer CPR.
"I didn't know what to do, I was in shock," Kellum said. "I figured I had to do something to help while she was trying to keep (my wife) alive so I helped her do CPR."
He'd seen training videos and learned the technique "like 20 years ago" when he was in the Army.
Shreeve, the charge nurse in the Emergency Department that night, got updates via telephone from the EMT. When she realized Hiwalker's condition was deteriorating, she took the next step.
"We called code, got the blood in there and additional resources," Shreeve said. "We had everyone standing by and ready."
The team included emergency medicine physician Dr. Brian Guercio; Dr. Clayton "Tersh" McCracken, OB/GYN and medical director of the Family Birth Center; and RNs Audre Reeve, Beth McCotter and  Shreeve, among others.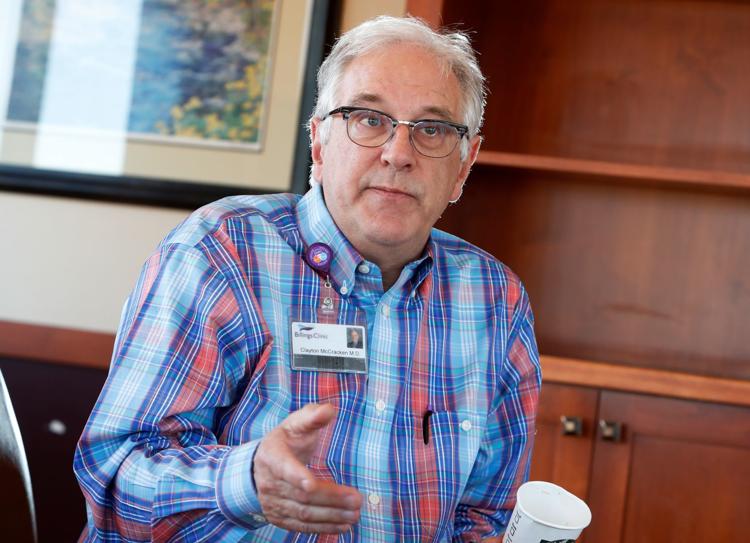 Hiwalker still didn't have a pulse and couldn't breathe on her own, Reeve said.
"The first priority is the airway," she said.
They also began CPR. As McCotter worked on the patient, Hiwalker's plight touched her on a personal level.
"It hits close to home," McCotter said. "She's my age with kids."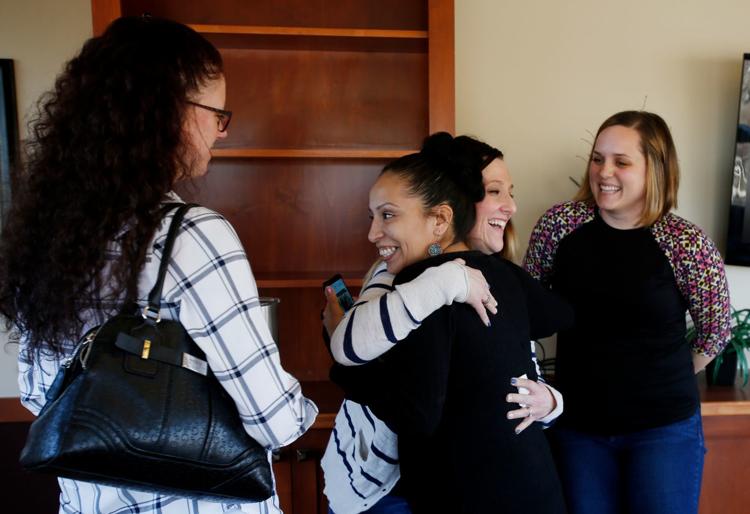 The severe internal bleeding led the team to institute a massive transfusion protocol. Coordinating with the hospital's blood bank, they infused her with red blood cells, plasma, cryoprecipitate and TXA, a medication used to treat excessive blood loss.
It took half an hour to start Hiwalker's heart before she was taken into surgery. McCracken determined she had a ruptured ectopic pregnancy in a part of the uterus called the cornu.
"That's the worst kind, and she had a big hole in her uterus and was bleeding," he said. "She probably had 5 liters of blood in her uterus."
He managed to stop the bleeding and repaired the hole. But in his 27 years of practice, McCracken called Hiwalker's case the worst he has ever seen.
You have free articles remaining.
Keep reading for FREE!
Enjoy more articles by signing up or logging in. No credit card required.
"She was dead for a half hour before we operated on her," he said. "It's a miracle really that she survived."
McCracken was also worried how the lack of oxygen might affect her brain.
"When we got her up to ICU, we didn't think she was going to make it," he said.
McCracken asked for her prognosis, once she reached the intensive care unit. He was told she would likely be brain dead.
In ICU
The ICU staff began to prepare Kellum and other family members for the possibility that Hiwalker would die. The physician told them that her brain was swelling and they couldn't detect any brain activity. 
If she lived, he said, she'd probably have a long, slow recovery.
What no one but Hiwalker knew was that she could hear everything the doctor was saying. She felt her aunt holding her hand. She heard other family members praying for her. She also listened as her husband told her he loved her that he wondered if she could hear him.
But she couldn't move. She couldn't blink her eyes. There were no visible signs she was conscious.
"I felt like I was literally dead in my own body," Hiwalker said. "There was nothing for him to know I was responding."
She started to pray, to try to figure out how to get her body to respond. At one point, when only a nurse was in the room, she managed to twitch her fingers.
"The nurse called in a couple more doctors and said, 'Oh my God, this can't be happening, we've got to call her family,'" Hiwalker said.
Back home again
She recovered quickly. And three days later, on March 4, Hiwalker went home to Lame Deer with her husband. She brought with her a whole new outlook on life.
"Life is so much brighter, my appreciation for everything is so much richer," Hiwalker said in March.
She had spent the year before mourning the loss of her grandmother, which tinted her worldview gray. Life at times was a struggle.
"This changed my whole outlook on life," Hiwalker said. "I appreciate my husband so much and my kids."
She looked around the room at the nurses and the physicians who had come to meet the woman they helped rescue from death.
"Thanks everybody for bringing me back," she said, wiping away tears. "You don't know what a miracle you worked for me."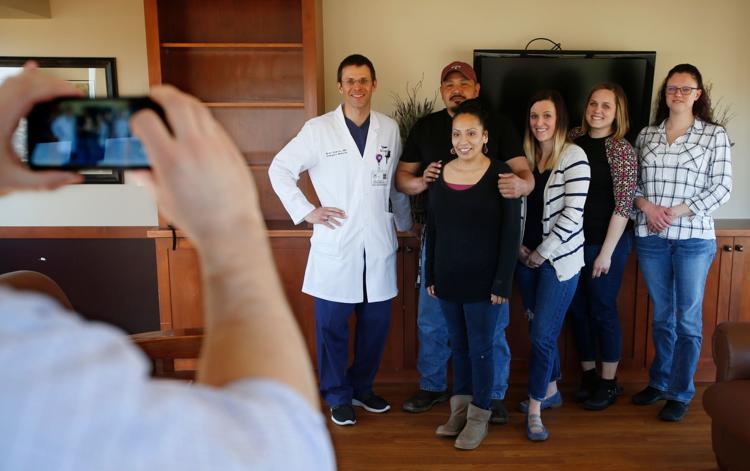 Reeve, one of the nurses, said Hiwalker had changed the nurses, as well.
"You've given us a whole new perspective on our jobs and why we do what we do," she said.
Hiwalker thanked them all for not giving up on her.
"That means so much to me," she said.
Guercio told her "it was a group effort."
"I wish both of you the best," he said, nodding to her and to Kellum.
The get-together had its moments of humor. Hiwalker said now, when her husband asks her to do something, sometimes she pushes back.
"I tell him, you got to do it, I died,'" she said, laughing. "A nurse I talked to said to use that as an excuse."
Hiwalker is still healing from a broken sternum but admits it's a small price to pay for getting her life back. She's dealing with a degree of post-traumatic stress disorder, fearful when Kellum leaves.
But she and Kellum and their family look forward to again enjoying time outdoors. They like being together, doing things like riding horses, four-wheeling in the summer and snowmobiling in the winter.
Now, indoors or outside, Hiwalker finds much to take pleasure in.
"I'm blessed with good kids, a good life and a good home," she said. "The time before this I took a lot for granted."
David Bennett's last memory from Jan. 2 is of losing his ski on a run at Red Lodge Mountain Resort and spending a few minutes retrieving it an…