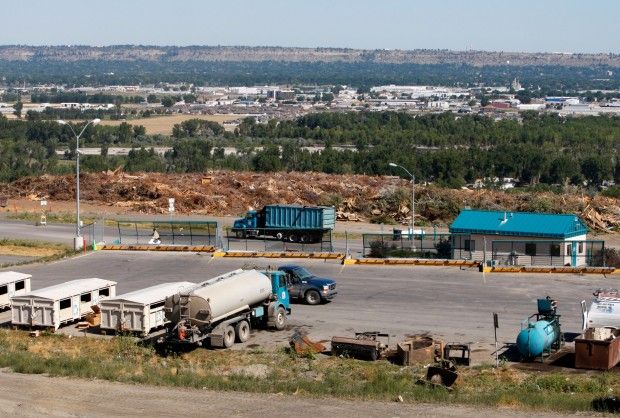 Five city workers have been suspended for five days without pay for scavenging goods from the landfill last summer, City Administrator Tina Volek said Tuesday.
A sixth employee of the city's Solid Waste Division was suspended for eight hours without pay for accepting a scavenged item from another worker.
Volek said she decided on the discipline last week but delayed announcing it until all the employees had been notified. Some of the workers have already begun their suspensions, she said, and human resources manager Karla Stanton said all the suspensions should be served within two weeks.
Volek declined to name the suspended employees, but Public Works Director Dave Mumford, who oversees solid waste, said one of the workers is a scale house attendant and the other five are heavy-equipment operators. He said the workers make in the range of $18 to $20 an hour.
"Losing a week's pay is significant," he said.
On other matters, Assistant Fire Chief Frank Odermann was suspended without pay for five days last month for insubordination. And in August, the city confirmed that five city workers received five-day unpaid suspensions last spring for viewing "inappropriate" websites on their work computers.
In a news release Tuesday, Volek said the Billings Regional Landfill employees who took items from the landfill "were required to return them and they will be destroyed."
That will be a difficult requirement to enforce, Mumford acknowledged.
City officials don't know exactly what was taken, he said, so "there's no way of knowing if they brought everything back."
The city put out 300-gallon trash containers — like the big ones the city places in alleys — at the landfill, asking workers accused of scavenging to return the merchandise to the containers, Mumford said. Eight or nine containers have been filled already, he said.
The city will hang onto the materials for another month or so, in case any of the employees files a grievance over the suspensions. If they don't, Mumford said, the materials will be buried in the landfill.
The scavenging took place on July 23, in the wake of a Burlington Northern Sante Fe Railway freight train derailment near Glasgow on July 17.
United Parcel Service was shipping a variety of merchandise, including high-end sporting goods, electronics and guns, on the train. After the derailment, UPS had a contractor haul its salvaged property to a warehouse in Billings, where it was sorted.
Goods that were found to be damaged or whose ownership could not be determined were supposed to be taken to the landfill and destroyed.
The city's license to run the landfill, granted by the state Department of Environmental Quality, "prohibits the removal of items from the site," Volek said in the release.
And although the workers were disciplined for violating that policy, Volek said, "Criminal charges were not filed in the case because the clothing and electronic equipment had been declared to have no value as the result of potential damage they incurred in the train wreck."
Volek said it took a long time to settle the case because a lot of investigation was required, followed by a series of due-process hearings for employees who requested them. Only one employee waived his right to a hearing, Stanton said.
Originally, the city said it was looking into charges of scavenging against eight employees, as well as allegations — later determined to be unfounded — that solid waste superintendent Vester Wilson had either taken part in or sanctioned the scavenging.
Paul Frank, who drives a sanitation truck for the city, said earlier this month that he and other sanitation workers were upset that some people were making excuses for the landfill workers, saying they should have been allowed to remove perfectly good merchandise.
"We know for a fact you're not supposed to touch anything up on the hill," he said, though it was common knowledge that some scavenging has always taken place.
"We all know that little things go out; they always do," he said. "But this was truckloads of stuff."