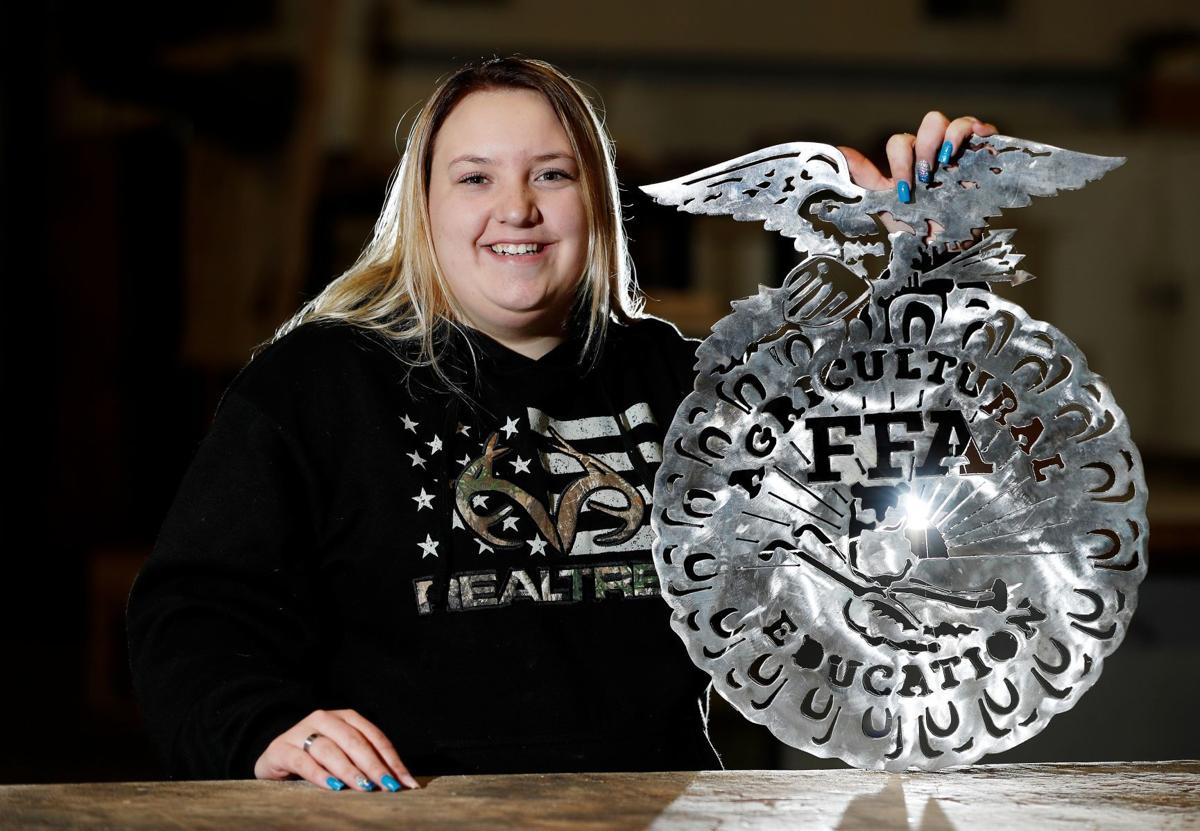 It's still dark when Emily Hergenrider begins driving toward Bridger each morning. It will be for a while.
The Laurel High School senior rises early to bottle feed her calves, traveling to and from the family ranch before school. She returns to the calves late, after finishing her shift at a store in Laurel.
"I like staying busy," she said. "And with everything in my past, it keeps me away from sitting there and thinking, 'What should I do?'"
Hergenrider was born with 16 congenital heart defects. She's had seven open heart surgeries, the most recent two in seventh grade.
But she's rebounded to become a strong student and president of Laurel's FFA club, developing skills beyond self-motivation.
"She's just a good leader," said Laurel teacher Carrie Berst. "She can get other kids to do the right thing."
Middle school
In Hergenrider's own words, she "was not a good kid" earlier in school. And that's when she was able to attend.
Regular medical appointments led to regular missed school time. Then, in seventh grade, Hergenrider was already having a heart problem looked at when a new emergency developed. Blood vessels between her heart and lungs were damaged, and she was rushed to emergency surgery in Denver.
She can't recall much of the trip, her memory blotted out by pain and medical procedures.
Hergenrider missed enough class time that school officials recommended holding her back for a year. But she and her parents pushed for her to advance, and Hergenrider took on an exceptional academic workload to catch up. She kept pace at school while doing extra work at home to replace what she had missed, all while managing her recovery and ongoing medical appointments.
It's a challenging thing for a kid to pull off.
"It's incredibly hard to stay on track. Once you miss even more than two days, kids find it really hard to get back on track," Berst said. "She doesn't give up. She doesn't let anything hold her back."
As she progressed into high school, she got more involved with activities like FFA. She found that early struggles could help her relate to younger students who struggle with seeing value in school.
"I just sit down and talk to them, that I used to be the same way. 'Don't go down that path, it's not a good path,'" she said.
Berst has seen much of that growth in Hergenrider, whom she's worked with since Hergenrider's sophomore year.
"Grades matter, graduation matters to her. She's much more careful about the things she says. She knows the consequences to the things she says and does."
Tagging along
FFA, a school-based agricultural organization, helped Hergenrider make the jump from a kid who visited a farm to a kid who worked on a farm.
Before joining the club, she would tag along as her dad worked.
"I would just kind of stand there," she said.
But approaching agriculture from a different angle helped unlock her passion for the field. She now has younger students asking her if they can tag along as she works with her calves.
Hergenrider plans to attend Powell College in Wyoming next year and pursue a career in agriculture, perhaps on the business or education side. She plans to stay busy.
"If I don't have 1,500 things to do with my day, then I don't know what to do," she said.
Get local news delivered to your inbox!
Subscribe to our Daily Headlines newsletter.