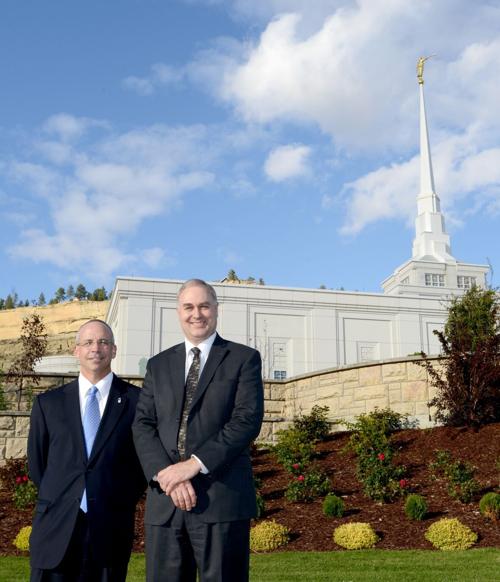 The Church of Jesus Christ of Latter-day Saints is made up of stakes, wards and branches.
Local congregations are called wards — or branches for smaller units. Wards are organized geographically, and members attend a ward or branch near their home.
A group of wards form a stake. The term "stake" is taken from Old Testament tent imagery in which supporting stakes hold up the "tent," or church.
In Billings and the surrounding area, there are two stakes. The Billings Montana Stake is led by President Spencer Zaugg, and the Billings Montana East Stake is overseen by President L. Bryan Zaccardi, both who helped contribute to this week's Faith in Focus:
Church's mission in the community: The mission of the church is primarily concerned with worship of the Lord Jesus Christ and testifying to his living reality. We encourage members to be an example of Christ in all that they do. In the community, members love and serve others while keeping the standards and commandments of the Gospel of Jesus Christ.
Families are an essential part of God's plan, and much of how we live focuses on our families. Families are the core of community. By strengthening family we strengthen the community. When families are strong, individuals in the family have the strength to lift others around them.
Give a brief history of the church: By 1940, several members of the Church of Jesus Christ of Latter-day Saints in the Billings area met in the Billings Business College building, paying rent by cleaning the building. Other denominations in the area helped the church get by until it was able to obtain its own building.
After the end of World War II, efforts resumed toward building a chapel on Avenue D, which was completed in 1949. This building, still in use, is the meetinghouse for the Rimrock Ward, where the young single adults in the area meet for Sunday worship. The Avenue D building also houses the Family History Library, which is open to all as a resource to do research in genealogy. Much later, the Billings Montana Temple was completed and dedicated on Nov. 20, 1999.
The church in Billings today: The Billings Montana Stake and the Billings Montana East Stake comprise 18 wards and 6 branches. The immediate Billings area has grown to 17 wards sharing 6 meetinghouses.
Successes the church has had in the past year: The Billings Stakes have 70 members serving full-time missions throughout the world.
A total of 257 high-school-aged youth attended early morning religious instruction every day in which school was held. Twenty-two graduating seniors earned a graduation diploma for completing four years of scriptural instruction including the Old Testament, New Testament, Book of Mormon and Doctrine of Covenants.
The Billings stakes have initiated a renewed emphasis on increasing faith in Jesus Christ and Heavenly Father through Sabbath day observance.
Biggest challenges your congregations face: Influences of the world threaten family and religious liberties. Distractions are abundant and easily cause individuals to lose sight of what is really important. The Lord's standards have not changed, but the adversary's attacks against those standards have increased in frequency and intensity. Reminding individuals to focus on the Gospel of Jesus Christ inevitably brings them peace and pure joy, but it is not always an easy thing to do.
Plans for the next five years: We hope to follow the Savior's example by increasing our involvement of service opportunities in the community. A web-based initiative called JustServe.org has been launched in the Billings area, and members are encouraged to frequent the site to find opportunities to serve as individuals, groups and families.
We also hope to continue to strengthen youth by helping them know that living the Lord's standards daily will help them with the choices they are making now and will yet make in the future. And, as always, our focus is strengthening the family.
Contact names and phone numbers: Billings Montana Stake, President Spencer Zaugg, 656-4330; Billings Montana East Stake, President L. Bryan Zaccardi, 248-6972.
Size of congregations: Each ward has approximately 300 members.
Service days and times: For location and times go to: lds.org — my account and ward — maps and meetinghouse locator.
Number of staff: The leader of a ward or branch is a bishop or a branch president. The bishops/branch presidents donate their time to serve the congregation. The bishop serves with two counselors called a bishopric. The bishopric of each congregation calls members to serve in various positions in their ward or branch. A member's service blesses others and provides opportunities for the member to learn and grow. All positions are volunteer, part time and nonpaid.
One question we didn't ask that you'd like to answer: What is the difference between an LDS temple and an LDS meetinghouse? Our meetinghouses are dedicated public places of worship where members and visitors can meet to pray, study scripture, partake of the sacrament and continue to learn their responsibilities as children of God.
An LDS meetinghouse typically has a chapel for Sunday meetings as well as an adjoining cultural hall for larger meetings and activities, a baptismal font, a kitchen, offices for ward leaders and a variety of classrooms. During the week, the meetinghouse is used for various ward and youth activities such as Boy Scouts, basketball, volleyball, social gathering and early morning seminary for high school students.
LDS temples have a different purpose than meetinghouses. The temple is literally, as it has been throughout history, the "house of the Lord." The primary purpose of the temple is to provide a dedicated place where sacred ordinances needed for eternal life can be performed. Because of its sacred nature, attendance in the temple is limited to members of the Church of Jesus Christ of Latter-day Saints who obey God's commandments and therefore are worthy to enter.
In temples, Church members participate in ordinances designed to unite their families together forever and help them return to God, as Jesus told St. Peter "Whatsoever thou sealest on Earth shall be sealed in heaven."