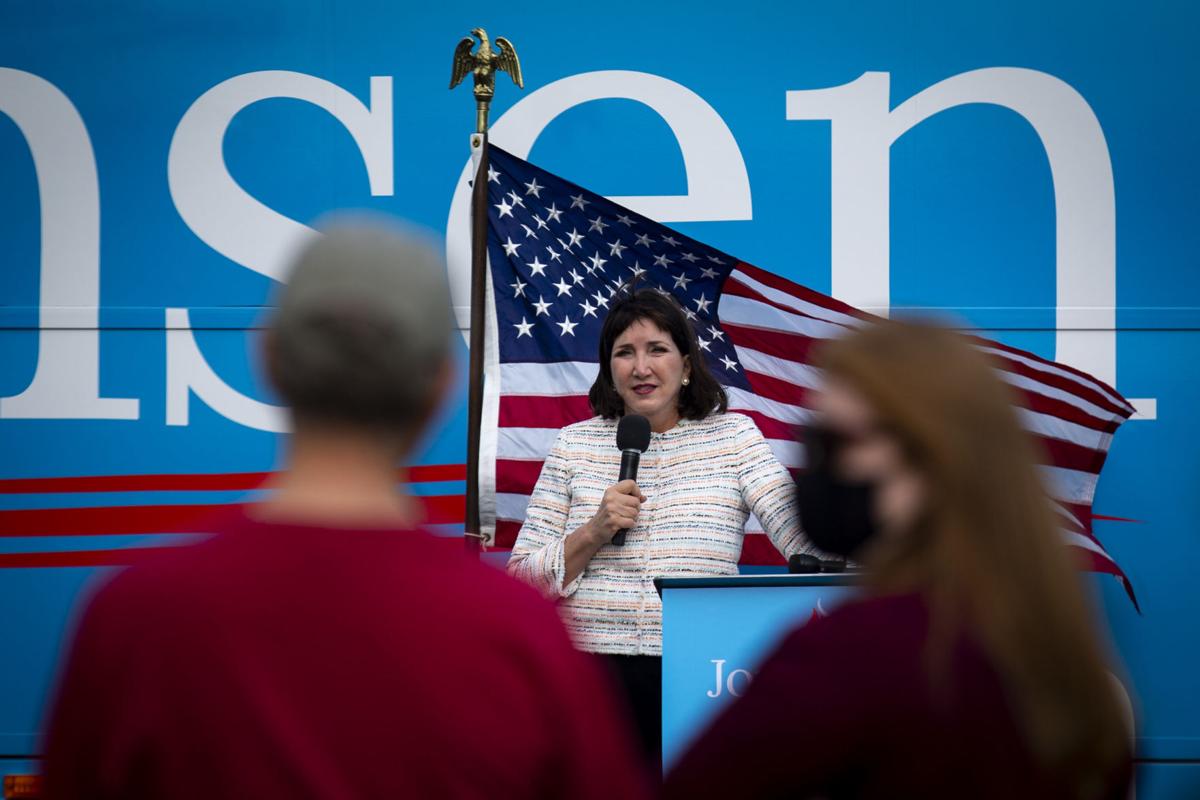 Libertarian presidential candidate Jo Jorgensen stopped in Billings Saturday as part of a nationwide tour with 45 days left until the election in November.
Jorgensen, who will appear on ballots along with President Donald Trump and Joe Biden, attracted over 100 people to Riverfront Park. The first-time libertarian presidential candidate has built a platform with the free market and small government as its backbone, particularly in regards to the prison system in the United States.
"We cannot claim to be the land of the free when we lead the world in incarcerations…And one of the biggest factors that's led to a quadrupling of the prison population since the 1980s is the racist and destructive War on Drugs," Jorgensen said to the crowd in front of a bright blue bus bearing her likeness and the slogan "Real People for Real Change."
The 63-year-old holds a Ph.D. in industrial and organizational psychology and teaches at Clemson University in South Carolina. She previously ran as the party's vice presidential nominee in 1996, and has been a member of the Libertarian Party since 1983.
Although none of their presidential nominees have received more than 4% of the popular vote, the Libertarian Party has continued to amass support since the 2008 election. In 2016, nearly 4,490,000 people voted for Gary Johnson, compared to just 523,433 who voted Libertarian eight years prior.
As the Libertarian candidate, Jorgensen said she and her party provide an alternative to disaffected Democrats and Republicans. The priorities of the two, the former of which she said presses for more domestic spending and the latter demanding more military spending, has resulted in both getting their way putting the county in a deeper deficit.
The federal intrusion into local police forces, according to Jorgensen, has only compounded the tensions that have erupted into violence in the nation's major cities. She said her administration would work to demilitarize the police, and cut off federal involvement in local law enforcement, which includes the DEA and the Department of Homeland Security.
Along with releasing all non-violent offenders incarcerated on drug charges, Jorgensen said she would prioritize bringing an end to the U.S.'s War on Terror, which has stretched into its 19th year. She said she envisioned the United States "one giant Switzerland. Armed and neutral."
With the death of Supreme Court Justice Ruth Bader Ginsburg announced Friday, Jorgensen told the Gazette that she was a pioneer, and her condolences went out to her family. In a statement posted to her campaign website, she praised Ginsburg for her rulings in support of legalizing same-sex marriage and against the Virginia Military Institute's male-only admissions policy.
After federally decriminalizing drugs, Jorgensen said under her leadership she would work to undo all firearm laws passed in the last 100 years. She said "red flag" laws, which bar citizens from purchasing a gun if authorities consider them to be a danger to the public, are just one example of an infringement on the Second Amendment.
"There should be no law preventing you from owning any object, whether it's a gun to protect yourself, or drugs for whatever reason you wish. If there is no victim, there is no crime," she said.
__________________________________
PHOTOS: Libertarian presidential candidate Jo Jorgensen stumps in Billings
Get local news delivered to your inbox!
Subscribe to our Daily Headlines newsletter.