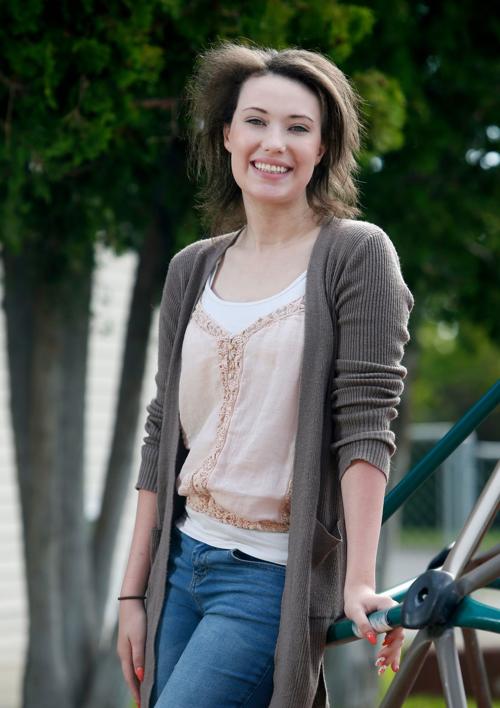 Arianna Cole is used to being the "tumor girl."
She get recognized at banks and grocery stores from people who have seen fundraising materials for her medical expenses. She has to make monthly trips to Seattle for checkups on cutting edge treatment. And since she was diagnosed with a brain tumor her freshman year, she's rarely been able to attend her home base at West High.
But so far, Cole has beaten long medical and academic odds. She'll graduate from West on Sunday, on time and tumor-free. She's started to glimpse life past a point that for years, she couldn't look beyond.
"For a long time, that's all we could see," said her grandma, Cindy Hill. "We never thought about what life would be like after graduation."
For Cole, it's a chance to outstrip the disease that's defined her high school experience.
"It's kind of a new chapter in my life when I can be 'Tumor Girl,' but I can also be Arianna," she said.
Diagnosis
When Cole was a freshman, she started having trouble speaking and walking. An MRI on the last day of school revealed a brain tumor, and she was flown to Seattle Children's Hospital in matter of hours.
It was urgent enough that her family was barely able to contact her father, who was out of town for work and without cellphone reception. The flight ended up holding for an extra 20 minutes so he could rush to the airport and say goodbye.
She had two surgeries to remove the tumor, which was benign but grew aggressively and, if unchecked, would have been fatal. At first, doctors thought they got it, and Cole returned to West High her sophomore year for half days during the first semester.
But the tumor returned, and Cole was again whisked away to Seattle for another round of surgery and weeks of subsequent radiation treatment. And again, it seemed like she beat it.
But it was back her junior year. Surgery options were limited. The tumor cells had a rare mutation that fueled its growth and return. It was seemingly indefatigable, and for the first time, Cole and Hill broached the subject of dying.
"We talked about what does it mean, what happens if I don't live through this?" Hill said.
Seattle had a pioneering research program for a chemotherapy pill that targets the specific mutation that causes Cole's tumor to regenerate. Cole became the first person enrolled in the program.
"Basically it was a Hail Mary," Hill said. "Without this, there was no way to stop the brain tumor."
So far, it's worked. Cole is tumor free, though she returns to Seattle once a month for checkups and research program updates. 
School
Cole had a penchant for learning about her medications, and even medications similar to what she was taking. She can tell you about a drug she's on to help prevent seizures related to her tumor plus other drugs that she could be on.
"If I know and understand my pills, I'm thinking, then I can be in control of my disease," she said.
In some ways, that idea of control translated into her academics. She set a goal to graduate on time, despite her tumor and despite bouncing between Seattle and Billings.
But missed time in school was mounting up. Cole worked with West's teachers to complete her school work remotely, communicating via email. When she was in Billings more consistently, she tried to attend some classes at West, but her chemo-compromised immune system struggled to keep her healthy, and side effects of treatment made structured school days rough.
She also took classes online through the Montana Digital Academy, a state-sponsored option for students enrolled in Montana schools to take extra classes. Her senior year, she worked with the Billings Hi-Set program, which helps catch up students who are behind on requirements needed for graduation.
West High teacher Kelly Darragh had Cole signed up for two history classes. As he emailed her assignments, he worried about giving her too much work. But Cole only asked for more.
"School, I think a lot of times, should have been the least of her concerns," he said. "And it never was… To go through what she did, and to stay on top of everything, and to stay as positive as she did, she just fought through everything."
For Cole, her focus on graduation had to be complete.
"If it wasn't a priority I would give up, almost," she said. "It just had to be playing in my head constantly."
She and Hill both praise West profusely for accommodating Cole while she was in Seattle. Hill said that officials at the Seattle hospital told her that the vast majority of teenagers in treatment there end up dropping out of their high schools back home, and most have to get their GED after falling behind in coursework.
"When we tell them what West High has done, they are just in shock," Hill said.
Darragh frames things like he's the one who was helped out. 
"I was blessed to have her as a student," he said. 
Faith
Cole grew up spending significant time with Hill at Open Bible Christian Church in Billings, where Hill worked as the secretary and co-director of the church's child care program. Cole was active in the church, but hadn't analyzed her place in it.
"For a long while, I was just like ok, that's what church is: you just got to church and you sing and you help Nana," she said. "You just go through the motions."
The tumor changed that, both strengthening and testing her faith.
It took the third return for Cole to question her faith; she thought she had beaten the tumor twice, but still, somehow, it was back.
She explains two ways that her belief stabilized. The first was a bit of an "epiphany."
Cole describes listening to music during a chemo treatment.
"I felt a rush of love and compassion and I felt like it was God," she said. "And (the feeling that) I can do this because God's here."
The second way was more long term.
"I actually saw the miracles being worked into my life," Cole said.
For example, when her tumor was diagnosed her freshman year, the first plan was to send her to Denver. But Seattle worked better for her mom, so she ended up going there.
Two years later, when doctors were seemingly out of options, Seattle offered a new research program with the medication that attacks the mutation in Cole's tumor — the treatment that Cole and her family credit with saving her life, and that wouldn't have been available elsewhere. 
Future
Cole has something of a sense of humor about her tumor. She nicknamed it "Mr. Brain," the result of misinterpreted label on an MRI. She readily jokes about it and treatments she's been through.
"I say it's better to laugh than to cry, because if I'm not laughing, then I'm crying," she said.
It's an attitude she plans to carry forward. She know that her treatment will still be a huge part of her life, and that she's not out of the woods yet. Based on future checkups and treatment plans, she may stop taking the chemo pill, or if the tumor returns, she may begin taking a stronger dose.
There are other effects of the treatment and tumor she manages; her skin is extra sensitive to touch, to the point that grazing it can feel painful. If she's able to go off the chemo pill, some side effects could fade.
"It's still going to be a huge part of my life," she said. "But I can be more of myself."
Cole plans to attend Montana State University Billings and study social work, perhaps transferring to another school later. Her career ambitions took a medical shift away from her childhood plan to become a music teacher when she was diagnosed.
"I saw all these kids with their feeding tubes on their faces, with their bald heads," she said. "I would interact with them and they'd be so happy."
At first she thought about pharmacy, then pediatric oncology. But she's not much for blood and needles. She gravitated toward social work in a health setting.
"I want to be able to show them that there is life past cancer," she said.