No, it wasn't aliens, meteor showers or Rudolph leading Santa's sleigh.
The theories abounded Saturday night as dozens of residents in the Billings area took to social media to speculate on an unusual procession of blinking red lights seen to the east around 8 p.m., then traveling silently across the sky before veering off to the southeast.
The bizarre nighttime display was actually a high-altitude gaggle of C-17 military planes from Joint Base Lewis-McChord near Seattle, en route to a joint military exercise, according to an Air Force spokesman.
The transcontinental "Coyote Freedom 401" mission was also the largest such training exercise that has taken place to date, Capt. Ryan DeCamp, a spokesman for the 18th Air Force Wing at Scott Air Force Base in Illinois, said Monday.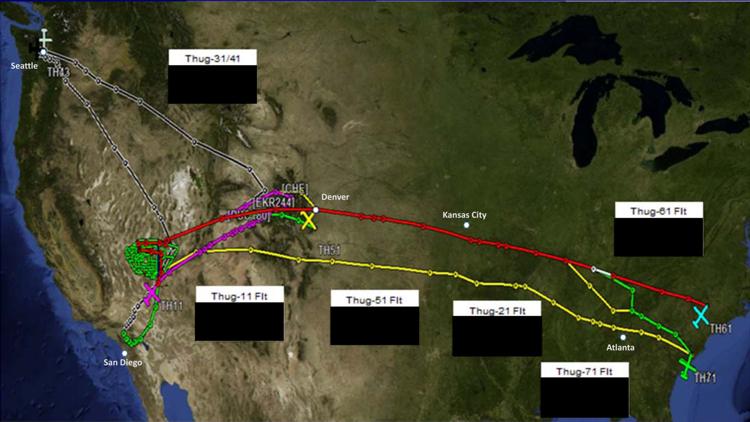 The exercise is a capstone training event for students at the U.S. Air Force Weapons School at Nellis Air Force Base in Nevada, he said, and on Saturday night and Sunday morning included 37 C-17s along with 21 C-130 military transport planes.
"We do these, but not at this size, in terms of the total amount of aircraft, so that's really what made this unique," DeCamp said.
You have free articles remaining.
Elsewhere, the training event also included fighter jets, tankers, drones and other resources "to better prepare our students for contested degraded environments," Nellis spokeswoman Susan Garcia added in an email Monday.
In active combat situations, these types of missions are used to clear the air space before heavier transport aircraft arrive to drop paratroopers into the area, DeCamp explained.
"Really, the whole mission is a combination of fighter aircraft, paratrooper aircraft and the Army, simulating something you might see us do in Iraq or Afghanistan," he said.
The string of aircraft visible from Billings on Saturday eventually met up with other planes from a total of 13 bases across the country, flying to destinations in North and South Carolina before the return flight.
On Facebook, the Laurel Ambulance Service appeared to be one of the first to officially deflate the UFO theories Saturday night.