"Into your life it will creep
"It starts when you're always afraid
"You step out of line, the man comes and takes you away."
— "For What It's Worth" Buffalo Springfield (1966)
Fifty years after the hysteria of World World I, songwriter Stephen Stills wrote a song that would become an anthem for war — this time the battlegrounds he spoke of weren't in France, they were in Vietnam. 
But those words just as succinctly sum up Montana, 1918 — a century ago.
Fear of Wobblies, fear of Germans, fear of spies had blossomed into full-fledged paranoia by citizens who started to suspect that even public officials at the highest level were secretly "pro-German."
Not content to ban German from being spoken or jailing card-carrying union members, "liberty committees" turned their sights on other more powerful targets.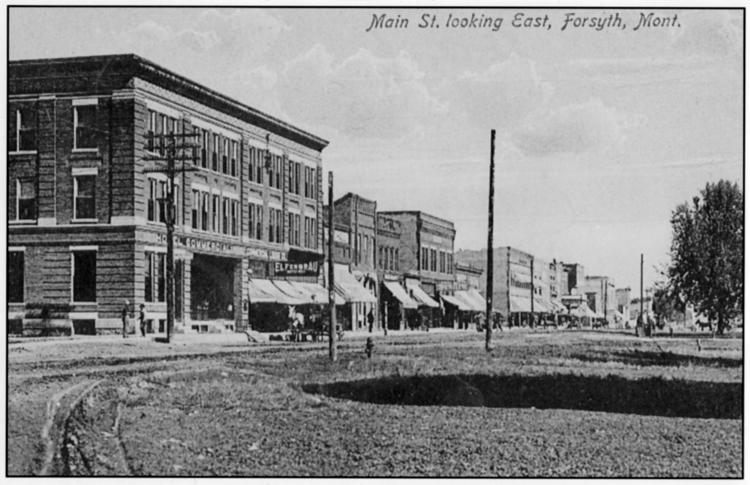 Judge Crum must go
In February 1918, a committee closely resembling The Third Degree Committee in Billings popped up in Forsyth and Rosebud County. "The Hundred" targeted District Judge Charles L. Crum, who supposedly had pro-German leanings.
It started when Crum had been called as a character witness in federal court for a man named Ves Hall, who had been accused of disloyalty and treason.
Hall had been prosecuted by Rosebud County Attorney Felkner "Fritz" Haynes. Apparently stung that Judge Crum would work against him, Haynes harangued Crum for his "pro-German" sentiments.
News reports said that in judge's chambers Crum had pulled a revolver, placed it against Haynes' stomach and threatened to shoot him "like a dog."
Enraged by these reports, "The Hundred" found Crum on a Saturday night and for two-and-a-half hours peppered the judge with questions.
While Crum admitted that before the war he sympathized with the German position, he said that since America entered the war, "I have always been an American."
After the extensive grilling, the executive committee met and decided that Crum must resign immediately. Less than two days later, when court resumed Monday, Crum was nowhere to be found.
Crum's court calendar was full, but the judge had apparently skipped town.
The committee sat and waited. Crum was rumored to have fled to Miles City.
Every city should have a committee
Meanwhile in Helena, Gov. Samuel V. Stewart had recommended that each city form a committee that would deal with the "pro-German" element.
He said that he would ask the Legislature to delegate official powers to the committees. H.R. Rowley of The Billings Gazette and Jacob A. Werner, of The Billings Evening Journal were appointed to the local Yellowstone County board as well as a county commissioner and the mayor of Billings. The committee then voted to recommend to Sheriff Stone Matlock that 100 special deputies should serve without pay and be ready for action at any hour. They would be called "home guards."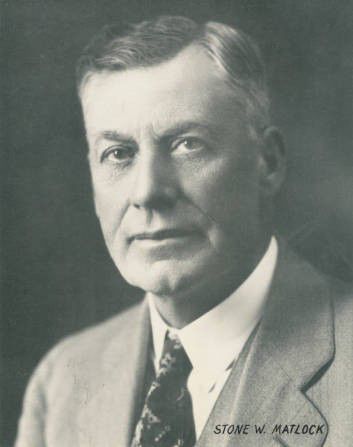 No one seemed immune to the criticism of the committee, which kept an vigilant eye out for any perceived lack of patriotism. The Montana Legislature held hearings to begin impeaching Crum.
Feds implicated
The lawmakers wouldn't stop with Crum. They also took aim at Montana's only sitting federal judge, George Bourquin and the U.S. Attorney for Montana (and future senator) Burton K. Wheeler.
Montana's Legislature thought the federal tandem were soft on sedition. Though the state Legislature couldn't remove federal officials, it didn't stop the frenzied lawmakers from passing proclamations and resolutions.
The state lawmakers demanded that Bourquin step down from the federal bench.
He ignored the legislative temper tantrum.
However, the Legislature could certainly continue against Crum, and they did so even though Crum was confined to bed, in what was described as a nervous breakdown.
The Legislature had begun calling witnesses, including members of "The Hundred" committee. Witnesses testified that Crum had defended the speeches of Sen. Robert La Follette of Wisconsin, a noted critic of America's entry to World War I.
A week later, The Montana House voted unanimously to impeach Crum, and the trial would move to the Senate.
Having dealt with Crum, the House took up the issue of Wheeler, whom it was powerless to recall. Undeterred, it took a vote. By a single vote, the House failed to pass a motion demanding Wheeler's resignation as the United States attorney for the District of Montana.
Immediately after the vote failed, the floor leader of the House demanded a vote of reconsideration. That motion also narrowly failed.
But the Legislature had done something even more drastic than impeaching a judge and trying to remove the federal court officials. It had passed a sedition law. Sedition was widely regarded as a federal issue — that is, citizens speaking out against a country was a federal problem, not a state one. But citizens and their "liberty committee" would finally have their actions sanctioned by state law as Montana passed a series of sedition laws that would serve as the basis for a tougher federal law. 
Patriots didn't waste any time questioning literally hundreds of people, many who were laborers. Some were interrogated about barroom conversations, and others who could hardly speak English were questioned by large groups.
From wine salesman to convict
Ben Kahn, a Billings resident who was working as a salesman for a California winery, was arraigned in Carbon County for "uttering disloyal statements."
He was jailed with a $7,500 bond, which he was unable to pay.
Kahn had reportedly remarked that "this is a rich man's war, fostered by Wall Street capitalists."
The paper reported other remarks "of a high incendianry nature." Billings residents told The Billings Evening Journal they were surprised because Kahn was known to be "strongly anti-German." He was an ex-boxer who had recently staged a show and donated the money to the Red Cross. The paper had also identified him as a Russian Jew who had come to America as an infant.
Meanwhile, facing impeachment charges, Judge Crum had reached his limit. In order to avoid the Senate trial, Crum submitted his resignation to the governor on March 11 — a little more than a week before his trial.
"I have reached the limit of human endurance because an impeachment trial would permit enemies to distort statements I have made until they bore no resemblance to the true facts and would permit certain persons to pose as super-patriots," Crum wrote in his resignation to the governor. "A trial would tend to divide the public instead of welding it to present a united front to the common enemy."
Yet Stewart did not accept or act on the resignation. Instead, he consulted with the Senate majority leader and the speaker of the House.
Crum explained that he had been with his son who had been sick and had an operation for cancer. He said after "The Hundred," he had fled and had been in bed with a nervous condition.
A judge on trial
The Legislature didn't accept the resignation, and instead continued with the trial.
The Senate argued that since the House had drawn up articles of impeachment, Crum had already been removed, and that it was the Senate's constitutional obligation to proceed.
At the opening of the Senate's trial, Crum's name was called three times — each time, no answer was given.
Crum never showed up at the capitol, and he did not hire a defense lawyer. A few days earlier it was reported that Crum had brokered a deal with Sen. J.E. Edwards of Rosebud County and Gov. Stewart that if he resigned, the trial would be stopped.
Stewart and Edwards both denied the claim, and Crum was impeached on all six charges. He was barred from ever holding public office in the state.
"Women were excluded from the Senate Chamber while a portion of Hall's testimony, dealing with Crum's opinions of Americans, was being given." The newspaper account ends, "There is no defense."
At around the same time as Crum was being removed, Kahn was given a 7.5-to-20 year sentence in prison for "seditious utterances." Kahn would serve the longest of 79 people in the state convicted of sedition.
At Kahn's sentencing, Judge A.C. Spencer of Carbon County said: "You can be regarded only as a dangerous man. No one but yourself knows what is in your heart, and your utterances do not stamp you as a man wishing good for the United States. It is better that you be put where you can do no harm."
From Third Degree to 'Liberty'
Given the cover of state law, Billings' Third Degree Committee renamed itself a "Liberty" committee, and found another person to charge. 
This time, the victim was Herman Bausch, caught during the third liberty loan drive. Like the two other times before it, the committee urged those who didn't donate to be noted. If someone said something against the war, that name was to be turned in for immediate questioning.
Bausch, who was a rancher living west of Billings, had failed to cough up money and had been turned over to the county attorney for sedition.
He was charged with being a pacifist, and said that he "did not believe in war and won't do nothing voluntarily to prolong the conflict," even though he had denounced the Kaiser and said President Woodrow Wilson was an "exceedingly scholarly gentleman."
He had also reportedly said he would support the Allies if the Germans were actually menacing the nation.
At his arraignment, he admitted guilt and entered a plea.
Bausch told Judge Charles A. Taylor that he had been misunderstood.
"I think I have been misunderstood," he said, "I will admit that I carried some resentment on account of hatred (toward Germans) there is here and there, more written than spoken. I am very glad, and will be glad to do anything I can to make good the error and I throw myself on the mercy of the court."
The fine for sedition was not more than $20,000 but not less than $200, and not more than 20 years in prison but not less than one year.
Bausch had angered committee members when he seemed lukewarm about the war. According to reports, he said he did not care "about the Red, White and Blue." He also didn't care who won, except he would "rather see Germany win than France or England."
Taylor would not accept Bausch's qualified guilty plea. The jurist was concerned that though Bausch had admitted guilt, he had said he was misunderstood.
"I am satisfied that you are not a German propagandist in any sense of the word," Taylor said.
Bausch then told Taylor he had entered the guilty plea because he was concerned that he could not get a fair trial with the current state of excited sentiment. 
Taylor assured him he'd get an impartial hearing.
Two months later, after a day-and-a-half trial, Bausch was convicted under the sedition laws and sentenced to 28 months at the state penitentiary in Deer Lodge. 
The Billings Gazette had urged the court to prosecute Bausch to the "extreme limit of the law."
As Bausch sat in prison, The Billings Journal railed against a lynching in Illinois, while at the same time saying more liberty committees and tougher sedition acts were need in America: 
"The chief harm in such incidents … lies in the effect it will have in Germany. The leaders of that country can point to it and say that America is hypocritical in her claim of a higher civilization; that, while she denounces German acts of barbarism, parallel acts of barbarism are committed within her own borders. The common people of Germany will not know that this is untrue."