A wildfire continued to chew through range land north and west of Sand Springs on Sunday, expanding to 226,000 acres and consuming about a dozen residences.
"I've never seen one out here like this in my lifetime," said local rancher Skye Chamberlin, who owns threatened property in the Musselshell River valley. "It's just so dry. (The fire) does what it wants."
Chamberlain and other ranchers sat hunched over ATVs Sunday afternoon, sweating under a near-100 degree sun and dirtied by dust and soot, watching flames creep closer to the eastern shore of the Musselshell. About 300 local firefighters and ranchers have been fighting the Lodgepole Complex fire, a group of three different blazes that started Wednesday and blew up Saturday across Garfield and Petroleum counties.
"They never went to sleep," said Geremy Olson, a spokesman for the fire's incident management team. "Everybody that could fight fire was."
Between a historic drought, Red Flag warning conditions and a massive fire perimeter, they were overmatched.
Yesterday the blaze hopped Highway 200, torching a swath of land between Sand Springs and Mosby. Blackened ground stretched as far as the eye could see from the road in some spots, with pockets of small smoke plumes dotting the landscape. A handful of structures stood unscathed.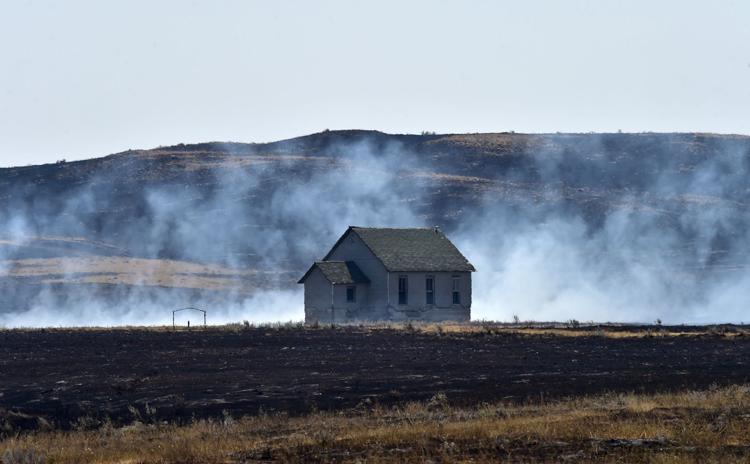 It only took 90 minutes for the fire to make that run, Olson said. He said that one local fire chief reported water and retardant did nothing to slow the fire -- something he'd never seen before.
The fire's movement shifted north Sunday; the flames Chamberlin and other ranchers watched morphed from black to white, slowing down and flaring up as they advanced, torching trees and gobbling up grassland in fingers that stretched toward the river.
"There's just not enough people to get around it," Olson said.
Evacuation orders for residences north of Highway 200 from Fort Peck Lake to west of Edwards Road remain in effect, though Olson said most residents remained to fight the fire. 
On the ground firefighting was mostly focused on structure protection and trying to stop flames at choke points, in addition to "trying to save all the cattle we can," Chamberlin said.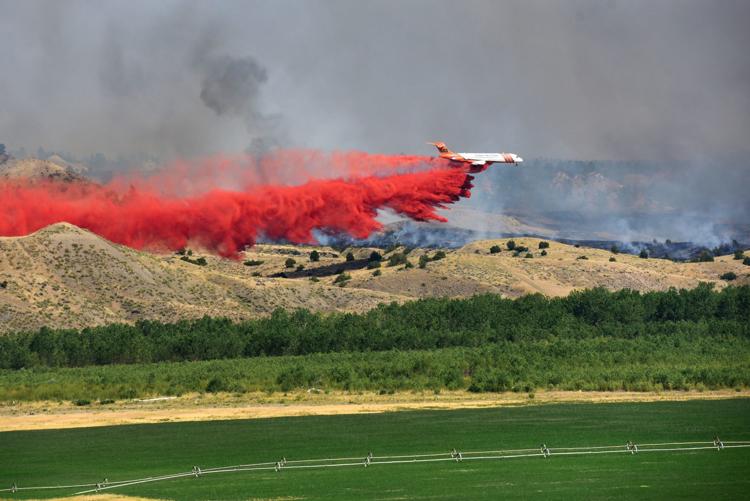 From the air, helicopters dumped water near active fire areas. In the later afternoon, planes began laying down a red fire-retardant barrier with several successive drops across hills east of the river.
Olson said that there weren't any confirmed reports of cattle killed; Chamberlin wasn't willing to put a number on it, but said he'd heard "several" cattle were killed. Others swapped rumors about who lost how many head, and discussed the costs of lost grazing land. 
Chamberlin and others soon took off toward a ranch near the river. They'd cut a fence, hoping cattle would move away from the approaching flames, but still had to drive some away.
The Lodgepole Complex is made up of three different fires. The South Breaks and Barker Fire are both well north of Highway 200, while the far larger Bridge Coulee Fire that jumped the road pushed toward the Musselshell on Sunday.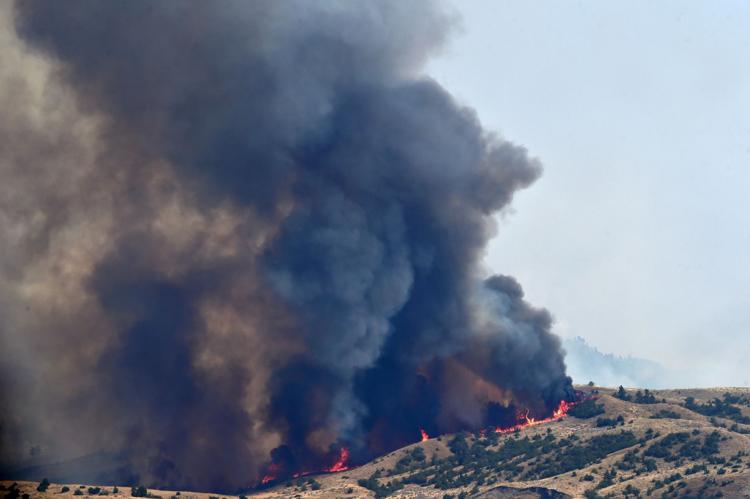 The fire already jumped the river yesterday in at least two spots, which were contained. It also jumped fire lines four bulldozer-widths wide. Outbuilding structure losses are expected to far outpace residential losses.
Typically, fires in the region aren't supposed to do that, Olson said. But conditions have fed extreme fire behavior.
Local firefighters extinguished seven fires that started about the same time as other complex fires.
"The community has done a heck of a job fighting a fire that was almost impossible to fight," Olson said.
A shelter set up at the VFW in Jordan hadn't had anyone stay there, but Olson had heard of displaced families staying with neighbors or relatives.
Fire crews have been called in from coast to coast, Olson said, though there's no guarantee the dozens of extra engines requested are available. The tiny burg of Sand Springs grew throughout the day as trailers and equipment parked in the area and tents sprang up.
"We can't control mother nature," he said, "and it takes time for help to come."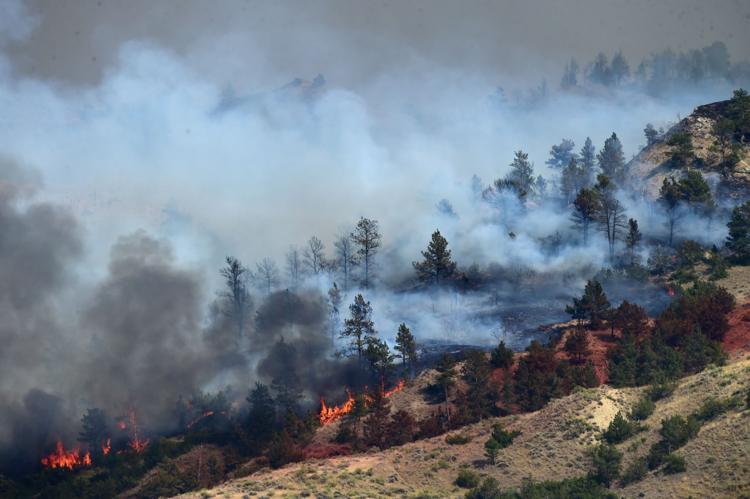 The fire is still listed at zero percent contained. There is cold fire line, Olson said, but firefighters aren't being used to document it; instead they're being deployed to more active parts of the fire.
The nearby Crying Fire, about 50 miles north of Winnett, was at about 7,200 acres Sunday night and 35 percent contained.