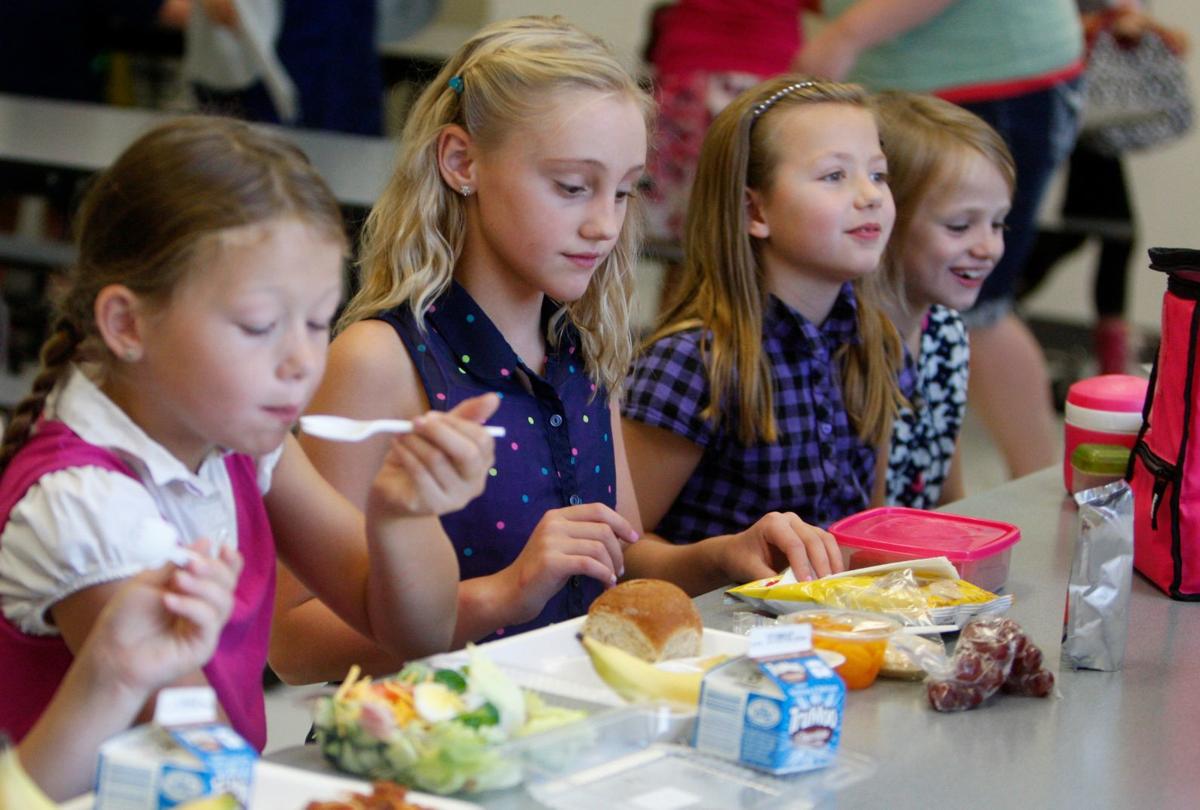 Lunch shaming, the popular term for singling out students with unpaid school meal bills, burst into the national spotlight like an over-squeezed juice box in 2017 after a handful of states passed laws addressing the issue. 
Now the Montana legislature has taken up the topic.
Schools would be prohibited from singling out students with unpaid lunch debts under HB 414, a bill carried by Rep. Jessica Karjala, a Billings Democrat. 
The bill passed into the Senate on Wednesday, squeaking past the deadline for bills to move from one house of the legislature to the other. 
The proposal aims to squash "practices that ultimately result in the humiliation of kids," Karjala said during the bill's Feb. 18 hearing. 
Across the nation, policies have ranged from requiring students to wash tables to throwing out hot lunches and offering replacement meals. One child in Alabama was stamped on the arm: "I need lunch money."
Karjala said that she haven't heard of anything so drastic in Montana, but that she has heard of some schools singling students out. 
"This is happening in Montana," she said. "I don't think it is pervasive."
However, Karjala's first draft of the bill sparked opposition from education advocacy groups like the Montana School Boards Association. The draft included detailed requirements for schools notifying parents and guardians about unpaid meal accounts, and some provisions that could have been duplication of federal laws. 
Amendments toning down the bill's requirements secured support from the group, which executive director Lance Melton said supports the end of lunch shaming. 
One of the remaining provisions would ban the use of serving alternative meals that could "stigmatize" students. 
MTSBA changed its model policies, which are often templates for Montana schools, to remove recommendations for alternative meals about two years ago. 
"It's just too problematic," Melton said. 
"The real problem here is that the U.S. Department of Agriculture continues to provide guidance to schools that says that serving alternate meals is a legitimate and available options for school lunch programs."
If the bill passes, it's likely to be problematic for Billings Public Schools existing policy, which was revised in 2017. 
Elementary students get five free passes if their account is drained; then they get a "designated menu alternate." The policy gives a "cheese sandwich, veggie sticks, fruit and milk," as an example.  
High school students who pay full price for lunch don't get the free passes; if they don't have money, they get the alternate meal. High schoolers on a reduced price program do get the five freebies. 
When a student gets an alternate meal, they are charged for the price they usually pay for a meal, which gets added to their account. 
Students on a free meal program aren't affected by the policy. 
The policy also notes that "If a student is without meal money on a consistent basis, the administration will investigate the situation more closely and take further action as needed. If financial hardship exists, parents and families are encouraged to apply for free or reduced-price lunches for their child."
The district is already undergoing a wide-scale policy review in conjunction with MTSBA. Superintendent Greg Upham said that he'll be asking trustees to review the lunch policy. 
He also noted that the district has to consider the affects of potential increases in debt from unpaid lunch accounts. 
Melton, at the bill's original hearing, called the prospect of increased debt "a fairly complex and difficult question."
He proposed the possibility of building in debt costs to meals similar to inevitable food wastage, while acknowledging that it could drive up to cost of meals overall. 
The bill does not prohibit schools from pursuing debt collection. 
However, the end of "lunch shaming" can have unintended consequences. Chalkbeat reported that Denver's school lunch debt skyrocketed from $13,000 to $356,000 during the 2017-2018 school year.
In 2017, School District 2 estimated that the district had a few thousand dollars in lunch debt each year, and that most of it was collected over the summer. 
Get local news delivered to your inbox!
Subscribe to our Daily Headlines newsletter.