As the family of Kaysera Stops Pretty Places continues to grieve and seek answers in the death of the teenager, people rallied in Hardin to ensure the investigation brings justice.
Stops Pretty Places was found dead by a jogger along a residential street in Hardin on Aug. 29, two days after she had been reported missing and several days after she was last seen alive. 
It was on that spot along Mitchell Avenue that around 100 people gathered, many of them wearing red, representing the missing and murdered indigenous women and girls movement.
An obituary for Stops Pretty Places lists her heritage as Crow, Northern Cheyenne, Mandan, Hidatsa and Arikara. She would have been a senior at Hardin High School this year. The cause of her death has not been made public and an investigation is ongoing.
Before the march, Stops Pretty Places' aunt Percelia Bull Tail gathered with her children around some flowers leaned against the chain link fence near where her niece's body was found.
Bull Tail says she is the one who reported the teenager missing and that she had looked after her alongside her own children, as if she was her daughter. She described feeling "brushed off" when reporting her missing and questions whether law enforcement collected all the necessary information.
Her doubts don't end there. Bull Tail says she got no official confirmation that it was Stops Pretty Places who was found on Mitchell Avenue until more than a week had passed.
"That's when I had to call my sister and the rest of my siblings and let them know it was her," she said.
She fears that Stops Pretty Places' death will get swept under the rug. "All we want is justice," she said. "We are grieving in a lot of ways, with anger, too."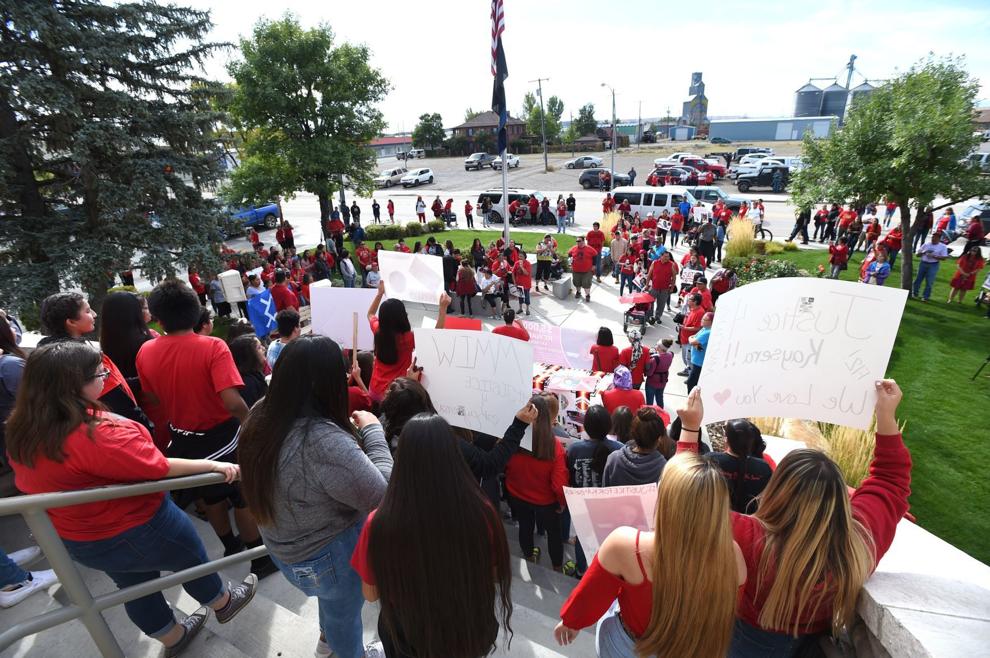 "I hope this opens the eyes of a lot of teenagers, the youth. Because she just barely turned 18. She was just starting her life and then this happened," Bull Tail said.
Also attending the rally were Stops Pretty Places' parents, Geralyn Bulltail and Alan Craig Stops.
Before long on Monday, people began to crowd around Bull Tail and the flowers along the fence, some of them offering hugs.
The march began with a prayer before participants began walking and chanting for justice. The march ended in front of the Big Horn County courthouse with speeches made loud by speakers and a microphone.
Those who spoke at the courthouse rally included state legislators, family members and other Native American women whose daughters went missing in Montana and were later found dead. The front doors of the courthouse stayed shut during the rally but some of the windows in the stone building were open and the faces of people inside were sometimes visible through the tinted glass.
One of the first speakers was Crow Agency Rep. Sharon Stewart-Peregoy. In the Crow language, Peregoy-Stewart shouted into the microphone before translating into English.

"This has to stop," Peregoy-Stewart said. "This has been going on in this county for 20-plus years. Now it's spread across Montana. It's across the nation. It's across Canada. It's an epidemic, but we should say it's a pandemic. It's about public safety. It's about people being safe in their own homeland."
Peregoy-Stewart said people need to stand united for justice regardless of their tribal affiliations. She urged the young people present to stand their ground, and for older attendees to stand beside them.
"It's time that we become united," she said. "It's only then, it is only then, when we are strong, that we cannot be broken. Enough is enough. Enough is enough. Justice for our relations."
Lame Deer Rep. Rae Peppers then spoke. "Her death cannot be ignored as just another dead Indian. We will continue to fight passionately for her," Peppers said.
Northern Cheyenne Tribal President Rynalea Pena Whiteman later lead the crowd in a chant for justice before reading aloud a letter she said she wrote to Big Horn County Attorney Jay Harris offering the Northern Cheyenne Tribe's support in the investigation.
Harris, along with Big Horn County Coroner Terry Bullis, were both criticized by speakers at various points during the rally. In a statement emailed to The Gazette on Tuesday Harris wrote that "The matter is under full investigation," and that "We are in contact/communication with the family."
At one point a woman named Jennie Parker was given a chance to speak about her problems with Bullis that go back to the early 2000s when she filed a complaint against the mortician and coroner for embalming the body of her granddaughter after a fatal car crash near Lame Deer without permission and then charging for it.
The complaint led to the state Board of Funeral Services requiring Bullis to reimburse the family. Bullis was also placed on professional probation for a year in 2003 as a result of the complaint. 
Shawn Real Bird, a Crow Tribal legislator, also spoke, shouting at times into the microphone.
"We are people of color, and we matter. We are United States citizens. And when somebody goes missing we need 100% investigation," he said. 
Standing beside each other, Grace and Cedar Bull Tail also spoke. The two women were aunts of Stops Pretty Places but Grace Bull Tail described them as mothers to her. 
"We still can't believe that this is happening, that this happened. We loved our daughter so much," she said. 
She went on to criticize Bullis, saying he has been "insensitive" to her family and saying she believes he has already decided the cause of death despite being told he is awaiting more information from tests. 
Bull Tail's voice was shaking with emotion at times while she spoke.
"The pain is just unbearable. I still feel my daughter with me. I still feel her with us. Our Native women don't exist to be abused. Our girls aren't here, their fate in this life isn't to be killed and forgotten. We're asking justice for our girl." 
A reward of $5,000 is being offered by Stops Pretty Places' family for any information leading to the arrest and conviction of the person or persons responsible for her death.
____________________________________
PHOTOS: Kaysera Stops Pretty Places MMIW march in Hardin