There's significant confusion about the health risks of vaping. But there shouldn't be for kids.
Medical experts agree that nicotine use in kids can wreak havoc on their short and long-term health, and most vaping liquids contain nicotine.  
Before the age of 25, the human brain is still developing, and its rewards system — centered around a chemical called "dopamine" — is especially sensitive. 
Nicotine hits the brain in 10 seconds, and triggers the release of dopamine. It feels good, and the human body craves it. But nicotine quickly breaks down, and the craving turns into addiction. As the Yale School of Medicine puts it, "the reward system wasn't meant for drugs."
The results of youth nicotine use aren't just a permanent craving. Messing with brain chemistry can have potentially long-term affects on memory, learning and focus.
Yale acknowledges that vaping and cigarettes are apples and oranges — or perhaps their unhealthy dopplegangers. 
"Weighing the pros and cons of vaping versus smoking is difficult to do. On the one hand, e-cigarettes likely do not produce 7,000 chemicals—some of which cause cancer—when they are activated, like regular combustible cigarettes do," the university said.
Exactly what is in vaping liquids is hard to determine, but health experts have concerns.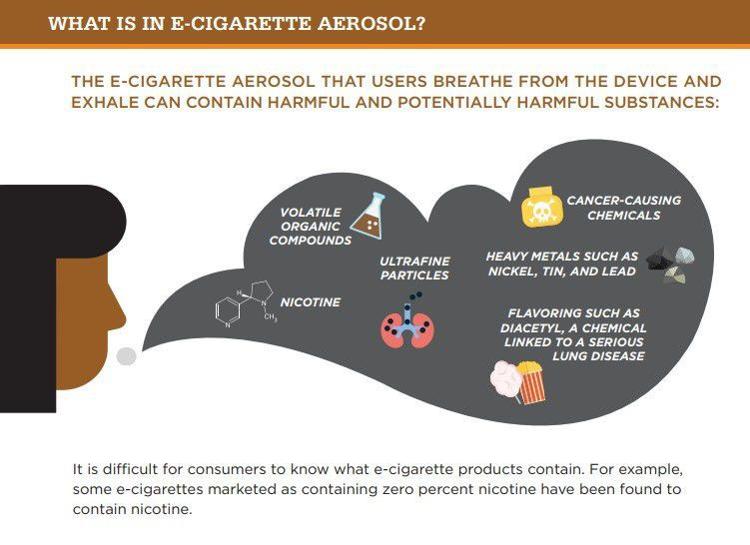 Amid an outbreak of vaping-related severe lung illnesses that has killed 34 people and sickened more than 1,600, the Centers for Disease Control has recommended that no one vape, at least until medical investigators can get a better handle on the outbreak. But before the illnesses, the group did acknowledge that e-cigarettes "may be a better choice for adult smokers if they completely replace smoking."
But that only applies to current smokers, and it doesn't include kids.
There's also a way that vaping is potentially worse than smoking. Instead of a nicotine blip, some vaping pods deliver a blimp-full. Some vaping products use pods that can have the equivalent of 20 cigarettes worth of nicotine, according to Yale, which could wreak even more havoc on young brains. 
Get local news delivered to your inbox!
Subscribe to our Daily Headlines newsletter.