Yellowstone County officials say they did not give permission for a church service and protest that drew about 100 cars to the MetraPark lower parking lot Sunday.
The event also took place without a contract with MetraPark showing proof of insurance. A contract with proof of insurance is typically a requirement for hosting an event in the MetraPark parking lot, general manager Bill Dutcher said by email.
The nearby MetraPark Pavilion is being used for those awaiting COVID-19 testing results or who have tested positive and are homeless or experiencing domestic violence and have no other accommodation.
The event was an effort to urge Gov. Steve Bullock to lift various directives put in place since March to slow the spread of COVID-19. 
The questions about permission for the event arose in part because of social media posts and emails that circulated before the event saying county commissioners gave organizers permission to hold the event.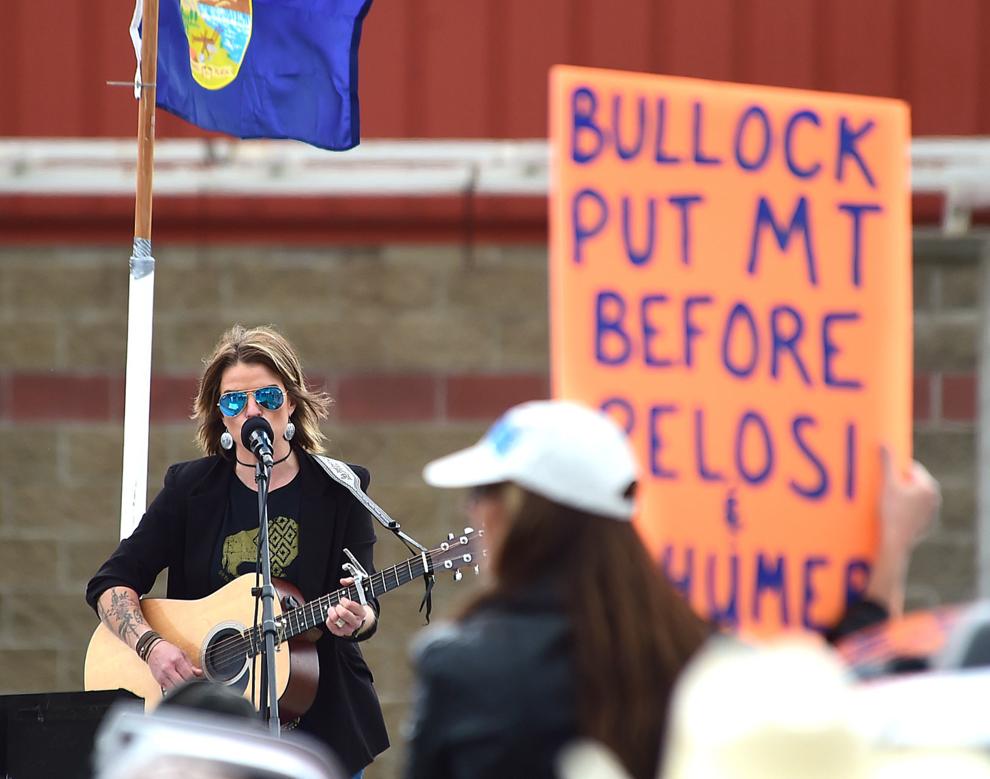 One of several organizers involved, Kori Smith, said Monday that she had permission from both the county commissioners and the county attorney for the event.
"I asked our County Commissioner John Ostlund and he called and talked to the county attorney, so yes, we sure did," Smith said, when asked if they had permission. "They were all aware of it and they all OK'd it because they said 'We have no events there.'
"They said 'You have our permission,'" she added.
Smith, who is a business owner and rancher in Yellowstone County, said she and several other ranchers and business owners started throwing the idea around about a week ago, and that they were not affiliated with any other groups. They chose to hold the event in Billings in part because ranchers couldn't afford to travel to Helena for a similar rally during calving season.
"We just want the governor to open up the state of Montana," Smith said. 
Ostlund said one of the organizers asked him a series of questions about the legality of having an event at MetraPark. 
"They just asked some questions. They didn't really say they were going to have a deal down there or not have a deal down there," Ostlund said. 
Ostlund said organizers asked him if the Metra is a public facility and whether it would be OK to have "a little gathering down there, a church service." Ostlund said he told them it was public, and that holding a gathering at the Metra would violate Bullock's stay-at-home and small group orders.
Organizers then asked Ostlund what would happen if they violated those orders, Ostlund said.
"And I said, 'Well, what they may do is come down and tell you to move along. If someone complained or it was advertised up or something, they might come tell you to move along,'" Ostlund said he told them.
"There was no authority given to do that. They asked the legal questions, and I wouldn't tell them anything less than the truth," Ostlund said.
He said that he did talk to Jeana Lervick, the chief in-house Yellowstone County deputy attorney, about some of the questions.
Both Ostlund and County Commissioner Denis Pitman said that it was not true that the board of county commissioners granted permission for the event.
"The board did not approve that event or any of that," Pitman said, adding that event bookings at Metra are usually handled by Metra.
By about 10:30 a.m. Monday, Lervick said she was not aware of any complaints about the event, but that she was continuing to review complaints from the weekend that had been passed along by RiverStone Health. Regardless, she said the county attorney's office would independently review the situation. 
"I can tell you absolutely that no county official, no board of county commissioners, authorized or approved of what went on," Lervick said.
Lervick did not immediately respond to a follow-up call and email Monday afternoon regarding the questions Ostlund said he consulted her on. 
In an early April interview with The Gazette, Lervick had indicated that answering questions was one way to potentially handle violations without charging people.
"In terms of, if there's something that gives us concern, typically a phone call asking questions — explaining 'Do you understand you can't be doing this?' — Takes care of it," she said.
RiverStone Health and Unified Health Command spokesperson Barbara Schneeman said UHC had nothing to say about the event and suggested questions be posed to the county attorney's office. 
Since MetraPark is a county-owned property, policing it falls to the Yellowstone County Sheriff's Office. Monday afternoon, Sheriff Mike Linder said he wasn't aware of any calls to his agency about the event at Metra.
According to Smith, the organizer, signs were posted at the entrance to Metra encouraging people to follow social distancing and stay in their cars. Some people, including Smith, decided to leave their cars. "We tried to follow the guidelines set up," she said.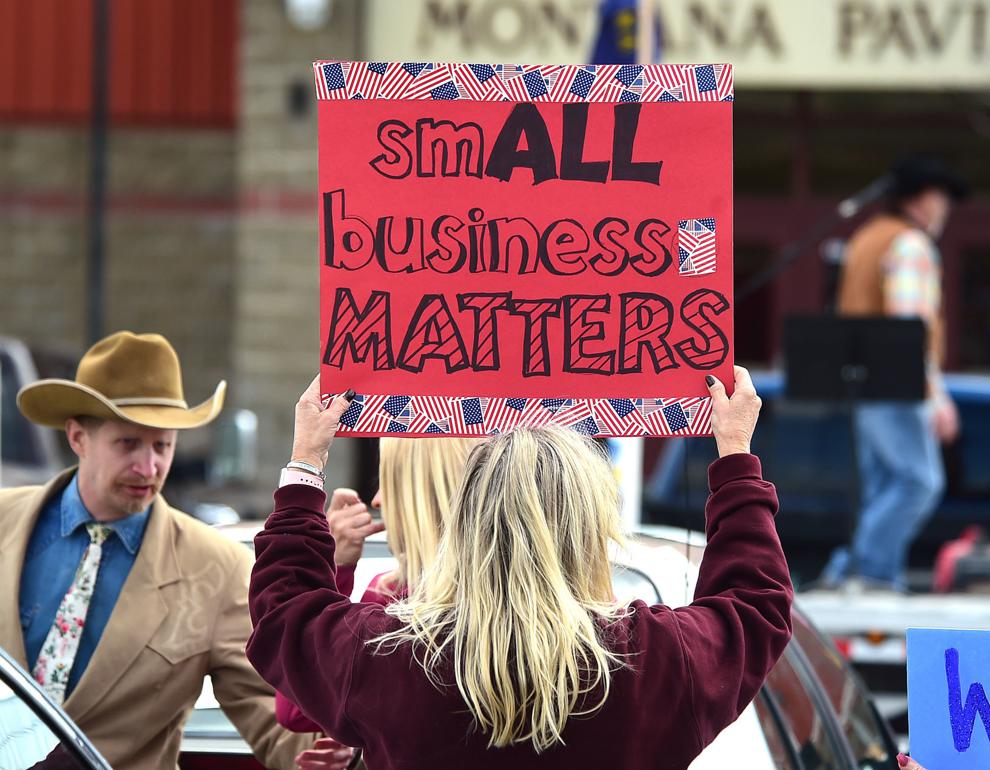 "I can't make them," Smith said of people who chose to get out of their cars. "That's the reason those people are there, is because they are over it, they're not afraid of it."
Some of the people outside their cars did appear to be following the recommended 6 feet of distancing, though others did not. A good portion of the event was made up of a Cowboy Church service that included preaching from Pastor Tim Moullet. 
Moullet stood atop a trailer bed in front of multiple Montana and American flags and addressed the crowd with a microphone. At about 1:10 p.m. rain started falling on the parking lot. 
Right after Moullet finished quoting President Franklin D. Roosevelt's famous "The only thing we have to fear is fear itself," statement, the generators powering his microphone died. The crowd, some of whom had been loosely spaced out around him, came closer in order to hear him above the wind and passing cars.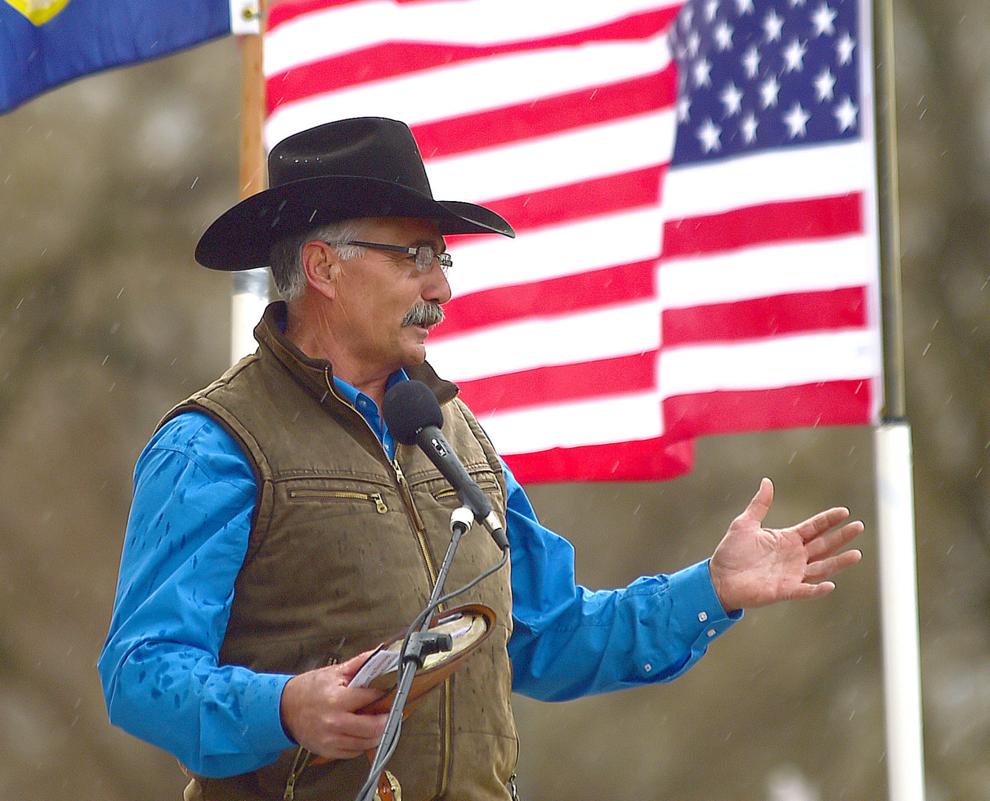 After the generators kicked back on, Moullet talked about what he felt was the appropriate way to voice an opinion. 
"As Americans, we should rise up and speak our piece. We always let the other guy speak, we need to do our speaking. We need to be brave and to be bold and to be strong. We don't have to be rude and break the law. We don't have to protest. We're not protesting anything. We're just speaking our voice, our rights, and what we want to do," he said.
Moullet's sermon also emphasized the importance of love, the need to live without fear, and the power of God.
"Be careful, be concerned for other people," he said. "There's some people who are really fearful. We're not making fun of them. If they want their space, we'll give them their space. We just want our space. Sound mind, clear thinking, it's hard to think when there's panic going on."
Some in attendance carried signs mocking Bullock, questioning the threat of the virus, or urging the need to "reopen" the state.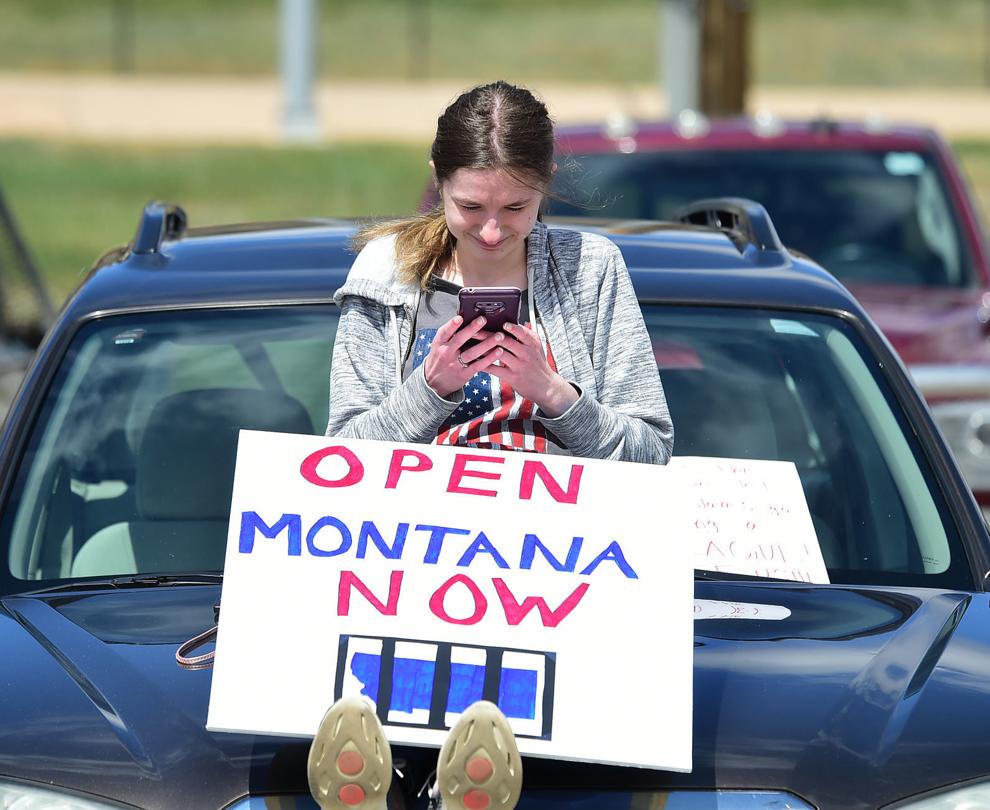 Speaking a day after the event, Smith talked about her concerns about the financial hardships shutdowns have caused and said she's concerned it could drive up suicide rates. She also said she doesn't think the government can sustain people who are struggling financially.
"People are hurting, people need to work and you know all businesses are essential. I don't know who the hell decided who was essential and who wasn't but all businesses are essential. Everyone makes a difference in this economy," she said. 
Smith also said she thinks the media has stirred up fear and that there is a bias against the president.
"If you're at risk, stay home. Stay home. Just like I would hope to God these people that have immune system precautions and the elderly, that they stay home and take some precautions," Smith said. "I get that there's risk involved for certain people, but why do I got to shut down my business because you're at risk?"
"We are all fighters up here. We have no need to crumple. That's our fighting spirit."