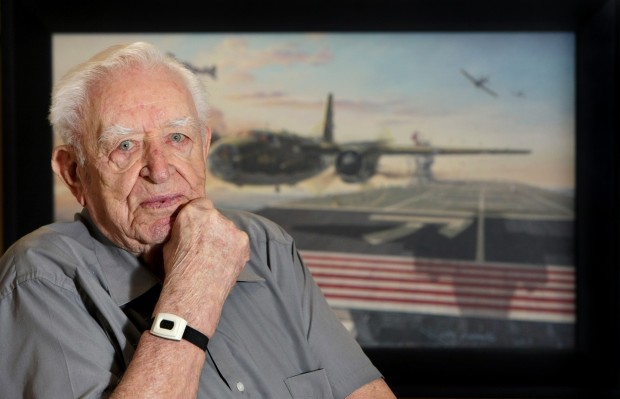 Seventy years ago Monday, Montana pilot Jim Muri saved his crippled plane and his crew by flying right at his enemies. On the opening day of the Battle of Midway, Muri defied Japanese anti-aircraft gunners by zooming just a few feet above flight deck of the aircraft carrier he had just attacked.
Muri, now 93 and living in the Crossings, an assisted-living center in Laurel, still has vivid memories of a harrowing battle that turned the course of the Pacific campaign into the United States' favor.
Muri was piloting one of four B-26 bombers that took off from Midway Island to attack a powerful Japanese invasion fleet that was bearing down on the American outpost about 1,100 miles northwest of Hawaii.
With the enemy fleet still miles away, Muri's flight was attacked by Japanese fighters.
"There were six of them, coming head on," Muri said. "They were line abreast, and I just ducked straight down for the ocean."
The twin-engine medium bombers had been converted to attack ships with torpedoes. The American pilots dove and skidded their planes to dodge a hail of 20-mm cannon shells and machine-gun bullets from the Japanese fighters.
"I did things to that airplane that it was never designed to do," Muri recalled. "We put it through some pretty rough maneuvers."
After launching his torpedo at the Japanese aircraft carrier Akagi, Muri pulled up on the yoke, banked and flew the plane the length of the Akagi's flight deck, right past a giant Japanese battle flag adorned with the rising sun.
Muri figured that flying low and fast over the Akagi would save him because he would be long gone by the time the Japanese antiaircraft gunners brought their guns to bear. He also joked that he probably could have touched down if he had lowered his landing gear.
After a harrowing flight back at Midway, Muri crash-landed the bomber in another nifty piece of flying. He was unhurt, but three of his crewmen were wounded. The plane had been riddled with more than 500 holes from bullets and shells. Muri was awarded the Distinguished Service Cross.
The attack that Muri participated in did little damage. But American Navy dive bombers later found the Japanese fleet, sinking four Japanese carriers and destroying hundreds of planes.
Muri's friend Roger Nelson telephoned him just after 6 a.m. Monday, roughly the same time that he took off from Midway 70 years earlier.
 "If they would have taken over Midway, it would have been a different story," said Nelson, who joined Muri for lunch.
"If we had lost at Midway, the Japanese could have also taken over Hawaii," Muri said.
Muri said others contacted him to commemorate the anniversary of the battle.
"A few of my flying buddies in Florida called. They said they're planning to go to Australia and they want me to come with them," said Muri, who politely declined. "They must have had some girlfriends there, or something."
Scores of Montana World War II veterans are preparing to visit the World War II Memorial in Washington, D.C., with the Big Sky Honor Flight. Muri isn't planning to go. In 2005 he received the Jimmy Doolittle Award for outstanding service to the U.S. Army Air Corps during World War II. The award was presented by the World War II Veterans Committee, a project of the nonprofit American Studies Center in Washington, D.C.
Get local news delivered to your inbox!
Subscribe to our Daily Headlines newsletter.