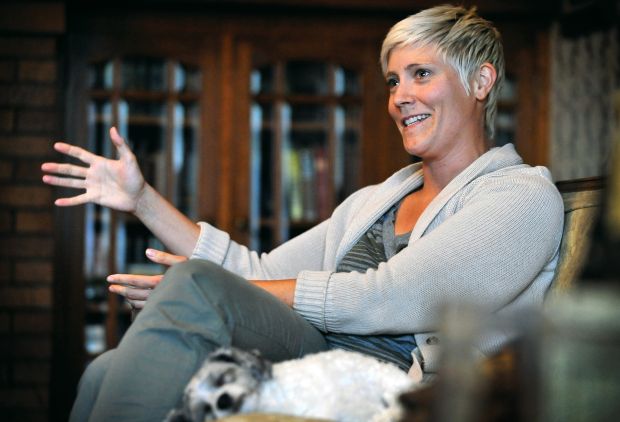 Emily M. Danforth was a double winner in the High Plains Book Awards Saturday night, taking top honors in the young adult and woman writer categories.
Danforth, a native of Miles City, won for her coming-of-age novel, "The Miseducation of Cameron Post." Danforth is an assistant professor of English and creative writing at Rhode Island College in Providence.
"Once a Miles City girl, always a Miles City girl," Danforth told the audience when she picked up the award for best woman writer. "I'm honored to be here. I'm a weird gay kid from Montana and I can't quite imagine that I'm here right now, so thank you very much."
When Danforth came to the microphone after picking up her second award, for best young adult book, she joked that "this is clearly eastern Montana favoritism."
"It's incredible to have been nominated once, but I'm sort of at a loss for words," Danforth said, also acknowledging the other two finalists in her category, Charlie Price and Jacqueline Guest.
"It was such fun to read with them today," she said.
Nearly 200 people attended the banquet held this year at the Yellowstone Art Museum. This was the 11th year of the High Plains BookFest and the sixth year for the High Plains Book Awards.
Other winners, their books and categories were:
-- Louise Erdrich, "The Round House," best fiction.
-- Joan Nabseth Stevenson, "Deliverance from the Little Big Horn," best nonfiction.
-- Joe Wilkins, "Notes from the Journey Westward," best poetry.
-- Alan P. Kesselheim and Thomas Lee, "Montana: Real Place, Real People," best art and photography.
--Dora Dueck, "What You Get At Home," best short stories.
-- Sara Kathryn York, "The Anatomy of Edouard Beaupre," best first book.
-- dee Hobshawn-Smith, "Foodshed: An Edible Alberta Alphabet," best culinary.
Parmly Billings Library established the awards to recognize authors of literary works which examine life in the states of Montana, Wyoming, North and South Dakota, Nebraska, Colorado, Kansas and the Canadian Provinces of Alberta, Manitoba and Saskatchewan, or authors from those areas. 
Montana Poet Laureate Tami Haaland, the evening's keynote speaker, talked about the theme for this year's book festival, "Women Writing the West."
The theme came out of the fact that 59 percent of the entries in this year's book awards came from women. The problem when talking about gender, Haaland said, is that it's easy to fall into trite statements and overgeneralizations. 
Looking at women in literature, she talked about VIDA, an organization that focuses on women in the literary arts. Monitoring by that organization shows that men almost always outnumber women in major publications.
As a result, some magazines seem to be reacting by decreasing the number of women authors, while others are trying to boost that number, Haaland said.
"They've begun to ask why they don't publish more women," she said.
The answers are complex, she said, but may include editorial prejudice, as well as women not submitting pieces or asserting themselves in the literary world.
Haaland, who praised the all-woman panel at the book festival's Friday evening reading, suggested three ways to boost female authors and their writing.
One, she said, is to research earlier women writers, to see what helped them in their writing and what kept them from it. A second suggestion is for women writers in academic settings to mentor female students and model assertiveness for them.
She illustrated her third point with an anecdote about Amadeus Mozart, who, after he died, was buried in a pauper's grave. He only later came to prominence because his widow, Constanze Mozart, acted as his champion.
It was her mission to see his music performed and his biography published.
"It's largely because of Constanze that we have Mozart," Haaland said. 
In the same way, writers need to be supported by other writers, by community members who buy their books and by organizations such as the Billings Public Library and the Writer's Voice.
"We're all very unlikely to have a spouse like Constanze, but we can exert a collective effort," she said.