Billings' biggest flood happened nearly 81 years ago. 
History says heavy rain and a breached ditch caused most of what was Billings on June 11, 1937, to flood.
Buried deep within The Billings Gazette's coverage of the flood was the tale of poor Mr. C.M. Hoiness who had put his "large Persian cat and a cocker spaniel" in the basement when he left the house only for it to flood, killing the two trapped animals.
Animals played a part in the flood as horses were used to help rescue people on top of cars and trapped inside. One city truck even took an unnamed woman in labor to a hospital where it was reported she gave birth "soon after arriving."
The flood water receded, The Gazette covered the clean-up, and most of the aftermath has been preserved on microfilm or yellowing bound copies of newspapers.
But now the details of "The Flood," and nearly every other local historic event can be accessed without rolls of microfilm or musty, brittle newspapers.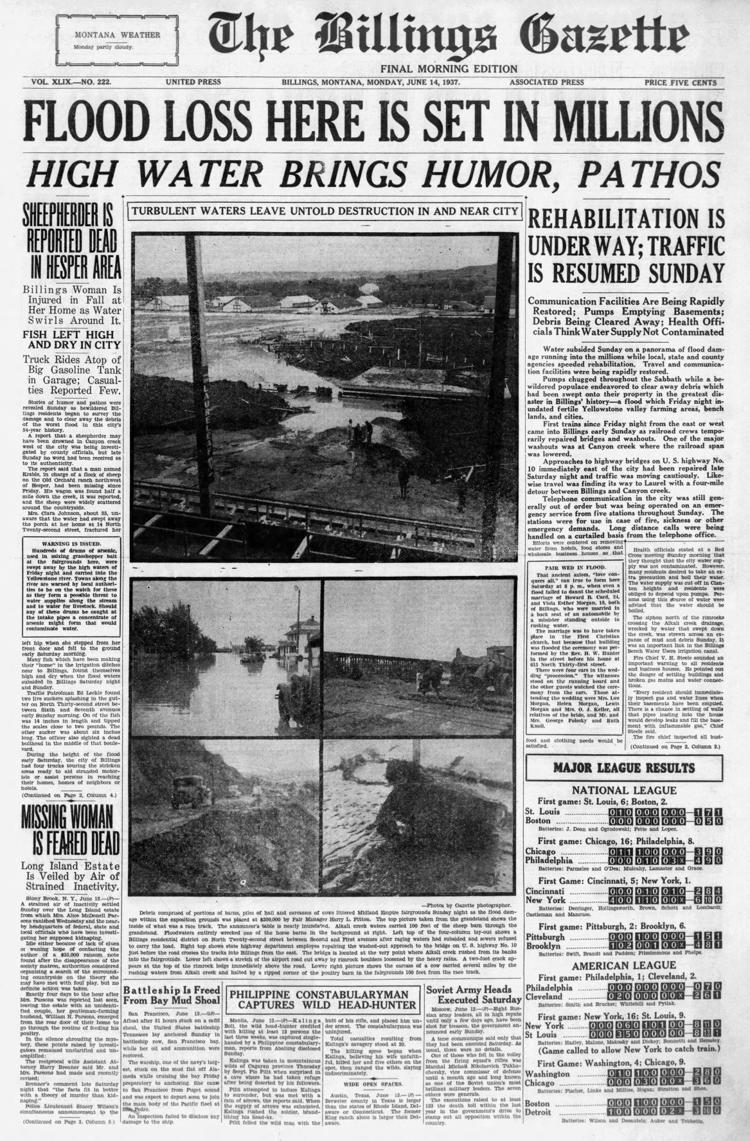 Quite possibly the single largest local history publication happened in the past month as more than 1.6 million pages of the Billings Gazette and its related publications were digitized through a partnership project with Newspapers.com.
Through a subscription service, anyone with a password and an internet connection can view a completely searchable online digital archive of Billings history. Lee Enterprises, which owns The Gazette, also has a similar agreement that digitized its sister publications in Butte, Helena, Hamilton and Missoula. 
In addition to local history, the archives feature most major national and international events ranging from the state's entry into the union, two presidents being assassinated, the sinking of the Titanic and the resignation of Richard M. Nixon.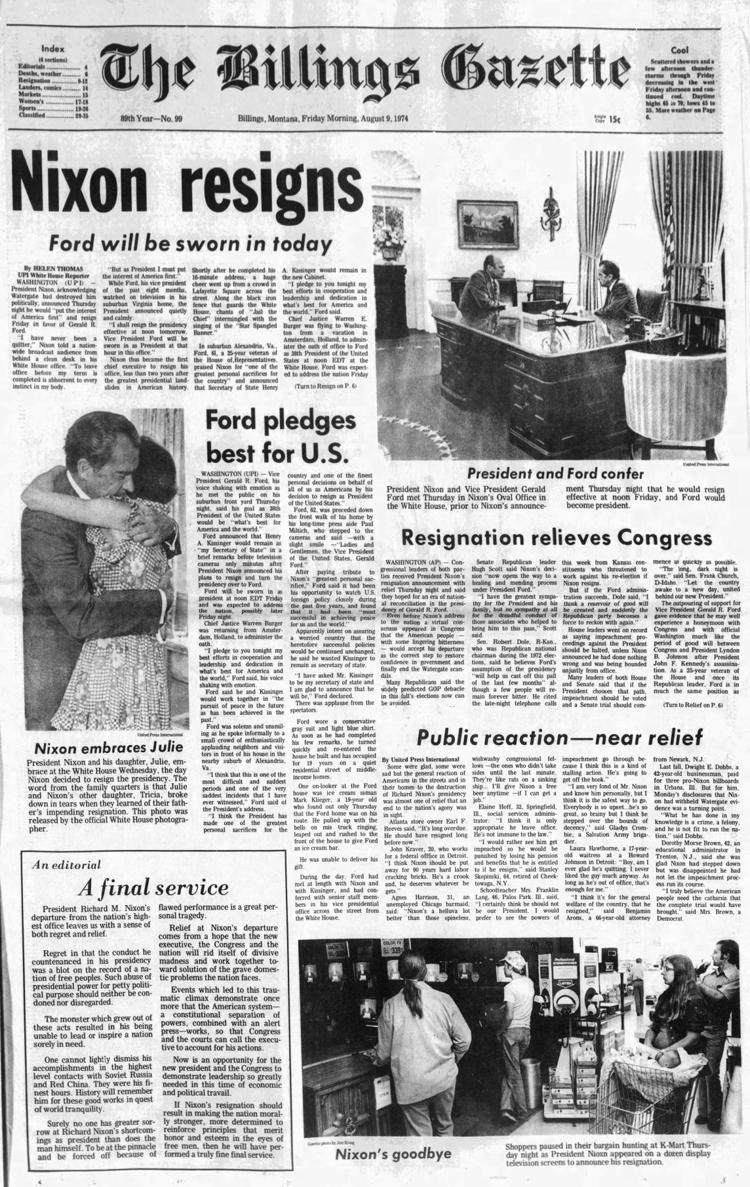 On Aug. 9, 1974, The Gazette recorded that Nixon was resigning with more than a dozen stories detailing the political crisis and the ongoing Watergate investigation. But The Gazette also captured local reaction to the watershed moment.
The Gazette published a rare front-page editorial, commenting on the resignation with a headline of "A Final Service." 
"If Nixon's resignation should result in making the nation morally stronger, more determined to reinforce principles that merit honor and esteem in the eyes of free men, then he will have performed a truly fine final service," it concluded.
Famous Gazette columnist Addison Bragg, a stalwart defender of all things Republican, had his column buried on Page 11 with a headline that seemed borrowed from today, not 43 years ago.
In "Press was not fair with Nixon," Bragg accused his fellow journalists local and national of being part of a liberal media conspiracy long before the term was ever coined.
He fumed that the press had kept secrets about Roosevelt, Truman, Kennedy and Johnson only to turn on Nixon.
"But again," Bragg quipped, "they had most of us in this business on their side."
Admittedly, he was one of only a few in a reliably conservative town who dared to speak up about the disgraced president as the resignation happened.
Gazette reporters fanned out across the city looking for reaction, only to find mostly muted emotions in places like the Northern Hotel's Golden Belle bar. At the South Side Labor Temple, the television was on the fritz, so even the partisan labor groups missed their chance to cheer — or maybe boo.
Atop the Yellowstone County Courthouse, which then housed the jail, silence fell as 47 men listened to the television.
"The feeling of the men behind bars was that the president had gotten caught, just like they did," it reported. 
Seven floors below, Sheriff's Detective Charles B. Skillen may have been the only person sad besides Bragg. When Skillen had graduated from a law enforcement training program in Washington, D.C., Nixon had personally handed him his diploma, and solidified Skillen's loyalty.
"I feel deeply hurt inside," he told The Gazette. "I had so much hope in him."
Those kinds of insights into local history, whether it's about national or regional events, make the digital preservation important for future Billings residents and researchers, said Kevin Kooistra, executive director of the Western Heritage Center, which has as its mission preserving and promoting local and area history.
"This is great news for anyone researching Montana's past," Kooistra said. "For museums, digitized newspapers have revolutionized how we learn about the past. What used to take days of searching on microfilm for newspaper stories is now available with key word searches. Programs such as newspapers.com, Chronicling America, and the Montana Memory Project bring history into our homes. Digitizing the Billings Gazette collections allows scholars, genealogists and families straightforward access to the stories of the people, places and events of our region."
Bruce Whittenberg, the executive director of the Montana Historical Society and former publisher of The Billings Gazette and Helena Independent Record, said that digitizing the archives will help more Montanans access history regardless of where they are.
"Our most used research tool is our newspaper collection," Whittenburg said.
Those Montana newspapers serve as a starting point and journal of local history.
However, through the digitization process, searching the archives has become much easier.
"This is a big deal because even newspapers preserved on microfilm, even with the best technology, could be grueling. This makes searching so much easier," Whittenberg said.