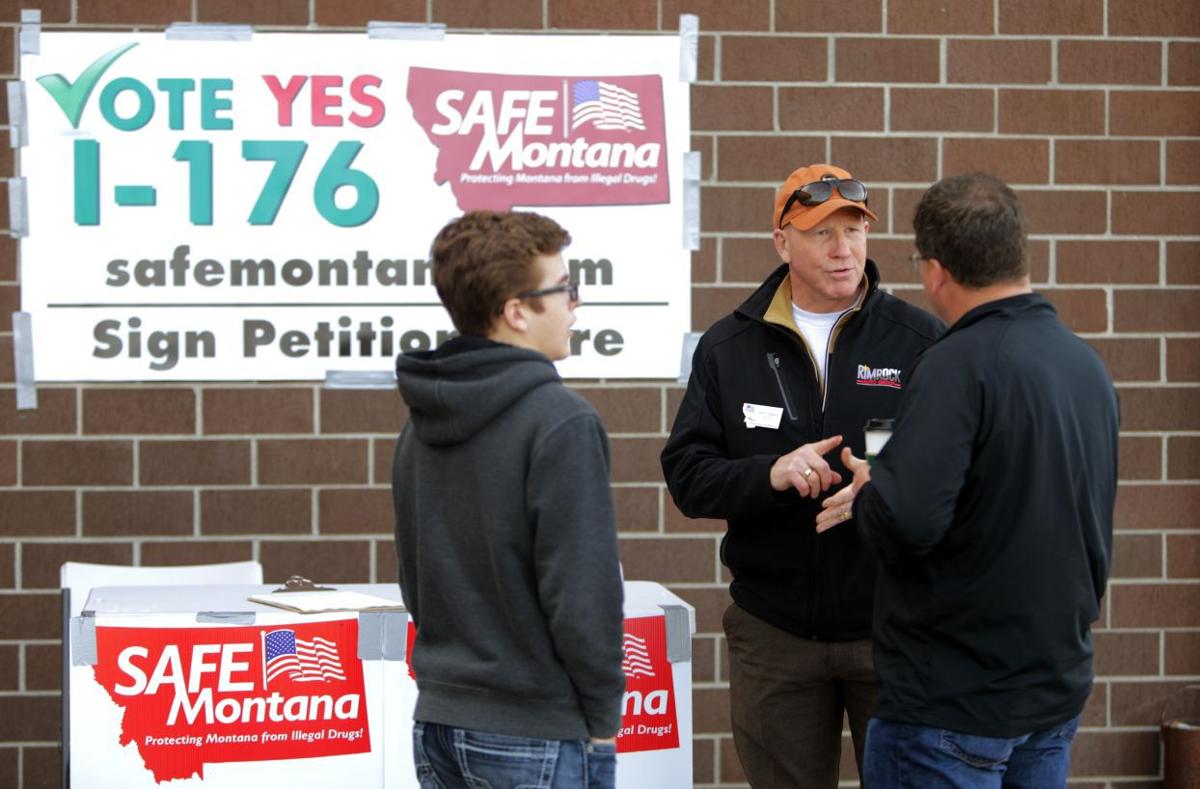 Two competing groups are racing for signatures in hopes that voters will bring change to the already tumultuous legal landscape that is Montana marijuana.
Ballot initiative campaigns have been working across the state in search of support, but the battle isn't centered in the hazy mountains of western Montana. It's based right here in Billings.
Steve Zabawa, 58, is in his second year at the helm of Safe Montana, the group hoping to make all marijuana use illegal by aligning with federal law and repealing the state's medical marijuana measures. He put forth a similar initiative in 2014 but failed to collect enough signatures.
This year, he's aiming again for the 24,175 signatures required to get his initiative on the ballot.
"We have a good team now of volunteers and organizers," Zabawa said.
He said that Safe Montana has paid staff members in Bozeman, Kalispell and Billings, as well as volunteers across the state. The campaign is running on $9,000 in cash and in-kind contributions from Zabawa himself, as well as a single $1,500 donation from a Wyoming contributor.
Zabawa, the co-owner of the Rimrock Auto Group, said that Montana's medical marijuana program has lacked oversight and has done little other than to increase availability.
He sees fault in the grey areas that exist between states with some form of legal pot and the federal government, which classifies it as a schedule I illegal substance. The language in his proposal, Initiative 176, is straightforward — repeal the current marijuana laws and defer to the federal statute.
"If it's illegal federally, it would be illegal in the state of Montana," he said.
On the other side of the debate is Anthony Varriano, a 29-year-old sportswriter for the Glendive Ranger Review. His organization, Cycling for Sensible Drug Policy, is based in Billings. His goal is the legal, recreational use of marijuana.
"Nobody should have to serve jail time for possessing a plant," Varriano said.
Cycling for Sensible Drug Policy has received just over $2,000 in contributions from 22 people since October. The name of the organization refers to a 1,200-mile bicycle tour that Varriano plans to start in April, collecting signatures along the way.
Varriano's proposal, Initiative 178, calls for the legalization of marijuana use and purchase for people older than 21. He has also put forth a constitutional initiative, which requires twice as many signatures as a ballot measure because it would amend the state constitution.
The initiative claims that with a 20 percent excise tax on marijuana sales, Montana would generate more than $37 million in revenue over five years. It also accounts for $10.9 million in administrative costs and expenses for law enforcement dealing with pot-impaired drivers.
It calls for legal possession of up to one ounce of marijuana and no more than six plants for people over 21. It also contains a list of labeling requirements for retail marijuana, including the pesticides used to grow the plant and health risk warnings.
Like Zabawa, Varriano said that he has a network of volunteers across the state and is confident that he will reach the required number of signatures for at least the ballot initiative.
The language in Varriano's initiative relies on the current Montana Marijuana Act to register and oversee people who grow marijuana. He said that he also took a lot from Colorado, where voters approved legalization in 2012.
"We've already got that in place. We've already got providers who can grow the medicine," he said. "Why not allow them to venture into the recreational market?"
In contrast, Zabawa has repeated a phrase in cities across the state. He doesn't want to see what he calls "Colorado craziness" in Montana.
Sides of the divide
The debate over legalization includes a swirl of figures plucked from studies as experts look into the social cost of these state experiments. Safe Montana and Cycling for Sensible Drug Policy are no different.
Safe Montana as an organization is a general anti-drug group. Its website features tip sheets on a number of substances and is quick to place marijuana alongside the so-called "hard drugs," just as they are under federal law.
Zabawa is open about his personal experiences as well, and said that he knows family members and friends who have succumbed to drug addiction. Marijuana is the gateway, he said, repeating a ubiquitous claim against the drug.
"Suicide, depression, hepatitis C because they moved up to the white stuff," he said.
Safe Montana also pens articles. One claims that cannabis legalization causes "more violent turf wars along the Mexican border." That is "a fact that stands athwart" to pro-marijuana groups in America, the article said. That passage cites a 2010 study by the public policy group Rand Corporation.
But the Rand study doesn't draw a direct line from marijuana legalization to cartel violence on the southern border. It explains that the effect is "very speculative" and there are no easy connections to a single factor affecting the skirmishes.
Former Mexican President Vicente Fox has called for drug legalization to minimize the cartels' influence. Last fall, Mexico's Supreme Court issued a landmark ruling in favor of recreational marijuana.
Other research, referenced often by Varriano, comes from Montana State University economics professor D. Mark Anderson, who has produced a number of studies on marijuana.
Anderson, along with professors in Oregon and Colorado, found in a 2014 study that teens in legal states don't appear to be lighting up in higher numbers.
In a 2012 study, Anderson suggested that legal marijuana is related to fewer traffic fatalities, in part because it reduces alcohol consumption and the resulting potential for drunken driving.
"Bottom line is, the stuff has never killed anybody," Varriano said. "If you're going to talk about safety, it's the safest thing there is as a pain remedy."
Future of Montana pot
If Varriano and Zabawa collect enough signatures, Montana voters will be able to steer the marijuana issue in a dramatic way. Since medical marijuana was approved in 2004, the program has been on a rollercoaster ride.
It went nearly unnoticed until the late 2000s, when the number of registered patients ballooned to more than 31,000 by 2011. That year, the Montana Legislature passed a bill that significantly rolled back the program, and the number shrank.
Almost immediately after the bill passed, a lawsuit was filed by a pro-marijuana group, and a judge blocked some key provisions of the rollback law. The state appealed the ruling. The case now awaits a Montana Supreme Court decision that could also have a big impact on the trade.
Back in Billings, the two sides of the marijuana debate are planning their next campaign steps. Varriano said that he plans to have representatives at an upcoming gathering in support of Bernie Sanders.
On Friday, Zabawa collected signatures in front of the Rimrock Auto Arena, which bears the name of his business. One older man approached the Safe Montana booth at Zabawa's request with stories about his grandkids' abuse of drugs.
"I only do the drugs that keep me alive," the man said.
"Well, you do legal drugs," Zabawa said.
The man added his signature to the petition.