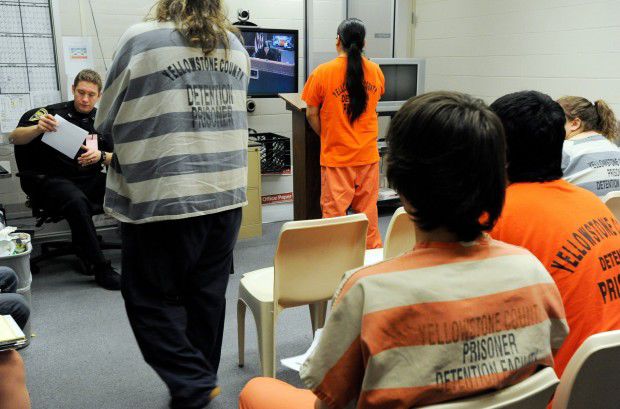 The Montana Department of Corrections has about a month to get 60 to 70 people out of county jails, or it loses $2 million.
"We're sure going to make our best effort at it," said Kevin Olson, administrator of the Probation and Parole Division. "But if we fall short, we fall short."
Olson said the department would not make hasty release decisions and compromise public safety in its efforts to reduce jail crowding.
The provisional $2 million owes to a footnote lawmakers added to the budget bill late this spring trying to force quick action on a problem counties have complained about for years.
The footnote requires the department to reduce its county jail hold number to 250 by the end of the year, from a high of 410 this summer. County jail holds refer to people in state custody who are being held in jail for a variety of reasons, including pending parole violation hearings or placement at a prison, treatment or prerelease center.
(The DOC does not have a precise number for the current daily jail hold population, saying an estimate of 310 to 320 is the only figure immediately available.)
DOC finances are already strained after two rounds of budget cuts shaved off $9.4 million of the department's $414.5 million biennial allotment. And although jail holds have been well above the stated 250 goal so far this year, lawmakers only funded the department for the 250. Lawmakers did approve an additional $6 million to help reduce jail crowding.
Jails across the state have been packed for years, many beyond capacity. The Yellowstone County Detention Facility, designed for 286 people, has 460 inmates. Of those, 46 are DOC jail holds.
The state's efforts to reduce jail holds don't solve the crowding problem, Yellowstone County Sheriff Mike Linder said, but they help "tremendously."
"We still have quite a few more than what we were designed to hold, but it's manageable now," Linder said.
You have free articles remaining.
Sheriffs and other county officials had pressured the DOC to reduce its jail hold numbers, not only to ease crowding but also to reduce the drain on county coffers. In Yellowstone County, it costs around $97 per day to house a state inmate, but the state pays the county only $69 per day.
"We heard the sheriffs and the counties loud and clear," Olson said. "They're housing people by putting bedding on the floor, and that's not an acceptable solution."
To cut jail hold numbers, the state has a variety of methods. It's creating more space at the Montana Women's Prison and Montana State Prison by adding bunks. The department has stacked bunks in single bed cells at MSP, adding 48 beds. MSP is already operating about 50 people over capacity. 
An underutilized boot camp on the state prison campus, the Treasure State Correctional Training Center, is being converted to a treatment center and should be up and running by late December or early January. The space will eventually be able to accommodate 90 people. 
At Pine Hills Youth Correctional Facility in Miles City, the state is using vacant buildings to house more adults, separate from the youth, as youth detention rates continue to decline.
And the state is sending more people who violate parole to private community-based services like prerelease centers for sanctions, instead of to jail.
The department is also implementing a new law that allows for early release from supervision if offenders are deemed low-risk under a new assessment. The law requires the DOC to document and exhaust certain alternatives before revoking an offender's deferred or suspended sentence.
The new law is part of a criminal justice reform package the Legislature passed this spring to curb corrections spending. It includes efforts to make parole decisions more objective and to expand access to drug courts and to treatment, particularly in rural areas.
The reforms are designed to reduce jail and prison populations, but they will likely take four to six years to show results, DOC spokeswoman Judy Beck said.
In the meantime, crime rates are increasing. District court case filings increased by 25 percent between 2010 and 2016, according to data provided by the Court Administrator's Office of the Montana Supreme Court.
And probation and parole officers are swamped, Olson said. They recently hit an all-time high of 10,025 probationers or parolees. Probation and Parole employs 144 officers, some with caseloads as high as 100.
DOC officials say they can do their part, but increasing crime could continue to strain their resources, even as reforms are implemented.
"And until we can get a pulse on what's driving this, which we believe anecdotally is drugs, we don't get to put the 'no vacancy' sign out," Olson said.
Get local news delivered to your inbox!
Subscribe to our Daily Headlines newsletter.