Montana Rescue Mission Executive Director Perry Roberts announced earlier this week that he plans on retiring at the end of December, ending an eight-year run leading the Christian nonprofit organization that specializes in outreach to the homeless and impoverished. 
The announcement came the day before MRM's annual Thanksgiving Day meal, an event which typically sees upwards of 300 free meals consisting of turkey, gravy, mashed potatoes, green bean casserole and other holiday staples.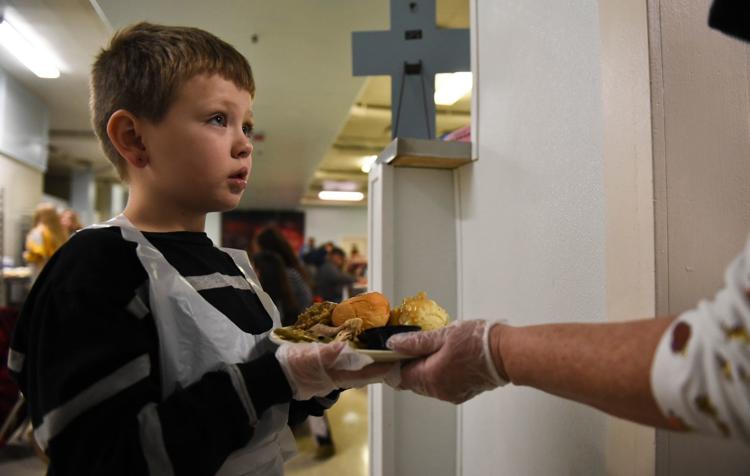 Speaking in his office Thursday afternoon as people of all ages filtered downstairs toward the dining room, Roberts said the decision was made more than a year ago after personal health issues caused him to re-evaluate his work and his life. 
"When you're going through recovery from surgery, you have a lot of time to think about life, and you know, I just decided that this was going to be my final year," Roberts said, adding that he is now cancer free.
Still, Roberts said he continues to manage heart issues exacerbated by stress. 
The new executive director will probably be announced in a couple weeks, and Roberts said they will find the organization in similar straits to when he took over in 2010. 
At that point, expenses were outpacing donations. Roberts said annual donations have increased every year but to some extent that has been offset by increased demand for services and declining revenue from MRM's retail operations which sell donated items. 
And then there are the floods. "I guess my legacy has been defined by floods," Roberts said. 
Over the course of a few minutes, Roberts ticked off descriptions of a trio of floods, beginning in his first year, that he says have cost the organization tens of thousands of dollars.
A 2013 flood at the women's shelter alone, caused in part by old cast iron piping beneath the building, cost "a couple hundred thousand dollars," in repairs, Roberts said, adding that the cleanup alone cost about $50,000. 
Referring to a recent announcement about MRM's discontinuation of Thanksgiving meal delivery, Roberts said after the organization lost its previous insurer due to flooding, and the new one said they would need an additional rider to continue the delivery program. MRM also recently discontinued its Code Blue policy of opening up the shelter on nights with inclement weather to everyone having a blood alcohol level of less than 0.2. 
That was prompted in part by staffing issues which Roberts believed could cause safety issues. 
Despite recent struggles, Roberts said MRM remains critical to the community. 
Residents are "aware we have a homeless problem but they think of it as a downtown problem, so they just avoid downtown, which just hurts downtown businesses," Roberts said. "So there's visibility out there. So the question I ask people is 'Imagine what Billings would be like if we weren't here.' Cause if you put another 100, 150 people back out on the street, that we didn't have services for in our community, what would it look like?"