Governors leading three contiguous states — Montana, Wyoming and South Dakota — shared thoughts on what makes for economic growth Thursday during Big Sky Economic Development's annual meeting at Montana State University Billings.
And, in time-honored chief executive tradition, Govs. Steve Bullock, Matt Mead and Dennis Daugaard pledged to steal one another's best ideas.
"What you're doing with ENDOW is awesome," Daugaard of South Dakota told Mead of Wyoming, referencing a signature, long-term effort to diversify state revenues that are 70 percent energy related. "We should be doing more of that."
Bullock told Daugaard he'd like Montana's economic development incentives to occasionally take calculated risks like South Dakota sometimes does. He also praised Mead's 20-year economic diversification plan, which will be ongoing long after all three governors are termed out.
For his part, Mead complimented the way Montana retains 4 in 5 of its college graduates. Wyoming, he said, loses 3 of 5 to other states. "You can't export 60 percent of your young people and have the future you want," he said.
Asked about their own state's entrepreneurial highlights, Bullock pointed to Montana's recent economic development efforts in Indian Country. "We ask, 'What are the obstacles for seeing success on the reservation?'" in light of solid growth throughout the rest of the state, he said. "I'm not sure other states have grabbed hold of that."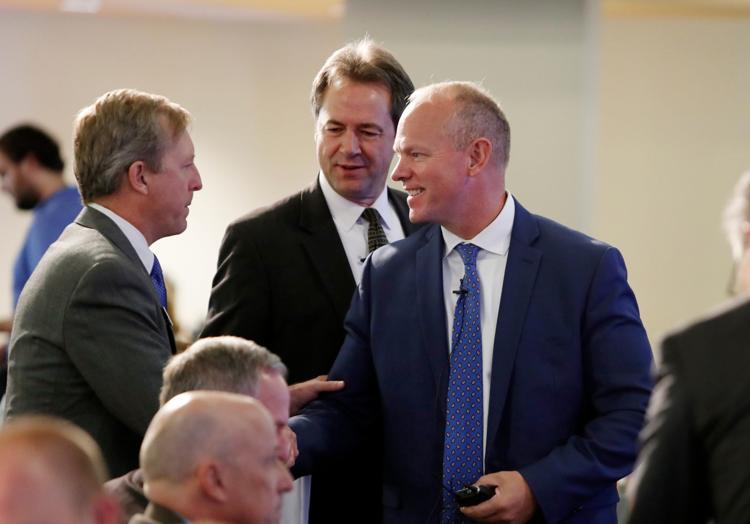 Mead said Wyoming is working to "make it as easy as possible to start a business. If you type in 'I want to be a barber,' we'll tell you what you need to do." The two-term governor said he's always prioritized "doing a good job for the businesses already in your state."
"Wyoming was the first state to give women the right to vote," Mead noted. "Are you telling me we can't control our own destiny?"
Daugaard pointed to a South Dakota scholarship partnership with philanthropist Denny Sanford, with each partner kicking in $25 million. The only stipulation is that students — most of them enrolled in a one- or two-year certification program — must study a trade or profession that's sorely needed in South Dakota, including nurses, welders and machinists. Scholarship recipients — there are four applicants for every scholarship awarded — agree to stay in South Dakota for three years following their training.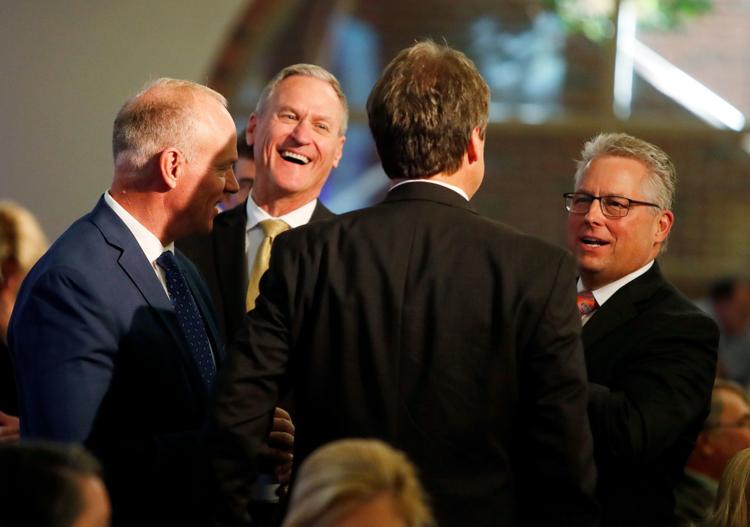 "It's a short path," he said, "to high-demand employment."
Bob Dunn, president of Landmark LLC, which is studying the One Big Sky District proposal, said that Rust Belt and Sun Belt states have invested billions of dollars to spur economic development over the years.
Mountain West states have a better idea, he said: They're creating new economies "that are attractive from a lifestyle perspective."
"Yesterday's model was driven by subsidy. In the economy of tomorrow, the employer will follow the employee, who will make a lifestyle choice first and a career choice second," he said, an arrangement that's already occurring among the nation's youngest and brightest workers.
"The natural resource of tomorrow is bright minds," he said, and cities and regions that succeed will do so because they've attracted the private investment that follows good ideas.
Projects his company has helped make a reality, such as the Destination Medical Center in Rochester, Minnesota, the home of the Mayo Clinic, "are sustainable because they're focused on return on investment, not subsidy … These don't happen by chance, because forces today are too powerful," he said. "They require deliberate planning and leadership to make them happen. That's why we see tremendous opportunity in Montana."