A line of Papa Smurfs, teddy bears and other stuffed animals floated away from Ronald Wells' booth as a veritable "river" from heavy rainfall made its way across the MontanaFair carnival grounds Sunday night. 
The stuffed animals were the least if the carnival worker's worries as he secured his booth. A severe storm that rolled through Billings on Sunday evening gave vendors, fairgoers and carnival workers an added dose of excitement (and work) at the fair. Marble- to golf ball-sized hail was reported across Billings, and the storm brought wind gusts and heavy rainfall around 7 p.m. 
Around 8:30 a.m. Monday, Wells was assessing his damage and putting his booth, Midway Jam, back together before the start of the fair.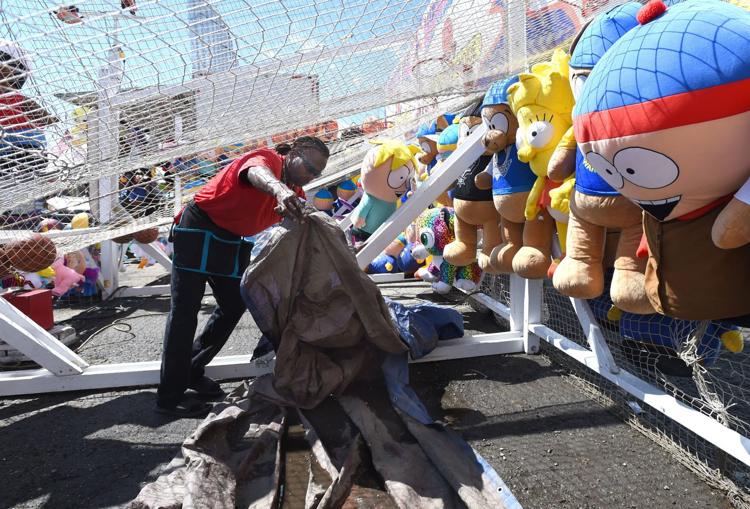 The Louisiana native isn't used to Montana's quick-changing weather. 
"In Louisiana all we have to worry about is heat and mosquitoes," he said. He had been checking the weather Sunday night, but still wasn't prepared for the torrential rainfall. "The weather (in Montana) changes at the drop of a dime," he added. 
Sunday night and Monday morning Wells' stuffed animal-prizes were strewn across the carnival, he said. Some had blown into the Sandstone Building where SCRaPtacular is housed. A few basketballs had blown the entire length of the carnival. Most of his toys dried out pretty well, but cleaning them can be difficult or even impossible, he said. 
By Monday morning, there was hardly a trace of the hailstorm that pummeled the fair.
Crews were out Sunday night, overnight and early in the morning to clean up debris from the hail storm, Ray Massie, marketing and sales director of the Metra, said.
No injuries had been reported from the storm either, Massie said. Many of the people were already inside by the time, and business had been a little slower by the time the storm hit, Nona Keeler, with Montana Lottery, said. Keeler and her crew were inside their trailer during the storm and could see from the inside that the hail was denting the trailer. 
Having people inside was intentionally planned, Massie said. Old Dominion was set to play Sunday night at 7 p.m., but after seeing the warnings of the severe storm Metra's crew got permission from the band to load the arena 30 minutes earlier than usual, Massie said. Other folks were sheltered inside various buildings while the storm broke out. 
"That probably saved us some injuries," he said. 
But, many vendors and carnival workers didn't have that luxury and had to work through the storm. Andy Smith, of Action Entertainment, said it was a mad dash to pin his equipment down and save his speaker and electrical equipment. Smith runs the Action Bar Challenge booth.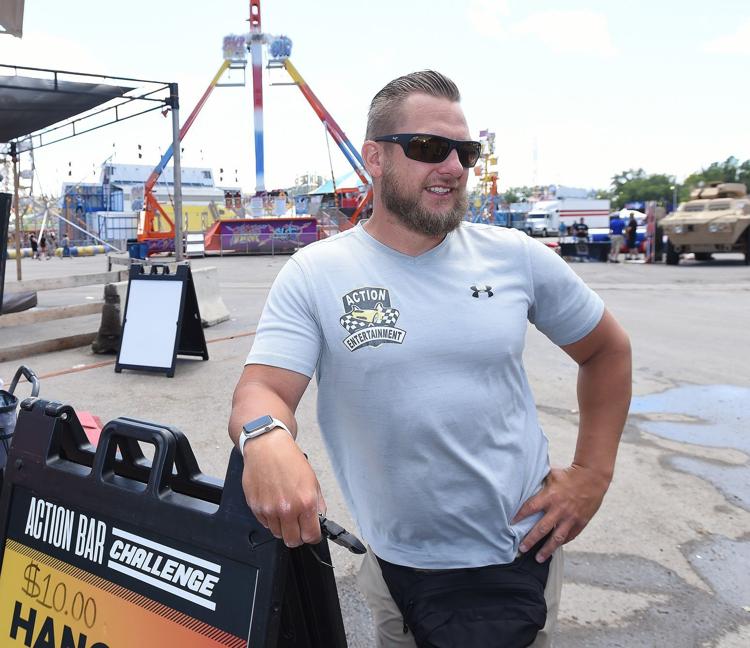 You have free articles remaining.
Keep reading for FREE!
Enjoy more articles by signing up or logging in. No credit card required.
"(The storm) rolled over the cliff like a freight train," he said. Smith, whose tent was secured by 50-pound bags attached to the legs, said he was trying to keep that down, while laying his bar and setup down, and running his speaker equipment to a nearby pavilion.
His speaker was on a small stage at the Mango and Dango stage, but was still soaked about 4 inches from the bottom. The speaker was still working after it dried out, he said. Water was pooled well-above his ankles, he said.
Smith worked through the majority of the storm, but after he was hit in the back of the head by some hail, he called it quits and ran for cover. He wasn't injured.
Monday afternoon, Brandon Hill, and Nolan Snizek, who man the BMB Mechanical Bull ride, were sweeping away a big puddle of water near their ride.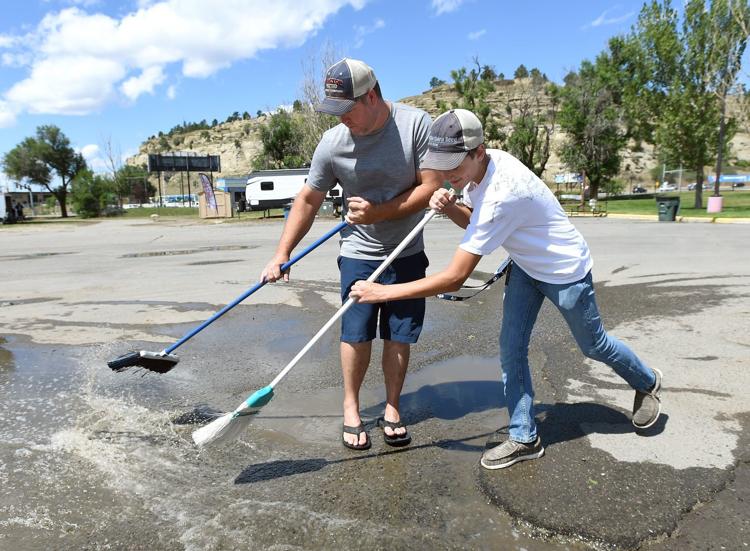 Smith was just grateful no one had been riding on the Black Out, located across from his set-up, when the storm hit, he said. The carnival rides were shut down about 15 minutes before the storm really landed and no one was on a ride, Massie said.
"The rides are inspected regularly; on a day like this they'll do additional inspection," Massie said. For fans of Supercross, crews were working to clear the mud and add dry dirt on Sunday night, Massie said. "It is pretty wet, but give it a day with this kind of stuff and sunshine and beautiful weather and it'll dry," he added.
The fair was up and running again about an hour after the storm passed and made for a pretty busy Sunday night, Smith said. Keeler at Montana Lottery said business picked up after the storm and after the Old Dominion concert was finished. Despite hail, rain, lost tents and all, business was still as usual for the MontanaFair, Keeler said. 
"There's nothing you can do about the weather," she said. 
---
Photos: Strong storm pummels Billings area