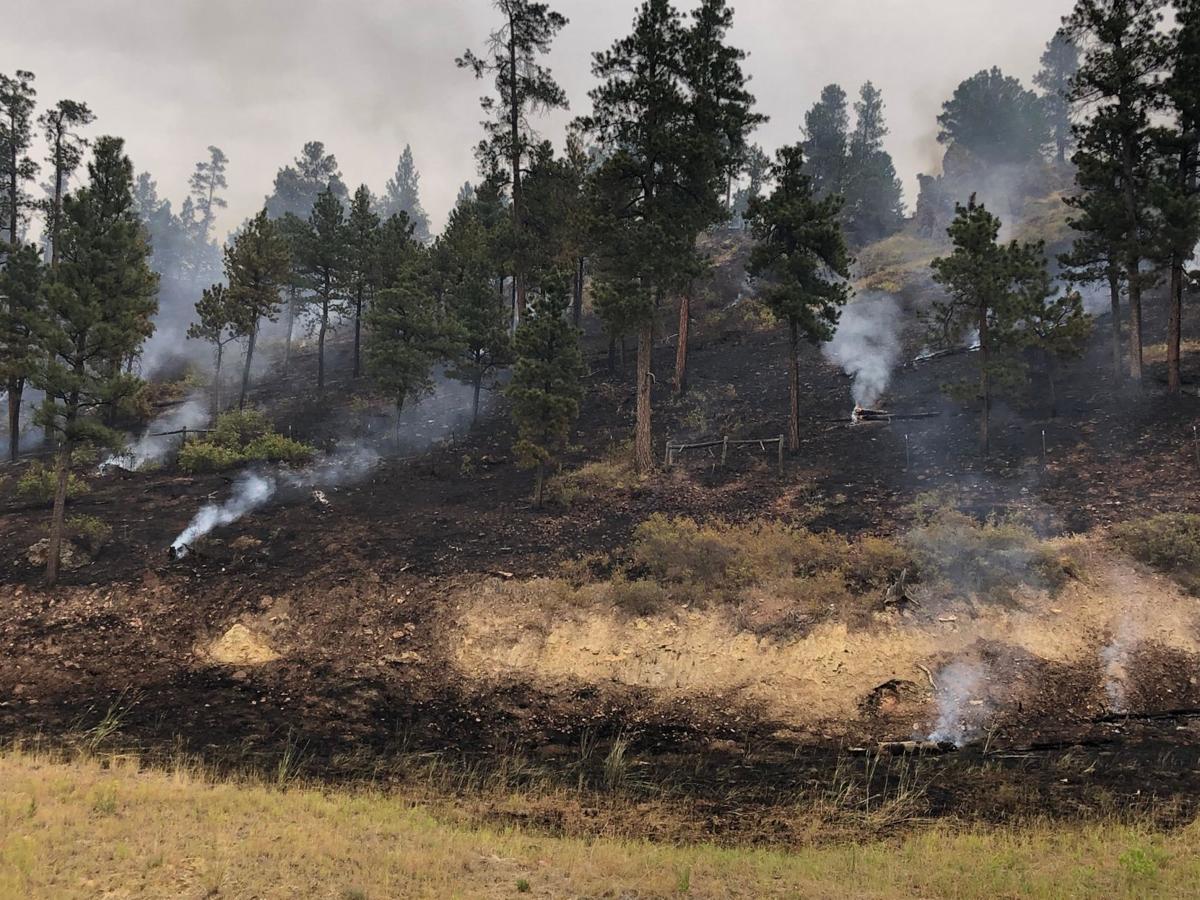 More containment progress was reported Sunday morning on the Richard Spring fire, but firefighters are now facing red flag conditions that will persist into Monday night and will increase the risk of spot fires before cooler, more humid conditions take hold later this week.
Those conditions for the duration of the red flag warning include temperatures in the upper 90s, relative humidity between 10 and 15% and the potential for gusty winds. With these red flag conditions there is the potential that gusty winds could cause flare-ups and also spot fires near fire lines in places where there are heavy fuels and hot spots. 
The primary area of concern is a portion of the fire that has spilled over Highway 212 southeast of Lame Deer and contains some heavy fuels. With the potential for west-to-east winds included in the red flag warning, firefighting personnel on Sunday planned on continuing to strengthen lines in that area and be prepared in case winds lead to spot fires, which could potentially cause the fire to spread to the east.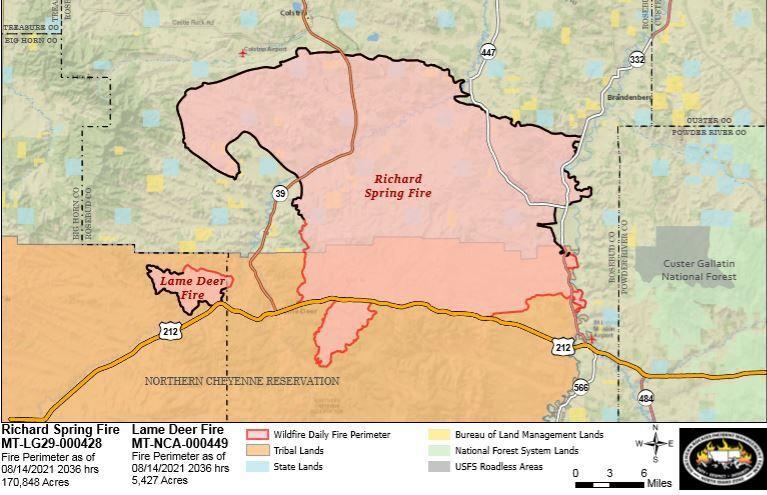 "On the eastern side, there's still some heat in there," said Peggy Miller, a public information officer on the fire, referring to the portion of the fire south of Highway 212. "The fire crews are in there actively engaged to secure that side."
Sunday, the general plan for crews on the Richard Spring fire is to continue to patrol containment lines, monitor flare ups from the fire interior that could produce spot fires, and keep working to secure and mop up along fire lines. 
"Firefighters continue to make excellent progress securing line around the southwestern corner of the fire near Lame Deer and the Highway 212 corridor," according to a morning fire update. "However, fire managers are still concerned about alignment of forecast westerly winds with the terrain in that area which could threaten recently constructed fire line and structures."
The National Weather Service in Billings issued a red flag warning Sunday that will expire Monday night at midnight for the following areas: Gallatin National Forest, Wheatland County, Sweet Grass County, Stillwater County, the Beartooth Ranger District of the Custer National forest, Golden Valley County, Musselshell County, Yellowstone County, the Crow Indian Reservation, the Bighorn Canyon Recreational Area, northern Rosebud County, northern Treasure County, the Northern Cheyenne Indian Reservation, the Ashland Ranger District, the Custer National Forest and Custer County.
In addition to the high heat, low relative humidity and west winds from 10 to 20 mph and gusting up to 25 mph capable of contributing to extreme fire behavior, weather conditions could produce scattered thunderstorms developing west of Billings by Monday afternoon and spreading east by Monday evening. Those thunderstorms could be wet or dry and have the potential for strong, erratic wind gusts.
Later this week, conditions on the fire could become favorable, with the possibility that the extreme, persistent heat in Montana this summer could finally dissipate. 
"We're expecting a significant weather change to come and our meteorologist was talking about cooler and more moist weather, like 30 degrees cooler," Miller said. "And the other thing he said this morning in our briefing was that looking at the long-term forecast, that this may be the last of the heat that we're going to see this season, this extreme heat. So that would be really good for Montana."
The weather service is forecasting a high of 96 Sunday near Lame Deer, followed by a high of 98 Monday and a high of near 93 Tuesday. Tuesday night temperatures could fall to 56. Wednesday the high temperature might only get up to 66.
The Richard Spring fire as of Sunday morning was estimated to be 170,838 acres (266 square miles) in size and 60% contained. That marks a 7% increase from Saturday's containment estimate. A total of 331 personnel have been assigned to the fire.
So far the fire has destroyed 12 secondary structures in addition to affecting local ranchers by displacing livestock and burning land used for grazing. The fires have also burned through fencing and killed livestock. Angel Becker, the Northern Cheyenne Tribe's Disaster and Emergency Services Coordinator said Sunday afternoon that she did not immediately have a number for livestock losses but that those number were being tallied.
This year Montana has had 1,352 human-caused wildland fires and 618 lighting-caused fires, according to the Northern Rockies Coordination Center. There have been 79 wildland fires in Montana in 2021 greater than 100 acres in size. In total, those large fires have burned an estimated 675,944 acres (1,056 square miles) and destroyed 119 structures. The estimated cost of fighting those fires, according NRCC data, has been more than $200 million. The Richard Spring fire is the largest wildfire of the year in Montana and has cost an estimated $4.5 million.
Both the Richard Spring fire and nearby Lame Deer fire have been determined to be coal seam fires. That information was announced in a Saturday fire update from the Northern Rockies Incident Management Team 3. Previously officials had confirmed the Richard Spring fire to be a coal seam fire, but had not announced a cause for the Lame Deer fire.
Firefighters are expecting increased smoke from the Richard Spring fire's interior as warming and drying over the fire area continues into Monday. Miller said Sunday afternoon that they had already received "quite a few calls" about smoke.
Although some of the smoke is coming from the Lame Deer and Richard Spring fires, there is also a significant amount of smoke spread out across Montana coming from fires in the Pacific Northwest. Miller said it hadn't become a problem yet, but there was the possibility that if the smoke layer were to become too thick it could hinder air operations on the fire.
Into mid-afternoon Sunday nearly every air monitoring station in the state of Montana was showing unhealthy air quality. The Montana Department of Environmental Quality recommends that active children and adults, and people with respiratory disease should avoid prolonged outdoor exertion. Everyone else, especially children should limit prolonged outdoor exertion.
The Lame Deer fire, which is burning west of the town of Lame Deer on the Northern Cheyenne Reservation, was estimated Sunday morning to be 5,427 acres (8.47 square miles) in size and 50% contained. Crews on Sunday planned to continue strengthening, securing fire lines, mopping up and monitoring for spot fires associated with winds. An area south of Lynch Coulee Road where heavy fuels are burning is producing visible smoke, but the incident management team reports a previously conducted burnout operation in that area has effectively stopped the fire's spread.
Evacuation orders are being issued on a three-stage system, with Level 1 meaning "Be Ready," Level 2 meaning "Be Set," and Level 3 meaning "Go Now."
Ashland, including Ashland Divide, Rabbit Town, North Tongue River Road and St. Labre Indian Academy Campus remain at the downgraded Level 1 "Be Ready" evacuation stage. 
For Lame Deer, Muddy Cluster and Rosebud Cut Across, the evacuation stage has been downgraded to Level 2 "Be Set" for all those who do not have medical conditions. Pre-evacuation notices remain in effect for Rosebud Creek from Greenleaf Creek to Cherry Creek and the Lame Deer Divide Road on the reservation south of Lame Deer, according to the Sunday morning update.
On Sunday Highway 212 remained closed to non-residents for its stretch between Broadus and Crow Agency. Highway 39 was open Sunday morning, but that status could change at any time, the incident management team noted. 
An evacuation center remains set up at the Northern Cheyenne Tribal School in Busby and the Colstrip Saddle Club is still able to accept horses from evacuated areas.