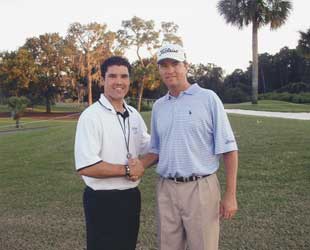 Kevin Davis got to shake the hand of his hero - Tiger Woods - and earn six college credits at the same time during a six-month internship with Walt Disney World in Florida.
Davis, a Montana State University-Billings junior, worked at golf courses run by Disney at its Orlando, Fla., resort.
During his stay -June through December 2003 - Davis sold merchandise in the pro shop, learned about golf-course management and helped with registration at the Funai Classic, a PGA-sanctioned tournament in October that drew some of the top golfers in the world.
When he wasn't working or learning more about the Disney operation, he played golf at Disney World's six golf courses and hit golf balls every day.
He also wrote papers about the Disney corporation as part of the internship.
Davis started playing golf when he was 14 and has been a member of high-school, junior college and MSU-Billings golf teams. His previous experience working in pro shops, as a caddie and at golfing tournaments helped him land the specialized internship without first completing an entry-level internship.
That internship, the Walt Disney World College Program, employs students from four to six months at the Disney resort, in areas such as food and beverage and water park operations.
Davis, a business major at MSU-B, is applying for a management internship with Disney this summer.
Find out more
A recruiter with Walt Disney World will visit Montana State University-Billings campus March 24 to discuss paid internships at the Florida resort with students.
The meeting will be at noon in the Lewis and Clark Room of the Student Union Building on campus.
All MSU-B and Rocky Mountain College students are welcome to attend. For information, call Kevin Davis at 671-0302
Get local news delivered to your inbox!
Subscribe to our Daily Headlines newsletter.