Montana State University Billings could stand alone in Montana as the only school in the system to avoid tuition increases next year, but that doesn't mean it will avoid a budget shortfall.
Proposals released by the Montana University System last week outline potential tuition and fee increases over the next two school years. If approved as is, MSUB would stand alone with no increase next year for resident undergraduate students, who make up the largest chunk of enrollment.
MSUB would also have the smallest tuition and fee increase the following year. The figures are preliminary, however, and will be discussed at the Board of Regents' meeting in Great Falls on May 25.
Part of that amount is due to smaller contributions from the Montana Legislature. MSUB started preparing for that early on, according to interim Chancellor Ron Larsen.
"We've been working for months on how we're going to address some kind of shortfall," he said Tuesday. "The initial actions of the Legislature were enough to get everyone's attention. We knew we had to be prepared for something."
Larsen said earlier this year that departments on campus are making contingency plans for cuts up to 7 percent.
Now MSUB will work to square its budget with the potential tuition plans presented by the university system. Between fewer state dollars and a projected drop in tuition revenue, the University System expects MSUB to have $617,000 less than it had this year.
Yet if the proposal holds true, MSUB will not benefit from the added revenue from a tuition increase next year.
Larsen said that the strategy appears to be a closer grouping of supposed peer institutions within the University System. That means that MSUB's tuition and fees will initially remain the same while two others catch up.
"The analysis that's being done at the commissioner's office at OCHE (Office of the Commissioner of Higher Education) is looking at tuition and fees and state allocation," Larsen said. "And they have put all of the campuses into categories. So our category is a four-year regional campus."
That puts MSUB in a group with Montana State University-Northern and the University of Montana-Western. Montana Tech, which has more specialized programs, is an exception, according to a University System spokesman.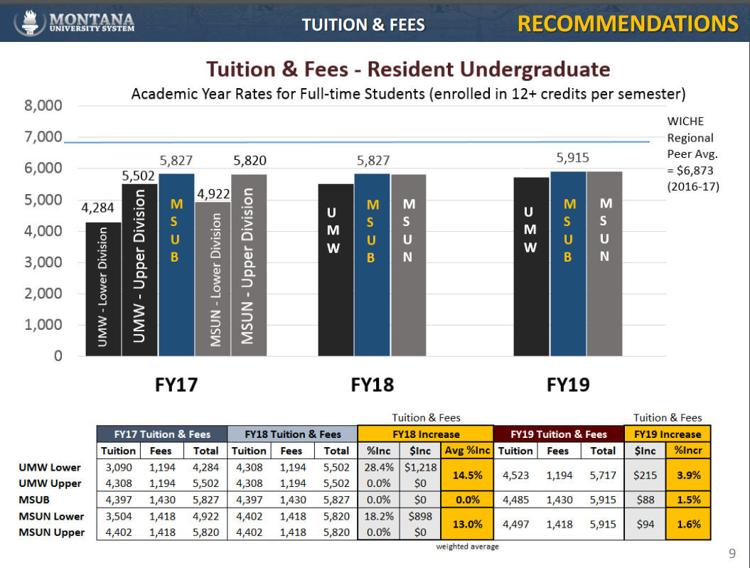 Within that trio of four-year regional universities, tuition and fees at Northern and Western would become more equalized over the next two years, according to the proposal.
MSUB, which has the most expensive tuition of the three, would remain the same next year and see a small hike in the following year, ending at $5,915 for resident undergrads.
A similar equalization effort was proposed between the two flagship universities, the University of Montana and Montana State University. Both schools would increase tuition and fees to the same level over the next two years.
MSUB is just coming out of a two-year budget that saw $4.4 million in cuts amid a long enrollment slide.
While the University System predicts another small enrollment drop next year at MSUB, Larsen said that the school's own projections indicate no drop. That would help the university brace for a potential shortfall.
Larsen didn't say exactly how MSUB might account for a potential $617,000 budget gap, but he provided written materials that said the university will be "looking for efficiencies" across departments. Reserve funds will play a part as well.
There will be little time to finalize budgets after the Regents meet at the end of the month. The new fiscal year begins in July.
"Based on the proposal we have a sense of what we're looking for," he said, "and the challenge is the fiscal year starts in about a month and a half, and it's pretty late for some more draconian changes."