Montana State University Billings will receive a "glaring red zero" for performance funding this year, missing out on $1.4 million and losing $550,000 compared to last year, as the school remains stuck in a downward enrollment spiral and feels the effect of a dip in student retention.
MSUB will be the only four-year school in the Montana University System to lose any performance funding.
University officials budgeted for a dip in funding, but not the absence of it, leaving a roughly $346,000 hole to fill.
"We are making temporary budget reductions including use of reserves, keeping positions open, salary saving through employee retirement, and continued efficiencies and cost savings in a variety of areas," MSUB director of University Relations and Communications Shannon Wilcox said in an email.
Regent Martha Sheehy, a Billings-based lawyer, said she was "growing less enamored with performance funding."
"I just see what's happening to MSU Billings in this model, and it feels very unfair," she said at the May Board of Regents meeting. "It's keeping down some of the universities that are trying very, very hard to come up."
(Editor's note: Sheehy has represented the Billings Gazette in legal matters.)
She called the model a "ball and chain" tied around the ankle of new chancellor Dan Edelman.
Clay Christian, the Commissioner of Higher Education, said the formula highlights problems that need fixing.
You have free articles remaining.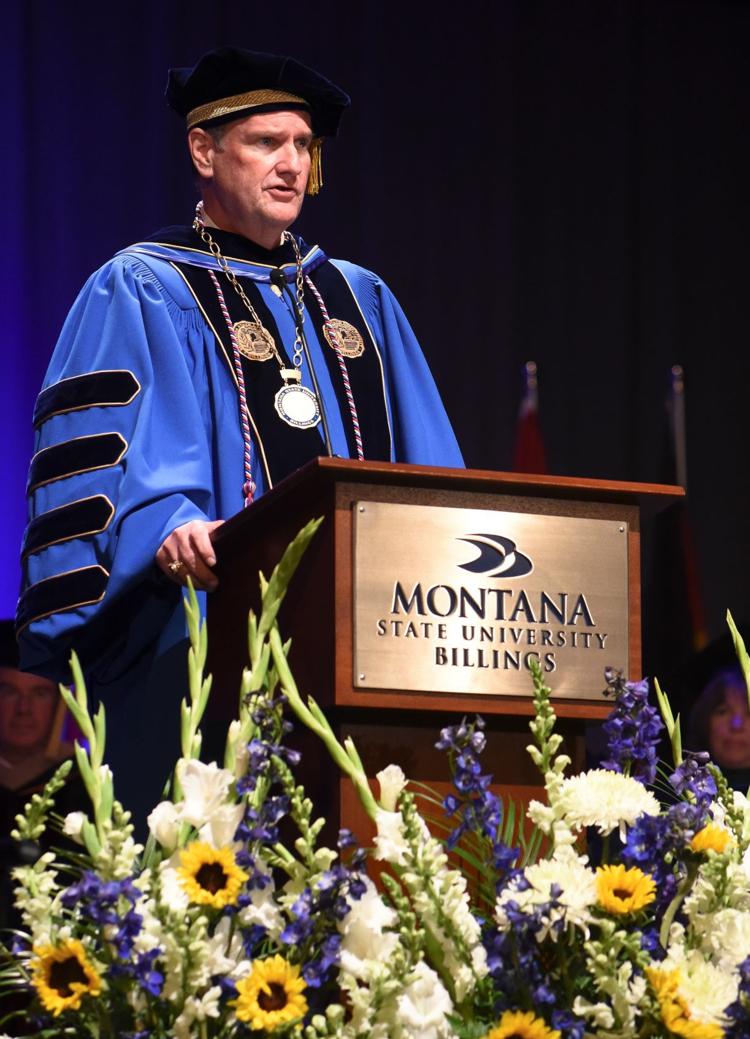 "It's a glaring red zero there, one that Chancellor Edelman is sort of anchored with, and that is a challenging piece of it, but I also think part of the reason we have Chancellor Edelman there is we need new leadership that can solve problems," he said. 
Edelman highlighted retention in a Friday email notifying staff about the performance funding. 
"I have seen significant strides for students in my time here," he wrote. "We are all working together to improve student recruitment and retention. With everyone's assistance, I am optimistic that we will make progress with future performance-based funding metrics."
The metric-based money is only a small slice of the overall funding that MSUB receives from the state. Different schools have different variables that determine performance compared to three-year averages for the variables. MSUB's formula is based on undergraduate degrees awarded, weighted at 40%; year-to-year student retention, weighted at 50%; and graduate degrees, weighted at 10%. 
As the university remains mired in an enrollment crisis, those drops fuel dips in degrees as small classes age through. That means improvements in retention and graduate degrees need to offset that drop, but retention dropped well below MSUB's three-year average. 
MSUB isn't the only university struggling with enrollment. The University of Montana has also seen precipitous drops, but it still received a full share of its performance funding.
As a flagship university, UM's formula is different from MSUB's. Undergraduate degrees account for only 30% of the formula, graduate degrees account for 20%, and research expenditures — a category that doesn't exist for smaller schools — account for 20%.
UM saw a 14% decrease in undergraduate degrees awarded, but a modest bump up in retention kept scores high enough that larger increases in graduate degrees and research expenditures bailed out the low undergraduate degree score. 
City College received its full allocation of about $390,000 despite an 11% drop in degrees and certificates awarded and a 7% drop in credit accumulation. Continued, meteoric increases in dual enrollment — high school courses where students can earn college credit — offset those dips. 
For MSUB, the news comes amid sweeping cuts aimed at trimming little-used academic programs. The university has begun to phase out the 37 majors, minors and certificates, putting the programs on notice that they eventually will not be available to students. About 64 students, ranging from freshmen to those pursuing second bachelor's degrees, are enrolled in those programs, and the university officials have said they plan to allow those students already enrolled to complete those programs before phasing them out.

University officials plan to start adding new programs or expanding existing ones after departments identify areas of student demand and workforce need.