Multiple people injured after the Amtrak Empire Builder train derailed Saturday along Montana's Hi-Line remained hospitalized Sunday morning.
Three people are confirmed to be dead, according to an update Sunday morning from Liberty County Disaster and Emergency Services Coordinator Sarah Robbin.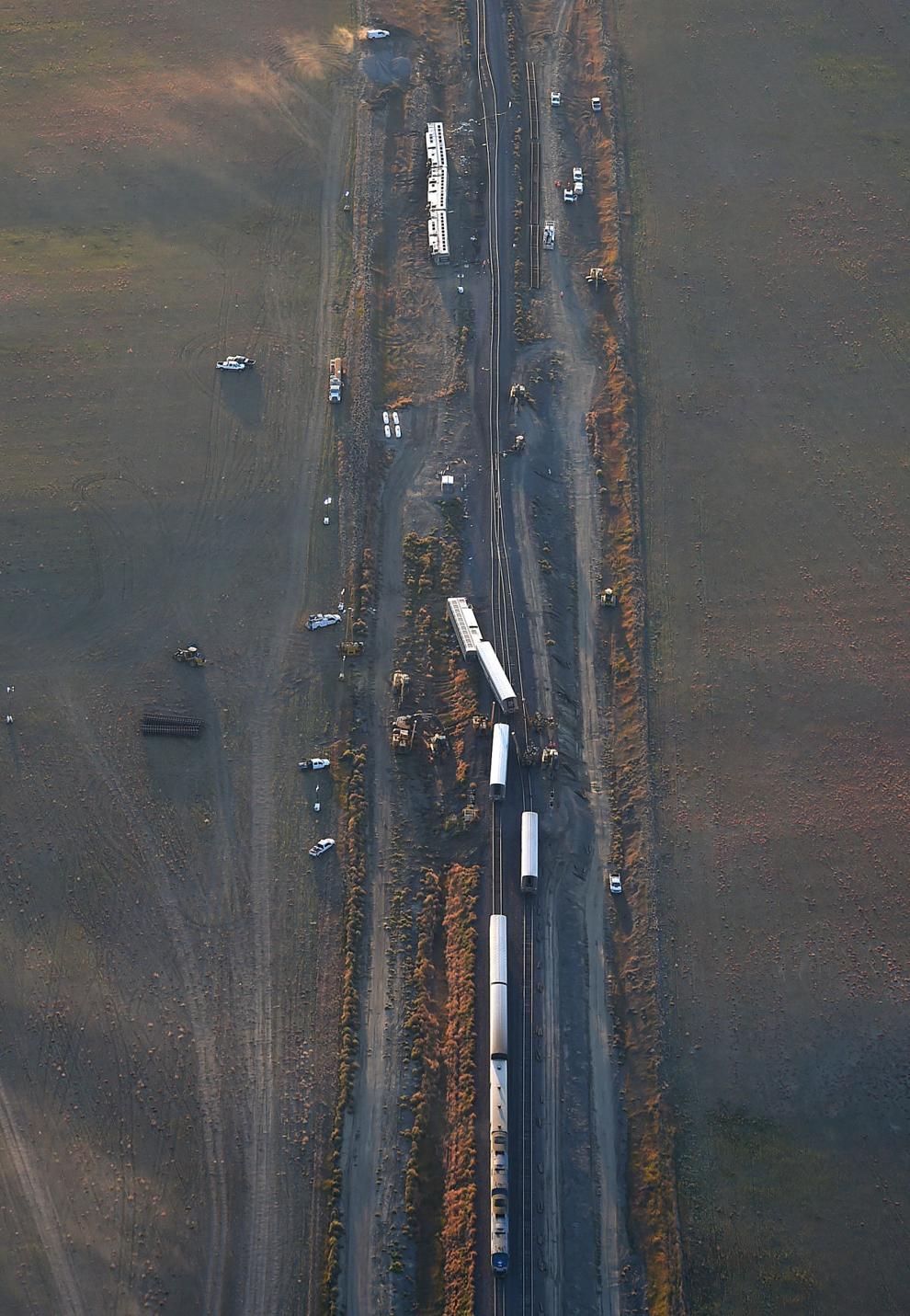 Injured people were transported to multiple Montana hospitals, including Logan Health in Kalispell and Benefis Health System hospital in Great Falls. In some cases people were flown to hospitals for treatment.
In the most recent report from the Montana Department of Public Health and Human Services released on Sept. 20, Benefis and Logan Health were both reported to have more than 90% of their beds occupied. Ultimately, Robbin said that there were calls from hospitals throughout the region offering beds.
Most people treated were released by Sunday afternoon. Robbin said five people were still receiving care at Benefis in Great Falls. "All of them are stabilized," she said.
The National Transportation Safety Board announced Saturday evening that it would be sending a "go-team" based out of Great Falls to investigate the derailment. NTSB estimates its investigations typically take between a year and 24 months to complete. 
Members of the 14-person team continued to arrive in Great Falls Sunday afternoon. "Clearly this is a major event and we are putting everything we can behind it," said Eric Weiss, an NTSB spokesperson.
Weiss estimated the investigative team would be in the area for between four and seven days, and he characterized the investigation as encompassing a range of things including operations, performance, survival factors, tracks and signals. Investigators will try to determine both what happened and why it happened. 
"Oftentimes the 'what happened,' people figure it out relatively quickly," Weiss said. "But it's the 'why' and the analysis of that, and coming up with any recommendations to prevent this in the future, that's where we really spend our time and effort."
Weiss said the goal is to release the scene back to the involved parties as soon as possible, but that investigators will first need to collect and document what they call perishable evidence, meaning evidence that could disappear with the passage of time.
"We want to gather all of that information before we turn it over, back over to the rail, because once it's gone, we can never recreate it."
During a press conference in Chester Sunday afternoon, Governor Greg Gianforte said that BNSF had pre-staged the track for when they are given the go-ahead to re-open the line.
"So when we get the all-clear from NTSB, BNSF has assured me that they can get the line up and running in short order, but we need to make sure we know what happened first," Gianforte said.
Amtrak has reported that the train was comprised of two locomotives and 10 cars, and that eight of those cars derailed. The derailment occurred on a portion of track owned by Burlington Northern Santa Fe.
A BNSF representative said Sunday that the section of track had last been inspected on Sept. 23 as part of the company's regular inspection program.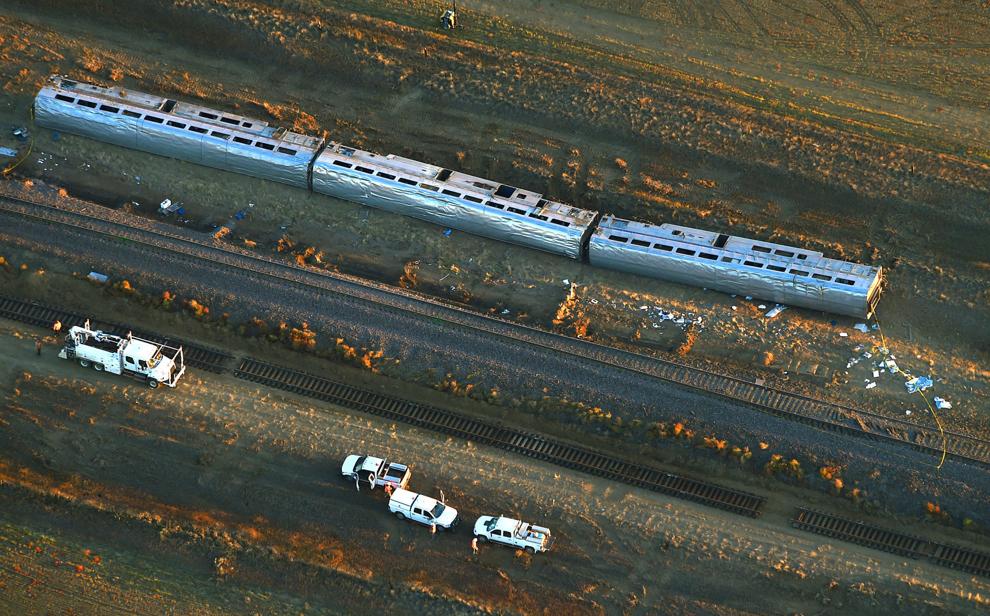 Some of the cars came to a rest on their sides. Responders tried cutting the cars open, including using Jaws of Life tools. "Those cars would not open," Robbin said. "So they did have to manually carry out many of the passengers that could not walk."
She estimated that efforts to get people out of the train cars, after which they were triaged, went on until roughly 7:30 p.m Saturday. 
Robbin spent time during a press conference Sunday morning thanking responding agencies in surrounding counties, including in Toole, Hill, Pondera, Blaine, Glacier, Chouteau, Cascade and Gallatin. She also thanked Great Falls Fire and Rescue, U.S. Border Patrol, Montana Highway Patrol and regional medical centers and critical care hospitals.
Some of those helping included citizens, Robbin said, describing how in one case a Gallatin County man who had taken a wrong turn at Box Elder happened upon the emergency situation and stopped to help.
"It was a fantastic response," she said. "We are so grateful to live where we do where neighbors help neighbors."
During his remarks Sunday afternoon Gianforte offered condolences on behalf of himself and Susan Gianforte and the state of Montana to people and families affected by the derailment. He went on to both thank and praise the first responders and other volunteers who went out to the derailment, some of whom joined him Sunday afternoon in Chester as he spoke.
"The entire Hi-Line stepped up to respond. Neighbors were helping neighbors. Ambulances and rescue teams from Chinook, Browning, down to Great Falls, lined up at the incident site and outside the ER to assist. Community members brought food or supplies," Gianforte said, adding that other community members voluntarily drove strangers to airports in Great Falls and Kalispell.
"All of these people are volunteers and most did not sleep last night helping the people impacted by this tragedy," Gianforte said.
"I was talking to the group earlier and they mentioned that the hardest thing after being at the crash site was going home and being with their families, with the impact of what happened," Gianforte said. "Over the next days, I just ask you to check in on those folks that were at the crash site and help people to make sure they are okay, and they can get through this. It's a once in a lifetime event. They may need help."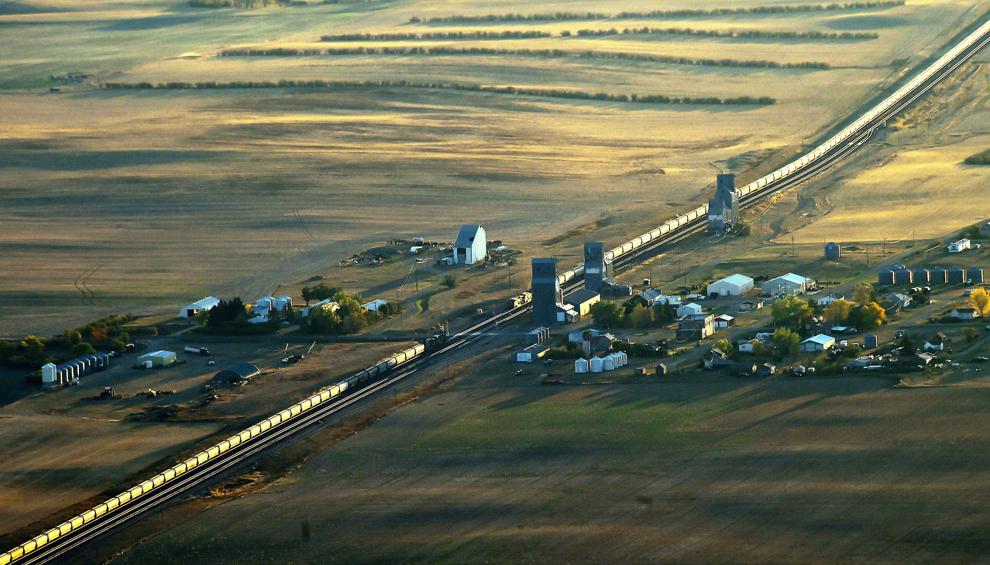 The Saturday Empire Builder trains 7/27 and 8/28 between Minot, North Dakota and Shelby, Montana were canceled. The Sunday westbound Empire Builder Train 7 was scheduled to terminate at Minneapolis, and eastbound Empire Builder train 8 would be originating at Minneapolis. Amtrak customers can contact the company at 800-872-7245 for additional information about status of services.