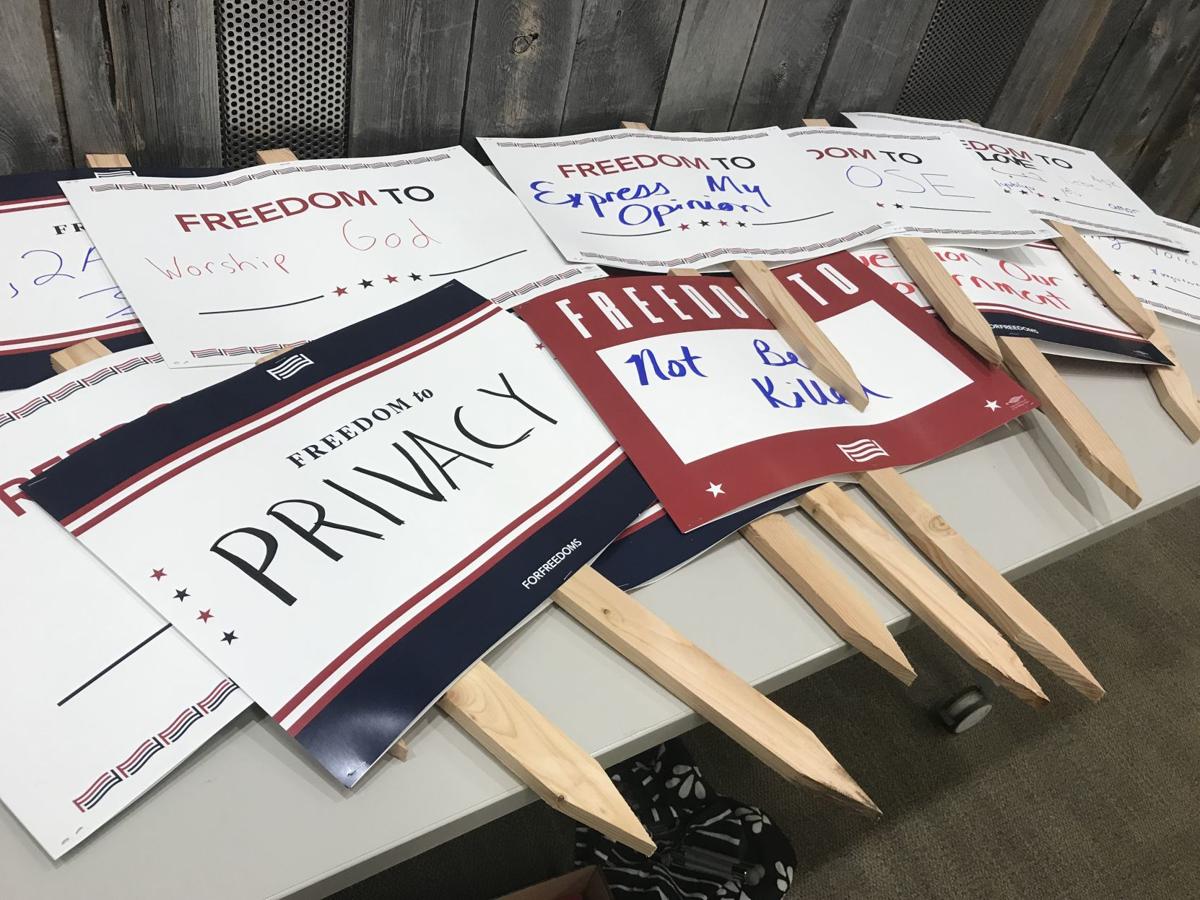 Participants in the Native American Healing Symposium are taking a different tack in September, joining in the 50-state "For Freedoms" initiative that seeks to update President Franklin Roosevelt's Four Freedoms: freedom of expression, freedom to worship as one chooses, freedom from want and freedom from fear.
Seated at round tables Thursday at the Billings Public Library, participants first heard talks by John Robinson, chief judge of the Northern Cheyenne tribe, and Carolyn Pease-Lopez, a former state legislator. After that, those in attendance answered a number of prompts: Are you free? Do you have as much freedom as you'd like? Do you know others who have less freedom than you do? Are freedoms being taken away in this country? Are men freer than women? Is freedom at risk? If so, what are you concerned about?
"When For Freedoms reached out to Billings, I told them, 'We do this all the time anyway. This will be great,'" said Billings artist and curator Sherri Cornett.
On Saturday, a similar event was held at Montana State University Billings. Cornett said she plans to upload ideas from both the Thursday and Saturday dialogues on the For Freedoms website.
Thursday's speakers worked to dispel a number of myths that some white people carry about Natives, including:
• Reservation dwellers don't want to work. "In a community with no infrastructure, jobs don't just appear," Pease-Lopez said.
• Free college education, free healthcare – "those services are limited," she said – and "that mythical monthly check. Those stories have a long life."
• Myths that aren't myths to some white folks – they're beliefs, Robinson said. "They are God-fearing people who live in tidy homes and work hard, but they're burdened with white supremacist beliefs," he said. "It works like this: White supremacists believe Indian people are spiritually, morally and materialistically bankrupt. They believe we don't have the drive to go out and make money … Myths are serious because they are ingrained in people. If you're so obsessed with hatred, you are the victim. Hatred is a heavy load to carry."
Pease-Lopez said many Native Americans "suffer from intergenerational trauma," brought on by such practices as being forced to attend boarding schools. "It has affected our DNA, and it's passed on through the generations," she said. "The hurt is there. We are always on alert, reading people's body language, waiting for the shoe to fall. That affects mental health and physical health."
While Indian Country may not be known for the kind of infrastructure that builds economic strength, "we do have a huge number of entrepreneurs," Robinson said. "People sell good quality food out of the back of their truck, and blankets, jewelry and other things people want to buy … People want to work for themselves, and they have good ideas. It's not to get rich – just enough to be comfortable."
Pease-Lopez identified Crow cottage industries, especially in fashion, "that are booming," she said. "This explosion of beauty on the scene is remarkable. And natural and Native remedies have been a hit. Everyone wants in on it – not just Natives."
With about 560 tribes in the U.S., "that's strong voting power," Robinson said, putting in a word for the importance of tribal sovereignty. "Our nation and our people are intact, and we need to exercise as a government. We can be good partners with counties, the state – and with other tribes."