In North Park in Billings, a 35-foot spruce tree has been draped in 4,200 glistening lights and will remain illuminated throughout December.
And, it has taken a village to make it happen.
Helpers with the North Park Task Force, Billings Parks and Recreation and Yellowstone Electric Co. all pitched in.
The point isn't just to spread holiday cheer in the neighborhood. The tree, and a lighting ceremony Saturday, are intended to get people out of their homes and mingling with each other.
"We're trying to make people remember stuff they've forgotten how to do," said Brian Epley with the North Park Task Force.
Epley plays in the popular Billings rock band Not Your Boyfriend's Band, and his enthusiasm for the neighborhood is infectious.
He wants residents to get outside and "know your neighbors, to increase participation in where you live and take pride in it, and ultimately work to improve it."
You have free articles remaining.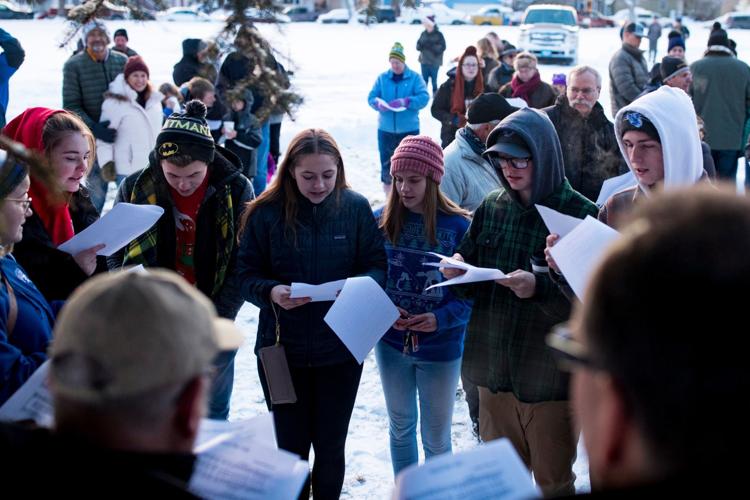 North Park is in one of the city's oldest neighborhoods, and over the past few years has experienced some urban problems as industry has sprawled. But, with the help of the East Billings Urban Renewal District, a tax increment finance entity, the neighborhood has been on the rise for several years.
"We really do bang our heads together to figure out how we can include more people and be accessible or at least let them know we're here," Epley said of North Side neighbors.
"How can we get more people to care about where they live?" he added. "If you really get out there and get after it you can make a difference. I know I can't change the world, but I can change my world."
Yellowstone Electric is paying for the power needed to light the Christmas tree 24 hours a day through all of December, about $7,000.
"We want to improve our whole community and give back," said Bruce Hill, the company's vice president. "Why not do something good there? A lot of people are walking that area. It's a great place to be. We want to make it more of an asset to the community."