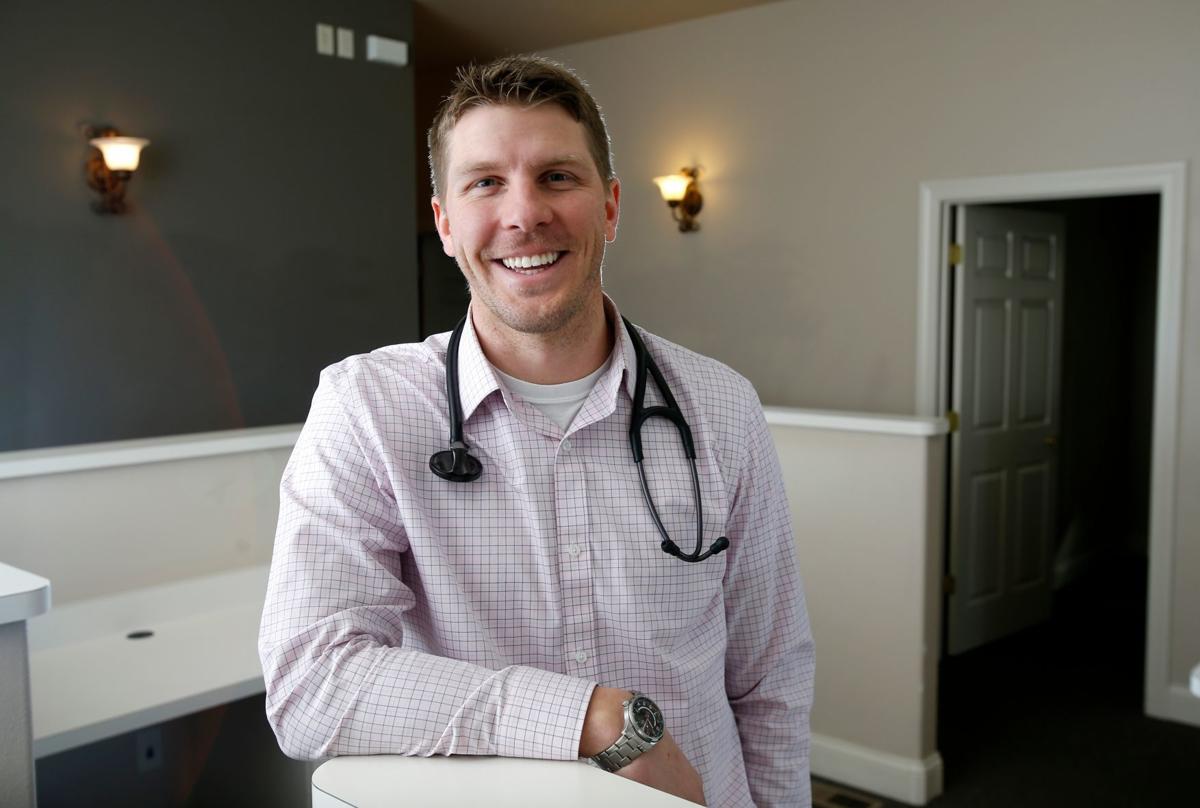 On April 1, Cole Whitmoyer will open a different kind of medical clinic in Billings.
Whitmoyer, a nurse practitioner is starting Flex Family Health Direct Primary Care. The membership-based clinic, where patients pay a monthly fee, gives them access to unlimited visits, phone access and telemedicine and reduced prices on labs and imaging.
What makes it unique is Whitmoyer's clinic will accept no insurance of any kind.
"In our current health care system with insurance, providers are forced to do what insurance wants you to do, a lot of paperwork, which cuts down the time you can look a person in the eye," he said, standing in the space that will soon house his clinic. "With my clinic, I don't have to do that."
Whitmoyer, whose clinic will be at 3307 Grand Ave., Suite 201, will charge $59 a month for adults ages 18-64 and $79 for people 65 and older. Parents who are signed up can add a dependent child 2 or older for $25.
That's less than most people pay for their monthly cell-phone bills or gym membership, he pointed out. Patients get an unlimited number of visits that can last from 20 to 60 minutes. They also have cell phone and telemedicine access to Whitmoyer, reduced-priced and mail-order prescriptions and reduced or no-cost lab tests.
Whitmoyer, who has a doctorate in nursing, will focus on primary care, treating everything from chronic conditions like diabetes, high blood pressure and asthma to suturing cuts and diagnosing influenza and other illnesses.
He'll do yearly physicals, including the bloodwork, and won't charge for the lab fees.
"We're about saving people money but at the same time we're about taking care of them and making sure we do the right thing," Whitmoyer said.
He's the first direct primary care clinic in Billings. Others have opened in Missoula, Polson and Kalispell and another one is opening up in April in Bozeman.
Whitmoyer has been in touch with other, similar clinics, as he has planned his own. He is the only nurse practitioner in the state to open a clinic.
The ability for such clinics to operate came through the State auditor's office in late 2017. Twice, in 2015 and 2017, the Montana Legislature approved legislation to allow direct primary care.
About half the states in the country have laws allowing such practices to operate, according to DPC Frontier, an organization that advocates for the direct primary care model. 
Both times, Gov. Steve Bullock vetoed the bill, saying in 2017 that such primary care plans "offer little or no added value to most consumers" and "charge fees for treatments already covered by a consumer's health insurance, such as preventive care that insurance covers at no out-of-pocket cost to the consumer."
The 2015 bill was introduced by then state Sen. Matt Rosendale. In late 2017, Rosendale, now state auditor, issued an advisory memorandum that opened the way for such clinics. The memo outlined criteria for the clinics, that the provider would charge patients a periodic fee, would not bill any third-parties for services covered by the agreement and that fees charged by the provider would have to be less than the monthly fee.
Since these clinics do not involve insurance, they would not be regulated by his office, Rosendale said. At the same time, Rosendale recommended people have insurance coverage for major or unexpected health care expenses.
When he released the memo, Rosendale said that direct primary care is another option for consumers to access routine, preventative or preliminary health care.
Earlier this week, Kyle Schmauch, media specialist in Rosendale's office, said no bill authorizing direct primary care had been submitted this session in light of Bullock's previous actions.
"It would be good to get it in statute, but he's made it clear with his veto it won't happen while he's in office," Schmauch said.
Whitmoyer agrees with Rosendale's advice that patients have health insurance to at least cover catastrophic events.
"I can't take care of a torn ACL, appendicitis, stroke or a heart attack, things you have to go to the ER for," he said.
Whitmoyer, who has been a nurse practitioner for three years and a registered for six years before that, feels comfortable treating the many different cases he'll see in a day. He spent six years in emergency departments in Kalispell and Bozeman and more recently worked in Laurel at an employer-based health clinic.
He figures once his clinic is up and running, he can care for 500 to 600 patients and deliver the care they need.
"That gives me the time to answer phone calls any time of day and schedule same-day or next-day appointments without a wait time," he said.
Whitmoyer is signing up clients in advance of the April 1 opening. Information about it can be found online at www.flexfamilyhealth.com or by calling 459-4486.
Get local news delivered to your inbox!
Subscribe to our Daily Headlines newsletter.