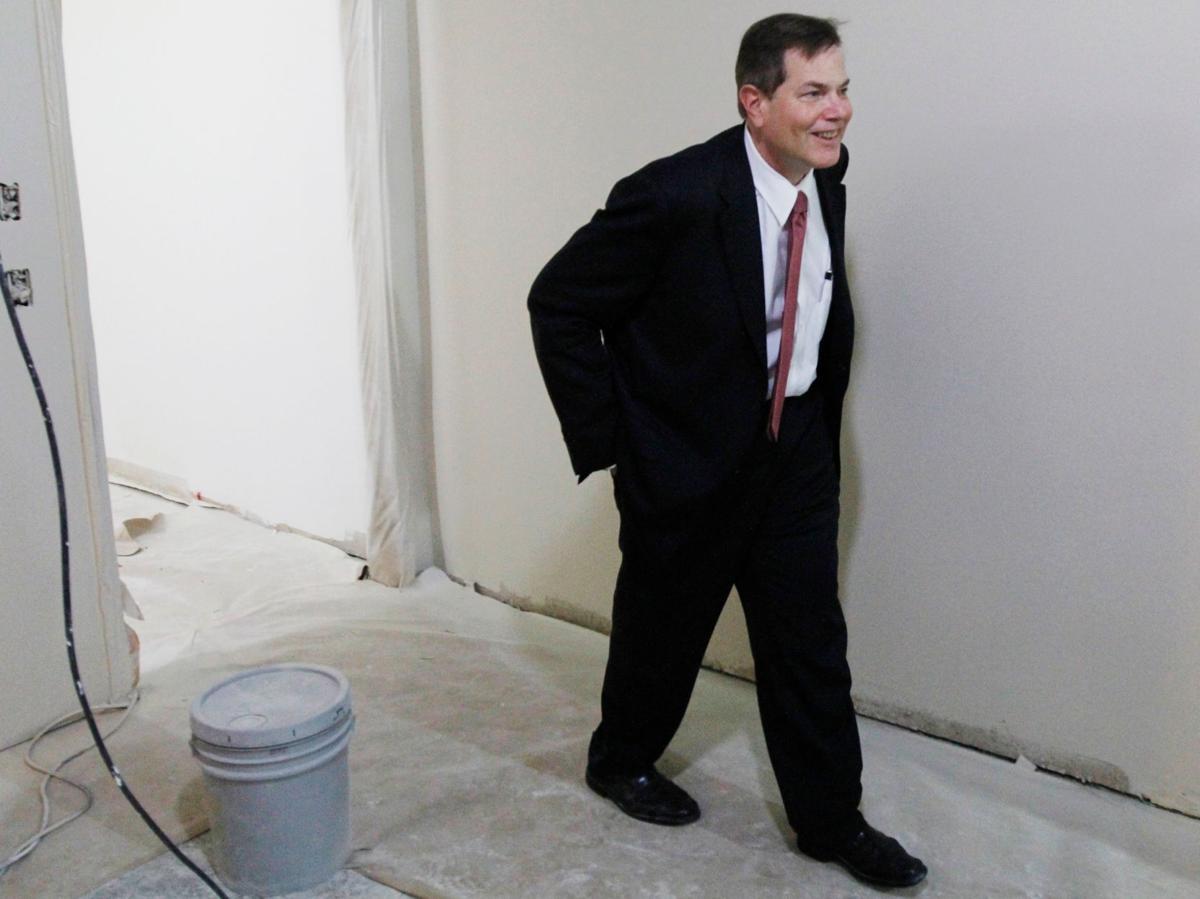 There was a time when a person suffering a psychiatric crisis would be restrained by strapping them to a table.
"Historically, so much of psychiatry was based on coercion," Dr. Scott Zeller, longtime psychiatrist and vice president of acute psychiatry for CEP America, said Friday.
Zeller, who helped create a gentler model of emergency psychiatric care, was in Billings to meet with staff at Billings Clinic and tour its new outpatient Psychiatric Stabilization Unit. The unit, still under construction, is based on the Alameda concept developed by Zeller.
Located in the remodeled northwest corner of the Billings Clinic Psychiatric Center, the unit will host an open house on Feb. 24 and open in March. It will include separate spaces for up to 12 adults and five youths.
Once it is open, patients who come to the hospital's emergency department with psychiatric issues will get a medical examination. If the physician believes further evaluation is needed, the patient will be taken to the stabilization unit.
In the triage area, staff will initially decide if the person needs inpatient care or observation. Patients can remain in the unit for up to 24 hours while a decision is made to begin medication, admit the patient or discharge the person and connect them to community resources.
Traditionally, Zeller said, patients in the emergency department might be isolated in small treatment rooms for hours, sometimes in restraints, before being transferred to a psychiatric unit.
"Here everybody's interacting together, and that's a therapeutic effect, just being able to talk to your neighbor, talk to the staff, as opposed to being in your own room like you're a prisoner," he said.
A unique aspect of the design is a large center room called the milieu, furnished with recliners and a couple of picnic tables, where patients and staff can interact, play cards or patients can simply rest.
"Think of it as an ICU," Zeller said. "Everybody gets intensive care for up to 24 hours before making a decision if they need to go home or be hospitalized."
On the tour, Zeller stepped into one of two small enclosures just off the milieu, called calming rooms. When they are completed, each room will contain a recliner where an agitated patient might be escorted to sit and de-escalate.
"When you find all your needs are met and there's nothing to fear, everybody's there to help, not hurt you, you feel calmer, you're less likely to act out, to respond to bad stimuli," he said.
Zeller, who was chief of psychiatric emergency services at the Alameda Health System for nearly 28 years, said this kind of concept of care evolved over time. He would try different strategies to change the traditional model, find success in some and continue refining other ideas to help patients in emergency mental crisis.
Nationally, about 50 percent of patients in need of psychiatric help who go to traditional emergency departments end up in physical restraints, Zeller said. In a typical emergency psychiatric setting, that drops to 10 to 15 percent, he said.
Part of what Zeller and his colleagues found was that staff intermingling with patients in a large dedicated space with comfortable chairs allowed patients to calm down and staff the time to observe their behavior. People were "treated as individuals rather than inmates."
The concept's success led Zeller to begin sharing it with other hospitals that struggled with handling patients in crisis. Then he did a study that involved what is now called the Alameda Concept and, "I knew we had something good going on with the results we got," Zeller said.
The study was published in the Emergency Medicine Journal, and the article was one of the most downloaded and cited pieces, Zeller said. Now he travels the country consulting with hospitals who want to implement the concept.
The idea for the Psychiatric Stabilization Unit at Billings Clinic has been in the works for two years, said Lyle Seavy, director of psychiatry at Billings Clinic. Dr. Eric Arzubi, chair of the Billings Clinic Psychiatric Department, had read Zeller's study and was intrigued, Seavy said.
"We were thinking about remodeling this space, basically re-creating the ED over here and we kept thinking there's got to be something different," he said.
Seavy and other staff visited the Alameda Health System, then visited with Zeller, and agreed the idea could work at Billings Clinic. They came back to Billings and started developing drawings.
Then Seavy and a skeptical Mitch Goplen, vice president of facility services for Billings Clinic, visited a new center at a Portland hospital. When the pair walked in to the large milieu that held 35 patients, the two men were impressed.
"It was quiet and nobody was out of control and the staff was sitting down with the patients," Seavy said. "There as a security guard assigned to that unit, but he was sitting in a recliner next to a patient playing cards."
By the time they left, Goplen was convinced.
"Mitch kind of looked at me and said, 'I think you guys are right, this is going to work,' " Seavy said.
The Billings Clinic Foundation raised $1 million that year designated for urgent mental health needs in Billings and the region. Then, earlier this week, Billings Clinic was awarded a $784,271 grant from the Leona M. and Harry B. Helmsley. In addition to the grant, $750,000 of the foundation money will go to cover the cost of the project and sustain the new center.
Zeller said it's important to remember that people in psychiatric crises "are really suffering."
"If they're having a psychiatric emergency, that's the mental equivalent of severe pain," he said. "We want to relieve that as quickly as possible. Get them in the appropriate setting with appropriate personnel and everybody is going to win."