Irmtraut Schessler's customary walk to work at Newman Elementary School on Wednesday went in an unexpected direction when the kitchen and cafeteria employee of 46 years turned the corner to the school's blacktop and playground area only to be met with cheers from the student body and staff.
The fanfare was the beginning of a celebration to honor and thank her for her decades working in the school. 
The 83-year-old's face was set into an expression of shock as she hugged a couple of masked students before being encouraged to take a seat on chairs set up alongside a table draped in the German flag in a tribute to the country where she was raised. Friends, family and old school employees were also in attendance.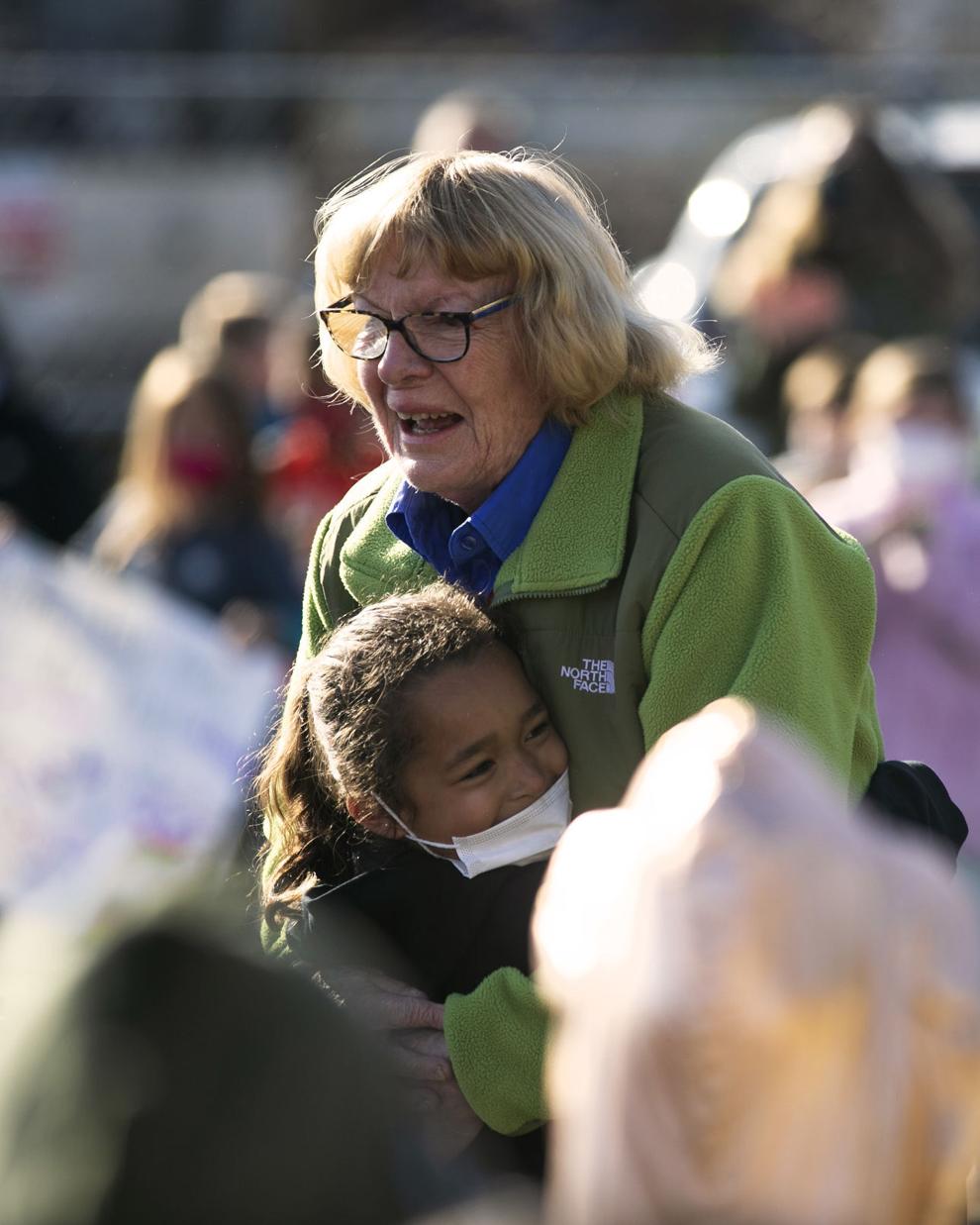 It wasn't long before Schessler's face broke into a smile and she let out a laugh shortly before securing a blue mask behind her ears. Later, she dabbed away tears. 
Billings-based Sodexo general manager Sid Taylor thanked Schessler for her work, students presented her with banners decorated by their classmates, and Principal Joe Walsh announced that a plaque had been engraved as part of a plan to name the school kitchen "Irmtraut's Kitchen" in her honor. 
The plaque was inscribed in both German and English. Kindergarten teacher Kim Gelfarth, who is also originally from Germany, also read a message in German for her coworker and translated to those in attendance.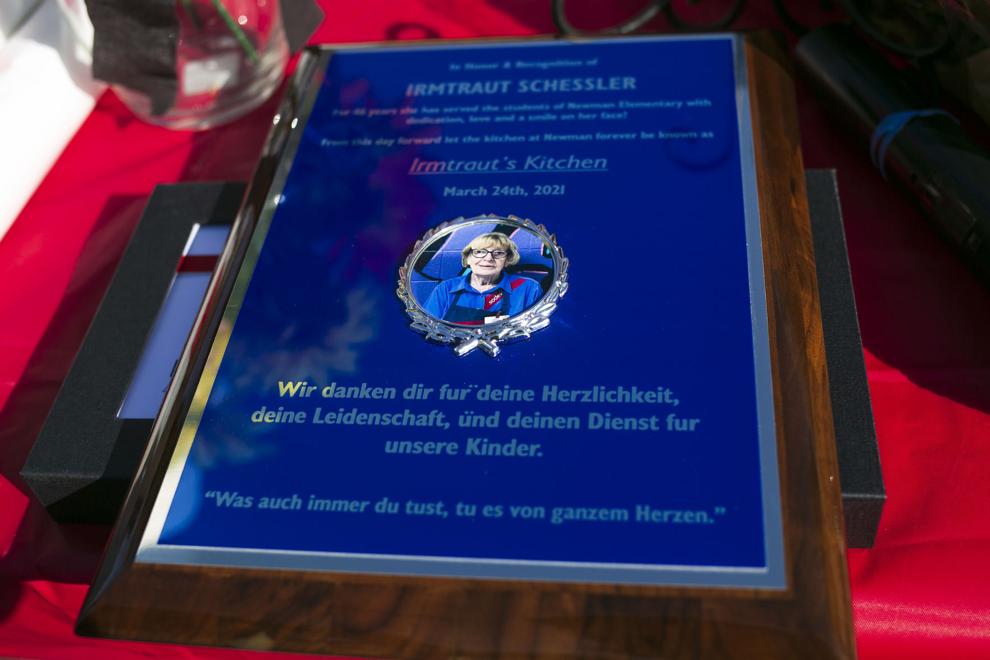 "I never was celebrated in my life," Schessler said afterward. "This is too much for me. It's very nice, I appreciate it, but I never expected this. I never expected this."
"It's very nice that they did it. And it's a beautiful day, too," she added.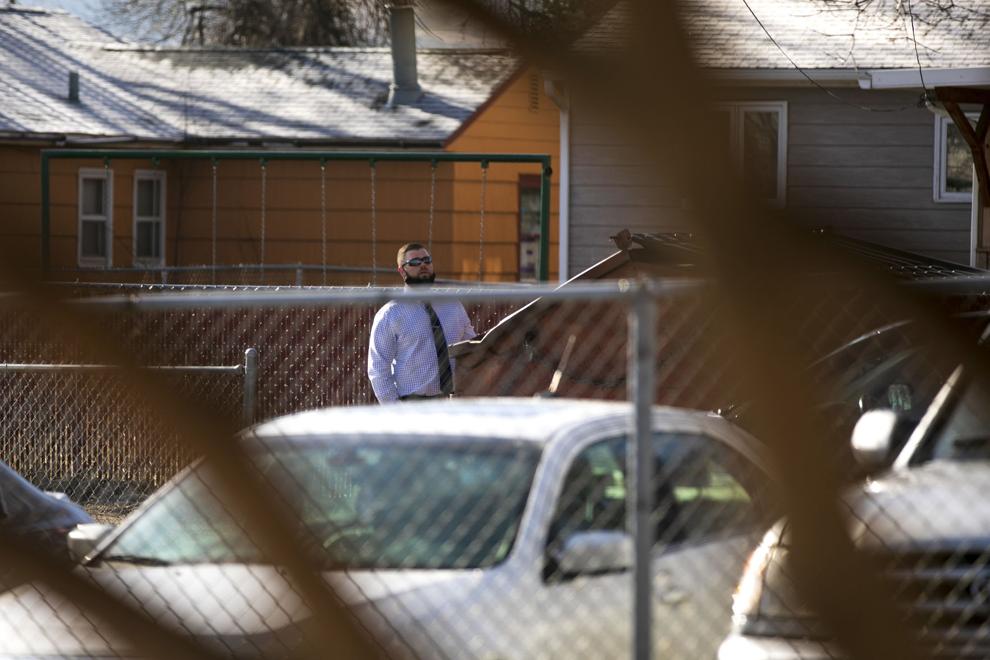 On lookout duties Wednesday before the celebration and looking something like a K-12 secret service agent with sunglasses and a walkie-talkie, fourth and fifth grade teacher Will Neuman staked out a spot behind a dumpster, peering out to keep an eye on the street so that he could tip off Walsh to Schessler's approach.    
By the principal's account, keeping the celebration a surprise helped ensure that Schessler didn't dodge the spotlight altogether. Walsh said if she had caught wind of the event she wouldn't have shown up.
"She is extremely humble," he said. "She loves what she does but she doesn't want anybody to make a fuss of it. She minimizes her longevity and how great her service has been. She thinks 'Oh I'm just a lunch lady,' she says, you know, but that's not true. She's been an invaluable part of the team for so long and has had a huge impact on a lot of kids and families."
Schessler is known to the students as Ms. Irma. Walsh described how when she and a coworker are serving two different lunch options Schessler is known to jokingly try to sell hers to the students as the better option. Wednesday's menu included fish and chips, which can be a tough sell to students. She's also taught students bits of German here and there.
Schessler said that things in the kitchen and cafeteria have changed quite a bit over her time at the school. For one, pizza is no longer served in squares. The pandemic has also put restrictions on interactions and how food is served to students. Consistently though, students over the years have loved pizza, burgers and chicken. And though she still walks to work everyday, Schessler now gets a ride home at the end of her shift.
She also described how she has long enjoyed speaking with the children at Newman.
A couple of fifth grade students also spoke to media about Schessler, reading from a prepared statement written on notebook paper before fielding questions.
Kameela Geiss, age 10 (turning 11 in six days, she noted) was joined by fellow fifth grader Mackenzie Eden, age 11. 
"Ms. Irma is always thinking on the bright side and always checks on us. Even though we can't see it, Ms. Irma has a smile on her face every single day," Geiss said, concluding the statement.
The students further described Ms Irma as "super kind" and always encouraging them to have a great day. Mackenzie said their gratitude for her "can't even be explained with words."
After the fanfare had ended and normal school activities resumed, Schessler's 57-year-old son Gordon helped her collect the bouquets of flowers and the stack of banners gifted to her that morning. 
His mother, he said, had been living in Germany during the Cold War and left the country in the 1960s to join her sister who was living in Miles City. Schessler's sister had married a man from the armed forces, Gordon Schessler said. She worked briefly as a beautician before moving to Billings and taking the job at Newman. He said that she's told him if she could do it all over again she would have been a teacher.
Gordon Schessler said that his mother has said that this year is her last year working at Newman. He said his mother doesn't want to retire—she'll miss the teachers and students—but that her body is telling her otherwise.
Acknowledging the kids and giving them "the dignity and attention that we all deserve as human beings," have been important to his mother, he said. "What she's told me in the past is that every child, she just wanted them to know that they're loved." 
That kindness has made an impression on quite a few Newman graduates over the years.
"She says when she goes to the store and she'll run into someone and they'll say 'Mrs. Schessler!' The kids grow and they change so much she won't recognize them but they remember her and they remember her in a very fond way," he said. "She always says 'You need to look the child in the eye and smile and let them know that they're cared for and they're loved.' And she really did that."
Photos: Newman School honors longtime lunch lady
Staff and students at Newman Elementary School honored longtime lunch lady Irmtraut Schessler, "Ms. Irma," for her 46 years of service as the school's lunch lady.
The entire school gathered silently at the playground and waited for Miss Irma to arrive for work, then greeted her with a standing ovation, handmade signs and flowers.
Schessler, a German immigrant, plans to retire at the end of the year.