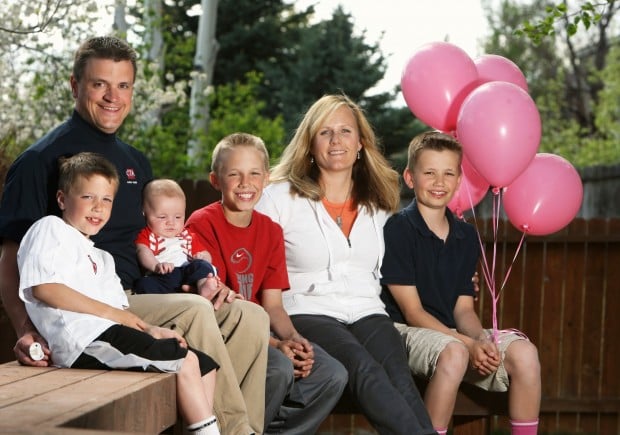 When a couple finds out they're expecting, the tendency is to imagine their child in kindergarten, in college, even married with kids.
When something interrupts that dream — the infant is born early or with major medical issues — and he or she dies soon after, it's devastating.
Add to that major medical or funeral expenses and it becomes overwhelming.
In Montana, one woman has created a foundation to help families who find themselves in that very sad situation.
Kori Keller, a Billings wife, mother and hairstylist, founded The Ramsey Keller Memorial to help cover funeral costs in Montana for babies up to a year old. It was a way to assuage the grief she felt when she lost a baby daughter two days after she was born.
"I know what closure it gave me to do the funeral how I wanted to do it," Keller said, sitting in the waiting area of Short Cuts, where she works part time. "It helped heal my heart."
Kori and Jeff Keller were the parents of three boys when Kori got pregnant with baby No. 4, a girl. Little Ramsey Jo was born on Nov. 23, 2011, with fluid in her chest cavity.
She responded in the hospital to medical treatment, and her brothers even got to visit and meet their new little sister.
"For two days we had very high hopes that Ramsey would be home for Christmas," Keller said.
Then the infant's condition deteriorated, and she died on Nov. 25. The family was able to afford a funeral, which took place at Emmanuel Baptist Church.  There was a casket and a headstone.
People arrived at the church wearing pink, in Ramsey's honor, and they released 200 balloons to mark her passing.
Healing would take a long time, Keller said, but the funeral was one step along that road. As she talked to others who had suffered similar losses, Kelly said, she discovered that the cost kept some people from holding the kind of funeral they wanted.
Sometimes they chose less-expensive cremation over a casket and a headstone because that was all they could afford.
"I don't care what people choose," Keller said. "I don't want the finances to make the decision for them."
She figures a funeral with embalming, a casket, a cemetery plot and a headstone costs an average of $3,000. Keller decided to raise money so she could help make things a bit easier for grieving parents.
"It's such a sad subject, but it's a way to help," Keller said.
It's a way to find something positive in a difficult situation, she said.
Keller launched a run, dubbed Run for Heaven's Sake, which collected $16,000 its first time out. Then she organized a formal dinner that raised more than $30,000.
Another run is planned for Sunday in Billings, both 5K and 10K races, which begin in west Billings. Keller hopes for a good turnout to raise money for the foundation that is now a nonprofit.
The organization has helped 18 families with funeral costs, averaging about one a month. Families pay the expenses, and then submit a receipt to the foundation to be reimbursed.
Often, hospitals tell patients about the service that's offered through the foundation. But that's not the only way they find out.
Ashley Harris, 25, who lives with her husband in Sidney, lost her baby son at 23 weeks gestation. Tiny 1 pound, 6 ounce Clay William Harris died in utero.
"Our Clay William was a fighter, but just not quite strong enough," Harris said.
But the stress went beyond the pain of losing her first child.
"With all the medical and funeral costs piling up, we were lost," Harris said. "Thankfully, someone in our community knew about our situation and contacted the Ramsey Keller Memorial."
Keller, alerted about the situation, contacted Harris via Facebook and told her to send the funeral bill to her. A woman Harris knew donated money for a headstone.
But without the foundation money, Harris said, the woman's donation would have had to go for the funeral itself.
"Thanks to this awesome organization, we were able to honor our son the way we wanted to, with a private ceremony and a personalized headstone," she said.
For Keller, the foundation has not only given her a way to honor her daughter's memory. She has also had the opportunity to meet other mothers who have experienced similar losses.
The depth of their bond comes out of an experience that others cannot truly grasp.
"I've gained some great friendships out of it," she said. "The biggest thing I've learned is that people grieve differently, but the common thread is we all loved those babies with all our hearts, with reckless abandon."
Keller gave birth to her fourth son, Bauer Trust, in December. She calls him her "rainbow baby, for the ray of hope after the storm."
But she will continue running the foundation, offering money and support, so couples grieving the loss of a baby can find a ray of light in the midst of their own dark storm.