Bethany Yellowtail's first fashion show was an informal affair.
It happened at Crow Fair in 2009, the same year the Wyola native graduated from the Fashion Institute of Design & Merchandising in Los Angeles.
The show took place in a field across from the rodeo grounds in Crow Agency. Headlights from cars and trucks illuminated the dirt stage.
"All my family and friends were there, and I got to see local girls modeling my designs," she said. "It's cool to see how far I've come since then."
A combination of talent and determination have propelled Yellowtail to where she is today, a fashion designer with her own label, B.YELLOWTAIL. She lives in Los Angeles and sells her clothing lines to Native celebrities and to people around the world.
Yellowtail weaves her native heritage into her clothing, combining a modern look with hints of her culture. She uses social media, indigenous markets and pop-up shops to help sell her merchandise.
And Yellowtail puts an enormous amount of time into her enterprise.
"This past fall I don't think I had more than two days off," she said in an interview via Skype.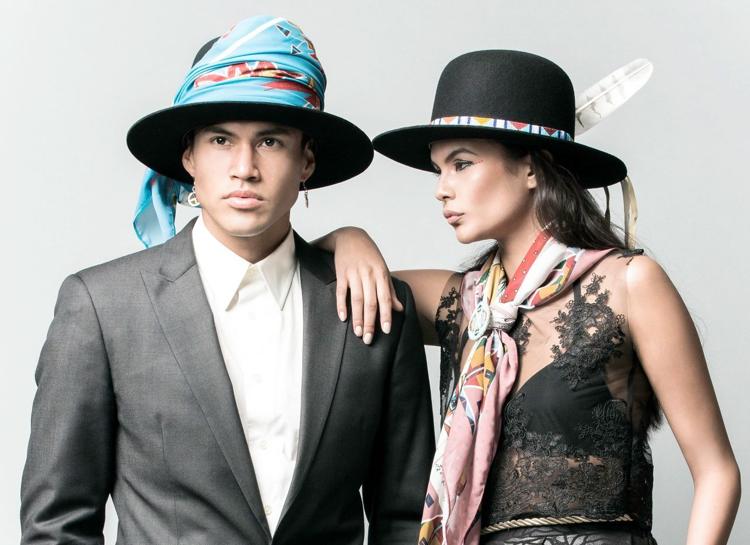 Yellowtail, an enrolled member of the Northern Cheyenne Tribe, grew up with her family on the Crow Reservation. She's the middle child of five siblings, three brothers and one sister.
Her father, Wailes Yellowtail, is a third-generation cattle rancher in Wyola. Mom, Lena Yellowtail, a nurse, works at a veterans' home in Sheridan, Wyo.
"I'm grateful that, growing up, my family had a good work ethic," Yellowtail, 27, said. "All of them are hard workers."
The family holds dual Montana-Wyoming residency, which allowed Yellowtail to attend school in Ranchester, Wyo. She spent weekdays in Ranchester and went home to Wyola on the weekends.
She and her sister and brothers attended the Tongue River schools. They had something else in common.
"All of my siblings were basketball players," Yellowtail said. "When I was growing up, I was determined I was going to be a basketball player."
Finding her passion
But something else grabbed her attention: sewing. In seventh grade, Yellowtail took an exploratory family and consumer science class at Tongue River High, a chance for the middle-schoolers to get a taste of high school.
It was the first of many classes she took from Pat Mischke, "one of my favorite teachers in high school, for sure," Yellowtail said.
"I loved sewing and making stuff," Yellowtail said. "She saw what I could do and connected the dots for me that I could go into fashion."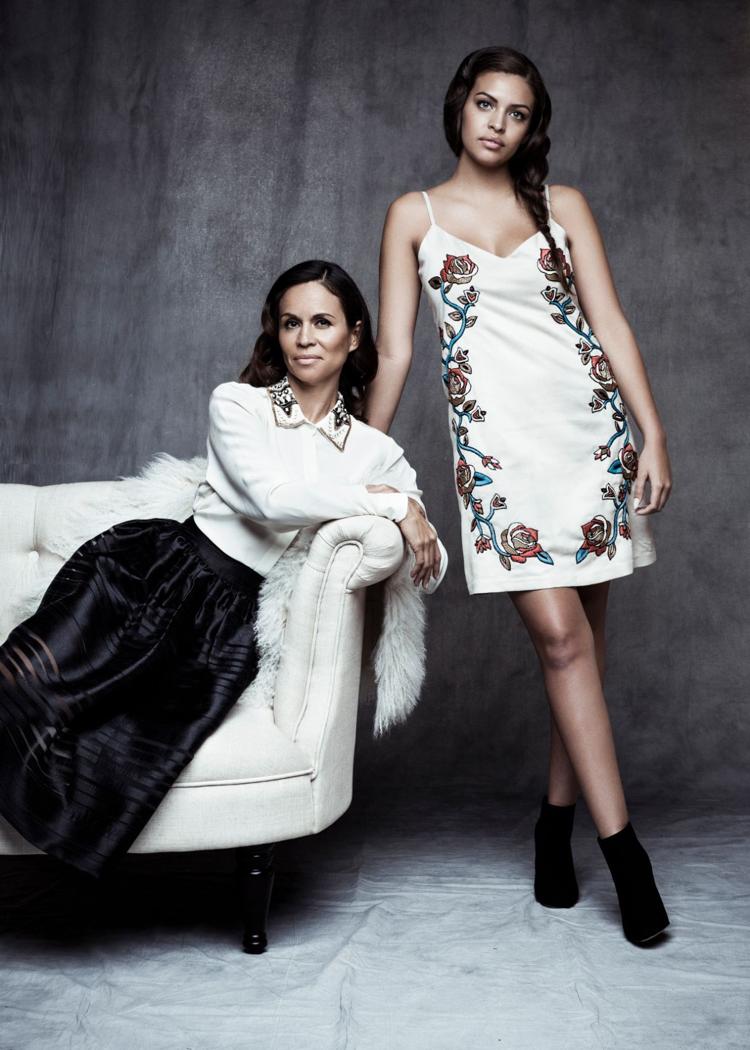 There were some years, Yellowtail said, that she would be one of only a few in Mischke's class, which allowed her to get plenty one-on-one time. Mischke, who had worked as a seamstress, was able to impart important technical skills, including pattern-making, to her student.
Yellowtail also was a member of the school's Family, Career and Community Leaders of America (FCCLA) chapter, for which Mischke was the adviser.
Mischke, in a telephone interview, recalled how after school hours Yellowtail would spend time in Mischke's room "sewing up a storm."
"She made several fun outfits during that time and also some prom dresses for girlfriends," Mischke said. "And she was just passionate about it."
Yellowtail has an amazing talent for art, Mischke said. "Her designs are just beautiful."
Whatever Yellowtail created, Mischke said, "she always wanted to take it and put her own twist into it."
Yellowtail admits she also put her own twist on what she wore in high school. She preferred a hip-hop look to the country casual many of her classmates chose.
She was drawn to outfits sold by a clothing company popular in those days called Baby Phat, which she ended up working for years later. Yellowtail also loved mainstream music and was drawn to a more metropolitan culture.
"I definitely was made to live in the city," she said.
L.A. bound
Yellowtail graduated from high school in 2007, her future plans in place. She had enrolled in Brooks College in Long Beach to study fashion, planning to follow in the footsteps of another girl she knew from the area.
Two days before she and her family were set to leave for the school, she got an automated phone call that said Brooks College was no longer accepting the incoming class of 2007. Yellowtail tried to reach her adviser at Brooks, but he no longer worked there.
"I had worked hard, applied for scholarships, grants," she said. "I was so devastated and thought my life was over."
Her mother suggested she switch plans and go to Montana State University in Bozeman. Her dad reassured her that they'd figure something out.
As it happened, Mischke was in Los Angeles for the FCCLA national conference, where the Fashion Institute of Design and Merchandising had a booth. So when Yellowtail called her, crying, and told her what had happened, Mischke got busy.
She spoke to school officials and assured them that Yellowtail had the talent and the ACT scores to succeed at the school.
"Before I left, it was in the works that she would go there," Mischke said.
Yellowtail spent her first year at the Irvine campus and moved to the Los Angeles campus her second year. She's lived in the L.A. area ever since.
Her focus at school was fashion design, which included a lot of sketching and drawing, the theory of fashion, and study of color, among other things. Even then, she had her eye on the prize.
"I remember saying 'I'm going to have my own brand' the first couple of weeks of school," Yellowtail said.
She also remembers encountering culture shock, a fast-paced climate and an affluent community, particularly in Irvine.
"There were a lot of girls with little fluffy dogs in their bags driving fancy cars," Yellowtail said. "I dreamed of being in a place like that, but I felt I didn't belong. It took me a few years to realize I did deserve to be here."
Career aspirations
Yellowtail graduated in 2009, then gave herself a year to land a job in the fashion industry. If she didn't succeed, she'd head home.
She pulled a 4 a.m.-till-noon shift at Starbucks and then worked as an unpaid intern for a small design company. A week shy of one year, she began to think it was time to pack up.
"And then I got a phone call for a company, BCBG Max Azria, one of the premier women's luxury brands," Yellowtail said. "They dress a lot of celebrities."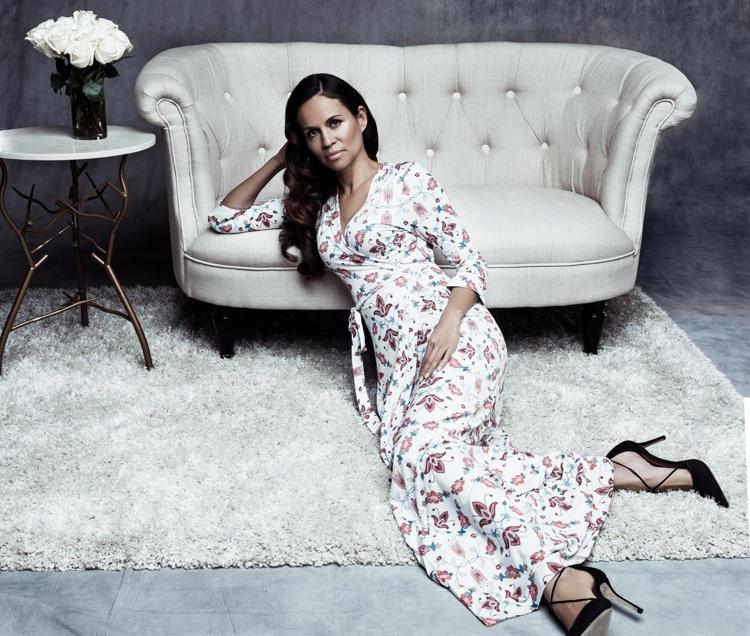 She was hired as a production pattern-maker assistant, helping the head pattern-maker with fittings, taking notes, communicating with the sample sewers and getting the garments store-ready.
She tried to learn as much as she could during her two years there.
"I studied and asked a lot of questions," Yellowtail said. "I loved to learn and absorb what was going on."
And all the while, she worked on her own styles at home and slowly built a clientele through social media. At one point, Yellowtail did a fashion show for the Aboriginal Music Week, put on by the First Nations Committee in Canada.
She worked for companies such as Private Label, Baby Phat and Kellwood as a first pattern-maker. In that position, Yellowtail worked directly with a designer who created the line, while Yellowtail created the actual garment.
"We have to interpret a sketch and create a map for it, work with sewers and cutters to get it done," Yellowtail said.
Had she stayed, she could have eventually made a six-figure living.
"It was very stable, but it's not fulfilling," Yellowtail said. "It's not what I want to do."
She left Kellwood in January 2015 to start her own company. She had a thorough knowledge of how to produce a collection, from design through production. Then she found a business partner, Kim Meraz, who helped Yellowtail develop a business plan.
"It definitely took off much faster than I anticipated," she said. "I feel like I've been holding on to my seat."
Her clientele is primarily online, living everywhere from the United Kingdom, France, Australia and New Zealand to Canada and the United States. Last year, Yellowtail also attended two indigenous art markets in New Mexico and Phoenix.
"I'm the go-to for Native or First People's creative folks, for emerging talent," Yellowtail said. "It's really fun, and it's cool to support each other. It's a lot of cross promotion, and it's exciting to support other aspiring Native people."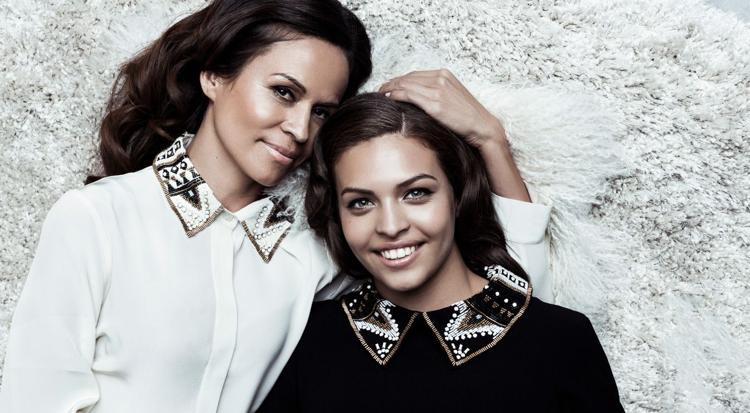 This year Yellowtail and Meraz are focusing on getting B.YELLOWTAIL clothing into larger department stores. Yellowtail no longer cuts and sews the clothing.
"I have several boutique manufacturers in L.A. we work with. We probably produce each collection, like 500 units," Yellowtail said. "Compared to other brands, it's a small production, but it's bigger than doing it at home."
Along with working on her next collection, Yellowtail is excited to help out other Native artists. She and her boyfriend are working on launching an online artist platform featuring Crow artisans and their bead work and artwork.
The hope is to get it up and running by April or May, to give others the chance, Yellowtail said.
"Sometimes they don't have the opportunity that others in big places have, and their work is so beautiful," she said. "I'm excited I can help that happen."
Though Yellowtail likely won't return to live in the town where she grew up — where she absorbed the culture she now shares through her designs — it's something that will continue to inform her work in the big city.
"I'm grateful that I don't work for anybody but myself, doing what I love," she said. "Now that I've found the core foundation of what my brand will be, it helps me stay connected to home."
Get local news delivered to your inbox!
Subscribe to our Daily Headlines newsletter.